Mercury Contamination in Riverine Sediments and Fish Associated with Artisanal and Small-Scale Gold Mining in Madre de Dios, Peru
1
Department of Civil and Environmental Engineering, University of California, Davis, CA 95616, USA
2
Department of Civil and Environmental Engineering, Syracuse University College of Engineering and Computer Science, Syracuse, NY 13244, USA
3
BioConsortia Inc., Davis, CA 95616, USA
4
Centro de Innovación Científica Amazónica (CINCIA), Puerto Maldonado, Madre de Dios 17000, Peru
5
Center for Energy, Environmental and Sustainability (CEES), Wake Forest University, Winston-Salem, NC 27109, USA
*
Author to whom correspondence should be addressed.
Received: 8 June 2018 / Revised: 8 July 2018 / Accepted: 23 July 2018 / Published: 26 July 2018
Abstract
Artisanal and small-scale gold mining (ASGM) in Madre de Dios, Peru, continues to expand rapidly, raising concerns about increases in loading of mercury (Hg) to the environment. We measured physicochemical parameters in water and sampled and analyzed sediments and fish from multiple sites along one ASGM-impacted river and two unimpacted rivers in the region to examine whether Hg concentrations were elevated and possibly related to ASGM activity. We also analyzed the 308 fish samples, representing 36 species, for stable isotopes (δ
15
N and δ
13
C) to estimate their trophic position. Trophic position was positively correlated with the log-transformed Hg concentrations in fish among all sites. There was a lack of relationship between Hg concentrations in fish and either Hg concentrations in sediments or ASGM activity among sites, suggesting that fish Hg concentrations alone is not an ideal bioindicator of site-specific Hg contamination in the region. Fish Hg concentrations were not elevated in the ASGM-impacted river relative to the other two rivers; however, sediment Hg concentrations were highest in the ASGM-impacted river. Degraded habitat conditions and commensurate shifts in fish species and ecological processes may influence Hg bioaccumulation in the ASGM-impacted river. More research is needed on food web dynamics in the region to elucidate any effects caused by ASGM, especially through feeding relationships and food sources.
View Full-Text
►

▼

Figures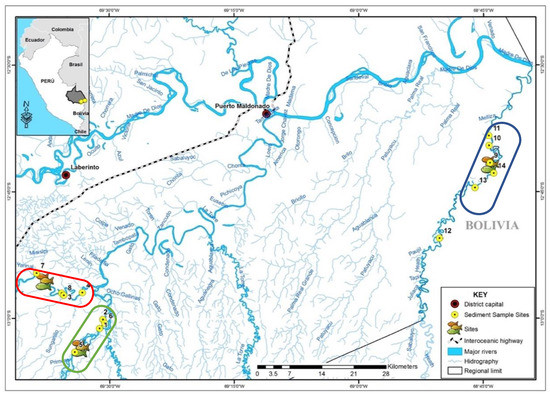 Figure 1
This is an open access article distributed under the
Creative Commons Attribution License
which permits unrestricted use, distribution, and reproduction in any medium, provided the original work is properly cited (CC BY 4.0).

Share & Cite This Article
MDPI and ACS Style
Martinez, G.; McCord, S.A.; Driscoll, C.T.; Todorova, S.; Wu, S.; Araújo, J.F.; Vega, C.M.; Fernandez, L.E. Mercury Contamination in Riverine Sediments and Fish Associated with Artisanal and Small-Scale Gold Mining in Madre de Dios, Peru. Int. J. Environ. Res. Public Health 2018, 15, 1584.
Note that from the first issue of 2016, MDPI journals use article numbers instead of page numbers. See further details here.
Related Articles
Comments
[Return to top]