The Rapid Degradation of Lambda-Cyhalothrin Makes Treated Vegetables Relatively Safe for Consumption
1
International Institute of Tropical Agriculture (IITA), Cotonou 08 BP 0932, Benin
2
Department of Nutrition and Food Sciences, Faculty of Agronomic Sciences, University of Abomey-Calavi, P.O. Box 526, Cotonou 08 BP 0932, Benin
3
Center for Research in Infectious Diseases (CRID), Yaounde, Cameroon
4
Department of Animal Biology, Faculty of Sciences, University of Dschang, P.O. Box 96, Dschang, Cameroon
5
Department of Biochemistry, Faculty of Sciences, University of Yaounde I, P.O. Box 812, Yaounde, Cameroon
6
Department of Vegetal Production, Faculty of Agronomy, University of Parakou, P.O. Box 123, Parakou, Benin
7
World Vegetable Center, C/O IITA-Benin Campus, Cotonou 08 BP 0932, Benin
8
International Institute of Tropical Agriculture (IITA), PMB 5320, Ibadan 200284, Nigeria
9
International Institute of Tropical Agriculture (IITA), P.O. Box 34441, Dar-es-Salaam, Tanzania
10
Department of Disease Control, Faculty of Infectious and Tropical Diseases, London School of Hygiene and Tropical Medicine (LSHTM), London WC1E 7HT, UK
*
Author to whom correspondence should be addressed.
Received: 21 June 2018 / Accepted: 5 July 2018 / Published: 20 July 2018
Abstract
Lambda-cyhalothrin (λ-cyhalothrin) is the most commonly used pyrethroid insecticide for vegetable farming in Benin. This insecticide is misused and overused by farmers, and hence may pose health hazards to consumers. We monitored λ-cyhalothrin residues in lettuce and cabbage from farms at the market gates in Cotonou and Parakou using high performance liquid chromatography (HPLC) analysis techniques. These residues were also monitored on samples directly from farms (on-farm sampling) for 14 days post-treatment. Potential factors such as photolysis and hydrolysis involved in λ-cyhalothrin degradation were also screened. Results revealed that the level of λ-cyhalothrin residue concentrations in lettuce from Houeyiho decreased from 4.2 mg/kg on Day 1 to about 0.2 mg/kg on Day 7. On Day 9, analyzed lettuces were all λ-cyhalothrin free. In contrast, even 14 days after treatment of cabbage from Bawera (Parakou), we still recorded the presence of λ-cyhalothrin residues in analyzed samples. For samples from market gates, λ-cyhalothrin residues were found in lettuce from two markets out of the nine surveyed in Cotonou. Interestingly, none of these contaminated samples had residues above the maximum residue limit for lettuce (MRL = 0.5 mg/kg). Similarly, in Parakou, samples from all five surveyed vegetable markets were contaminated with λ-cyhalothrin residues at concentrations below the MRL for cabbage (MRL = 0.2 mg/kg). We conclude that λ-cyhalothrin residues in lettuce and cabbage from farms and markets in Parakou and Cotonou are within the MRL, and hence are relatively safe for consumption.
View Full-Text
►

▼

Figures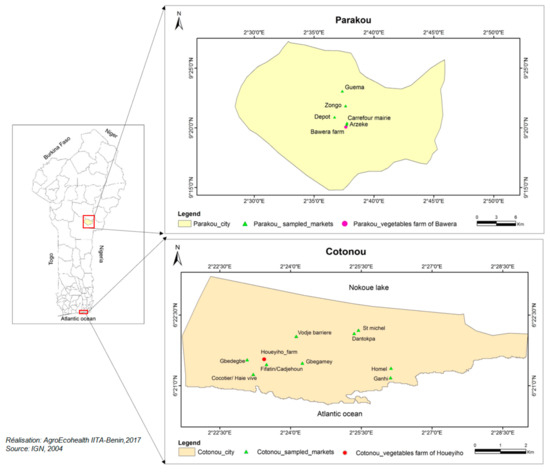 Figure 1
This is an open access article distributed under the
Creative Commons Attribution License
which permits unrestricted use, distribution, and reproduction in any medium, provided the original work is properly cited (CC BY 4.0).

Share & Cite This Article
MDPI and ACS Style
Djouaka, R.; Soglo, M.F.; Kusimo, M.O.; Adéoti, R.; Talom, A.; Zeukeng, F.; Paraïso, A.; Afari-Sefa, V.; Saethre, M.-G.; Manyong, V.; Tamò, M.; Waage, J.; Lines, J.; Mahuku, G. The Rapid Degradation of Lambda-Cyhalothrin Makes Treated Vegetables Relatively Safe for Consumption. Int. J. Environ. Res. Public Health 2018, 15, 1536.
Note that from the first issue of 2016, MDPI journals use article numbers instead of page numbers. See further details here.
Related Articles
Comments
[Return to top]