Open Access This article is
freely available
re-usable
Review
Farming for Life Quality and Sustainability: A Literature Review of Green Care Research Trends in Europe
1
Department of Applied Research and Agricultural Extension, Madrid Institute for Rural, Agricultural and Food Research and Development (IMIDRA), Finca Experimental ''El Encín''Ctra N-II, Km 38, Madrid 28800, Spain
2
Social-Ecological Systems Laboratory, Department of Ecology, Edificio de Biología, Universidad Autónoma de Madrid, C/Darwin 2, Madrid 28049, Spain
*
Author to whom correspondence should be addressed.
Received: 9 April 2018 / Accepted: 13 June 2018 / Published: 17 June 2018
Abstract
:
Green care is an innovative approach that combines simultaneously caring for people and caring for land through three elements that have not been previously connected: (1) multifunctional agriculture and recognition of the plurality of agricultural system values; (2) social services and health care; and (3) the possibility of strengthening the farming sector and local communities. The current research provides a comprehensive overview of green care in Europe as a scientific discipline through a literature review (
n
= 98 studies). According to our results, the Netherlands, the UK, Norway and Sweden followed by Italy have led the scientific studies published in English. Green care research comprises a wide range of perspectives and frameworks (social farming, care farming, nature-based solutions, etc.) with differences in their specificities. Green care studies have mainly focused on measuring the effectiveness of therapeutic interventions. Studies that evaluate its relevance in socio-economic and environmental terms are still limited. According to our results, the most common users studied were people suffering from psychological and mental ill health, while the most common activities were horticulture, animal husbandry and gardening. Finally, we discuss the potential of green care to reconnect people with nature and to diversify the farming sector providing new public services associated with the relational values society obtains from the contact with agricultural systems.
Keywords:
connective agriculture; nature-based rehabilitation; relational value; social inclusion; systematic literature review; therapeutic horticulture; vulnerable stakeholder
Author Contributions
M.G.L. conceived and designed the study; R.R.O. and I.G.B. conducted the literature review and data extraction; M.G.L. provided conceptual and analytical advice; R.R.O., I.G.B. and M.G.L. conducted the data analysis, M.G.L. wrote most of the paper.
Funding
This research was funded by a grant from the Spanish National Institute for Agriculture and Food Research and Technology, co-funded by the Social European Fund (Doc-INIA CCAA); and the IMIDRA research projects: Social Farming viability at the Madrid Region (FP16 VAS) and Assessment of Ecosystem Services provided by Agroecosystems (FP16 ECO).
Acknowledgments
We would like to thank the two anonymous referees for providing thoughtful and valuable comments and suggestions.
Conflicts of Interest
The authors declare no conflict of interest.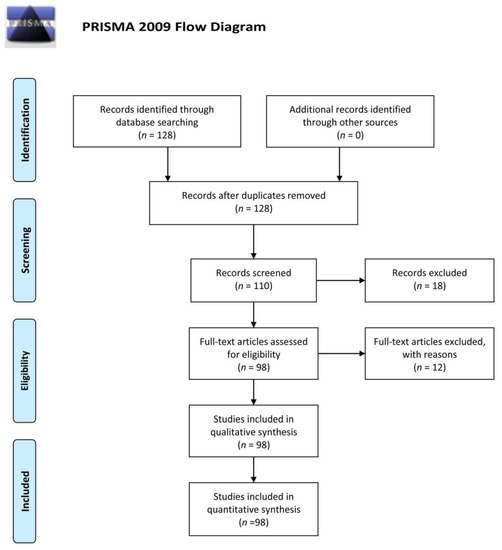 Figure 1.
Flow diagram with the different phases of a systematic review (adapted from PRISMA, [
21
]).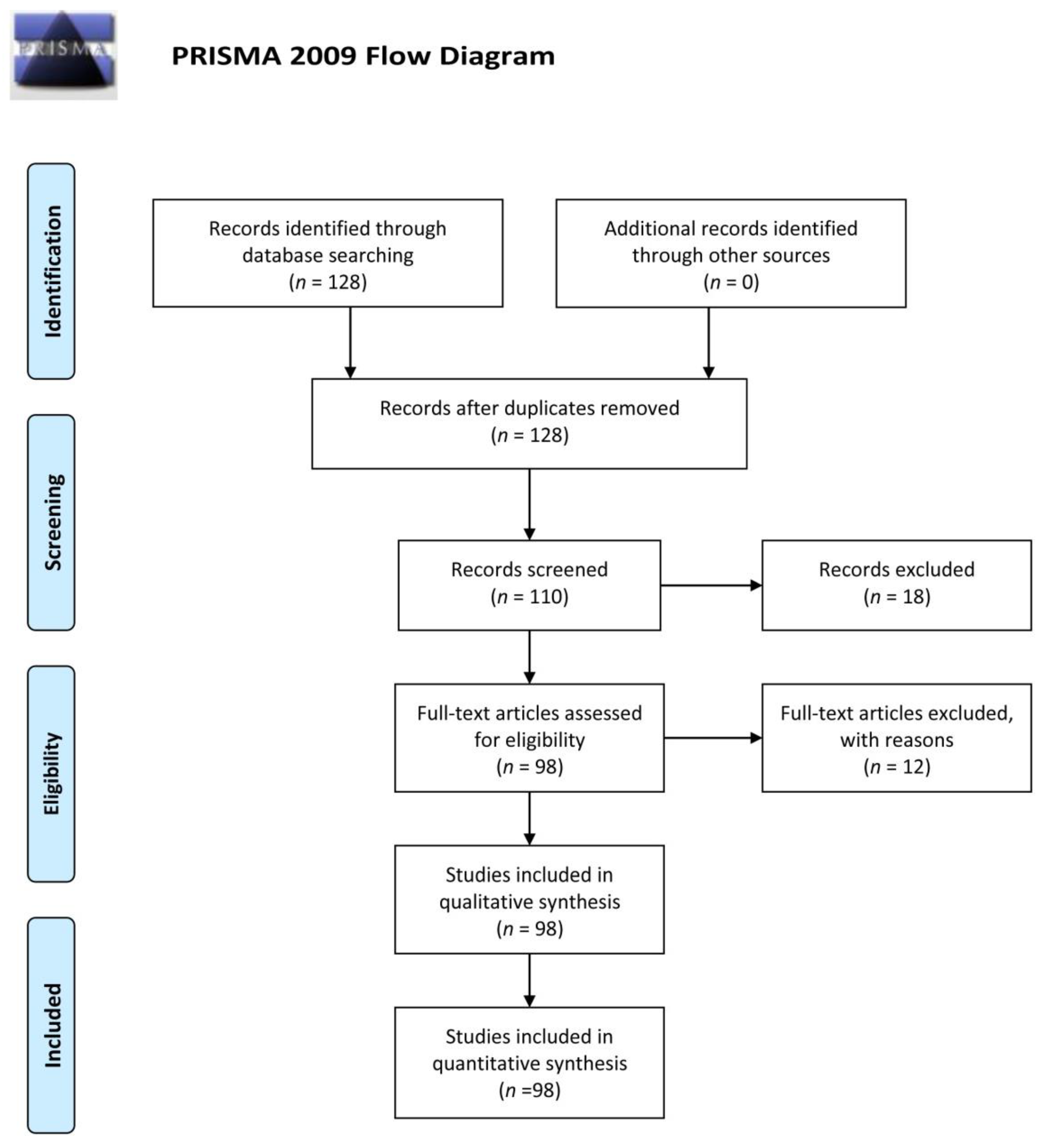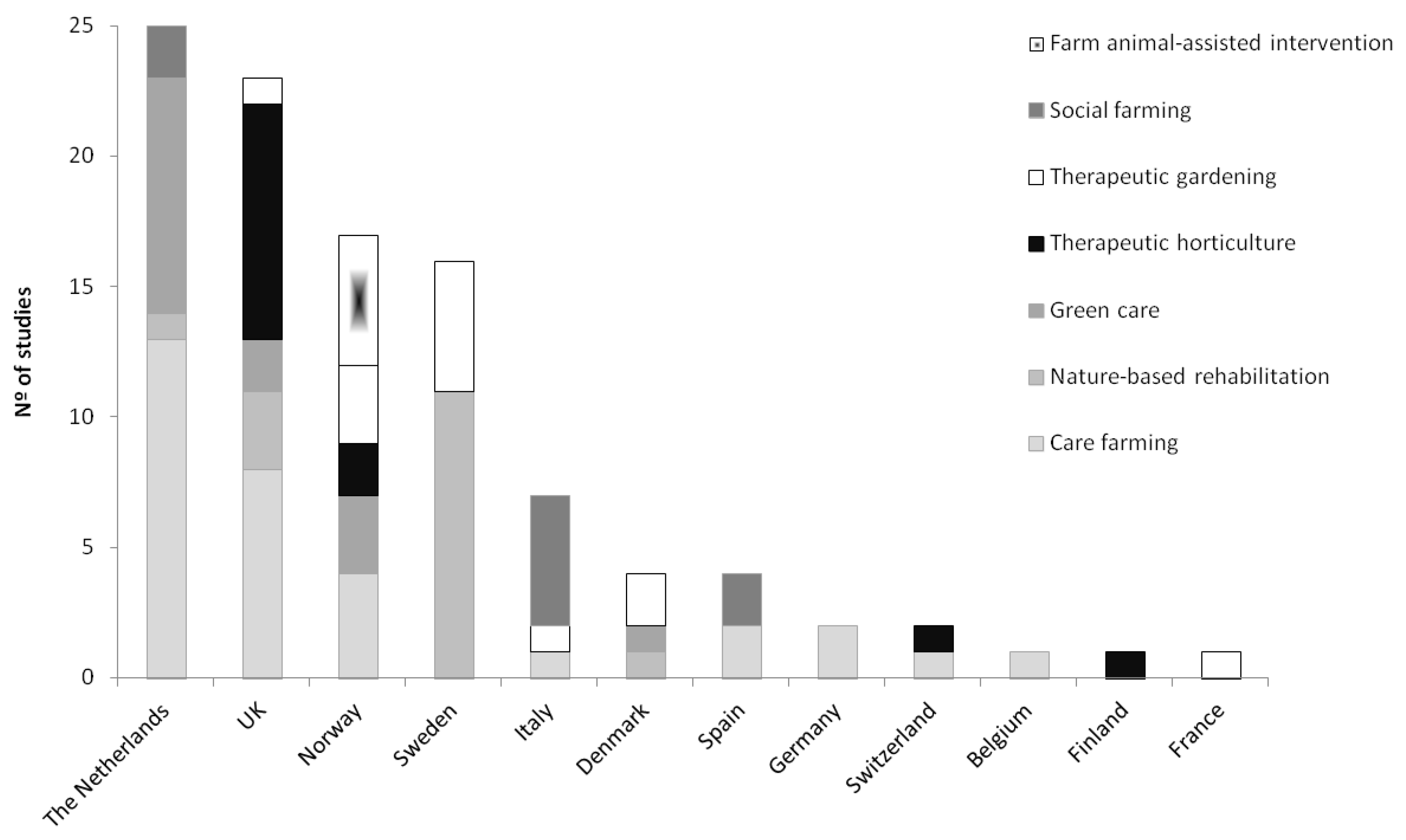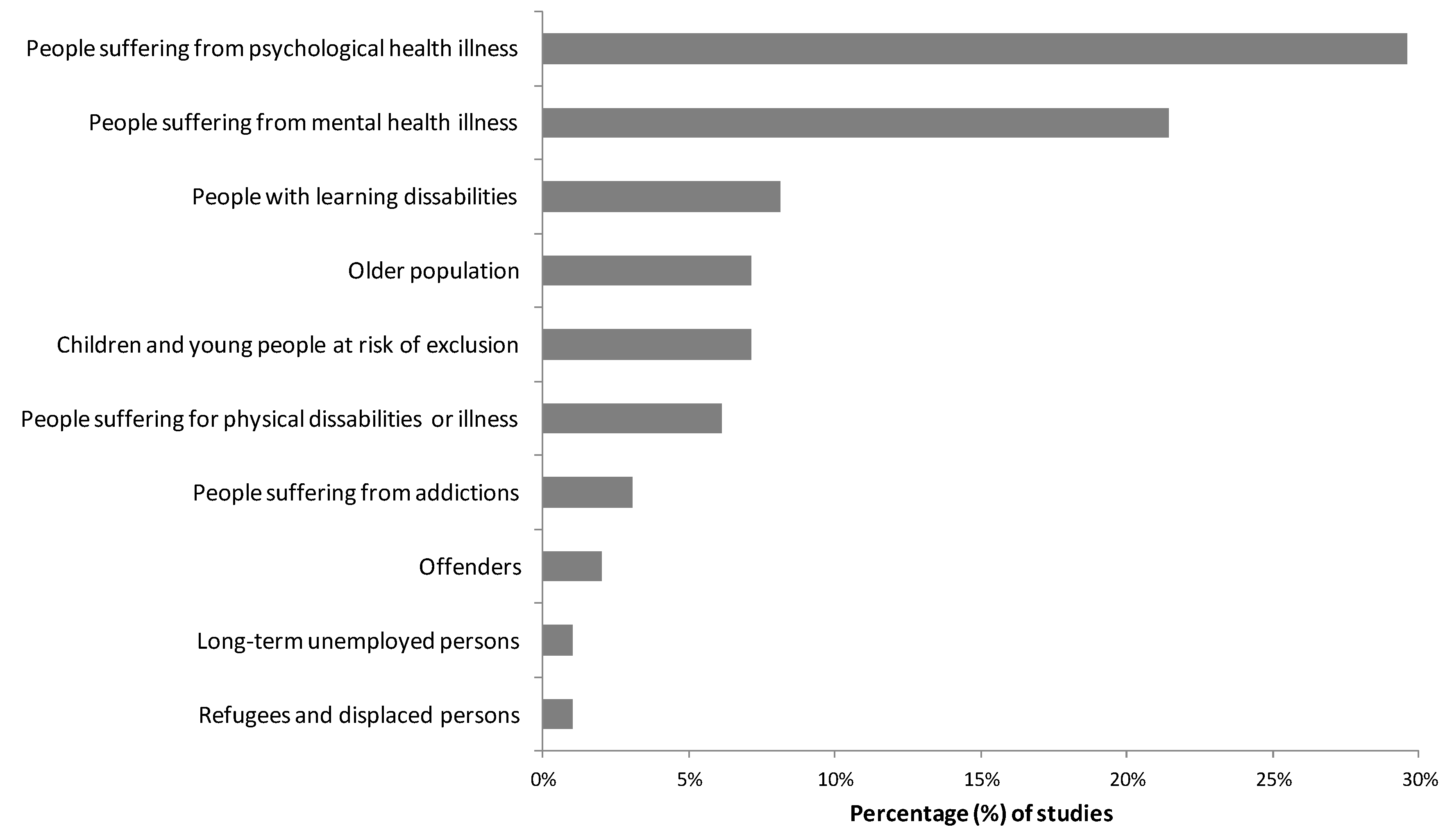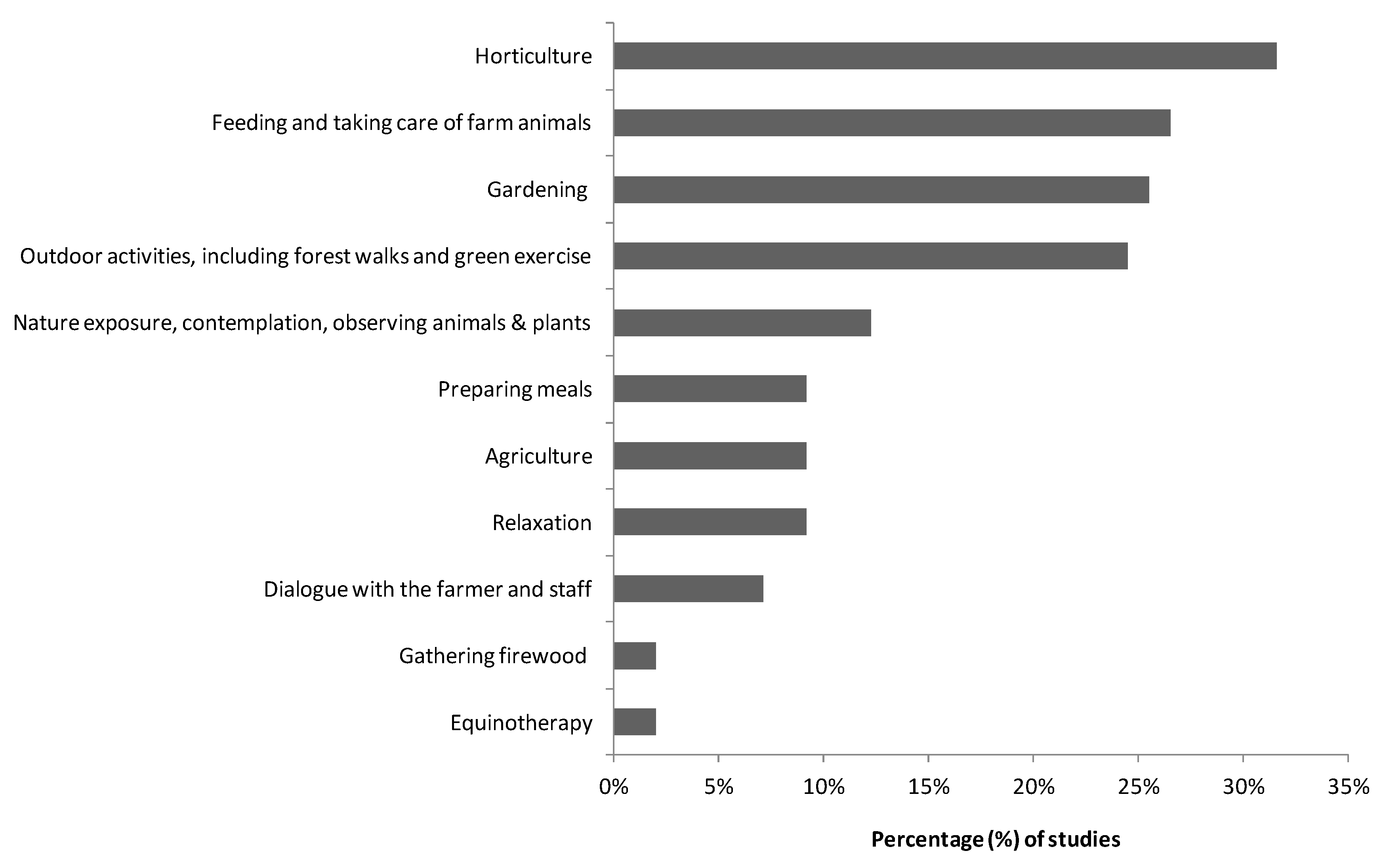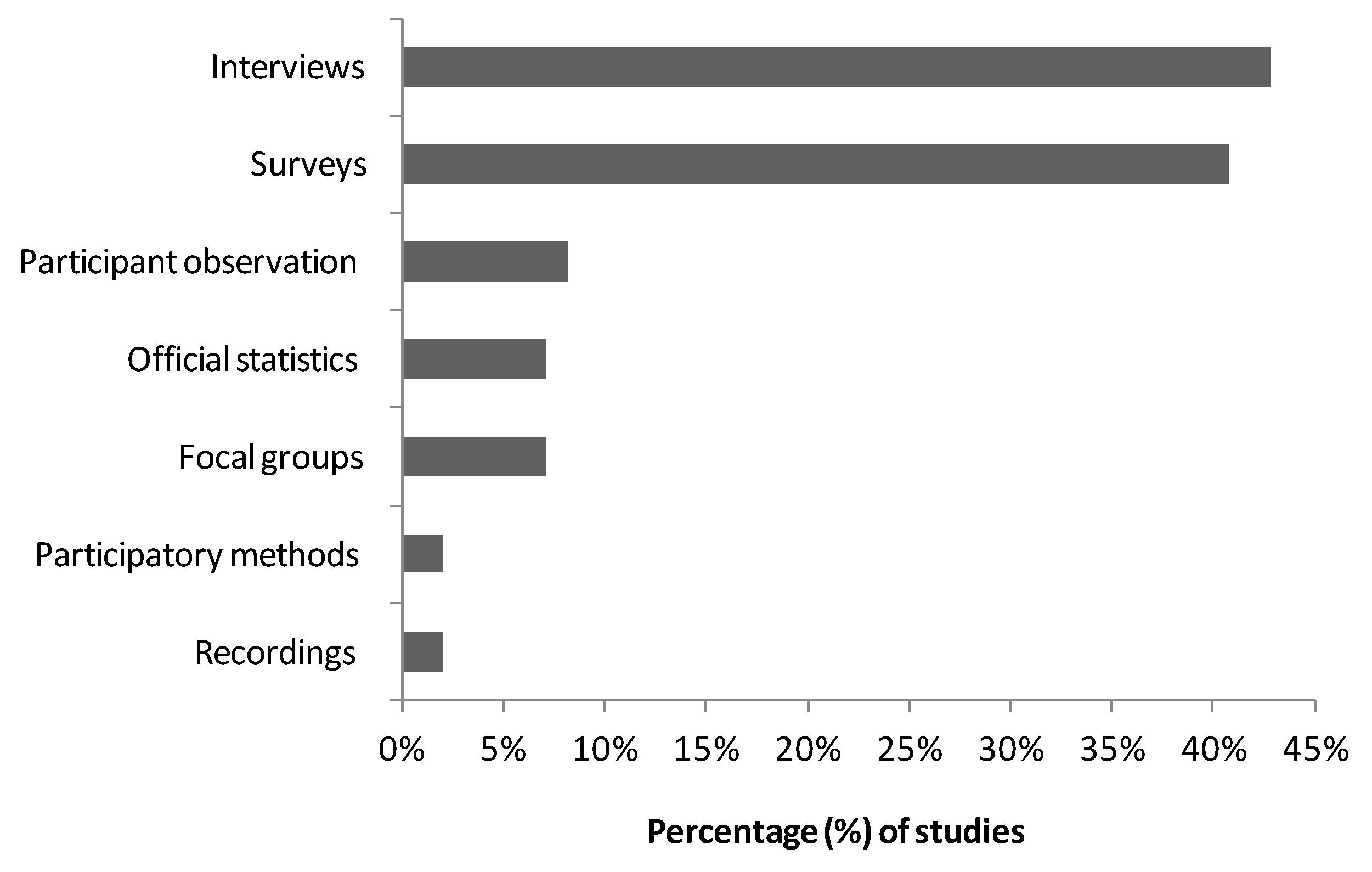 Variable Type
Variable
Description
Variable Coding
Publication identification
Title
Title of the publication
Open, text.
Authors
Author (s) of the publication
Year
Year in which the research was published
Continuous (year).
Journal
Name of the journal in which the article was published
Open, text.
Discipline
Interdisciplinary
Interdisciplinary team if at least two of the authors belonged to different research areas
Interdisciplinary; unidisciplinary.
Discipline area
Based on the institution's department and discipline where the first author works, we identified three main categories
Environmental Sciences; Science of the Health; Social Sciences.
Research area (journal)
Based on Web of Science labels (one or more)
Categories.
Study characteristics
Study site
European country where the research was carried out
Dummy per each country.
Type of study
Theoretical or empirical
Dummy for each category.
Study approach and purpose
Approach
Categories of existing theoretical frameworks following the terminology used in the study
Green care; nature-based rehabilitation; care farming; social farming; therapeutic horticulture; therapeutic gardening; farm animal-assisted intervention.
Purpose
Categories of purposes pursued
Therapeutic intervention assessment; concept, development and relevance of social farming; professionals perception, needs and networks.
Users
Target population
Collective at risk of social exclusion on which the research is focus
Refugees and displaced persons; long-term unemployed persons; offenders; people suffering from addictions; people suffering for physical disabilities or illness; older population; people with learning disabilities; children and young people at risk of exclusion; people suffering from mental health illness; people suffering from psychological health illness.
Activities
Activity performed
Social agriculture activities carried out by participants benefiting from interventions
Outdoor activities (including forest walks and green exercise); agriculture (horticulture, viticulture and olive growing); gardening; therapeutic activities with animals; animal care; food processing and sale; nature exposure; relaxation; dialog with the farmer and staff.
Methodological approach
Assessment tools
Type of method used if there has been a follow up or assessment of participants of an green care intervention
Official statistics; surveys; interviews; focus groups; participant observation and participatory methods; clinical assessment; recordings.

© 2018 by the authors. Licensee MDPI, Basel, Switzerland. This article is an open access article distributed under the terms and conditions of the Creative Commons Attribution (CC BY) license (http://creativecommons.org/licenses/by/4.0/).