Stress-Induced and Diabetic Hyperglycemia Associated with Higher Mortality among Intensive Care Unit Trauma Patients: Cross-Sectional Analysis of the Propensity Score-Matched Population
1
Department of Emergency Medicine, Kaohsiung Chang Gung Memorial Hospital and Chang Gung University College of Medicine, Kaohsiung 833, Taiwan
2
Department of Trauma Surgery, Kaohsiung Chang Gung Memorial Hospital and Chang Gung University College of Medicine, Kaohsiung 833, Taiwan
3
Department of Plastic Surgery, Kaohsiung Chang Gung Memorial Hospital and Chang Gung University College of Medicine, Kaohsiung 833, Taiwan
*
Author to whom correspondence should be addressed.
Received: 13 April 2018 / Revised: 11 May 2018 / Accepted: 12 May 2018 / Published: 15 May 2018
Abstract
Background: This study was designed to measure the effect of stress-induced hyperglycemia (SIH) and diabetic hyperglycemia (DH) versus non-diabetic normoglycemia (NDN) on the outcomes of trauma patients in the intensive care unit (ICU). Methods: Diabetes mellitus (DM) was determined based on patient history and/or a hemoglobin A1c (HbA1c) level of ≥6.5% at admission. The patients who had serum glucose levels of ≥200 mg/dL in the absence or presence of DM were assigned into the groups SIH and DH, respectively. Diabetic normoglycemia (DN) and NDN were determined based on serum glucose levels of <200 mg/dL in patients with and without DM, respectively. Patients with burn injury or incomplete data were excluded. Detailed data of trauma patients in the ICU of a Level-I trauma center from 1 January 2009 to 31 December 2016 were retrieved from the database of the Trauma Registry System. These patients were classified into four exclusive groups, including NDN (
n
= 1745), DN (
n
= 306), SIH (
n
= 225) and DH (
n
= 206). The Pearson chi-square test was used to compare categorical data between groups. Continuous variables were compared using one-way analysis of variance along with the Games–Howell post hoc test. To decrease the confounding effect of the differences in sex and age, preexisting comorbidities and injury severity score (ISS) among different groups of patients, 1:1 ratio propensity score-matched cohorts were assigned using the NCSS software. The effect of hyperglycemia on the outcomes of patients with and without DM was assessed with a logistic regression analysis. Results: Among those selected propensity score-matched patient cohorts, the patients with SIH and DH had a 3.88-fold (95% CI, 2.13–7.06;
p
< 0.001) and 1.83-fold (95% CI, 1.00–3.34;
p
= 0.048) higher mortality, respectively, than those with NDN. Moreover, the patients in the SIH group (10.0 vs. 7.4 days;
p
= 0.005) and those in the DH group (10.1 vs. 7.4 days;
p
= 0.006) who were admitted to the ICU had a significantly longer length of stay than those in the NDN group. In addition, the SIH group had a 2.13-fold (95% CI, 1.04–4.36;
p
= 0.038) higher adjusted odds ratio for mortality than the DH group. Conclusions: This study revealed significantly worse outcomes in terms of mortality among patients with SIH and DH who were admitted to the ICU after controlling for sex and age, preexisting comorbidities and ISS. In addition, patients who had SIH presented significantly higher adjusted odds for mortality than those DH patients. These results suggest that hyperglycemia is detrimental in patients with or without DM who were admitted to the ICU, and there is a different pathophysiological mechanisms behind the SIH and DH.
View Full-Text
►

▼

Figures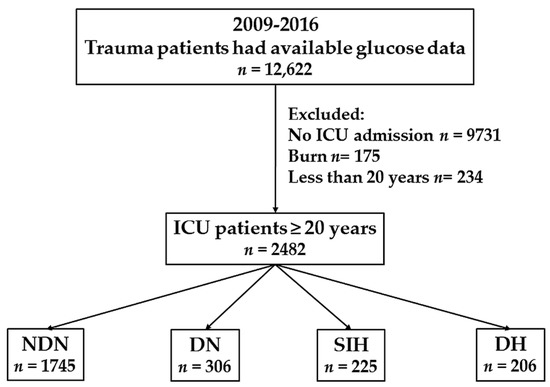 Figure 1
This is an open access article distributed under the
Creative Commons Attribution License
which permits unrestricted use, distribution, and reproduction in any medium, provided the original work is properly cited (CC BY 4.0).

Share & Cite This Article
MDPI and ACS Style
Chang, M.-W.; Huang, C.-Y.; Liu, H.-T.; Chen, Y.-C.; Hsieh, C.-H. Stress-Induced and Diabetic Hyperglycemia Associated with Higher Mortality among Intensive Care Unit Trauma Patients: Cross-Sectional Analysis of the Propensity Score-Matched Population. Int. J. Environ. Res. Public Health 2018, 15, 992.
Note that from the first issue of 2016, MDPI journals use article numbers instead of page numbers. See further details here.
Related Articles
Comments
[Return to top]