Direct and Indirect Effects of Belief in a Just World and Supervisor Support on Burnout via Bullying
1
Department of Psychology, Laboratory Psitec, University of Lille, 59650 Villeneuve d'Ascq, France
2
Department of Psychology, Laboratory PAV, University of Tours, 37020 Tours, France
*
Author to whom correspondence should be addressed.
Received: 19 September 2018 / Revised: 17 October 2018 / Accepted: 19 October 2018 / Published: 23 October 2018
The aim of the study was to examine the mediating role of workplace bullying in how supervisor support and belief in a just world (BJW) are related to emotional exhaustion. A cross-sectional quantitative study using anonymous self-report questionnaires was conducted with 434 workers in France. The model was tested using a path analysis. First, the results revealed that BJW and support from the hierarchy were negatively related to emotional exhaustion. BJW and supervisor support were also negatively related to workplace bullying. Finally, harassment at work was positively related to emotional exhaustion. More generally, the results showed that social support from one's superior and BJW were directly and indirectly related to emotional exhaustion via bullying at work. Our model thus suggests that BJW and supervisor support can be protective resources against bullying and exhaustion. We discuss the theoretical and practical implications of the present study, as well as some avenues for future research.
1. Introduction
More specifically, reinforcing prevention requires exploring the direct and indirect roles of occupational support and BJW. This study was aimed at understanding how a combination of supervisor support and BJW affects perceived bullying, which in turn can lead to emotional exhaustion.
2. Method
2.1. Participants
The questionnaire was filled in by 434 workers from two regions of France (Hauts-de-France and Pays-de-la-Loire). The sample included 176 males (40.6%) and 258 females (59.4%) age 18–65 (
M
= 38.25,
SD
= 11.25). A large majority of the participants worked during the day (95%) (5% did not answer this question). Most (87.8%) had worked for more than 10 years in the company and 12.2% had less than 10 years of seniority. Twenty-three percent were living alone and 77% were living with a partner; 48.8% had no dependent children and 51.2% had at least one dependent child. Participants were working in 70 companies: 28% in the public sector, 70% in the private sector, and 1% in the para-public sector. The most frequent sectors were commercial (21%), educative (12%), medical (8%), and industrial (8%). The questionnaires (paper version), given directly to employees or sent by postal mail (
N
= 377), were returned to members of the research team by mail or in person. Other respondents (
N
= 57) responded to the survey on line. Analyses were conducted in order to examine the possible effects of the data collection mode on the variables studied. No differences in the means were found for any of the variables.
2.2. Materials and Procedure
All questionnaires were administered in French. The questionnaire was presented as a survey on interpersonal relationships at work.
3. Results
3.1. Preliminary Analyses
The means, standard deviations, and latent correlations of the measures are presented in
Table 1
. An examination of the size and direction of the correlations (see
Table 1
) provided good preliminary support for the hypotheses. Perceived supervisor support (
r
= −0.56,
p
< 0.001) and belief in a just world (
r
= −0.40,
p
< 0.001) were negatively correlated with bullying. Moreover, perceived supervisor support (
r
= −0.43,
p
< 0.001), belief in a just world (
r
= −0.42,
p
< 0.001), and bullying (
r
= 0.59,
p
< 0.001) were significantly correlated with emotional exhaustion.
3.2. Main Analyses
As hypothesized, bullying was defined as a partial mediator in the relationship between perceived supervisor support and emotional exhaustion and between belief in a just world and emotional exhaustion. The hypothesized model was tested via a path analysis using the AMOS software. The analysis was conducted on the covariance matrix, and the solutions were generated on the basis of maximum likelihood estimation. Our hypothesized model was fully saturated, so we do not provide fit indices (see
Figure 1
). Perceived supervisor support (β = −0.48,
p
< 0.001) and belief in a just world (β = −0.20,
p
< 0.001) were negatively linked to bullying. Furthermore, perceived supervisor support (β = −0.10,
p
< 0.05), belief in a just world (β = −0.19,
p
< 0.001), and bullying (β = 0.45,
p
< 0.001) were significantly associated with emotional exhaustion.
To determine whether bullying acted as a mediator between perceived supervisor support and emotional exhaustion and between belief in a just world and emotional exhaustion, a bootstrapping approach was used [
75
]. Bootstrapping is a method that uses a given number (1000 in this study) of resamplings of the original sample and provides confidence intervals (CIs) for the estimated parameters. Indirect effects are estimated as products of the path between the predictor (i.e., perceived supervisor support or belief in a just world) and the mediator (i.e., bullying) and the path between the mediator and the outcome (i.e., emotional exhaustion). The bootstrap analyses revealed that the indirect effects of perceived supervisor support (β = −0.22, CI = [–0.28, −0.17],
p
< 0.01) and belief in a just world (β = −0.09, CI = [–0.13, −0.06],
p
< 0.01) on emotional exhaustion through bullying were significant.
4. Discussion
Study Limitations
As in all research, this study has limitations. First, the present cross-sectional study does not allow us to draw any conclusions about causal relations or changes over time in the predictors of bullying and burnout. Longitudinal or experimental study designs are needed to test the causal effects of support on both bullying and burnout. Additionally, longitudinal designs would be useful for gaining further insight into the relationships hypothesized to exist in this study. Secondly, self-reported questionnaires can favor socially desirable responses. Added to that, all of our information was obtained from the same source. Those two circumstances could cause problems related to the common variance [
83
]. For future investigations, it might be interesting to obtain objective information about the sources and kinds of social support from supervisors, to distinguish between different kinds of leadership (transitional, transformational, empowerment, etc.), the number of agents assigned to the team, the worker/supervisor ratio, etc. A third limitation is linked to our participants. The sample was large and allowed us to generalize our findings to many jobs, but it was difficult to draw conclusions because different jobs have different work conditions. Indeed, the individuals sampled in this study were relatively heterogeneous, including workers from diverse companies (public and private) and from the tertiary and secondary sectors. Another limitation is the lack of data on environmental factors (company climate, size, etc.) in our sample, although research suggests that these added factors may contribute to emotional exhaustion. A final limitation is related to our mediations. In the light of studies measuring the mediating roles of need satisfaction [
53
], it is necessary to measure need-thwarting as a mediator in the links we have explored.
5. Practical Implications and Interventions
At the primary prevention level, it is necessary to report risk factors and devise campaigns. Additionally, managers can foster a cooperative and helpful climate, promote organizational citizenship, and banish competitive management. Having anti-bullying policies that recognize the role of managers and bystanders could be an important step. Education about bystanders' responsibilities at work and prevention roles must be provided. The literature suggests that, in addition to training programs, managers should establish appropriate organizational and occupational values to stop employee habituation to an aggressive climate [
82
]. A zero tolerance approach, with a respectful work environment, is strongly advised.
Based on our findings, we can contend that promoting social support from colleagues and from the hierarchy is an important step in decreasing workplace bullying and emotional exhaustion. It is crucial for organizations to make every effort to find ways of increasing opportunities to obtain social support for all staff members. One of the most effective remedies is social support from one's supervisor. Supervisors play a very important protective role by valorizing recognition and gratitude, highlighting the capacities and abilities of subordinates and helping them understand their work and tasks via direct assistance (instrumental or psychological). Encouraging social support in an organization is critical. All of the findings reported here suggest that social support at work is an essential, independent aspect of the psychosocial environment that affects psychological health on the job (bullying and burnout). Supportive managerial behaviors, such as understanding and acknowledging the employee's perspective, providing meaningful information, offering opportunities for making choices and decisions, and encouraging initiative-taking [
84
], will reduce exhaustion and enhance well-being. If managers are engaged in positive supporting behaviors [
85
,
86
] and are encouraged and trained to act in a supportive manner, subordinates will display better physical and psychological well-being. In line with other results [
87
], our study lends credence to the idea that highly humane cultures emphasize the need for leaders or managers to be supportive and caring in their relationships with subordinates. Such cultures are likely to disapprove of bullying. More specifically, an interesting study [
88
] examined the extent to which leader–member exchanges (LMXs) affect the use of five strategies for coping with actual exposure to workplace bullying. The findings indicated that LMX quality significantly influenced the strategic use of acquiescence, exit, and retribution. Thus, it is important for institutions to pay particular attention to finding ways of increasing opportunities to obtain social support for all staff members and all parties involved. Social support could be improved by creating more exchanges between supervisors and subordinates and reinforcing organizational support and the security climate [
89
,
90
]. Managers could be trained to better supervise their subordinates by recognizing them, learning how to achieve appropriate communication with them, offering positive and valorizing feedback, and protecting their subordinates from poor working conditions.
At the secondary prevention level, human resource management (HRM) has to ensure that deviance and antisocial or aggressive behaviors at work are not condoned and are strictly prohibited. HRM has to quickly react and be attentive to the work climate and to employees' beliefs and feelings. Together with the employee, supervisors and counselors (occupational physicians, occupational nurses, labor psychologists, ergonomists, etc.) should attempt to identify and reduce interpersonal conflicts related to bullying.
At the same time, we encourage the development of personalized accompaniment (tertiary prevention), which helps employees understand the positive or negative roles played by their beliefs and interpretations of their work environment as just or unjust. Thinking (or even worse, accepting) that one's work environment is unfair cannot help workers and is a vector via which bullying can have destructive effects like exhaustion. Conversely, thinking that the work environment is just, being indignant about unfairness or bullying, and continuing to trust the company can help maintain balance and generate a positive gain spiral: social support (from supervisors). Augmented job resources (efficacy and just-world beliefs) can lead to decreases in poor job attitudes and behaviors (conflicts, feeling of isolation, lack of motivation, loss of meaningfulness, etc.), which in turn can further increase work engagement. Proactive interventions of specialists must help victims develop coping skills and become more resilient for handling such situations and quickly reacting and consulting qualified personnel. In order to come out of the process of bullying without leaving the company, it is necessary [
82
] to insist on the seriousness of all acts (and of isolation). The bullied person should not be introduced as a stigmatized person but as a prosocial employee able to forsake any negative information. At the same time, specific treatment for depressive symptoms must be proposed and provided to victims by qualified personnel.
6. Conclusions
Our objective was to examine the role of both supervisor support and belief in a just world on exhaustion in critical situations involving bullying. The idea that the relationship between supervisor support and burnout might be mediated by bullying proved to be a fruitful approach, and exploring social support from one's supervisor can help us better understand suffering at work and potential routes toward remediation. Based on our findings, we can contend that both promoting supervisor support and using beliefs as resources are needed to decrease workplace bullying and emotional exhaustion.
Author Contributions
Conceptualization, P.D.; formal analysis, N.G.; methodology, P.D., N.G., and C.N.; resources, C.N.; writing—original draft, P.D.; writing—review & editing, N.G.
Funding
This research received no external funding.
Acknowledgments
The authors would like to thank Christine Jeoffrion, associate professor of the University of Nantes for her collect of data with her students in the Pays-de-La-Loire. We are gratefull to Pascal Malola who collaborate to the questionnaire and collect of data and in North France. The authors would like to thank Vivian Waltz for the proofread of the manuscript.
Conflicts of Interest
The authors declare no conflict of interest.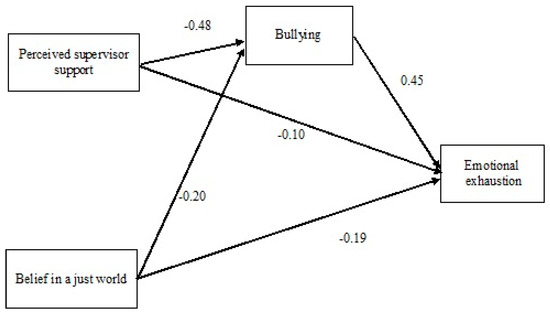 Figure 1.
Results of the path analysis. Note: Standardized coefficients are reported. All paths are significant (
p
< 0.05).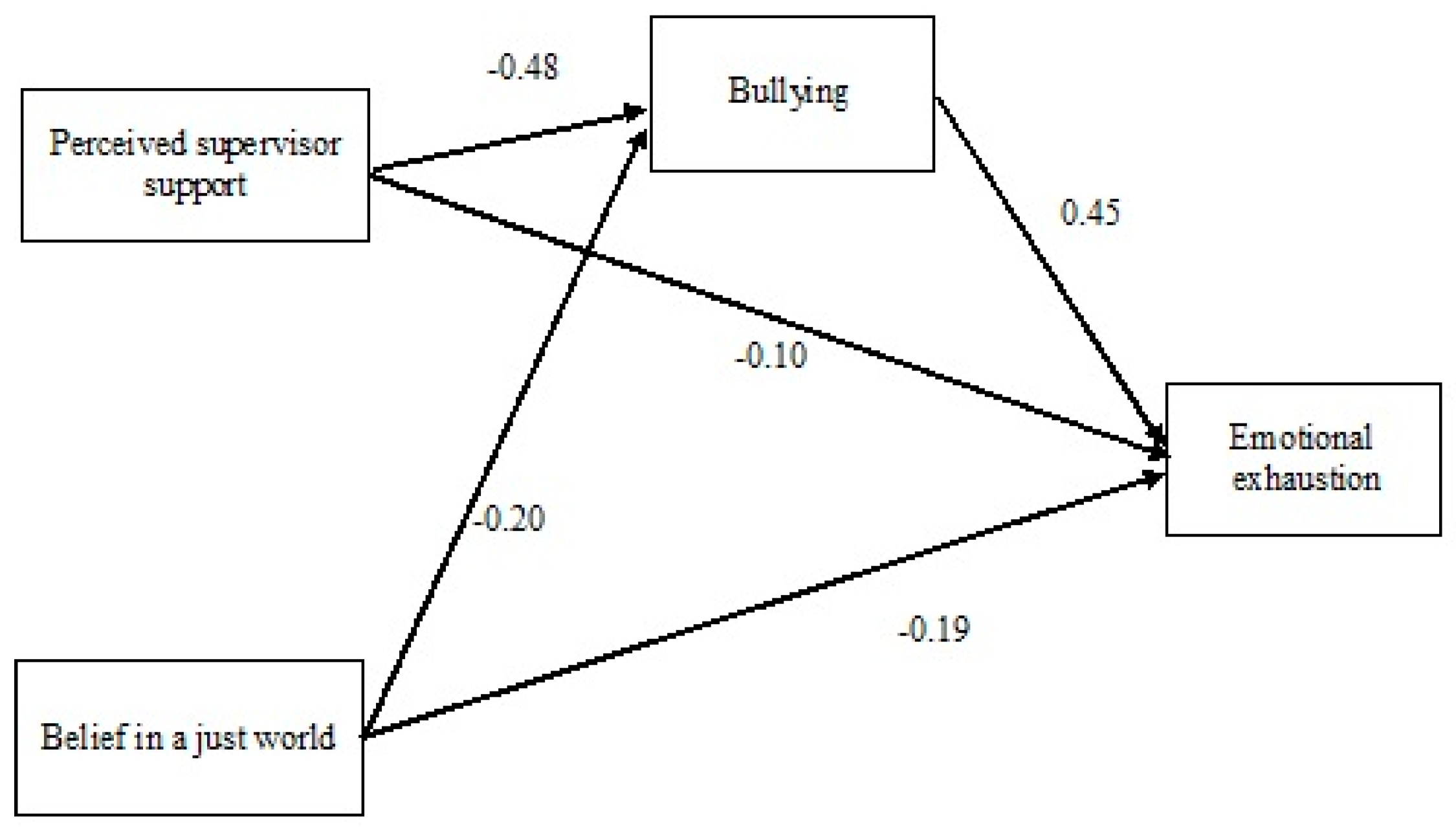 | Variables | M | SD | 1 | 2 | 3 | 4 |
| --- | --- | --- | --- | --- | --- | --- |
| 1. Supervisor support | 2.76/4 | 0.65 | 0.78 | | | |
| 2. Belief in a just world | 3.07/5 | 0.96 | 0.42 | 0.78 | | |
| 3. Bullying | 1.39/5 | 0.44 | –0.56 | –0.40 | 0.93 | |
| 4. Emotional exhaustion | 3.23/7 | 1.64 | –0.43 | –0.42 | 0.59 | 0.89 |
Note: All correlations are significant (

p

< 0.001). Cronbach alpha are in bold in the diagonal.

© 2018 by the authors. Licensee MDPI, Basel, Switzerland. This article is an open access article distributed under the terms and conditions of the Creative Commons Attribution (CC BY) license (http://creativecommons.org/licenses/by/4.0/).