Physiological Effects of Touching the Wood of Hinoki Cypress (
Chamaecyparis obtusa

) with the Soles of the Feet

1

Department of Wood Engineering, Forestry and Forest Products Research Institute, 1 Matsunosato, Tsukuba, Ibaraki 305-8687, Japan

2

Center for Environment, Health and Field Sciences, Chiba University, 6-2-1 Kashiwa-no-ha, Kashiwa, Chiba 277-0882, Japan

*

Author to whom correspondence should be addressed.

Received: 23 August 2018 / Revised: 20 September 2018 / Accepted: 26 September 2018 / Published: 28 September 2018
Abstract
We clarified the physiological effects of tactile stimulation of the soles of the feet with the wood of the Hinoki cypress (
Chamaecyparis obtusa
) based on measurements of prefrontal cortex and autonomic nervous activities. Nineteen female university-attending students (age: 21.2 ± 0.3 years) were included. Oxy-hemoglobin (oxy-Hb) concentrations in the prefrontal cortex were determined by using near-infrared time-resolved spectroscopy. The high frequency (HF) indicating parasympathetic nervous activity and the ratio of low frequency (LF)/HF indicating sympathetic nervous activity were measured using heart rate variability. To evaluate the psychological effects caused by contact with the materials, the modified semantic differential method was used. The soles of the participants' feet were touched to a 600 × 600-mm plate made of Hinoki, which was finished in non-coating and brushing for 90 s. A marble plate served as the control. Next, subjective evaluation tests were administered to the participants. Compared with touching marble, touching Hinoki significantly (1) decreased the oxy-Hb concentrations in the left and right prefrontal cortices, which indicates decreased prefrontal cortex activity, (2) increased ln(HF), which indicates increased parasympathetic nervous activity, (3) decreased ln(LF/HF) ratio, which indicates decreased sympathetic nervous activity. Additionally, (4) according to subjective evaluations, the participants perceived themselves as being more "comfortable," "relaxed," "natural," "warm," "uneven," "dry," and "soft" after touching Hinoki. Thus, our cumulative findings indicate that touching Hinoki with the soles of the feet induces physiological relaxation.
View Full-Text
►

▼

Figures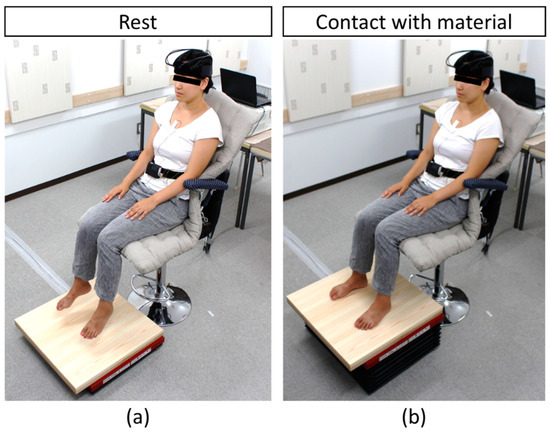 Figure 1
This is an open access article distributed under the
Creative Commons Attribution License
which permits unrestricted use, distribution, and reproduction in any medium, provided the original work is properly cited (CC BY 4.0).

Share & Cite This Article
MDPI and ACS Style
Ikei, H.; Song, C.; Miyazaki, Y. Physiological Effects of Touching the Wood of Hinoki Cypress (Chamaecyparis obtusa) with the Soles of the Feet. Int. J. Environ. Res. Public Health 2018, 15, 2135.
Note that from the first issue of 2016, MDPI journals use article numbers instead of page numbers. See further details here.
Related Articles
Comments
[Return to top]