Effect of Radiological Countermeasures on Subjective Well-Being and Radiation Anxiety after the 2011 Disaster: The Fukushima Health Management Survey
1
Radiation Medical Science Center for the Fukushima Health Management Survey, Fukushima Medical University, 1 Hikarigaoka, Fukushima 960-1295, Japan
2
Department of Health Risk Communication, Fukushima Medical University School of Medicine, 1 Hikarigaoka, Fukushima 960-1295, Japan
3
Graduate School of Environment and Information Sciences, Yokohama National University, 79-7 Tokiwadai, Hodogaya, Yokohama 240-8501, Japan
4
United Nations University Institute for the Advanced Study of Sustainability, 5-53-70 Jingumae, Shibuya, Tokyo 150-8925, Japan
5
Graduate School of Humanities and Social Sciences, University of Tsukuba, 1-1-1 Tennoudai, Tsukuba, Ibaraki 305-8571, Japan
6
Center for Material Cycles and Waste Management Research, National Institute for Environmental Studies, 16-2 Onogawa, Tsukuba, Ibaraki 305-8506, Japan
7
Research Institute for Geo-Resources and Environment, National Institute of Advanced Industrial Science and Technology, 1-1-1 Higashi, Tsukuba, Ibaraki 305-8567, Japan
8
Research Institute of Science for Safety and Sustainability, National Institute of Advanced Industrial Science and Technology, 16-1, Onogawa, Tsukuba, Ibaraki 305-8569, Japan
9
Faculty of Informatics, Tokyo City University, 3-3-1, Ushikubonishi, Tsuzuki, Yokohama, Kanagawa 224-8551, Japan
10
Center for Integrated Science and Humanities & International Community Health, Fukushima Medical University, 1 Hikarigaoka, Fukushima, Fukushima 960-1295, Japan
11
Department of Epidemiology, Fukushima Medical University School of Medicine, 1 Hikarigaoka, Fukushima 960-1295, Japan
12
Department of Public Health, Fukushima Medical University School of Medicine, 1 Hikarigaoka, Fukushima 960-1295, Japan
*
Author to whom correspondence should be addressed.
Received: 17 November 2017 / Revised: 9 January 2018 / Accepted: 10 January 2018 / Published: 12 January 2018
Abstract
After the Fukushima Daiichi Nuclear Power Station accident in 2011, concerns about radiation exposure and decline in subjective well-being have been reported. To tackle these problems, various countermeasures in relation to radiation have been implemented. In this study, we comprehensively evaluated the effects of radiological countermeasures on subjective well-being (e.g., satisfaction with life (SWL) and emotional well-being) and radiation anxiety, through a questionnaire survey targeting Fukushima residents (
N
= 1023). Propensity scores matching was applied to evaluate significant effects of radiological countermeasures on subjective well-being and radiation anxiety. Among the radiological countermeasures, thyroid examination, whole body counter, and air dose monitoring showed the highest proportions of participation, utilization, and useful evaluation, suggesting a high degree of public attention focused on these countermeasures. The basic survey was associated with significant increases in SWL and self-rated health (SH). Thyroid examination was significantly associated with not only a reduction in radiation anxiety but also an increase of emotional stress, suggesting the importance of careful design of system and detailed communication. Food inspection was associated with deterioration in SH. Those who utilized explanatory meetings showed increases in sadness, worry, and radiation anxiety, indicating that additional attention is required of the experts and authorities involved in explanatory meetings.
View Full-Text
►

▼

Figures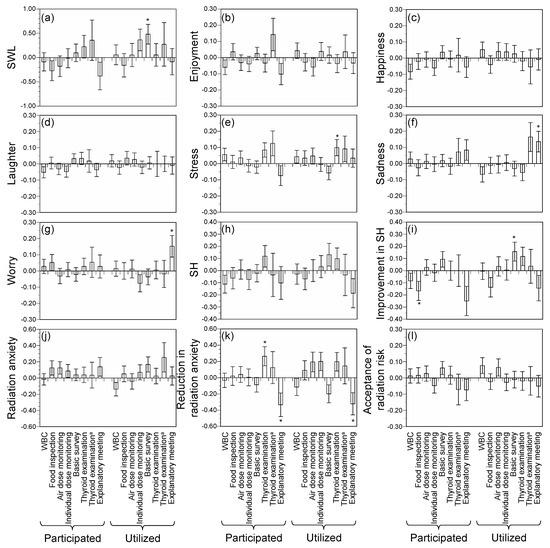 Figure 1
This is an open access article distributed under the
Creative Commons Attribution License
which permits unrestricted use, distribution, and reproduction in any medium, provided the original work is properly cited (CC BY 4.0).

Share & Cite This Article
MDPI and ACS Style
Murakami, M.; Takebayashi, Y.; Takeda, Y.; Sato, A.; Igarashi, Y.; Sano, K.; Yasutaka, T.; Naito, W.; Hirota, S.; Goto, A.; Ohira, T.; Yasumura, S.; Tanigawa, K. Effect of Radiological Countermeasures on Subjective Well-Being and Radiation Anxiety after the 2011 Disaster: The Fukushima Health Management Survey. Int. J. Environ. Res. Public Health 2018, 15, 124.
Note that from the first issue of 2016, MDPI journals use article numbers instead of page numbers. See further details here.
Related Articles
Comments
[Return to top]