Contaminations, Sources, and Health Risks of Trace Metal(loid)s in Street Dust of a Small City Impacted by Artisanal Zn Smelting Activities
1
Laboratory of Karst Environmental and Geological Disaster Prevention and Control, Ministry of Land and Resources, Guizhou University, Guiyang 550003, China
2
State Key Laboratory of Environmental Geochemistry, Institute of Geochemistry, Chinese Academy of Sciences, Guiyang 550081, China
3
State Key Laboratory of Biogeology and Environmental Geology, School of Earth Science, China University of Geosciences, Wuhan 430074, China
4
Guizhou Provincial Laboratory for Mountainous Environment, Guizhou Normal University, Guiyang 550001, China
*
Author to whom correspondence should be addressed.
Received: 20 June 2017 / Revised: 8 August 2017 / Accepted: 19 August 2017 / Published: 25 August 2017
Abstract
To investigate the impact of artisanal zinc smelting activities (AZSA) on the distribution and enrichment of trace metal(loid)s in street dust of a small city in Guizhou province, SW China, street dust samples were collected and analyzed for 10 trace metal(loid)s (Cr, Co, Ni, Cu, Zn, As, Cd, Sb, Pb, and Hg). Meanwhile, the health risks of local resident exposed to street dust were assessed. The result showed that the average concentrations of 10 elements were Zn (1039 mg kg
−1
), Pb (423 mg kg
−1
), Cr (119 mg kg
−1
), Cu (99 mg kg
−1
), As (55 mg kg
−1
), Ni (39 mg kg
−1
), Co (18 mg kg
−1
), Sb (7.6 mg kg
−1
), Cd (2.6 mg kg
−1
), and Hg (0.22 mg kg
−1
). Except Ni, Co, and Cr, other elements in street dust were obviously elevated compared to the provincial soil background. Pb, Zn, Cd, Sb, and Cu were at heavy to moderate contamination status, especially Pb and Zn, with maximums of 1723 and 708 mg kg
−1
, respectively; As and Hg were slightly contaminated; while Cr, Ni, and Co were at un-contaminated levels. Multivariate statistical analysis revealed AZSA contributed to the increase of Pb, Zn, Cd, Sb, As, and Hg, while, natural sources introduced Ni, Co, Cr, and Cu. The health risk assessment disclosed that children had higher non-carcinogenic risk than those found in adults, and As has hazardous index (HI) higher than 1 both for children and adults, while Pb and Cr only had HIs higher than 1 for children, other elements were relatively safe. For carcinogenic risks, the major concern was As, then a lesser concern for Cr. The study showed that although the scale of AZSA was small, the contamination of heavy metal(loid)s in street dust and associated health risks were severe.
View Full-Text
►

▼

Figures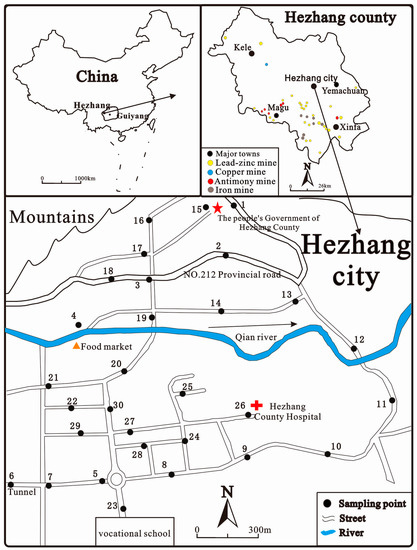 Figure 1
This is an open access article distributed under the
Creative Commons Attribution License
which permits unrestricted use, distribution, and reproduction in any medium, provided the original work is properly cited (CC BY 4.0).

Share & Cite This Article
MDPI and ACS Style
Wu, T.; Bi, X.; Li, Z.; Sun, G.; Feng, X.; Shang, L.; Zhang, H.; He, T.; Chen, J. Contaminations, Sources, and Health Risks of Trace Metal(loid)s in Street Dust of a Small City Impacted by Artisanal Zn Smelting Activities. Int. J. Environ. Res. Public Health 2017, 14, 961.
Note that from the first issue of 2016, MDPI journals use article numbers instead of page numbers. See further details here.
Related Articles
Comments
[Return to top]