Comparison of Biogenic Amines and Mycotoxins in Alfalfa and Red Clover Fodder Depending on Additives
1
Faculty of AgriSciences, Mendel University in Brno, Zemedelska 1, 61300 Brno, Czech Republic
2
Research Institute for Fodder Crops, Ltd. Troubsko, Zahradni 1, 66441 Troubsko, Czech Republic
*
Author to whom correspondence should be addressed.
Academic Editor: Marcello Iriti
Received: 8 February 2017 / Revised: 9 April 2017 / Accepted: 10 April 2017 / Published: 14 April 2017
Abstract
In the production of fermented feed, each crop can be contaminated with a variety of microorganisms that may produce natural pollutants. Biogenic amines, mycotoxins, and undesirable organic acids can decrease health feed safety. The aim of this study was to compare the counts of microorganisms, levels of biogenic amines, and the mycotoxins in forage legumes, and also to compare the occurrence of microorganisms and levels of mycotoxins in green fodder and subsequently produced silage and the influence of additives on the content of natural harmful substances in silage. The experimental plot was located in Troubsko and Vatín, in the Czech Republic. Two varieties of
Medicago sativa
and one variety of
Trifolium pratense
were compared. Green fodder and subsequently produced silage reaching up to 23% of dry matter were evaluated and prepared using a bio-enzymatic additive and a chemical additive. Green fodder of
Medicago sativa
was more contaminated by
Enterococci
than
Trifolium pratense
fodder. The obvious difference was determined by the quality of silage leachate. The silage prepared from
Medicago sativa
fodder was more contaminated with butyric acid. Fungi were present in higher counts in the anaerobic environment of green fodder and contaminated it with zearalenone and deoxynivalenol. Lower counts of fungi were found in silage, although the zearalenone content did not change. Lower content of deoxynivalenol was detected in silage, compared with green fodder. Silages treated with a chemical additive were found not to contain butyric acid. Lower ethanol content was determined, and the tendency to reduce the risk of biogenic amines occurrence was evident. The additives proved to have no influence on the content of mycotoxins.
View Full-Text
►

▼

Figures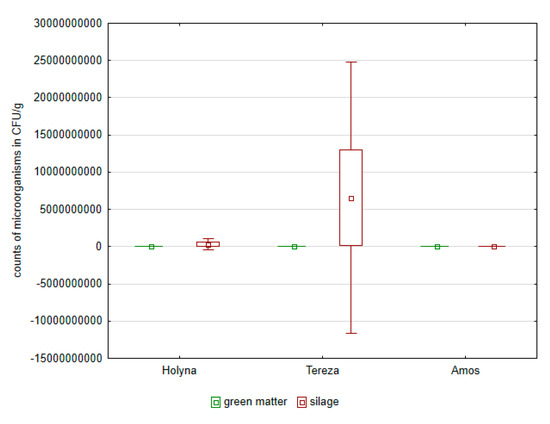 Figure 1
This is an open access article distributed under the
Creative Commons Attribution License
which permits unrestricted use, distribution, and reproduction in any medium, provided the original work is properly cited (CC BY 4.0).

Share & Cite This Article
MDPI and ACS Style
Skladanka, J.; Adam, V.; Zitka, O.; Mlejnkova, V.; Kalhotka, L.; Horky, P.; Konecna, K.; Hodulikova, L.; Knotova, D.; Balabanova, M.; Slama, P.; Skarpa, P. Comparison of Biogenic Amines and Mycotoxins in Alfalfa and Red Clover Fodder Depending on Additives. Int. J. Environ. Res. Public Health 2017, 14, 418.
Note that from the first issue of 2016, MDPI journals use article numbers instead of page numbers. See further details here.
Related Articles
Comments
[Return to top]