Spatio-Temporal Pattern and Risk Factor Analysis of Hand, Foot and Mouth Disease Associated with Under-Five Morbidity in the Beijing–Tianjin–Hebei Region of China
State Key Laboratory of Resources and Environmental Information System, Institute of Geographic Sciencesand Natural Resources Research, Chinese Academy of Sciences, Beijing 100101, China
Received: 21 January 2017 / Revised: 31 March 2017 / Accepted: 31 March 2017 / Published: 13 April 2017
Abstract
Hand, foot and mouth disease (HFMD) in children under the age of five is a major public health issue in China. Beijing–Tianjin–Hebei is the largest urban agglomeration in northern China. The present study aimed to analyze the epidemiological features of HFMD, reveal spatial clusters, and detect risk factors in this region. Reports of HFMD cases in Beijing–Tianjin–Hebei from 1 January 2013 to 31 December 2013 were collected from 211 counties or municipal districts. First, the epidemiological features were explored, and then SaTScan analysis was carried out to detect spatial clusters of HFMD. Finally, GeoDetector and spatial paneled model were used to identify potential risk factors among the socioeconomic and meteorological variables. There were a total of 90,527 HFMD cases in the year 2013. The highest rate was in individuals aged one year, with an incidence of 24.76/10
3
. Boys (55,168) outnumbered girls (35,359). Temporally, the incidence rose rapidly from April, peaking in June (4.08/10
3
). Temperature, relative humidity and wind speed were positively associated with the incidence rate, while precipitation and sunshine hours had a negative association. The explanatory powers of these factors were 57%, 13%, 2%, 21% and 12%, respectively. Spatially, the highest-risk regions were located in Beijing and neighboring areas, with a relative risk (RR) value of 3.04. The proportion of primary industry was negatively associated with HFMD transmission, with an explanatory power of 32%. Gross domestic product (GDP) per capita, proportion of tertiary industry, and population density were positively associated with disease incidence, with explanatory powers of 22%, 17% and 15%, respectively. These findings may be helpful in the risk assessment of HFMD transmission and for implementing effective interventions to reduce the burden of this disease.
View Full-Text
►

▼

Figures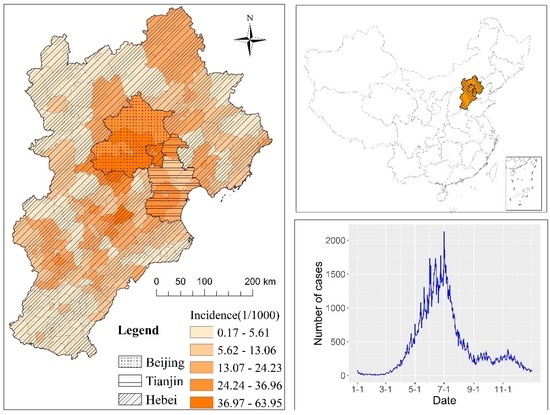 Figure 1
This is an open access article distributed under the
Creative Commons Attribution License
which permits unrestricted use, distribution, and reproduction in any medium, provided the original work is properly cited (CC BY 4.0).

Share & Cite This Article
MDPI and ACS Style
Xu, C. Spatio-Temporal Pattern and Risk Factor Analysis of Hand, Foot and Mouth Disease Associated with Under-Five Morbidity in the Beijing–Tianjin–Hebei Region of China. Int. J. Environ. Res. Public Health 2017, 14, 416.
Note that from the first issue of 2016, MDPI journals use article numbers instead of page numbers. See further details here.
Related Articles
Comments
[Return to top]