Risk Factors for Mortality among Adult HIV/AIDS Patients Following Antiretroviral Therapy in Southwestern Ethiopia: An Assessment through Survival Models
1
Institute of Health and Society (IRSS), Université catholique de Louvain, Brussels B-1082, Belgium
2
Department of Statistics, Natural Science College, Jimma University, Jimma, PO Box 378, Ethiopia
3
Department Public Health and Primary Care, KU Leuven, Leuven B-3000, Belgium
4
Department of Statistics and Operations Research, University of Limpopo, Sovenga, 0727, South Africa
5
School of Mathematical and Statistical Science, Hawassa University, P.O. Box 05, Ethiopia
6
Department of Medical Laboratory Sciences and Pathology, College of Health Sciences, Jimma University, Jimma, P.O. Box 378, Ethiopia
7
Institute of Tropical Medicine "Alexander von Humboldt", Universidad Peruana Cayetano Heredia, Lima 15000, Peru
8
Department of Comparative Physiology and Biometrics, Ghent University, Ghent B-9000, Belgium
*
Author to whom correspondence should be addressed.
Academic Editor: Paul B. Tchounwou
Received: 15 January 2017 / Revised: 27 February 2017 / Accepted: 9 March 2017 / Published: 12 March 2017
Abstract
Introduction:
Efforts have been made to reduce HIV/AIDS-related mortality by delivering antiretroviral therapy (ART) treatment. However, HIV patients in resource-poor settings are still dying, even if they are on ART treatment. This study aimed to explore the factors associated with HIV/AIDS-related mortality in Southwestern Ethiopia.
Method:
A non-concurrent retrospective cohort study which collected data from the clinical records of adult HIV/AIDS patients, who initiated ART treatment and were followed between January 2006 and December 2010, was conducted, to explore the factors associated with HIV/AIDS-related mortality at Jimma University Specialized Hospital (JUSH). Survival times (i.e., the time from the onset of ART treatment to the death or censoring) and different characteristics of patients were retrospectively examined. A best-fit model was chosen for the survival data, after the comparison between native semi-parametric Cox regression and parametric survival models (i.e., exponential, Weibull, and log-logistic).
Result:
A total of 456 HIV patients were included in the study, mostly females (312, 68.4%), with a median age of 30 years (inter-quartile range (IQR): 23–37 years). Estimated follow-up until December 2010 accounted for 1245 person-years at risk (PYAR) and resulted in 66 (14.5%) deaths and 390 censored individuals, representing a median survival time of 34.0 months ( IQR: 22.8–42.0 months). The overall mortality rate was 5.3/100 PYAR: 6.5/100 PYAR for males and 4.8/100 PYAR for females. The Weibull survival model was the best model for fitting the data (lowest AIC). The main factors associated with mortality were: baseline age (>35 years old, AHR = 3.8, 95% CI: 1.6–9.1), baseline weight (AHR = 0.93, 95% CI: 0.90–0.97), baseline WHO stage IV (AHR = 6.2, 95% CI: 2.2–14.2), and low adherence to ART treatment (AHR = 4.2, 95% CI: 2.5–7.1).
Conclusion:
An effective reduction in HIV/AIDS mortality could be achieved through timely ART treatment onset and maintaining high levels of treatment adherence.
View Full-Text
►

▼

Figures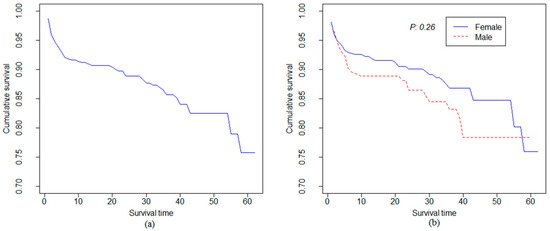 Figure 1
This is an open access article distributed under the
Creative Commons Attribution License
which permits unrestricted use, distribution, and reproduction in any medium, provided the original work is properly cited (CC BY 4.0).

Share & Cite This Article
MDPI and ACS Style
Seyoum, D.; Degryse, J.-M.; Kifle, Y.G.; Taye, A.; Tadesse, M.; Birlie, B.; Banbeta, A.; Rosas-Aguirre, A.; Duchateau, L.; Speybroeck, N. Risk Factors for Mortality among Adult HIV/AIDS Patients Following Antiretroviral Therapy in Southwestern Ethiopia: An Assessment through Survival Models. Int. J. Environ. Res. Public Health 2017, 14, 296.
Note that from the first issue of 2016, MDPI journals use article numbers instead of page numbers. See further details here.
Related Articles
Comments
[Return to top]