Open Access This article is
freely available
re-usable
Article
Experience of Japan in Achieving a Total Ban on Asbestos
1
Japan Occupational Safety and Health Resource Center, Tokyo 1360071, Japan
2
Asbestos Diseases Research Institute, University of Sydney, Sydney 2139, Australia
*
Author to whom correspondence should be addressed.
Received: 25 September 2017 / Accepted: 18 October 2017 / Published: 20 October 2017
Abstract
:
This paper aims to examine the process through which a total ban on asbestos was achieved in Japan. We reconstructed the process, analyzed the roles of involved parties/events, and drew lessons from the Japanese experience of achieving the ban. In Japan, a bill to phase out asbestos was proposed in 1992 but rejected without deliberation. Wide support for such a ban subsequently grew, however, largely due to the actions of trade unions and civil societies in establishing a coalition, raising awareness, organizing asbestos victims and their families, and propagating information on international developments. A governmental decision towards a ban was made in 2002 based on several national and international factors. A huge asbestos scandal in 2005 preponed the achievement of a total ban and led to the establishment of comprehensive measures to tackle asbestos issues. However, challenges remain for the elimination of asbestos-related diseases.
Keywords:
asbestos; ban; national experience; international cooperation
1. Introduction
Japan has the world's 10th-largest population, with over 127 million people. In 2016, Japan had the third largest national economy in the world in terms of national GDP.
Almost all asbestos used in Japan was imported. Raw asbestos was not imported during World War II (WWII), but imports increased again thereafter to attain a peak of 352,110 tons in 1974. Asbestos imports began consistently decreasing in 1989 and have been at zero since 2006. The amount of raw asbestos imported during the period of 1930–2005 totaled 9,879,865 tons (
Figure 1
) [
1
].
Data on mesothelioma mortality in Japan has been captured in the vital statistics since 1995. Five hundred mesothelioma deaths were recorded in 1995, and this number steadily increased to reach 1504 in 2015. In 1987, the first mesothelioma case was recognized as an occupational disease and compensated by Workers' Compensation Insurance. The cumulative number of compensated mesothelioma cases was around 500 during the 18-year period of 1987–2004; in contrast, 500 such cases were recorded in 2005, and 1000 were recorded in 2006. In addition, the Asbestos Victims Relief Act was enacted in 2006 to compensate asbestos-related disease (ARD) victims not covered by the workers' compensation schemes (
Figure 1
) [
1
].
This paper aims to examine the process through which a total ban on asbestos was achieved in Japan.
2. Materials and Methods
The authors referred to the relevant documents and the experience of the first author (S.F.) as the coordinator of the Ban Asbestos Network Japan (BANJAN) since 1996. From these sources, we reconstructed the process, analyzed the roles of involved parties/events, and drew lessons from the Japanese experience.
4. Discussion
Clearly, Japan missed earlier opportunities to adopt a total ban on asbestos by waiting until ARD victims became visible and disputes regarding international trade were concluded. Unfortunately, the ARD epidemic that the country faces today and will continue to experience in the future is a natural consequence of the failure to take early appropriate action. It is clear that the voices of asbestos victims and their families can create a most powerful impetus, as can building coalitions and expanding support for a ban among various social parties (e.g., victims/families, workers, citizens, professionals, politicians, etc.). Media attention is helpful and often powerful, but it is short-lived. Above all, political advocacy for immediate decision making is key.
The Comprehensive Measures established by the ministers' meetings in 2005, which included a policy for achieving a total ban on asbestos, represented a significant political turning point. However, these measures have never been reviewed or revised. Moreover, it was the "Kubota Shock", not the introduction of a ban, that improved ARD compensation. It should be emphasized that a ban on asbestos is an important move, but it is only a first step in tackling the wide-ranging legacy of asbestos. Key points for other countries keen to learn from the Japanese lesson are to: (i) secure implementation of a total ban as early as possible; (ii) promote justice for all asbestos victims/families and exposed persons; (iii) aspire to achieve an asbestos-free society/environment for the elimination of ARDs; and (iv) collaborate globally and learn from the experiences of other countries.
5. Conclusions
Countries that have not yet introduced a ban on asbestos should adopt a precautionary approach by introducing a total ban on asbestos without waiting for an epidemic of ARDs to appear. There is enormous value in learning from Japan's example, particularly with respect to detecting and empowering asbestos victims and their families, building coalitions, and implementing comprehensive strategies to eliminate ARDs. Moreover, international instruments that support and facilitate the banning of asbestos are becoming increasingly available [
22
]. More powerful regional and/or international instruments, such as those directly requiring a total ban on asbestos, are desired. However, the lack of such a push should not be used as an excuse to avoid introducing a national ban right now. The National Program for the Elimination of Asbestos-Related Diseases (NPEAD) [
23
] can help facilitate the establishment of comprehensive strategies, both for countries that have not yet introduced a ban and for those that have already introduced a total ban on asbestos.
If ARD victims are not yet visible in a country, it does not mean that no real victims exist. Efforts to detect and empower asbestos victims are recommended for all countries. Scientific means to estimate the burden of ARDs (for the world and each country) has substantially advanced in recent years [
24
]; such estimates are now available through databases such as the "GBD Compare" database [
25
] and others [
26
]. Although they are not perfect, these estimates can be used as a basis for establishing policy towards a total ban on asbestos, and for discussing the issue of under diagnosis and how to improve the situation.
Naysayers can continue their so-called "scientific debates" endlessly, so it is very important that policy makers not get tripped up by such arguments. From the Japanese experience, we see that it is more important to highlight, expand, and strengthen positive aspects towards a total ban on asbestos.
Acknowledgments
We would like to acknowledge the Heads of the Asbestos Coordination Authorities (HACA), Australia, for funding the open access publication of this special issue.
Author Contributions
Sugio Furuya conceived and conceptualized the article. Sugio Furuya collected information and performed the data analysis. Ken Takahashi provided additional information and data. Sugio Furuya and Ken Takahashi jointly wrote the paper.
Conflicts of Interest
The authors declare no conflict of interest.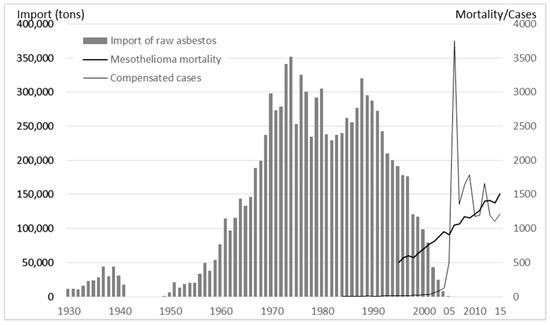 Figure 1. Import of raw asbestos, mesothelioma mortality, and number of mesothelioma cases compensated by Workers' Compensation Insurance (since 1978 when the first case was compensated) and the Asbestos Victims Relief schemes (since 2006) in Japan.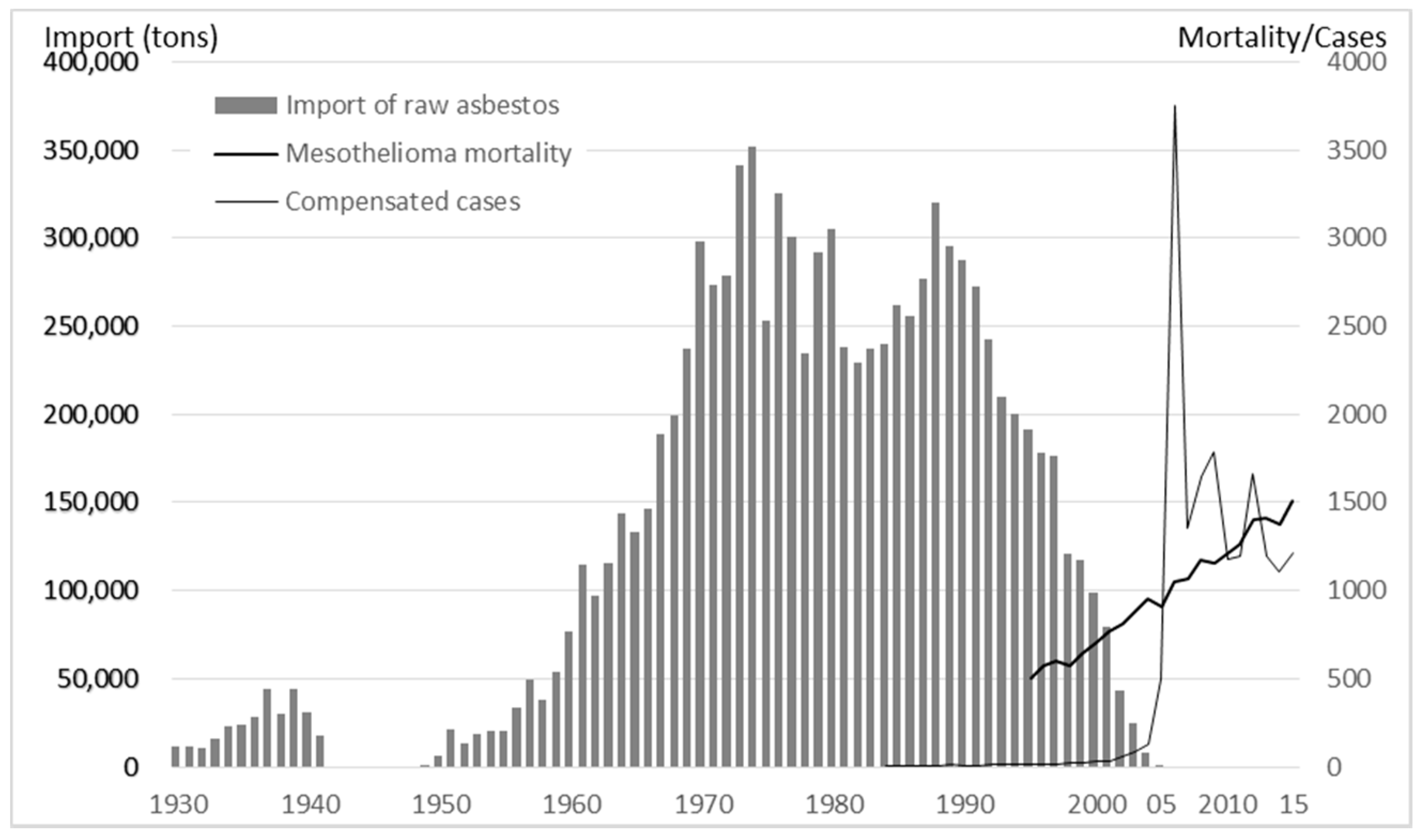 © 2017 by the authors. Licensee MDPI, Basel, Switzerland. This article is an open access article distributed under the terms and conditions of the Creative Commons Attribution (CC BY) license (http://creativecommons.org/licenses/by/4.0/).