Investigation of Oxidation Methods for Waste Soy Sauce Treatment
1
Department of Environmental and Chemical Engineering, Eco-Friendly Offshore Plant FEED Engineering Course, Changwon National University, 20 Changwondaehak-ro, Uichang-gu, Changwon-si, Gyeongsangnam-do 51140, Korea
2
School of Civil, Environmental and Chemical Engineering, Changwon National University, 20 Changwondaehak-ro, Uichang-gu, Changwon-si, Gyeongsangnam-do 51140, Korea
*
Authors to whom correspondence should be addressed.
Received: 30 August 2017 / Revised: 29 September 2017 / Accepted: 5 October 2017 / Published: 7 October 2017
Abstract
To obtain a suitable oxidation method for removing the color and lowering the chemical oxygen demand (COD) of waste soy sauce, Fenton (Fe
2+
), Fenton-like (Fe
3+
), and ozone (O
3
) oxidation methods are used as the target reactions. In experimental conditions for Fenton oxidation, the dose of Fe
2+
and Fe
3+
was varied between 100 mg/L and 300 mg/L. The dose of hydrogen peroxide for the reaction was injected from 100–1000 mg/L. For ozone oxidation, the pH was increased from 3 to 14 and the O
3
-containing gas was supplied continuously for 30 min through a gas diffuser at the bottom of the reactor at different applied O
3
doses (10–90 mg/L). We subjected it to a simple 1:20 dilution with deionized water to identify the comparison result in detail. O
3
oxidation shows the highest efficiencies of color removal (81.1%) and COD lowering (64.9%) among the three oxidation methods. This is mainly due to the fact that it has a relatively large amount of hydroxyl radical, resulting in the degradation of organics. Thus, O
3
oxidation could be a promising method for removing the color and lowering the COD of waste soy sauce. The critical parameters (pH and applied O
3
dose) were varied systematically to optimize O
3
oxidation. It was found that the optimum pH and applied O
3
dose are 11.0 mg/L and 50.0 mg/L, respectively (color removal = 34.2%, COD removal = 27.4%).
View Full-Text
►

▼

Figures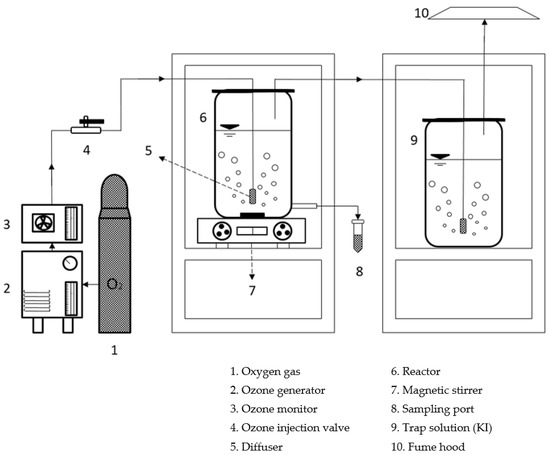 Figure 1
This is an open access article distributed under the
Creative Commons Attribution License
which permits unrestricted use, distribution, and reproduction in any medium, provided the original work is properly cited (CC BY 4.0).

Share & Cite This Article
MDPI and ACS Style
Jang, H.-H.; Seo, G.-T.; Jeong, D.-W. Investigation of Oxidation Methods for Waste Soy Sauce Treatment. Int. J. Environ. Res. Public Health 2017, 14, 1190.
Note that from the first issue of 2016, MDPI journals use article numbers instead of page numbers. See further details here.
Related Articles
Comments
[Return to top]