Association between Exposure to Endocrine Disruptors in Drinking Water and Preterm Birth, Taking Neighborhood Deprivation into Account: A Historic Cohort Study
1
Department of Analytical Chemistry, Pharmaceutics and Epidemiology, School of Medicine and Pharmacy, University of Poitiers, 6 rue de la Milétrie, 86034 Poitiers Cedex, France
2
Health–Endocrine Disruptors-EXposome, Clinical Investigation Center, Inserm U1402, 86021 Poitiers Cedex, France
3
Teaching Hospital of Poitiers, Biology-Pharmacy-Public Health Pole, 2 rue de la Milétrie, BP577, 86021 Poitiers Cedex, France
4
Epidemiology of Cancer and Environmental Exposures, Inserm U1219, University of Bordeaux, 146 rue Léo Saignat, 33076 Bordeaux, France
*
Author to whom correspondence should be addressed.
Academic Editor: Huixiao Hong
Received: 6 June 2016 / Revised: 1 August 2016 / Accepted: 3 August 2016 / Published: 9 August 2016
Abstract
Background
: The relationship between preterm birth (PTB) and endocrine disruptor exposure in drinking-water has only occasionally been studied. The objective of this work was to investigate the relation between exposure to atrazine metabolites, or atrazine/nitrate mixtures, in drinking-water during pregnancy and prevalence of PTB neonates, while taking neighborhood deprivation into account.
Method
: A historic cohort study in Deux-Sèvres, France, between 2005 and 2010 with a multiple imputation model for data of exposure to atrazine metabolites and a logistic regression were carried out.
Results
: We included 13,654 mother/neonate pairs living in 279 different census districts. The prevalence of PTB was 4%. Average atrazine metabolite concentration was 0.019 ± 0.009 (0.014–0.080) µg/L and 39% of mothers lived in less deprived areas. The individual data were associated with risk of PTB. The risk of PTB when exposed to highest concentration of atrazine metabolite adjusted for confounders, was ORa 1.625 95% CI [0.975; 2.710]. Taking, or not, neighborhood deprivation into account did not change the result. Exposure to atrazine/nitrate mixtures remained non-significant.
Conclusions
: Even if we took neighborhood deprivation into account, we could not show a significant relationship between exposure to atrazine metabolites, or mixtures, in drinking-water during the second trimester of pregnancy and PTB.
View Full-Text
►

▼

Figures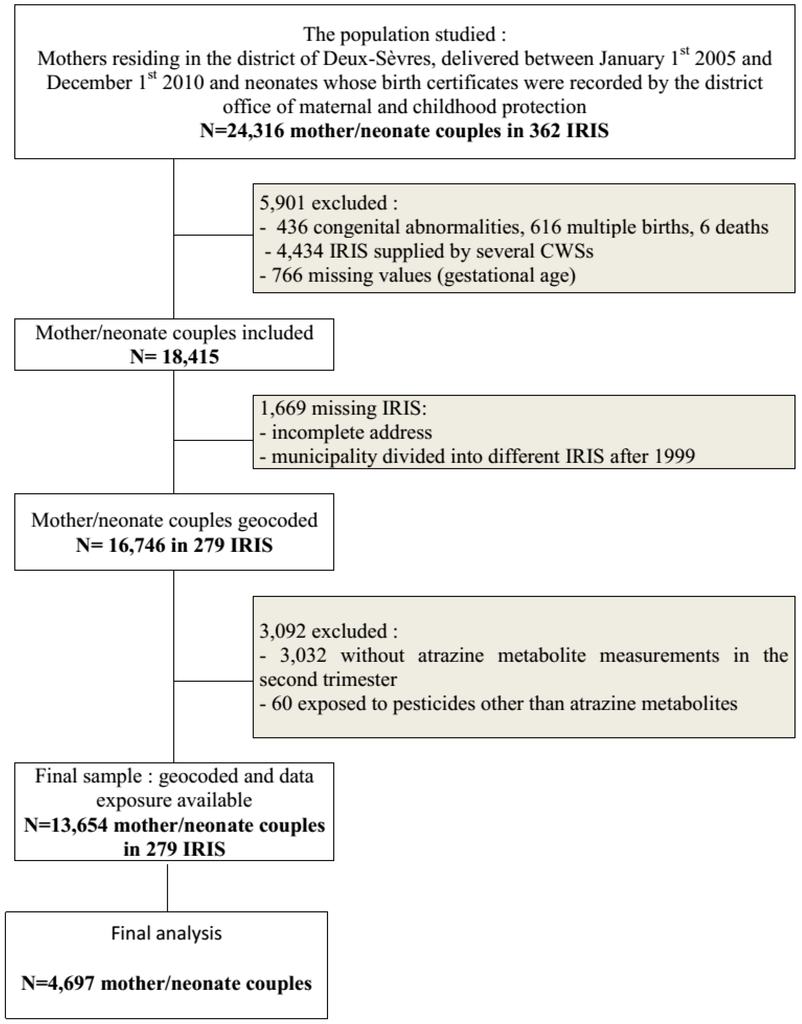 Figure 1
This is an open access article distributed under the
Creative Commons Attribution License
which permits unrestricted use, distribution, and reproduction in any medium, provided the original work is properly cited (CC BY 4.0).

Share & Cite This Article
MDPI and ACS Style
Albouy-Llaty, M.; Limousi, F.; Carles, C.; Dupuis, A.; Rabouan, S.; Migeot, V. Association between Exposure to Endocrine Disruptors in Drinking Water and Preterm Birth, Taking Neighborhood Deprivation into Account: A Historic Cohort Study. Int. J. Environ. Res. Public Health 2016, 13, 796.
Note that from the first issue of 2016, MDPI journals use article numbers instead of page numbers. See further details here.
Related Articles
Comments
[Return to top]