The Influence of Urbanization Modes on the Spatial Circulation of Flaviviruses within Ouagadougou (Burkina Faso)
1
Unité Mixte de Recherche Maladies Infectieuses et Vecteurs: Ecologie, Génétique, Evolution et Contrôle (MIVEGEC), Institut de Recherche pour le Développement, Montpellier 34394, France
2
Institut de Recherche en Sciences de la Santé/Centre Muraz, Bobo-Dioulasso BP 545, Burkina Faso
3
Laboratoire Dynamiques Sociales et Recomposition des Espaces (LADYSS), Université Paris Ouest Nanterre La Défense, Nanterre 92000, France
4
Institut des Sciences des Sociétés, Ouagadougou BP 7047, Burkina Faso
5
Unité Recherche Animal et Gestion Intégrée des Risques (AGIRS), Centre de Coopération Internationale en Recherche Agronomique pour le Développement, Montpellier 34398, France
6
Unité Mixte de Recherche Centre Population et Développement (CEPED), Institut de Recherche pour le Développement, Paris 75006, France
*
Author to whom correspondence should be addressed.
Academic Editor: Jason Corburn
Received: 20 October 2016 / Revised: 30 November 2016 / Accepted: 7 December 2016 / Published: 10 December 2016
Abstract
Dengue is an emerging infectious disease of global significance. Although this virus has been reported for a long time, its significance within the burden of diseases in West Africa is not obvious, especially in Burkina Faso. Our objective was to evaluate flavivirus presence in Ouagadougou (Burkina Faso) and the link between anti-flavivirus antibody seroprevalence and urbanization modes. A population-based cross-sectional survey was conducted and 3015 children were enrolled from Ouagadougou districts with different types and degrees of urbanization (with/without equipment and high/low building density). Flavivirus (FLAV) IgM MAC-ELISA and FLAV indirect IgG ELISA were performed. Associations between FLAV IgG presence (sign of past infection) and various independent variables were assessed using the chi-square test and a multivariate logistic regression analysis. The apparent prevalence of past flavivirus infections among the enrolled children was 22.7% (95% CI: 22.4–26.7) (
n
= 685). Eleven children (0.4%; 95% CI: 0.61–2.14) were positive for FLAV IgM, indicating active transmission. Factors associated with flavivirus infection were identified among the enrolled children (age, sex), householders (educational level, asset index) and in the environment (building density, water access, waste management and house appearance); however, they showed great variability according to the city districts. The water access modality did not significantly influence FLAV IgG positivity. Conversely, apparently good practices of waste management had unexpected consequences (increased risk related to municipal dumpsters). Given the scale of ongoing urbanization and the spread of arboviral diseases, close collaboration between health and city stakeholders is needed.
View Full-Text
►

▼

Figures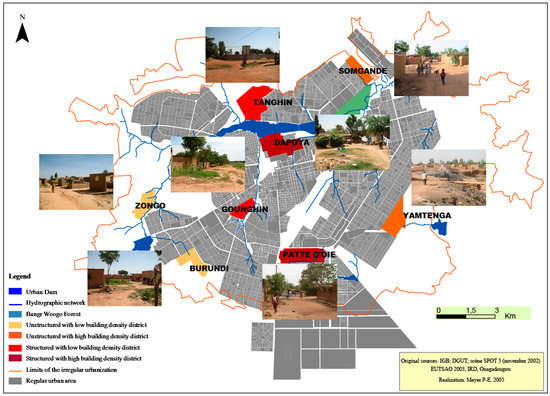 Figure 1
This is an open access article distributed under the
Creative Commons Attribution License
which permits unrestricted use, distribution, and reproduction in any medium, provided the original work is properly cited (CC BY 4.0).

Share & Cite This Article
MDPI and ACS Style
Fournet, F.; Rican, S.; Vaillant, Z.; Roudot, A.; Meunier-Nikiema, A.; Kassié, D.; Dabiré, R.K.; Salem, G. The Influence of Urbanization Modes on the Spatial Circulation of Flaviviruses within Ouagadougou (Burkina Faso). Int. J. Environ. Res. Public Health 2016, 13, 1226.
Note that from the first issue of 2016, MDPI journals use article numbers instead of page numbers. See further details here.
Related Articles
Comments
[Return to top]