Open Access This article is
freely available
re-usable
Review
Sun Exposure and Its Effects on Human Health: Mechanisms through Which Sun Exposure Could Reduce the Risk of Developing Obesity and Cardiometabolic Dysfunction
Telethon Kids Institute, University of Western Australia, P.O. Box 855, Perth 6872, Australia
*
Author to whom correspondence should be addressed.
Academic Editors: Daniela Haluza, Stana Simic and Hanns Moshammer
Received: 31 August 2016 / Accepted: 1 October 2016 / Published: 11 October 2016
Abstract
:
Obesity is a significant burden on global healthcare due to its high prevalence and associations with chronic health conditions. In our animal studies, ongoing exposure to low dose ultraviolet radiation (UVR, found in sunlight) reduced weight gain and the development of signs of cardiometabolic dysfunction in mice fed a high fat diet. These observations suggest that regular exposure to safe levels of sunlight could be an effective means of reducing the burden of obesity. However, there is limited knowledge around the nature of associations between sun exposure and the development of obesity and cardiometabolic dysfunction, and we do not know if sun exposure (independent of outdoor activity) affects the metabolic processes that determine obesity in humans. In addition, excessive sun exposure has strong associations with a number of negative health consequences such as skin cancer. This means it is very important to "get the balance right" to ensure that we receive benefits without increasing harm. In this review, we detail the evidence around the cardiometabolic protective effects of UVR and suggest mechanistic pathways through which UVR could be beneficial.
Keywords:
obesity; ultraviolet radiation; type-2 diabetes; non-alcoholic fatty liver disease
Acknowledgments
Shelley Gorman is an Al and Val Rosenstrauss Research Fellow supported by the Rebecca L Cooper Research Foundation. She also receives funding from the Diabetes Foundation of Western Australia, the Telethon Kids Institute and the National Health and Medical Research Council of Australia.
Author Contributions
Shelley Gorman conceived this review, which was written by Naomi Fleury under Shelley Gorman's supervision. Sian Geldenhuys performed the experiments described in
Figure 5
, under the supervision of Shelley Gorman, who performed the flow cytometry analyses.
Conflicts of Interest
The authors declare no conflict of interest.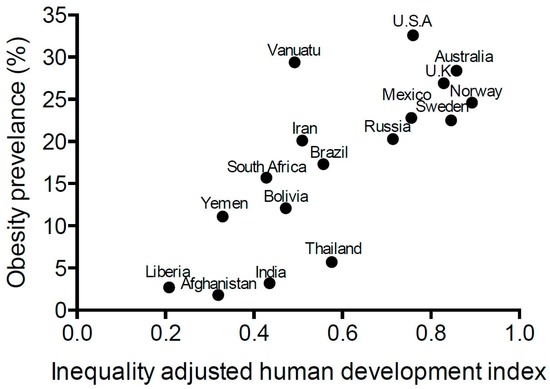 Figure 1.
Obesity prevalence. The prevalence of obesity in a selection of countries with varying degrees of development according to the inequality adjusted human development index, which takes into account life expectancy and quality, years and quality of education and the income of the average citizen [
4
], was calculated using data from the United Nations Development Programme (2015) [
5
]. Obesity prevalence is accurate as of the year 2014 from data collected by the World Health Organisation [
6
]. A significant positive linear relationship between human development index and obesity prevalence is observed (
p
= 0.0003,
r
= 0.58; Pearson test).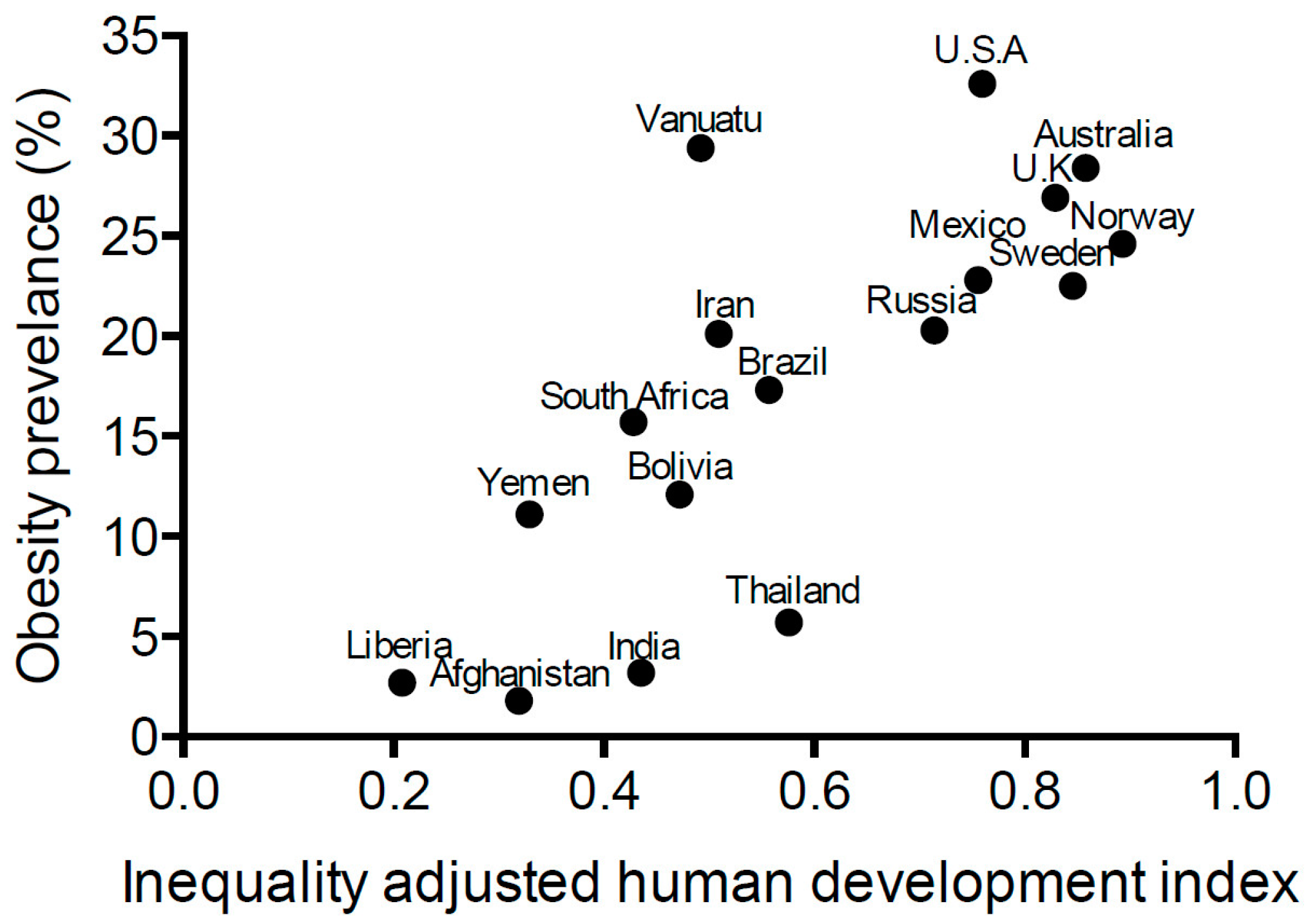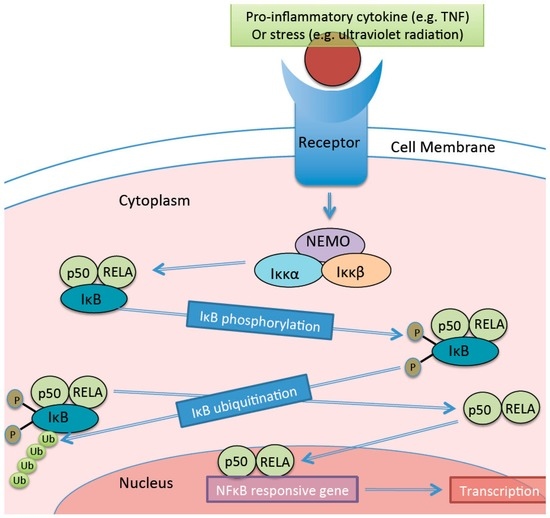 Figure 2.
The canonical NF-κB pathway. Pro-inflammatory cytokines or stressors activate a cell receptor (e.g., Toll-like receptors or tumour necrosis factor (TNF)). This cause activation of Iκκβ, which attaches to regulatory proteins like RELA (NF-κB p65 subunit), resulting in the formation of dimers. Iκκβ is activated and transforms into IκB. IκB is then phosphorylated, ubiquitinated, and then degraded. This causes the release of the dimers attached to it (e.g., p50-RELA heterodimer). The dimers are trans-located to the nucleus and bind to NF-κB responsive genes and induce transcription of pro-inflammatory cytokines. This figure was constructed based on information provided in [
30
,
35
,
36
]. NEMO = NF-κB essential modulator.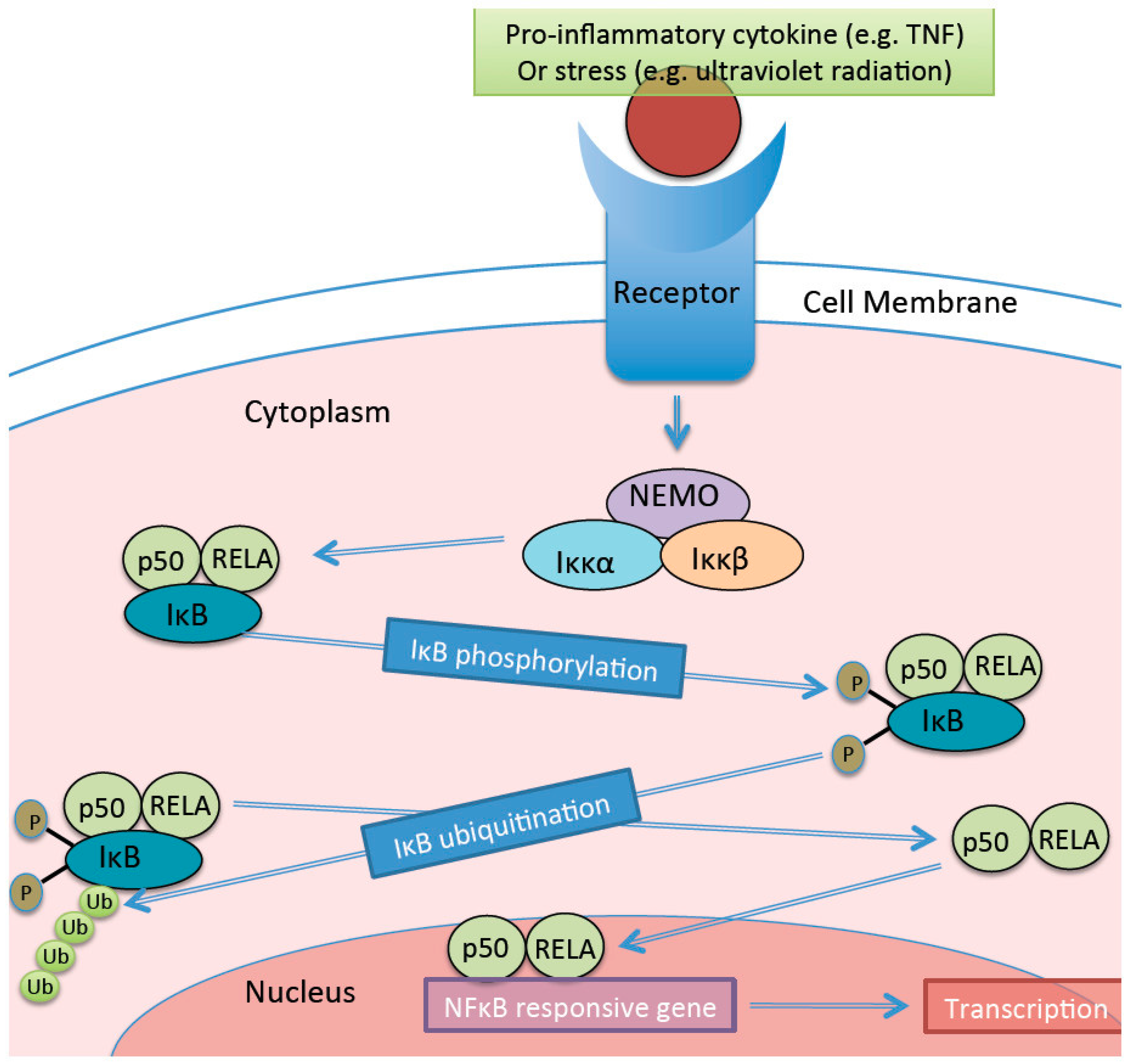 Figure 3.
Vitamin D synthesis. When skin is exposed to UVB radiation, 7-dehydrocholesterol (in the skin) transforms into pre-vitamin D that isomerises with body heat into vitamin D. Free vitamin D binds to the vitamin D binding protein (VDBP), which is transported through the blood stream into the liver and is hydroxylated to form 25-hydroxyvitamin D (25(OH)D). This form of vitamin D is used as the clinical measure of vitamin D status. 25(OH)D is then transported to the kidney (and other tissues) where it is hydroxylated to form the biologically-active product 1,25-dihydroxyvitamin D (1,25(OH)
2
D). Additional vitamin D can be obtained from vitamin D-rich food sources (such as fish and mushrooms) and supplements. Vitamin D is absorbed through the intestines into the bloodstream in chylomicrons.
Figure 3
was constructed based on information provided in [
42
,
95
].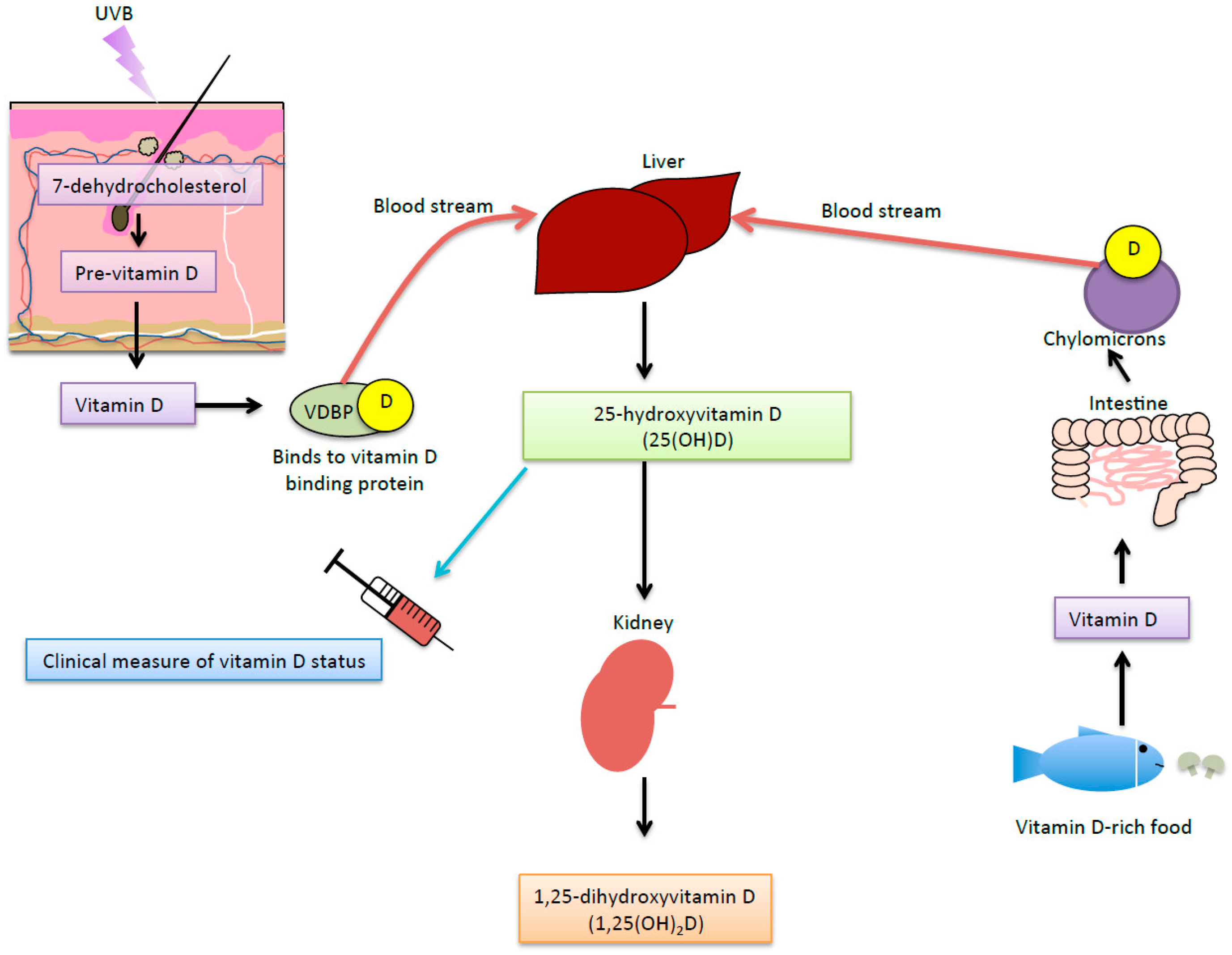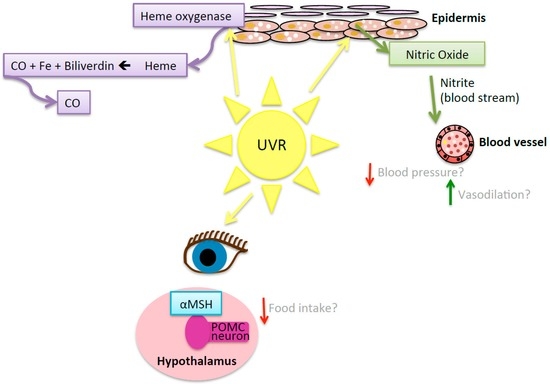 Figure 4. Mediators other than vitamin D are produced or released by exposure to UVR and may play a role in reducing weight gain and signs of cardiometabolic dysfunction. Exposure to ultraviolet radiation (UVR) results in the production of heme oxygenase, which causes the breakdown of heme, catalysing the production of carbon monoxide (CO), iron (Fe) and biliverdin; however, the role of this pathway on the development of obesity and cardiometabolic dysfunction is still to be defined. Nitric oxide stores in skin are released into the blood stream as nitrite potentially reducing blood pressure and increasing vasodilation. When skin and the eye are exposed to UVR there is a release of α-melanocyte-stimulating hormone (MSH), which activates pro-opiomelanocortin (POMC)-responsive neurons in the arcuate nucleus of the hypothalamus, and hypothetically could reduce appetite and food intake.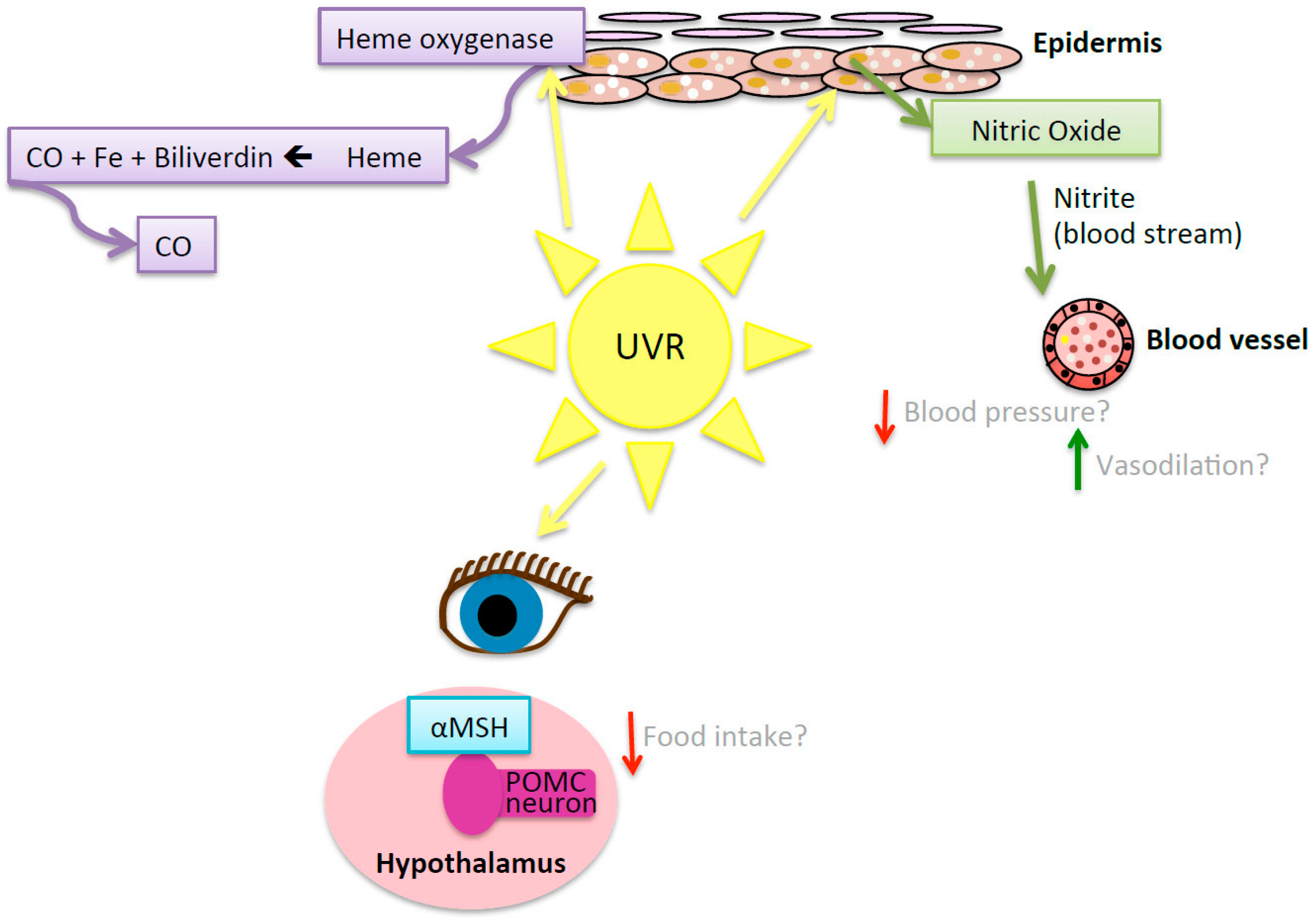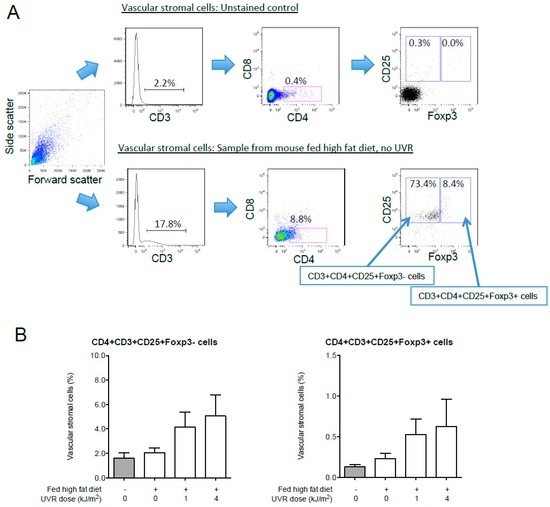 Figure 5.
UVR may increase proportions of CD4+ T cells in WAT. Tissue was sampled from C57BL/6J male mice fed a low or high fat diet for 12 weeks. Some mice were exposed to 1 kJ/m
2
UVR (sub-oedemal dose, two times a week) or 4 kJ/m
2
UVR (oedemal dose, once a fortnight) for this 12-week period. The mice were from experiments described in [
75
]. Vascular stromal cells were isolated from gonadal WAT following digestion with collagenase IV (see [
139
]). Cells (10
6
) were incubated with CD3-FITC, CD25-APC, CD4-PE-Cy5, Foxp3-APC and CD8-APC-Cy7 using previously described methods [
139
], and then acquired on a LSRII flow cytometer (BD Biosystems). (
A
) The gating strategy, with an example of the forward and side scatter of vascular stromal cells shown in the far left panel, with CD3
+
and then CD4
+
CD8
−
cells selected, and cells then divided into CD25
+
Foxp3
−
and CD25
+
Foxp3
+
populations. Examples are shown of an unstained control sample, and a sample from a mouse fed the high fat diet and not exposed to UVR for 12 weeks; (
B
) Percentages of CD4
+
CD3
+
CD25
+
Foxp3
−
and Foxp3
+
cells, calculated by multiplying the percentages of CD3
+
, CD4
+
CD8
−
and CD25
+
Foxp3
±
cells (
n
= 6 mice/treatment, mean + SEM).
© 2016 by the authors; licensee MDPI, Basel, Switzerland. This article is an open access article distributed under the terms and conditions of the Creative Commons Attribution (CC-BY) license (http://creativecommons.org/licenses/by/4.0/).