Neonicotinoid Insecticides Alter the Gene Expression Profile of Neuron-Enriched Cultures from Neonatal Rat Cerebellum
1
Department of Brain Development and Neural Regeneration, Tokyo Metropolitan Institute of Medical Science, Setagaya-ku, Tokyo 156-8506, Japan
2
Center for Basic Technology Research, Tokyo Metropolitan Institute of Medical Science, Setagaya-ku, Tokyo 156-8506, Japan
3
Advanced Clinical Research Center, Institute of Neurological Disorders, Kawasaki, Kanagawa 215-0026, Japan
4
Environmental Neuroscience Information Center, Musashino, Tokyo 180-0014, Japan
5
Division of Neurology, Department of Internal Medicine, National Defense Medical College, Tokorozawa, Saitama 359-8513, Japan
6
Department of Health & Dietetics, Teikyo Heisei University, Toshima-ku, Tokyo 170-8445, Japan
*
Author to whom correspondence should be addressed.
Received: 20 July 2016 / Accepted: 27 September 2016 / Published: 4 October 2016
Abstract
Neonicotinoids are considered safe because of their low affinities to mammalian nicotinic acetylcholine receptors (nAChRs) relative to insect nAChRs. However, because of importance of nAChRs in mammalian brain development, there remains a need to establish the safety of chronic neonicotinoid exposures with regards to children's health. Here we examined the effects of longterm (14 days) and low dose (1 μM) exposure of neuron-enriched cultures from neonatal rat cerebellum to nicotine and two neonicotinoids: acetamiprid and imidacloprid. Immunocytochemistry revealed no differences in the number or morphology of immature neurons or glial cells in any group versus untreated control cultures. However, a slight disturbance in Purkinje cell dendritic arborization was observed in the exposed cultures. Next we performed transcriptome analysis on total RNAs using microarrays, and identified significant differential expression (p < 0.05, q < 0.05, ≥1.5 fold) between control cultures versus nicotine-, acetamiprid-, or imidacloprid-exposed cultures in 34, 48, and 67 genes, respectively. Common to all exposed groups were nine genes essential for neurodevelopment, suggesting that chronic neonicotinoid exposure alters the transcriptome of the developing mammalian brain in a similar way to nicotine exposure. Our results highlight the need for further careful investigations into the effects of neonicotinoids in the developing mammalian brain.
View Full-Text
►

▼

Figures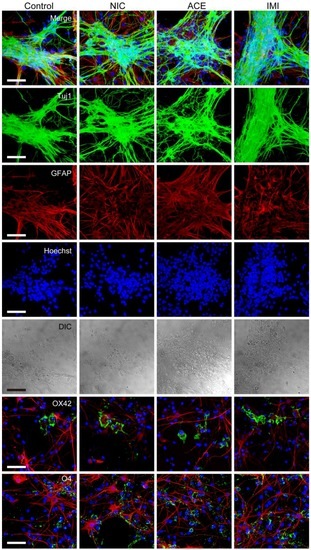 Figure 1
This is an open access article distributed under the
Creative Commons Attribution License
which permits unrestricted use, distribution, and reproduction in any medium, provided the original work is properly cited (CC BY 4.0).
Supplementary materials
Supplementary File 1:

Supplementary (PDF, 467 KB)

Externally hosted supplementary file 1
Doi: no
Link: http://no
Description: Figure S1. Percentages of cell types in cerebellar neuron-enriched cultures Table S1. Oligonucleotide primers used for qRT-PCR in 5'-3' direction Table S2. Standard deviations and standard errors of DE genes for CvN, CvA, and CvI Table S3. Detailed classification of DE genes for CvN, CvA, and CvI by PANTHER

Share & Cite This Article
MDPI and ACS Style
Kimura-Kuroda, J.; Nishito, Y.; Yanagisawa, H.; Kuroda, Y.; Komuta, Y.; Kawano, H.; Hayashi, M. Neonicotinoid Insecticides Alter the Gene Expression Profile of Neuron-Enriched Cultures from Neonatal Rat Cerebellum. Int. J. Environ. Res. Public Health 2016, 13, 987.
Note that from the first issue of 2016, MDPI journals use article numbers instead of page numbers. See further details here.
Related Articles
Comments
[Return to top]