Acetamiprid Accumulates in Different Amounts in Murine Brain Regions
1
Department of Anatomy, Division of Basic Medicine, Tokai University School of Medicine, Kanagawa 259-1193, Japan
2
Department of Community Health, Tokai University School of Medicine, Kanagawa 259-1193, Japan
3
Support Center for Medical Research and Education, Tokai University School of Medicine, Kanagawa 259-1193, Japan
4
Department of Anatomy, Aichi Medical University, Aichi 480-1195, Japan
5
Division of Oral and Craniofacial Anatomy, Graduate School of Dentistry, Tohoku University, Sendai 980-8575, Japan
6
Department of Human Development, Tokai University School of Humanities and Culture, Kanagawa 259-1292, Japan
*
Author to whom correspondence should be addressed.
Academic Editor: Paul B. Tchounwou
Received: 8 June 2016 / Revised: 12 September 2016 / Accepted: 15 September 2016 / Published: 22 September 2016
Abstract
Neonicotinoids such as acetamiprid (ACE) belong to a new and widely used single class of pesticides. Neonicotinoids mimic the chemical structure of nicotine and share agonist activity with the nicotine acetylcholine receptor (nAchR). Neonicotinoids are widely considered to be safe in humans; however, they have recently been implicated in a number of human health disorders. A wide range of musculoskeletal and neuromuscular disorders associated with high doses of neonicotinoids administered to animals have also been reported. Consequently, we used a mouse model to investigate the response of the central nervous system to ACE treatment. Our results show that exposure to ACE-containing water for three or seven days (decuple and centuple of no observable adverse effect level (NOAEL)/day) caused a decrease in body weight in 10-week old A/JJmsSlc (A/J) mice. However, the treatments did not affect brain histology or expression of CD34. ACE concentrations were significantly higher in the midbrain of ACE-treated mice than that of the normal and vehicle groups. Expression levels of α7, α4, and β2 nAChRs were found to be low in the olfactory bulb and midbrain of normal mice. Furthermore, in the experimental group (centuple ACE-containing water for seven days), β2 nAChR expression decreased in many brain regions. Information regarding the amount of accumulated ACE and expression levels of the acetylcholine receptor in each region of the brain is important for understanding any clinical symptoms that may be associated with ACE exposure.
View Full-Text
►

▼

Figures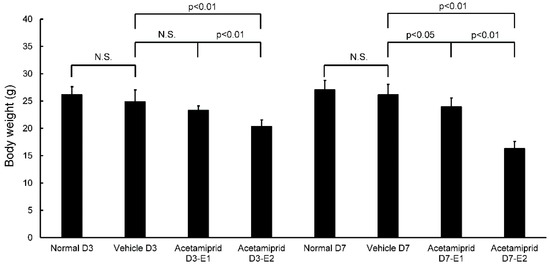 Figure 1
This is an open access article distributed under the
Creative Commons Attribution License
which permits unrestricted use, distribution, and reproduction in any medium, provided the original work is properly cited (CC BY 4.0).

Share & Cite This Article
MDPI and ACS Style
Terayama, H.; Endo, H.; Tsukamoto, H.; Matsumoto, K.; Umezu, M.; Kanazawa, T.; Ito, M.; Sato, T.; Naito, M.; Kawakami, S.; Fujino, Y.; Tatemichi, M.; Sakabe, K. Acetamiprid Accumulates in Different Amounts in Murine Brain Regions. Int. J. Environ. Res. Public Health 2016, 13, 937.
Note that from the first issue of 2016, MDPI journals use article numbers instead of page numbers. See further details here.
Related Articles
Comments
[Return to top]