Up-Regulation of Claudin-6 in the Distal Lung Impacts Secondhand Smoke-Induced Inflammation
Lung and Placenta Research Laboratory, Physiology and Developmental Biology, Brigham Young University, Provo, UT 84602, USA
*
Author to whom correspondence should be addressed.
Academic Editor: Paul B. Tchounwou
Received: 17 August 2016 / Revised: 30 September 2016 / Accepted: 13 October 2016 / Published: 17 October 2016
Abstract
It has long been understood that increased epithelial permeability contributes to inflammation observed in many respiratory diseases. Recently, evidence has revealed that environmental exposure to noxious material such as cigarette smoke reduces tight junction barrier integrity, thus enhancing inflammatory conditions. Claudin-6 (Cldn6) is a tetraspanin transmembrane protein found within the tight junctional complex and is implicated in maintaining lung epithelial barriers. To test the hypothesis that increased Cldn6 ameliorates inflammation at the respiratory barrier, we utilized the Tet-On inducible transgenic system to conditionally over-express Clnd6 in the distal lung. Cldn6 transgenic (TG) and control mice were continuously provided doxycycline from postnatal day (PN) 30 until euthanasia date at PN90. A subset of Cldn6 TG and control mice were also subjected to daily secondhand tobacco smoke (SHS) via a nose only inhalation system from PN30-90 and compared to room air (RA) controls. Animals were euthanized on PN90 and lungs were harvested for histological and molecular characterization. Bronchoalveolar lavage fluid (BALF) was procured for the assessment of inflammatory cells and molecules. Quantitative RT-PCR and immunoblotting revealed increased Cldn6 expression in TG vs. control animals and SHS decreased Cldn6 expression regardless of genetic up-regulation. Histological evaluations revealed no adverse pulmonary remodeling via Hematoxylin and Eosin (H&E) staining or any qualitative alterations in the abundance of type II pneumocytes or proximal non-ciliated epithelial cells via staining for cell specific propeptide of Surfactant Protein-C (proSP-C) or Club Cell Secretory Protein (CCSP), respectively. Immunoblotting and qRT-PCR confirmed the differential expression of Cldn6 and the pro-inflammatory cytokines TNF-α and IL-1β. As a general theme, inflammation induced by SHS exposure was influenced by the availability of Cldn6. These data reveal captivating information suggesting a role for Cldn6 in lungs exposed to tobacco smoke. Further research is critically necessary in order to fully explain roles for tight junctional components such as Cldn6 and other related molecules in lungs coping with exposure.
View Full-Text
►

▼

Figures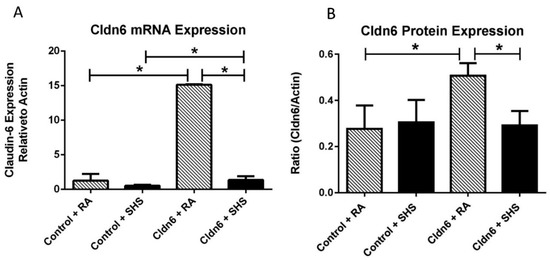 Figure 1
This is an open access article distributed under the
Creative Commons Attribution License
which permits unrestricted use, distribution, and reproduction in any medium, provided the original work is properly cited (CC BY 4.0).

Share & Cite This Article
MDPI and ACS Style
Lewis, J.B.; Milner, D.C.; Lewis, A.L.; Dunaway, T.M.; Egbert, K.M.; Albright, S.C.; Merrell, B.J.; Monson, T.D.; Broberg, D.S.; Gassman, J.R.; Thomas, D.B.; Arroyo, J.A.; Reynolds, P.R. Up-Regulation of Claudin-6 in the Distal Lung Impacts Secondhand Smoke-Induced Inflammation. Int. J. Environ. Res. Public Health 2016, 13, 1018.
Note that from the first issue of 2016, MDPI journals use article numbers instead of page numbers. See further details here.
Related Articles
Comments
[Return to top]