Developing a Dissociative Nanocontainer for Peptide Drug Delivery
1
Hunter College and The Graduate Center, City University of New York, Belfer Research Building, 413 E. 69th Street, New York, NY 10021, USA
2
Stem Cell and Regenerative Biology Department, Harvard University, 7 Divinity Ave, Cambridge, MA 02138, USA
3
Department of Chemistry, Indiana University, 800 E. Kirkwood Ave., Bloomington, IN 47405, USA
4
The American Museum of Natural History, Central Park West & 79th Street, New York, NY 10024, USA
*
Author to whom correspondence should be addressed.
Academic Editor: Huang-Tsung Chang
Received: 17 August 2015 / Revised: 23 September 2015 / Accepted: 28 September 2015 / Published: 9 October 2015
Abstract
The potency, selectivity, and decreased side effects of bioactive peptides have propelled these agents to the forefront of pharmacological research. Peptides are especially promising for the treatment of neurological disorders and pain. However, delivery of peptide therapeutics often requires invasive techniques, which is a major obstacle to their widespread application. We have developed a tailored peptide drug delivery system in which the viral capsid of P22 bacteriophage is modified to serve as a tunable nanocontainer for the packaging and controlled release of bioactive peptides. Recent efforts have demonstrated that P22 nanocontainers can effectively encapsulate analgesic peptides and translocate them across blood-brain-barrier (BBB) models. However, release of encapsulated peptides at their target site remains a challenge. Here a Ring Opening Metathesis Polymerization (ROMP) reaction is applied to trigger P22 nanocontainer disassembly under physiological conditions. Specifically, the ROMP substrate norbornene (5-Norbornene-2-carboxylic acid) is conjugated to the exterior of a loaded P22 nanocontainer and Grubbs II Catalyst is used to trigger the polymerization reaction leading to nanocontainer disassembly. Our results demonstrate initial attempts to characterize the ROMP-triggered release of cargo peptides from P22 nanocontainers. This work provides proof-of-concept for the construction of a triggerable peptide drug delivery system using viral nanocontainers.
View Full-Text
►

▼

Figures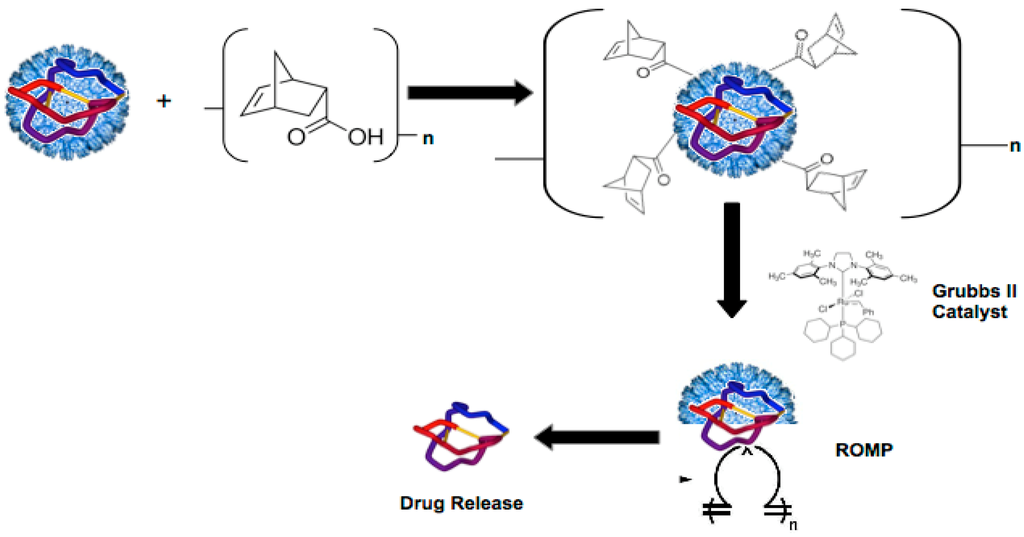 Figure 1
This is an open access article distributed under the
Creative Commons Attribution License
which permits unrestricted use, distribution, and reproduction in any medium, provided the original work is properly cited (CC BY 4.0).

Share & Cite This Article
MDPI and ACS Style
Kelly, P.; Anand, P.; Uvaydov, A.; Chakravartula, S.; Sherpa, C.; Pires, E.; O'Neil, A.; Douglas, T.; Holford, M. Developing a Dissociative Nanocontainer for Peptide Drug Delivery. Int. J. Environ. Res. Public Health 2015, 12, 12543-12555.
Related Articles
Comments
[Return to top]