Effects of OEF/OIF-Related Physical and Emotional Co-Morbidities on Associative Learning: Concurrent Delay and Trace Eyeblink Classical Conditioning
1
Geriatric Research Education and Clinical Center (GRECC) and the Translational Research Center for TBI and Stress-related Disorders (TRACTS), Boston, MA 02130, USA
2
Department of Psychiatry, Harvard Medical School, Boston, MA 02115, USA
3
Department of Behavioral Neuroscience, Boston University School of Medicine, Boston, MA 02118, USA
*
Author to whom correspondence should be addressed.
†
These authors contributed equally to this work.
Received: 20 November 2013 / Revised: 19 February 2014 / Accepted: 20 February 2014 / Published: 12 March 2014
Abstract
This study examined the performance of veterans and active duty personnel who served in Operation Enduring Freedom and/or Operation Iraqi Freedom (OEF/OIF) on a basic associative learning task. Eighty-eight individuals participated in this study. All received a comprehensive clinical evaluation to determine the presence and severity of posttraumatic stress disorder (PTSD) and traumatic brain injury (TBI). The eyeblink conditioning task was composed of randomly intermixed delay and trace conditioned stimulus (CS) and unconditioned stimulus (US) pairs (acquisition) followed by a series of CS only trials (extinction). Results revealed that those with a clinical diagnosis of PTSD or a diagnosis of PTSD with comorbid mTBI acquired delay and trace conditioned responses (CRs) to levels and at rates similar to a deployed control group, thus suggesting intact basic associative learning. Differential extinction impairment was observed in the two clinical groups. Acquisition of CRs for both delay and trace conditioning, as well as extinction of trace CRs, was associated with alcoholic behavior across all participants. These findings help characterize the learning and memory function of individuals with PTSD and mTBI from OEF/OIF and raise the alarming possibility that the use of alcohol in this group may lead to more significant cognitive dysfunction.
View Full-Text
►

▼

Figures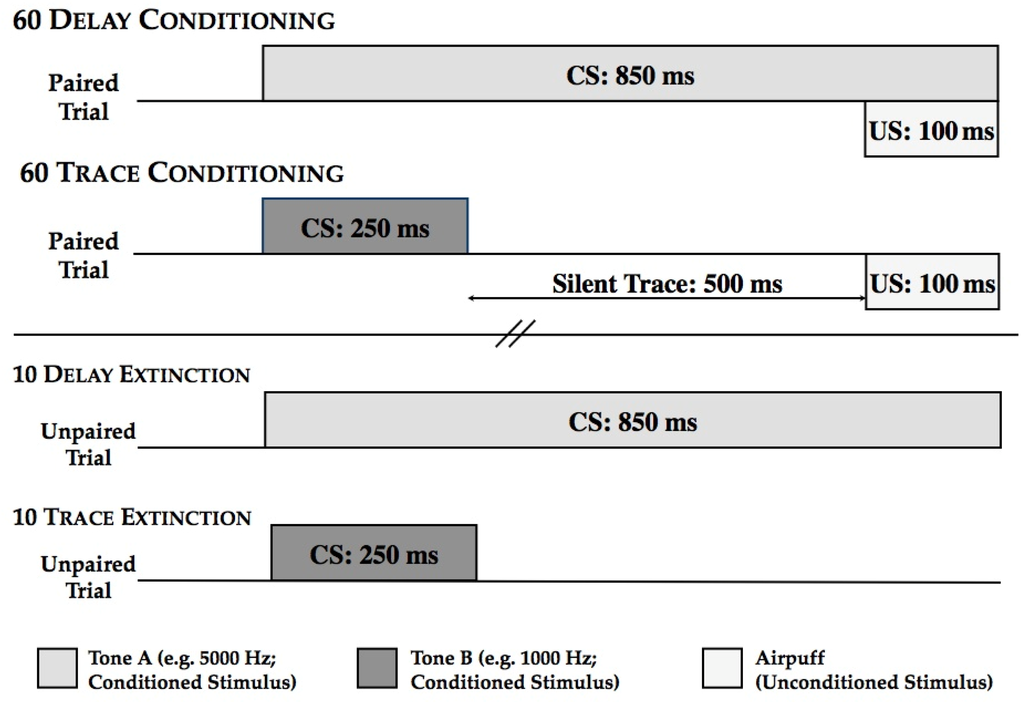 Figure 1

Share & Cite This Article
MDPI and ACS Style
McGlinchey, R.E.; Fortier, C.B.; Venne, J.R.; Maksimovskiy, A.L.; Milberg, W.P. Effects of OEF/OIF-Related Physical and Emotional Co-Morbidities on Associative Learning: Concurrent Delay and Trace Eyeblink Classical Conditioning. Int. J. Environ. Res. Public Health 2014, 11, 3046-3073.
Related Articles
Comments
[Return to top]