Report on the First Detection of Pectenotoxin-2, Spirolide-A and Their Derivatives in French Shellfish
1
IFREMER, Microbiology and Phycotoxins Department, BP 21105, 44311 Nantes, France
2
IFREMER, station d'Arcachon, Quai du Cdt Silhouette, 33120, Arcachon, France
3
IFREMER, station de Sète, Avenue Jean Monnet, BP 171, 34203, Sète, France
*
Author to whom correspondence should be addressed.
Received: 16 October 2007 / Accepted: 21 November 2007 / Published: 23 November 2007
Abstract
In the context of the French Phytoplankton and Phycotoxins MonitoringNetwork (REPHY) programme, shellfish samples were harvested from different locationswhere harmful algae blooms were known to have occurred. For all shellfish samples foundpositive by the mouse bioassay for diarrhetic shellfish poisoning (DSP) toxins, liquidchromatography (LC) coupled with mass spectrometry (MS) was used to search for thefollowing lipophilic toxins: okadaic acid (OA), dinophysistoxins (DTXs), pectenotoxins(PTXs), azaspiracids (AZAs), yessotoxins (YTXs), spirolides (SPXs) and gymnodimines(GYMs). In order to investigate the presence of acyl-OAs and/or acyl-DTX-1,-2 (DTX-3),alkaline hydrolysis was performed on all samples, and LC/MS analyses were carried out onthe samples before and after hydrolysis. The results revealed different lipophilic toxinprofiles as a function of the shellfish sampling location. The primary finding was that all ofthe samples contained OA and acyl-OA. In addition, other lipophilic toxins were found inshellfish samples: DTX-2, acyl-DTX-2 and SPXs (SPX-A, SPX-desMeC) on the Atlanticcoast (Southern Brittany, Arcachon), and pectenotoxins (PTX-2, PTX-2-seco-acid and 7-epi-PTX-2-seco-acid) on the Mediterranean coast (Thau lagoon, the island of Corsica).This paper reports on the first detection of PTX-2, SPX-A and their derivatives in Frenchshellfish.
View Full-Text
►

▼

Figures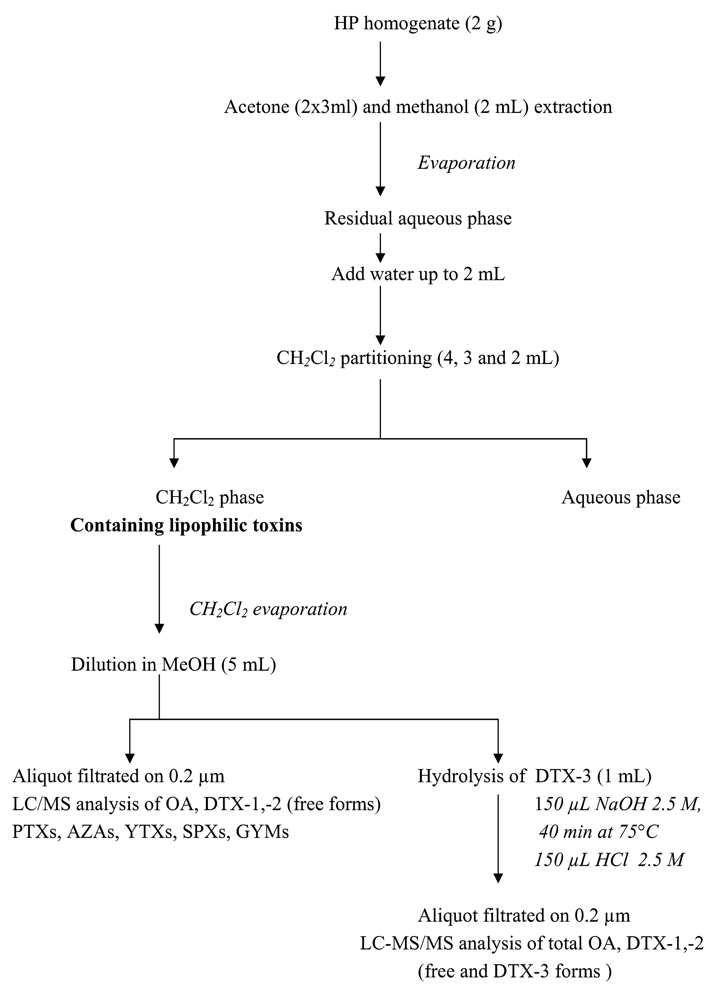 Figure 1

Share & Cite This Article
MDPI and ACS Style
Amzil, Z.; Sibat, M.; Royer, F.; Masson, N.; Abadie, E. Report on the First Detection of Pectenotoxin-2, Spirolide-A and Their Derivatives in French Shellfish. Mar. Drugs 2007, 5, 168-179.
Related Articles
Comments
[Return to top]