Pinnatoxins' Deleterious Effects on Cholinergic Networks: From Experimental Models to Human Health
1
Poison Control Centre, Toulouse-Purpan University Hospital and Toulouse NeuroImaging Centre (ToNIC), INSERM1214, Toulouse-Purpan University Hospital, 31059 Toulouse, France
2
Department of Neurology, Reference Center of Neuromuscular Disease, Grenoble University Hospital, 38000 Grenoble, France
3
Laboratoire Environnement Ressources du Languedoc-Roussillon, Centre for Marine Biodiversity, Exploitation and Conservation (MARBEC), IRD, Institut Français de Recherche pour l'Exploitation de la Mer (Ifremer), CNRS, Université de Montpellier, CS30171, 34200 Sete Cedex 03, France
4
Toxicology of Contaminants Unit, ANSES—French Agency for Food, Environmental and Occupational Health & Safety, 35306 Fougères, France
5
Retired from ANSES—French Agency for Food, Environmental and Occupational Health & Safety, 94701 Maisons-Alfort, France
6
Research Unit EA 4651 Aliments Bioprocédés Toxicologie Environnements (ABTE), Normandie University, 14000 Caen, France
7
Risk Assessment Department, ANSES—French Agency for Food, Environmental and Occupational Health & Safety, 94701 Maisons-Alfort, France
8
Institut des Sciences du Vivant Frédéric Joliot, Service d'Ingénierie Moléculaire des Protéines (SIMOPRO), Commissariat à l'Energie Atomique et aux énergies alternatives (CEA) Saclay, Université Paris-Saclay, F-91191 Gif-sur-Yvette, France
9
Institut des Neurosciences Paris-Saclay, Centre National de la Recherche Scientifique (CNRS), UMR 9197 CNRS/Université Paris-Sud, F-91198 Gif-sur-Yvette, France
10
Mitochondrial and Cardiovascular Pathophysiology (MITOVASC), Cardiovascular Mechanotransduction, UMR CNRS 6015, INSERM U1083, Angers University, 49045 Angers, France
*
Authors to whom correspondence should be addressed.
†
Both authors contributed equally to this manuscript.
Received: 12 June 2019 / Revised: 17 July 2019 / Accepted: 17 July 2019 / Published: 20 July 2019
Abstract
Pinnatoxins (PnTXs) are emerging neurotoxins that were discovered about 30 years ago. They are solely produced by the marine dinoflagellate
Vulcanodinium rugosum
, and may be transferred into the food chain, as they have been found in various marine invertebrates, including bivalves. No human intoxication has been reported to date although acute toxicity was induced by PnTxs in rodents. LD
50
values have been estimated for the different PnTXs through the oral route. At sublethal doses, all symptoms are reversible, and no neurological sequelae are visible. These symptoms are consistent with impairment of central and peripheral cholinergic network functions. In fact, PnTXs are high-affinity competitive antagonists of nicotinic acetylcholine receptors (nAChRs). Moreover, their lethal effects are consistent with the inhibition of muscle nAChRs, inducing respiratory distress and paralysis. Human intoxication by ingestion of PnTXs could result in various symptoms observed in episodes of poisoning with natural nAChR antagonists. This review updates the available data on PnTX toxicity with a focus on their mode of action on cholinergic networks and suggests the effects that could be extrapolated on human physiology.
View Full-Text
►

▼

Figures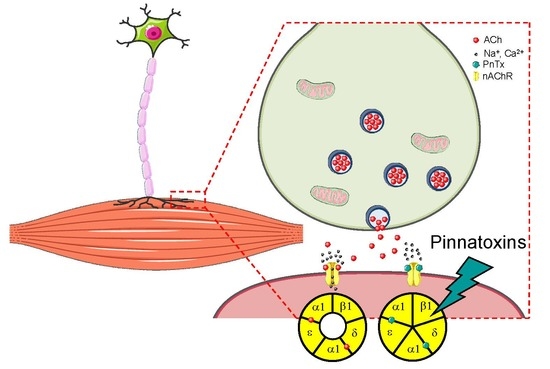 Graphical abstract
This is an open access article distributed under the
Creative Commons Attribution License
which permits unrestricted use, distribution, and reproduction in any medium, provided the original work is properly cited (CC BY 4.0).

Share & Cite This Article
MDPI and ACS Style
Delcourt, N.; Lagrange, E.; Abadie, E.; Fessard, V.; Frémy, J.-M.; Vernoux, J.-P.; Peyrat, M.-B.; Maignien, T.; Arnich, N.; Molgó, J.; Mattei, C. Pinnatoxins' Deleterious Effects on Cholinergic Networks: From Experimental Models to Human Health. Mar. Drugs 2019, 17, 425.
Note that from the first issue of 2016, MDPI journals use article numbers instead of page numbers. See further details here.
Related Articles
Comments
[Return to top]