Comparative Analysis of the Soluble Proteome and the Cytolytic Activity of Unbleached and Bleached
Millepora complanata

("Fire Coral") from the Mexican Caribbean

1

Posgrado en Ciencias Químico Biológicas, Facultad de Química, Universidad Autónoma de Querétaro, Cerro de las Campanas S/N, C.P. 76010 Querétaro, Querétaro, México

2

Laboratorio de Investigación Química y Farmacológica de Productos Naturales, Facultad de Química, Universidad Autónoma de Querétaro, Cerro de las Campanas S/N, C.P. 76010 Querétaro, Querétaro, México

3

Laboratorio de Biología Molecular. Escuela de Agronomía, Universidad de La Salle Bajío, Av. Universidad 15 602, Colonia Lomas del Campestre, C.P. 37150 León, Guanajuato, México

4

C.A Ingeniería de Biosistemas, Facultad de Ingeniería-Campus Amazcala, Universidad Autónoma de Querétaro, Carr. Chichimequillas-Amazcala Km. 1, S/N, C.P. 76265 Amazcala, El Marqués, Querétaro, México

5

Facultad de Química, Universidad Autónoma de Querétaro, Cerro de las Campanas S/N, C.P. 76010 Querétaro, Querétaro, México

6

Unidad Académica de Sistemas Arrecifales Puerto Morelos, Instituto de Ciencias del Mar y Limnología, Universidad Nacional Autónoma de México, Prolongación Niños Héroes S/N, Puerto Morelos, C.P. 77580 Quintana Roo, México

*

Author to whom correspondence should be addressed.

Received: 22 May 2019 / Revised: 25 June 2019 / Accepted: 28 June 2019 / Published: 3 July 2019
Abstract
Coral bleaching caused by global warming has resulted in massive damage to coral reefs worldwide. Studies addressing the consequences of elevated temperature have focused on organisms of the class Anthozoa, and up to now, there is little information regarding the mechanisms by which reef forming Hydrozoans face thermal stress. In this study, we carried out a comparative analysis of the soluble proteome and the cytolytic activity of unbleached and bleached
Millepora complanata
("fire coral") that inhabited reef colonies exposed to the 2015–2016 El Niño-Southern Oscillation in the Mexican Caribbean. A differential proteomic response involving proteins implicated in key cellular processes, such as glycolysis, DNA repair, stress response, calcium homeostasis, exocytosis, and cytoskeleton organization was found in bleached hydrocorals. Four of the proteins, whose levels increased in bleached specimens, displayed sequence similarity to a phospholipase A2, an astacin-like metalloprotease, and two pore forming toxins. However, a protein, which displayed sequence similarity to a calcium-independent phospholipase A2, showed lower levels in bleached cnidarians. Accordingly, the hemolytic effect of the soluble proteome of bleached hydrocorals was significantly higher, whereas the phospholipase A2 activity was significantly reduced. Our results suggest that bleached
M. complanata
is capable of increasing its toxins production in order to balance the lack of nutrients supplied by its symbionts.
View Full-Text
►

▼

Figures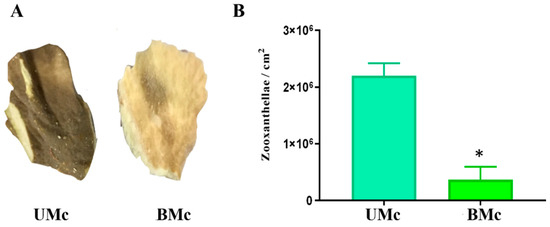 Figure 1
This is an open access article distributed under the
Creative Commons Attribution License
which permits unrestricted use, distribution, and reproduction in any medium, provided the original work is properly cited (CC BY 4.0).

Share & Cite This Article
MDPI and ACS Style
Hernández-Elizárraga, V.H.; Olguín-López, N.; Hernández-Matehuala, R.; Ocharán-Mercado, A.; Cruz-Hernández, A.; Guevara-González, R.G.; Caballero-Pérez, J.; Ibarra-Alvarado, C.; Sánchez-Rodríguez, J.; Rojas-Molina, A. Comparative Analysis of the Soluble Proteome and the Cytolytic Activity of Unbleached and Bleached Millepora complanata ("Fire Coral") from the Mexican Caribbean. Mar. Drugs 2019, 17, 393.
Note that from the first issue of 2016, MDPI journals use article numbers instead of page numbers. See further details here.
Related Articles
Comments
[Return to top]