Open Access This article is
freely available
re-usable
Review
Effects of Fish n-3 PUFAs on Intestinal Microbiota and Immune System
Department of Pharmacological and Biomolecular Sciences, Università degli Studi di Milano, 20122 Milano, Italy
Received: 7 May 2019 / Accepted: 20 June 2019 / Published: 22 June 2019
Abstract
:
Studies over several decades have documented the beneficial actions of n-3 polyunsaturated fatty acids (PUFAs), which are plentiful in fish oil, in different disease states. Mechanisms responsible for the efficacy of n-3 PUFAs include: (1) Reduction of triglyceride levels; (2) anti-arrhythmic and antithrombotic effects, and (3) resolution of inflammatory processes. The human microbiota project and subsequent studies using next-generation sequencing technology have highlighted that thousands of different microbial species are present in the human gut, and that there has been a significant variability of taxa in the microbiota composition among people. Several factors (gestational age, mode of delivery, diet, sanitation and antibiotic treatment) influence the bacterial community in the human gastrointestinal tract, and among these diet habits play a crucial role. The disturbances in the gut microbiota composition, i.e., gut dysbiosis, have been associated with diseases ranging from localized gastrointestinal disorders to neurologic, respiratory, metabolic, ocular, and cardiovascular illnesses. Many studies have been published about the effects of probiotics and prebiotics on the gut microbiota/microbioma. On the contrary, PUFAs in the gut microbiota have been less well defined. However, experimental studies suggested that gut microbiota, n-3 PUFAs, and host immune cells work together to ensure the intestinal wall integrity. This review discussed current evidence concerning the links among gut microbiota, n-3 PUFAs intake, and human inflammatory disease.
Keywords:
age-related macular degeneration; gut microbiota; inflammatory bowel disease; immune system; inflammation; n-3 polyunsaturated fatty acids
1. Introduction
This review describes the connections among gut microbiota, n-3 PUFAs intake, and IBD or retinal disease.
3. The Gut Microbiota
The gastrointestinal (GI) tract is a passage formed by mucosa, submucosa, and smooth muscle containing a huge network of nerves and blood vessels. The mucosa is responsible for: Digestion and absorption of nutrients from the diet; protection of the body against physical and chemical damage from luminal contents; and supply of immunity [
54
,
55
]. The small intestinal epithelium, the single cell layer that forms the luminal surface, is folded to form villi and crypts. Both these structures serve to increase the total absorption surface of the intestine. Moreover, in the mucosa different types of cells are present, such as enterocytes (the main cellular component accounting for about 80%), Paneth, goblet, and enteroendocrine (comprise just 1% of the epithelium) [
56
]. Enteroendocrine cells, distributed throughout the GI tract, form a large endocrine organ that control: (1) GI secretion and motility; (2) regulation of food intake; (3) postprandial glucose levels; and (4) direct communication with neurons innervating the GI tract (these cells are part of the gut brain axis) [
57
].
The mammalian intestine is colonized by a complex community of microorganisms, called microbiota, constituted by bacteria (approximately 4 × 10
13
), archaea, viruses (especially bacteriophages), protozoans and fungi [
58
]. Shotgun metagenomic sequencing through random sequencing of all genes established that the human gut possesses a bacterial microbiome that is predominated by phyla, such as
Firmicutes
,
Bacteroidetes
,
Actinobacteria
,
Proteobacteria
,
Verrucomicrobia
. Firmicutes and Bacteroidetes represent 90% of the gut microbiota [
9
]. It is important to remember that the colonization of the human gut starts prenatally and continues after birth, reaching the adult microbiota state between the ages of 2 and 5 years [
59
]. Following birth, diverse microbes colonize the human intestine, and several factors are known to affect this process, i.e., gestational age, mode of delivery, diet (breast milk vs formula), sanitation and antibiotic treatment [
60
]. Several studies showed a positive correlation between human milk oligosaccharides and the number of
Bifidobacterium
demonstrating that milk oligosaccharides have a probiotic effect by stimulating the development of
Bifidobacterium
-rich microbiota [
61
]. Furthermore, in addition to proteins, fats, carbohydrates and endocannabinoids, human breast milk contains immunoglobulins (IgA and IgG), antimicrobial compounds (lysozyme and lactoferrin), immune-regulatory cytokines (e.g. TGF-β and IL-10), and lymphocytes that express gut homing markers [
62
,
63
]. Altogether these data indicate that intestinal bacterial colonization dramatically influence the development of the host immune system in early life and affects health and disease in later life, as indicated by the loss of immune function in germ-free (GF) mice [
63
,
64
,
65
].
A significant change in the gut microbiota composition accompanies the weaning from the mother and the introduction of solid foods, with enhanced colonization of butyrate producers, including
Bacteroides
and certain
Clostridium
species [
66
]. Once established, the composition of the gut microbiota is relatively stable throughout adult life in the absence of perturbations such as long-term dietary changes, disease-associated dysbiosis, or the use of antibiotics. However, centenarian's microbiota showed decreased levels of
Bacteroides
,
Bifidobacterium
and Enterobacteriaceae, while
Clostridium
species levels were increased compared with younger adults. For these reasons, dietary-intervention studies are warranted to investigate whether changing the dietary pattern of elderly individuals can alter their gut microbiota in a way that is beneficial to their general health [
67
].
The Gut Microbiota and the Immune System
A noticeable example of the symbiotic effects of the microbiome is the immune system, whose normal development and behavior are strongly influenced by microbial metabolites that are produced by: (i) Bacteria from dietary components; (ii) the host and biochemically modified by gut bacteria; and (iii) by gut microbes. In this context, a complex interplay between the local microbiota, the intestinal epithelium and the resident immune cells has begun to emerge, in which all participants actively foster GI homeostasis [
9
]. Segmented filamentous bacteria are best known for their ability to induce the differentiation of naïve T cells to form antigen-specific Th17 cells in the ileum of mice [
68
] and humans [
69
]. Th17 cells play a critical role in host defense against extracellular pathogens (i.e., fungi and extracellular bacteria [
70
]) and tissue homeostasis (i.e., promoting epithelial barrier functions [
71
]) but can induce autoimmunity [
72
]. The mechanisms implicated in the balance between 'pathogenic' and 'non-pathogenic' Th17 cell states are still unknown. However, treatment of non-pathogenic Th17 cells with IL-23 converts them into a pathogenic phenotype, suggesting that IL-23 is a cytokine that drives the functional phenotype of Th17 cells [
73
]. Furthermore, the metabolic relationship between diets and immune cells in the gut has been strengthened by the finding that short chain fatty acids (SCFAs) promoted B cell metabolism [
74
] and the development and function of colonic regulatory T (Treg) cells [
75
]. Treg cells have played a role of gatekeeper of commensal tolerance by the immune system, through suppression of aberrant T cell responses. A balance between Th17 and Treg cell differentiation has been demonstrated [
76
]. Beyond SCFAs, gut microbiota have produced several additional immunologically important metabolites from food components. Dietary tryptophan, for instance, is processed to different indole derivatives, which can act as ligands for the aryl hydrocarbon receptor (AhR) [
77
], a ligand-activated transcription factor which plays a crucial role in the development of multiple tissues. In the intestinal mucosa, AhR is required for postnatal maintenance of Group 3 innate lymphoid cells (ILC3s) producing IL-22, as well as for the formation of isolated lymphoid follicles [
9
]. IL-22 is a cytokine that supports the integrity of the intestinal mucosa by inducing the secretion of antimicrobial peptides from epithelial cells, the production of mucins and the proliferation of intestinal goblet cells [
78
]. Highly reactive polyamines, i.e., putrescine, spermidine and spermine, derive from arginine by the action of gut microbiota, are involved in the development and maintenance of the intestinal mucosa and resident immune cells [
79
]. In addition, arginine itself is an important modulator of the immunometabolism of macrophages and T cells, and thus affects their effector functions [
80
]. Moreover, free taurine generated by deconjugation of primary bile acids [
81
] can promote the activation of the NLRP6 inflammasome and the production IL-18, supporting epithelial barrier function and maintenance [
82
]. In addition, bile acids are able to downregulate the expression of pro-inflammatory cytokines from monocytes, macrophages, dendritic cells and Kupffer cells [
9
].
On the other hand, a deficit of vitamin B1 is responsible for the reduction in the number of naïve B cells in Peyer's patches, due to their dependence on this Krebs cycle cofactor, but has a neutral effect on IgA+ plasma cells present in the lamina propria [
83
].
4. Human Disease, n-3 PUFAs and Gut Microbiota
Inflammation seems to be the common denominator among the above described seemingly unrelated biological entities, i.e., the gut microbiome, the immune system, and n-3 PUFAs. Inflammation is currently accepted to play a key role in the progression of several chronic diseases, such as atherosclerosis, inflammatory bowel disease, cancer, diabetes, neurodegenerative syndromes, etc. [
9
]. In addition, as above described several evidences support the role of both the microbiota and the n-3 PUFAs in regulating inflammation and the immune system [
45
,
52
,
74
]. Moreover, dietary n-3 PUFAs, affecting gut integrity, have been shown to reduce clinical colitis and colonic immunopathology by improving epithelial barrier function in animal models [
84
]. Indeed, in clinical studies n-3 PUFAs have demonstrated the ability of: (i) Decreasing the
Firmicutes
/
Bacteroidetes
ratio; (ii) decreasing the levels of
Coprococcus
and
Facecalibacterium
; (iii) increasing the abundance of butyrate-producing bacterial genera, i.e.,
Bifidobacterium
,
Lachnospira
,
Roseburia
and
Lactobacillus
[
85
,
86
,
87
]. These data were in line with those obtained in a subsequent study where the authors also found a significant correlation between n-3 PUFAs plasma levels and SCFA-producing bacteria, i.e.,
Lachnospiraceae
family [
85
]. In addition, a diet supplemented with n-3 PUFAs was able to prevent neuropsychiatric disorders and dysbiosis induced by social instability stress during adolescence, and these effects were maintained through adulthood [
88
,
89
] supporting the concept that a healthy diet may have long-lasting beneficial effects and help fight off neurodegenerative diseases. Altogether these data allow hypothesizing a link among n-3 PUFAs intake, gut microbiome shaping and immune system modulation with the final common aim of hampering inflammatory-based disease (
Figure 3
). Accordingly, this review will particularly focus on the recent studies regarding the therapeutic potential of the combination between fish n-3 PUFAs and probiotic/prebiotic in the IBD and retinal disease.
4.1. Inflammatory Bowel Disease
4.2. Retinal Disease
4.2.1. Age-Related Macular Degeneration
4.2.2. Glaucoma
Glaucoma is a term defining a group of optic degenerative diseases characterized by the progressive death of retinal ganglion cells (RGCs) and excavation of the optic nerve head (ONH) [
212
]. Glaucoma is the leading cause of global irreversible blindness. The number of people with glaucoma worldwide (aged 40 e 80 years) will increase from 64.3 million in 2013 to 111.8 million in 2040, disproportionately affecting people residing in Asia and Africa [
213
]. Primary open-angle glaucoma is characterized by a particular abnormal appearance of the optic- nerve disk, whereas pigmentary glaucoma is a secondary glaucoma showing: (1) Disruption of the posterior iris-pigment epithelium; (2) dispersion of the pigment throughout the anterior segment and the trabecular mesh work; and (3) increase in intraocular pressure (IOP) [
214
]. Age, elevated IOP, race, family history, myopia, diabetes, and para-inflammation are involved in the pathogenesis, development and progression of glaucoma (
Figure 5
) [
215
] [
216
,
217
,
218
]. Moreover, several data have suggested that the immune system is involved even before the normal signs of glaucoma begin [
217
,
219
]. The up to date treatments for the early management of the glaucoma have involved the reduction of IOP, via topical instillation of anti-glaucoma eye drops, laser therapy or invasive surgery [
220
]. Preclinical and clinical studies have demonstrated the protective effects of n-3 PUFAs in different retinal disease [
221
,
222
,
223
], including glaucoma [
224
]. Interestingly, EPA and DHA plasma levels found in patients affected by primary open-angle glaucoma were lower than those measured in healthy subjects [
225
]. In addition, in an experimental model of hereditary glaucoma [
226
], the administration of n-3 PUFAs, alone or in combination with timolol, displayed neuroprotective effects only when the ratio of AA to Epa was kept between 1 and 1.5 [
227
]. This result was associated with the downregulation of IL-18 and TNF-α expression only when n-3 PUFAs were administrated alone, which indicated that the neuroprotection in the retina might be mediated by other mechanisms, i.e., the synthesis of SPMs were able, not only to resolve inflammation, but also protected organs and stimulate tissue regeneration (
Figure 2
) [
228
]. It has been demonstrated that RGCs are the most susceptible retinal neurons to high IOP [
229
]. Ocular hypertension also lead to an alteration of visual function [
230
], since both a and b-wave amplitudes of the electroretinogram (ERG) were decreased after a marked elevation of IOP caused by an ischemia-reperfusion sequence [
231
,
232
]. In an in vivo rat model of IOP elevation, it has been demonstrated that dietary supplementation of n-3 and n-6 PUFAs was able to reduce retinal stress and preserve retinal structure [
233
]. In line with these data, Bazan and co-workers demonstrated that the oxygenated metabolite of DHA, neuroprotectin D1 (NPD1), was responsible of these neuroprotective effects (
Figure 2
) [
234
,
235
]. NPD1 was shown to decrease: (i) The production of inflammatory molecules (such as COX-2, IL-1β); (ii) to up-regulate anti-apoptotic Bcl-2 proteins; and (iii) to down-regulate pro-apoptotic proteins (Bax, Bad, Caspase-3) [
233
,
236
].
Recently, in a mouse model, it was shown that a transient elevation of IOP was sufficient to induce T-cell infiltration into the retina and this step was essential for the development of glaucoma. In addition, the authors demonstrated that T-cell activations and glaucomatous neurodegeneration were abolished in GF mice, strengthening the hypothesis that a bacteria-sensitized T-cell responses underly the pathogenesis of glaucoma [
237
]. In line with these data, long-term intake of Lactobacillus paracasei KW3110 has been associated with a more abundance of beneficial gut bacteria and a reduction of the age-related immune dysfunctions, i.e., lowered expansion of pro-inflammatory T cells and serum cytokines [
238
]. Instead, this probiotic treatment determined a reduction of the Firmicutes to Bacteroidetes ratio, demonstrated by increased Bifidobacteriaceae and decreased Streptococcaceae families. It is important to highlight that Bifidobacterium is known as one of the most beneficial bacterial family [
67
], and Streptococcaceae bacteria are able to stimulate the intestinal cells to secrete pro-inflammatory cytokines [
239
].
5. Conclusions
Many observational studies have shown the potential role of nutraceuticals and functional foods, such as n3-PUFAs, probiotics and prebiotics, in preventing chronic inflammatory disease or to aid in their treatment. Since IBD, AMD and glaucoma are illnesses increasing at alarming rates, more basic and clinical studies are needed to definitely determine if dietary factors (alone or in combination) are able to prevent the development of these disabling pathologies. The discovery of n-3 PUFAs-derived anti-inflammatory molecules, i.e., SPMs, may offer a fascinating new complementary option for the treatment of these inflammatory-based diseases. Indeed, a new area of research is focusing on the development of synthetic analogs of the natural SPMs as well as on the combination between n-3 PUFAs with drugs acting as regulators of endogenous enzyme activities [
240
]. The former strategy has been pursued by the OMEICOS Therapeutics and the compound OMT-28 entered clinical phase I in February 2017 (NTC 03906799).
On the other hand, n-3 PUFAs can also be considered prebiotics due to the fact that they are able to increase the production of anti-inflammatory molecules, such as SCFAs. Coherent with this data, recent reports suggested that the combination between prebiotics and probiotics, called symbiotic, bear great potential for correcting the gut dysbiosis and selectively stimulated the growth and/or activated the metabolism of one or a limited number of health-promoting bacteria, aimed at restoring the mutualism of holobiont [
241
]. Moreover, a better understanding of the mechanisms that underlie microbial resilience towards external perturbations will be a key requirement for microbiome-directed precision medicine [
242
].
In summary, modulation of the microbiota remains a promising therapeutic option for the prevention and treatment of complex diseases, but much more must be learned to maximize treatment success.
Funding
This work was supported by from MIUR Progetto Eccellenza.
Acknowledgments
We thank Elda Desiderio Pinto for administrative assistance.
Conflicts of Interest
The authors declare no conflicts of interest.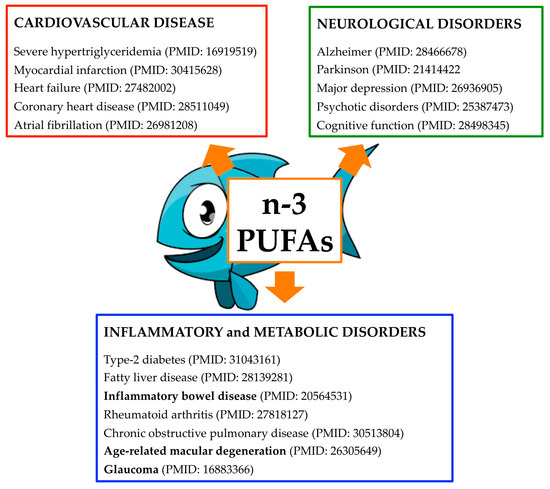 Figure 1. The therapeutic potential of marine n-3 polyunsaturated fatty acids (PUFAs) in human disease.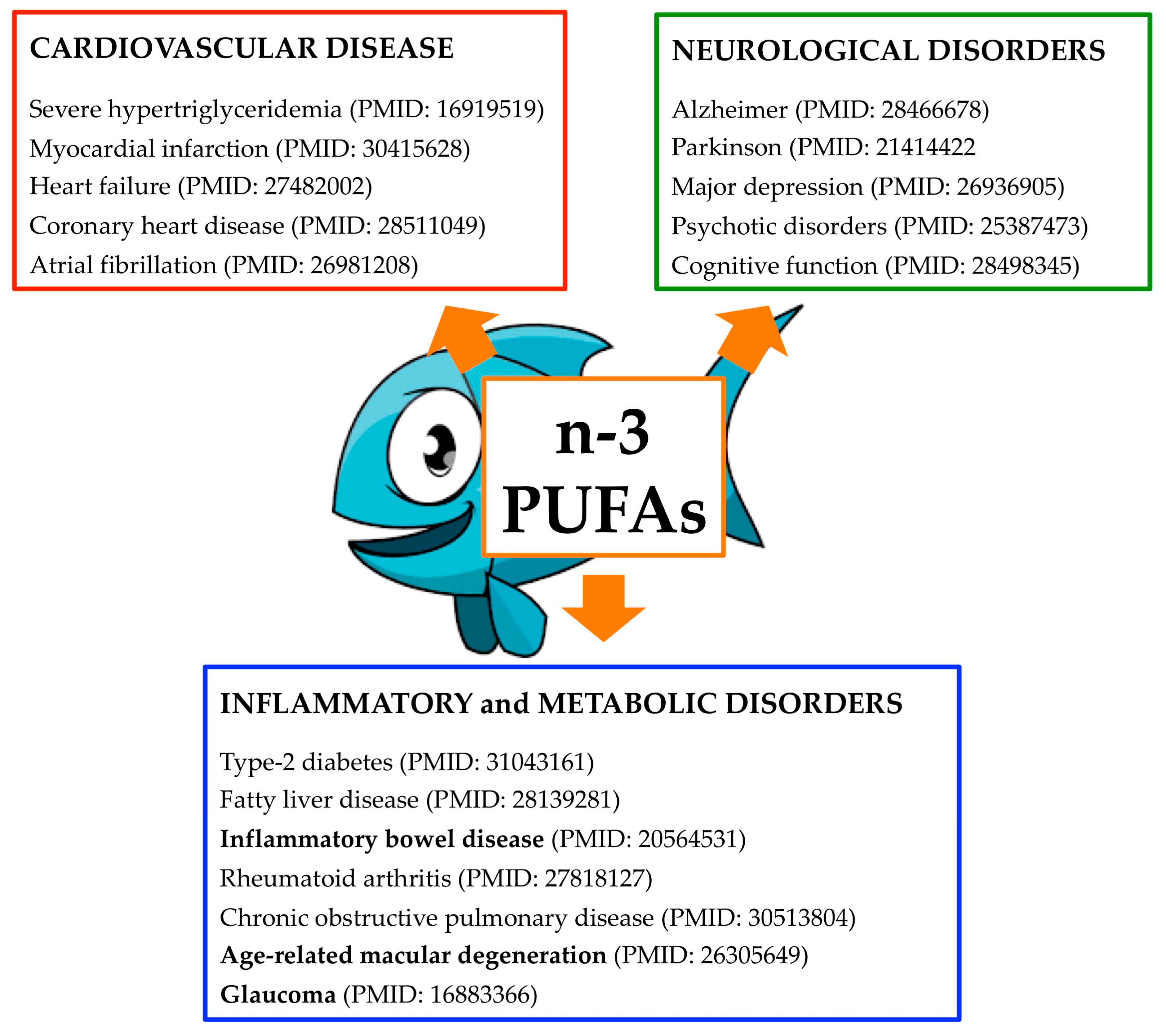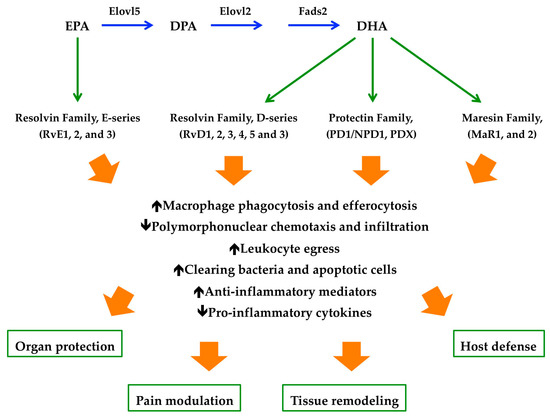 Figure 2. The specialized pro-resolving mediators (SPMs) biosynthetic route and physiologic actions. EPA, eicosapentaenoic acid; DPA, docosapentaenoic acid; DHA, docosahexaenoic acid; Elovl5, ELOVL fatty Acid Elongase 5; Elovl2, ELOVL fatty Acid Elongase 2; Fads2, Fatty Acid Desaturase 2.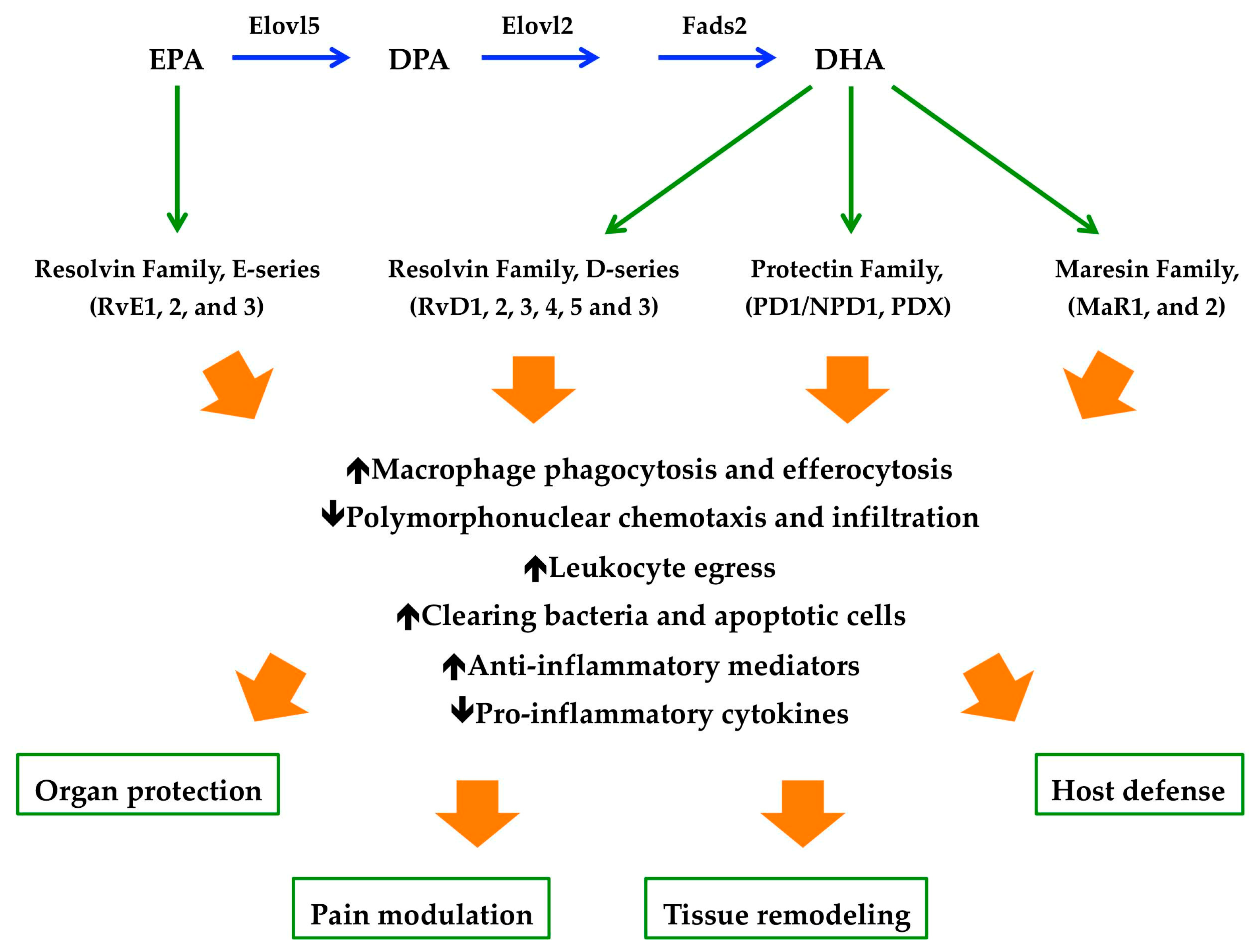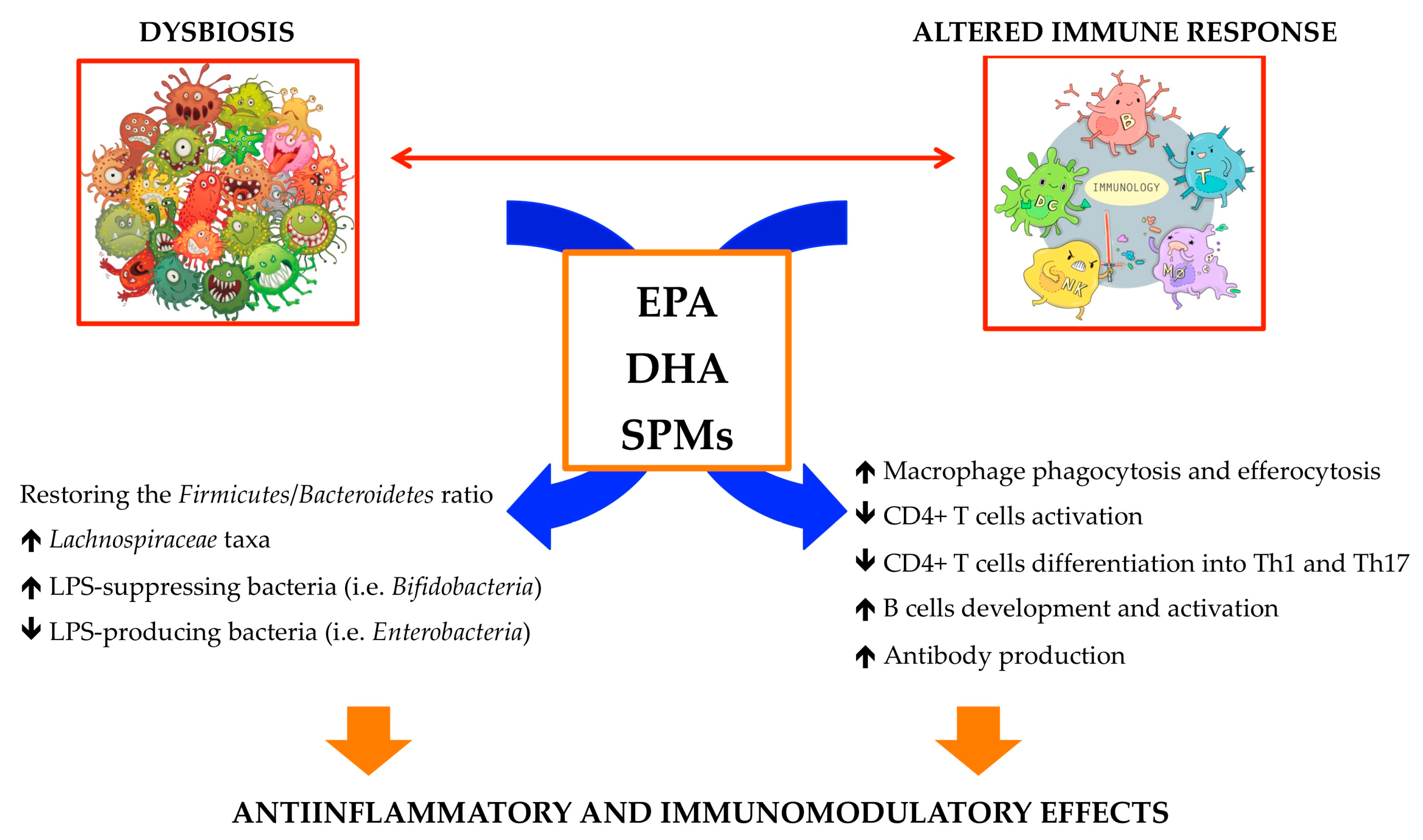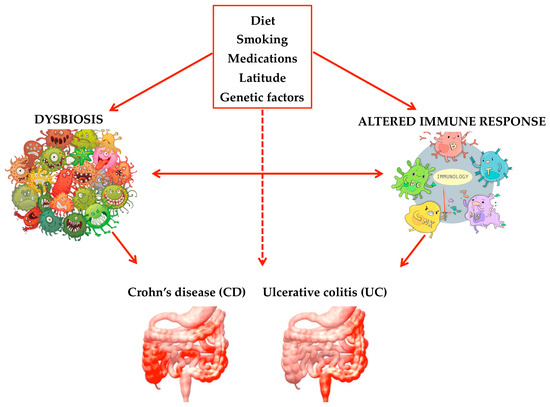 Figure 4. The pathogenic factors involved in the development of Crohn's disease (CD) and ulcerative colitis (UC).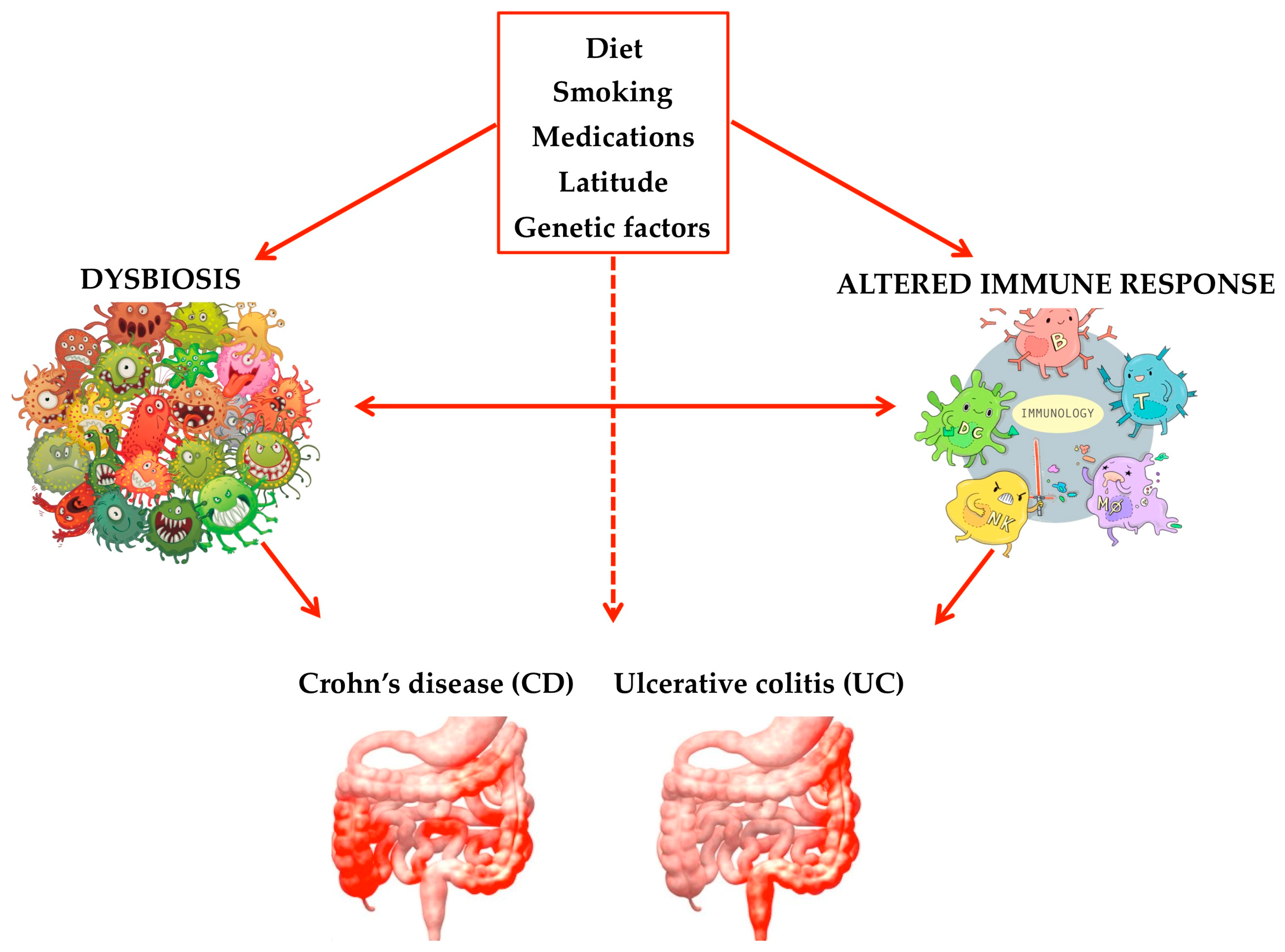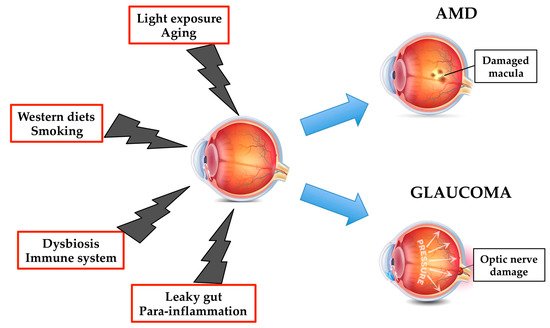 Figure 5. Altered dietary habits, dysbiosis and leaky gut, and low grade inflammation, together with aging, smoking and light exposure may influence the risk and progression of age-related macular degeneration (AMD) and glaucoma.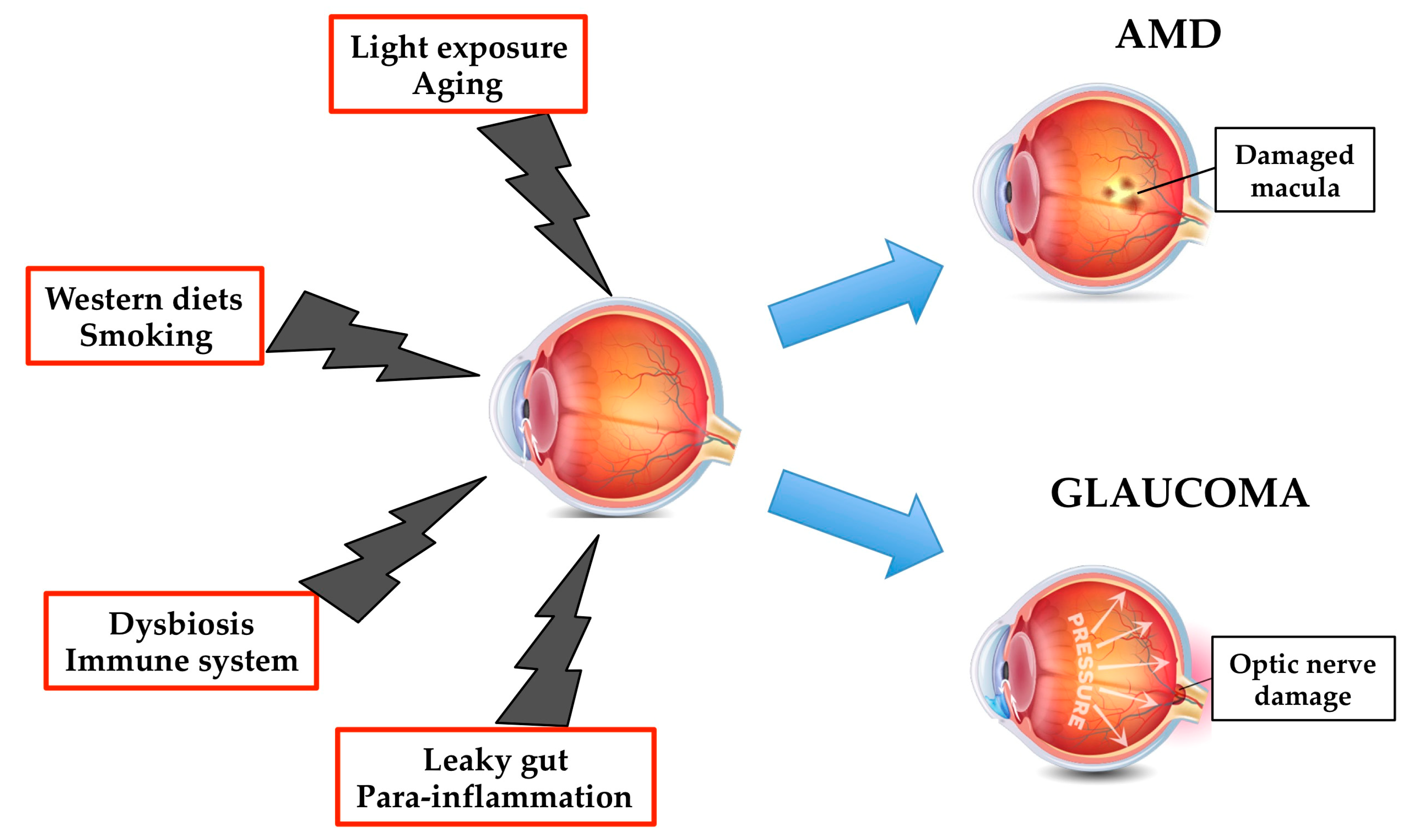 © 2019 by the author. Licensee MDPI, Basel, Switzerland. This article is an open access article distributed under the terms and conditions of the Creative Commons Attribution (CC BY) license (http://creativecommons.org/licenses/by/4.0/).