Development of Injectable Fucoidan and Biological Macromolecules Hybrid Hydrogels for Intra-Articular Delivery of Platelet-Rich Plasma
1
School of Biomedical Engineering, College of Biomedical Engineering, Taipei Medical University, Taipei 11031, Taiwan
2
Department of Orthopedics, Taipei Medical University Hospital, Taipei 11031, Taiwan
3
Graduate Institute of Medical Sciences, College of Medicine, Taipei Medical University, Taipei 11031, Taiwan
4
Department of Food Science, National Taiwan Ocean University, Keelung 20224, Taiwan
5
School of Medical Laboratory Science and Biotechnology, College of Medical Science and Technology, Taipei Medical University, Taipei 11031, Taiwan
6
Department of Pathology, School of Medicine, College of Medicine, Taipei Medical University, Taipei 11031, Taiwan
7
Department of Pathology, Wan Fang Hospital, Taipei 11696, Taiwan
8
Department of Biochemistry and Molecular Cell Biology, School of medicine, College of Medicine, Taipei Medical University, Taipei 11031, Taiwan
9
Graduate Institute of Nanomedicine and Medical Engineering, College of Biomedical Engineering, Taipei Medical University, Taipei 11031, Taiwan
*
Authors to whom correspondence should be addressed.
Received: 25 March 2019 / Revised: 12 April 2019 / Accepted: 15 April 2019 / Published: 19 April 2019
Abstract
Platelet-rich plasma (PRP) is rich in growth factors and has commonly been utilized in the repair and regeneration of damaged articular cartilage. However, the major drawbacks of direct PRP injection are unstable biological fixation and fast or burst release of growth factors. Fucoidan is a heparinoid compound that can bind growth factors to control their release rate. Furthermore, fucoidan can reduce arthritis through suppressing inflammatory responses and thus it has been reported to prevent the progression of osteoarthritis, promote bone regeneration and accelerate healing of cartilage injury. Injectable hydrogels can be used to deliver cells and growth factors for an alternative, less invasive treatment of cartilage defects. In this study, hyaluronic acid (HA) and fucoidan (FD) was blended with gelatin (GLT) and the GLT/HA/FD hybrid was further cross-linked with genipin (GP) to prepare injectable GP-GLT/HA/FD hydrogels. The gelation rate was affected by the GP, GLT, HA and FD concentrations, as well as the pH values. The addition of HA and FD to GLT networks improved the mechanical strength of the hydrogels and facilitated the sustained release of PRP growth factors. The GP-GLT/HA/FD hydrogel showed adequate injectability, shape-persistent property and strong adhesive ability, and was more resistant to enzymatic degradation. The PRP-loaded GP-GLT/HA/FD hydrogel promoted cartilage regeneration in rabbits, which may lead to an advanced PRP therapy for enhancing cartilage repair.
View Full-Text
►

▼

Figures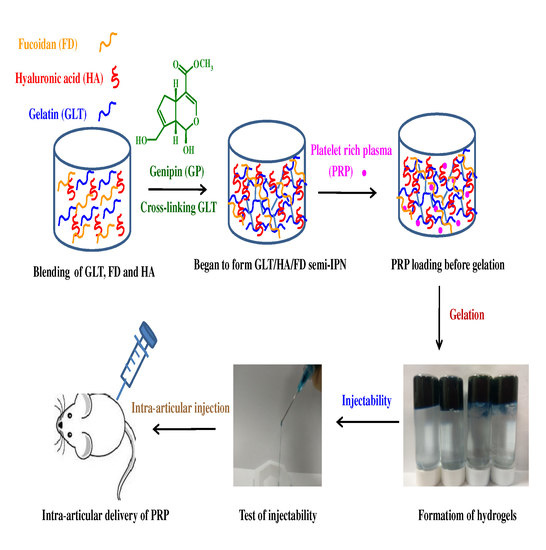 Graphical abstract
This is an open access article distributed under the
Creative Commons Attribution License
which permits unrestricted use, distribution, and reproduction in any medium, provided the original work is properly cited (CC BY 4.0).

Share & Cite This Article
MDPI and ACS Style
Lu, H.-T.; Chang, W.-T.; Tsai, M.-L.; Chen, C.-H.; Chen, W.-Y.; Mi, F.-L. Development of Injectable Fucoidan and Biological Macromolecules Hybrid Hydrogels for Intra-Articular Delivery of Platelet-Rich Plasma. Mar. Drugs 2019, 17, 236.
Note that from the first issue of 2016, MDPI journals use article numbers instead of page numbers. See further details here.
Related Articles
Comments
[Return to top]