Protective Effect of Phloroglucinol on Oxidative Stress-Induced DNA Damage and Apoptosis through Activation of the Nrf2/HO-1 Signaling Pathway in HaCaT Human Keratinocytes
1
Department of Molecular Biology, College of Natural Sciences, Dong-eui University, Busan 47340, Korea
2
Department of Parasitology and Genetics, College of Medicine, Kosin University, Busan 49267, Korea
3
Department of Biochemistry, Dong-eui University College of Korean Medicine, Busan 47227, Korea
4
Anti-Aging Research Center, Dong-eui University, Busan 47227, Korea
5
Department of Marine Life Sciences, School of Marine Biomedical Sciences, Jeju National University, Jeju 63243, Korea
6
Department of Chemistry, College of Natural Sciences, Pusan National University, Busan 46241, Korea
7
Department of Biological Sciences, College of Natural Sciences, Pusan National University, Busan 46241, Korea
8
Biopharmaceutical Engineering Major, Division of Applied Bioengineering, College of Engineering, Dong-eui University, Busan 47340, Korea
*
Author to whom correspondence should be addressed.
†
These authors equally contributed to this work.
Received: 13 March 2019 / Revised: 8 April 2019 / Accepted: 11 April 2019 / Published: 13 April 2019
Abstract
Phloroglucinol (PG) is a component of phlorotannins, which are abundant in marine brown alga species. Recent studies have shown that PG is beneficial in protecting cells from oxidative stress. In this study, we evaluated the protective efficacy of PG in HaCaT human skin keratinocytes stimulated with oxidative stress (hydrogen peroxide, H
2
O
2
). The results showed that PG significantly inhibited the H
2
O
2
-induced growth inhibition in HaCaT cells, which was associated with increased expression of heme oxygenase-1 (HO-1) by the activation of nuclear factor erythroid 2-related factor-2 (Nrf2). PG remarkably reversed H
2
O
2
-induced excessive ROS production, DNA damage, and apoptosis. Additionally, H
2
O
2
-induced mitochondrial dysfunction was related to a decrease in ATP levels, and in the presence of PG, these changes were significantly impaired. Furthermore, the increases of cytosolic release of cytochrome
c
and ratio of Bax to Bcl-2, and the activation of caspase-9 and caspase-3 by the H
2
O
2
were markedly abolished under the condition of PG pretreatment. However, the inhibition of HO-1 function using zinc protoporphyrin, a HO-1 inhibitor, markedly attenuated these protective effects of PG against H
2
O
2
. Overall, our results suggest that PG is able to protect HaCaT keratinocytes against oxidative stress-induced DNA damage and apoptosis through activating the Nrf2/HO-1 signaling pathway.
View Full-Text
►

▼

Figures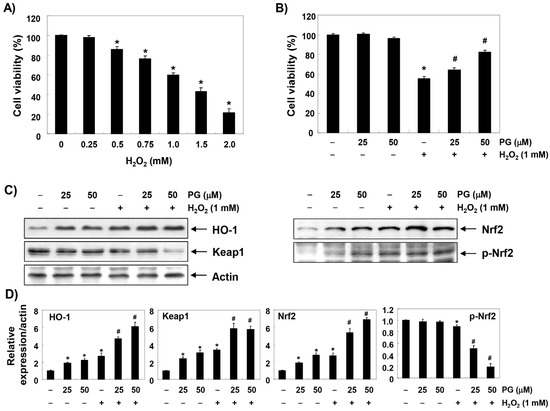 Figure 1
This is an open access article distributed under the
Creative Commons Attribution License
which permits unrestricted use, distribution, and reproduction in any medium, provided the original work is properly cited (CC BY 4.0).

Share & Cite This Article
MDPI and ACS Style
Park, C.; Cha, H.-J.; Hong, S.H.; Kim, G.-Y.; Kim, S.; Kim, H.-S.; Kim, B.W.; Jeon, Y.-J.; Choi, Y.H. Protective Effect of Phloroglucinol on Oxidative Stress-Induced DNA Damage and Apoptosis through Activation of the Nrf2/HO-1 Signaling Pathway in HaCaT Human Keratinocytes. Mar. Drugs 2019, 17, 225.
Note that from the first issue of 2016, MDPI journals use article numbers instead of page numbers. See further details here.
Related Articles
Comments
[Return to top]