Open Access This article is
freely available
re-usable
Review
Collagen of Extracellular Matrix from Marine Invertebrates and Its Medical Applications
1
Department of Chemical & Physical Sciences, University of Toronto, Mississauga, ON L5L 1C6, Canada
2
Center for Climate Change Research, Toronto, ON M4P 1J4, Canada
Received: 22 December 2018 / Accepted: 5 February 2019 / Published: 14 February 2019
Abstract
:
The extraction and purification of collagen are of great interest due to its biological function and medicinal applications. Although marine invertebrates are abundant in the animal kingdom, our knowledge of their extracellular matrix (ECM), which mainly contains collagen, is lacking. The functions of collagen isolated from marine invertebrates remain an untouched source of the proteinaceous component in the development of groundbreaking pharmaceuticals. This review will give an overview of currently used collagens and their future applications, as well as the methodological issues of collagens from marine invertebrates for potential drug discovery.
Keywords:
collagen; chitin; corals; extracellular matrix; marine invertebrates; marine proteins
1. Introduction
Collagen is one of the most abundant proteins in the extracellular matrix of animal bodies. This protein is the main fibrous, structural protein and supports the formation of all joints in the body. Supplementing collagen is an important way to keep our body healthy. Nowadays, collagen-based biomedical materials are used for the treatment of many human diseases (e.g., bone tissue regeneration). The challenge currently facing scientists is to find a suitable source of collagen, and the extraction and purification of collagen, which would be appropriate for applying to medical applications.
2. Current State of Collagen Research and its Medical Application
3. Purification Technique of Collagens from Marine Invertebrates
4. Future Applications of Invertebrate Collagens in Medical Field
The marine ecosystem provides suitable and numerous diversified resources for human health in comparison to the terrestrial ecosystem. In the last few decades, marine resources, especially invertebrates, have been recognized to be a promising source for many drugs (e.g., Cytarabine, Vidarabine, and Halichondrin B) [
91
]. According to the discussion above (
Section 1
,
Section 2
and
Section 3
), marine invertebrates and related calcifying organisms such as soft and hard corals, sponge, mollusk, sea urchin, and coralline algae could be a major source of medicines over the next decades. However, extraction and purification of collagen for the purpose of medical application of these resources is still under investigation developing. Despite some impressive work having been performed on collagenous sponges and corals [
1
,
2
,
3
,
4
,
6
,
7
,
15
,
16
,
17
,
47
,
54
,
91
,
92
,
93
], an intensive study is necessary with these two groups and other invertebrates to use these huge apposite resources in future years. The potential of marine invertebrates for collagen could be realized by developing new technologies; indeed, there are many methods such as proteomics, computer-aided design, bioinformatics, and combinatorial synthesis that are now being applied.
The biological diversity of marine invertebrates and complex protein and peptide components direct us toward discovery of many new drugs for various therapeutic areas, including bone-related disease (e.g., osteoporosis) [
94
]. Besides cancer, microbial infections, and inflammation, drug discovery for bone-related disease is the biggest challenge of the current century, and collagen extraction from marine invertebrates shows new promise in fighting against this and other related diseases.
5. Concluding Remarks
In this review, the current state of research on collagen extracted from the ECM of invertebrates and its applications in the medical field have been discussed, and some light has been shed on future perspectives of this important marine material. The methodological issues of collagen purification from invertebrates, which the researchers are currently struggling with, have also been highlighted. The discussion concerning the purification techniques in this review could be of tremendous help in the extraction of purified collagen from invertebrates. The extracellular matrix, which is one of the key components in invertebrates and is responsible for producing collagen in this marine group, has been elaborated with informative imaging. In addition, the glycosylation activity with the formation of glycoproteins (size of the protein, which varies from species to species) in invertebrates, whose biological processes are involved in producing collagen, has been discussed for the first time in this review. The obtained results demonstrate the potential for marine invertebrates to generate new drugs, especially for bone tissue regeneration.
Conflicts of Interest
The authors declare no conflict of interest.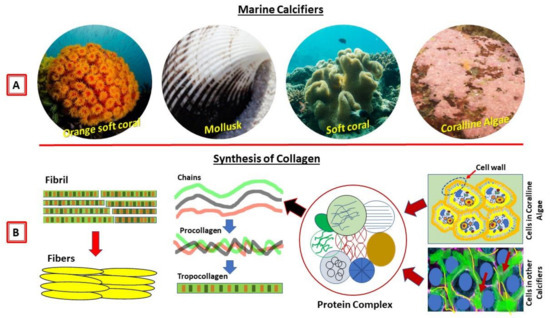 Figure 1. Marine calcifiers and their collagens. (A) Examples of marine calcifiers/invertebrates. (B) A model image on the biological synthesis of collagens from the marine invertebrates and crustose coralline algae.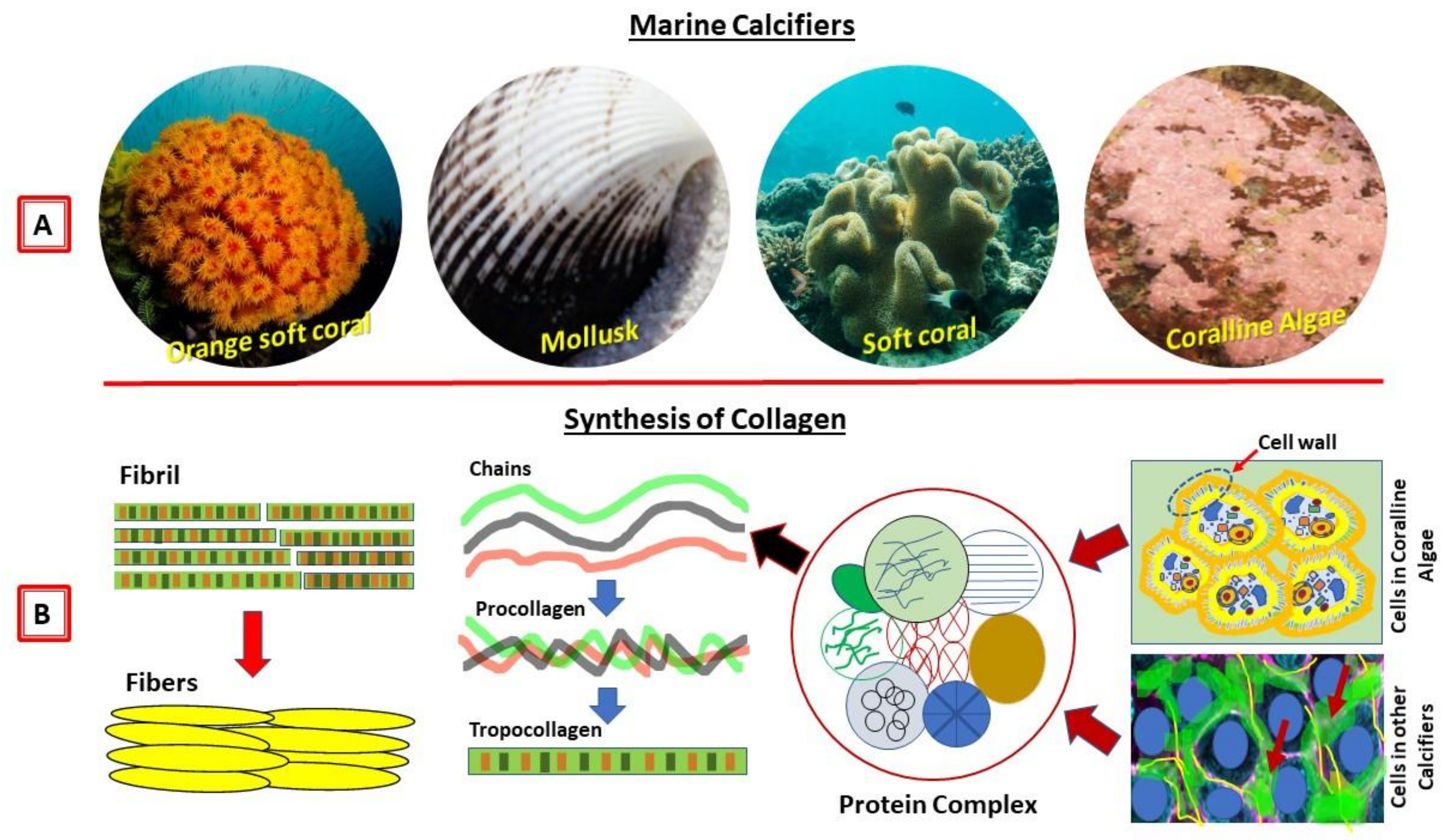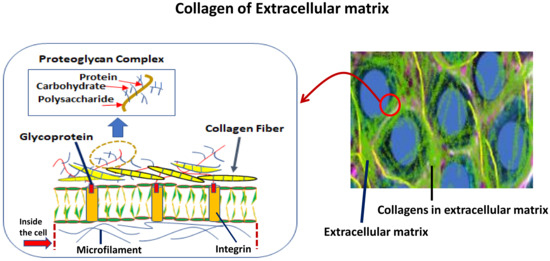 Figure 2. Collagen of extracellular matrix and its biology in invertebrates. The right panel shows a model of cells. The left panel shows the structural components of the extracellular matrix, which are involved in the formation of collagen in marine invertebrates.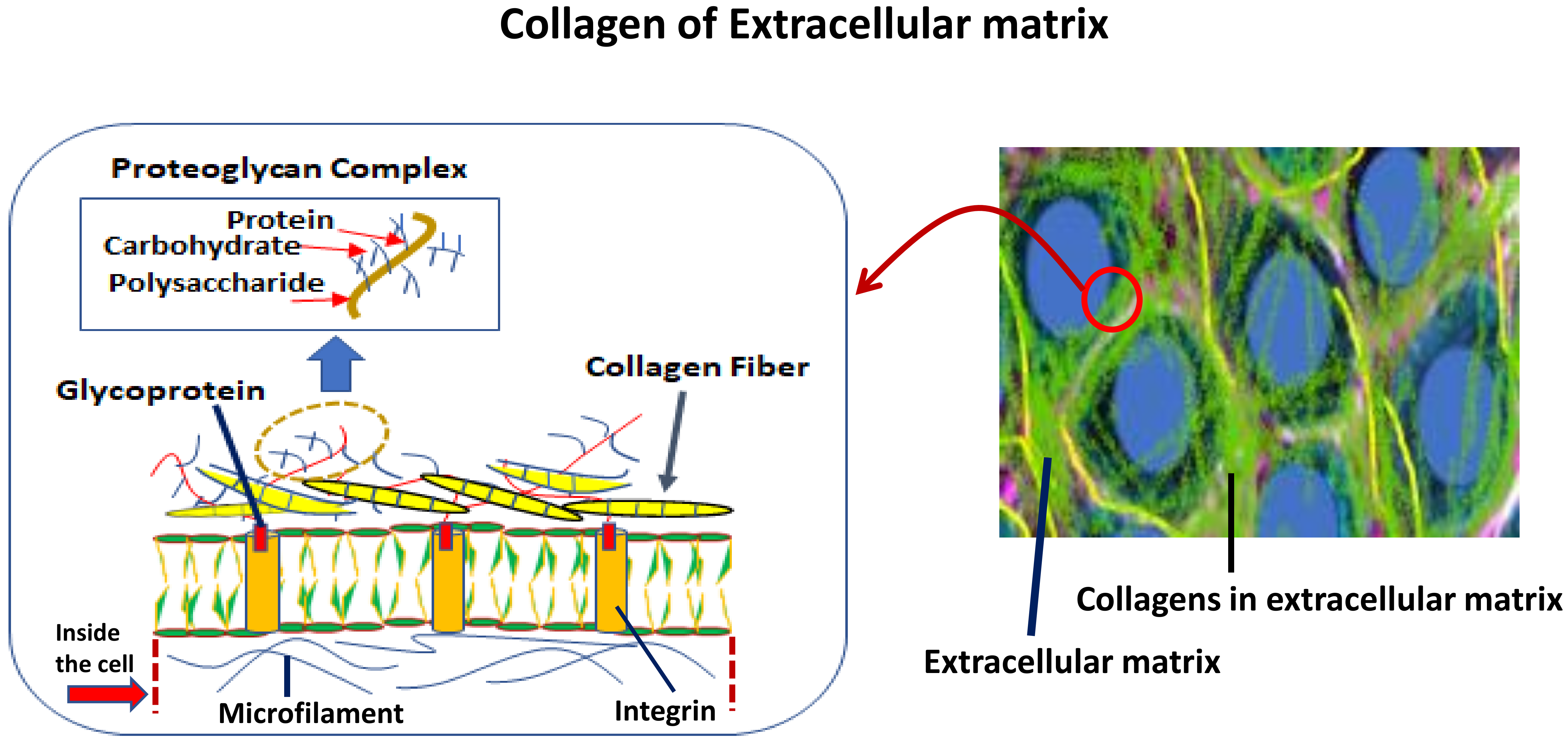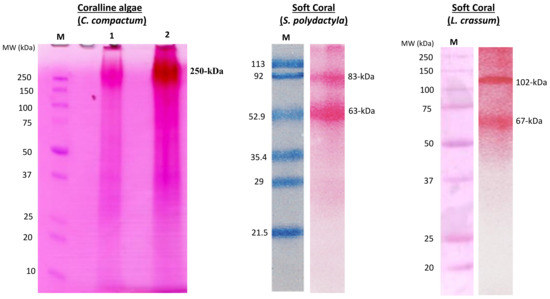 Figure 3.
Collagen associated glycoproteins in marine calcifiers. Coralline red algae: Sodium dodecyl sulfate-polyacrylamide gel electrophoresis (SDS-PAGE) with a periodic acid-schiff (PAS) staining to detect glycoprotein in the extracellular matrix of
Clathromorphum compactum
. M, protein ladder. Lane 1 and 2, high molecular weight (250 kDa) of a glycoprotein. Soft coral (
Sinularia polydactyla
): SDS-PAGE with a PAS staining to detect glycoprotein in the extracellular matrix of
S. polydactyla
. M, protein ladder. Two glycoproteins (83 and 63 kDa) were identified in this species. Soft Coral (
Lobophytum crassum
): SDS-PAGE with a PAS staining. The PAS staining to detect glycoprotein in the extracellular matrix of
L. crassum
. M, protein ladder. Two glycoproteins (102 and 67 kDa) were identified in this soft coral species. The Precision Plus SDS-PAGE protein ladder (Bio-Rad) was used for the electrophoresis analysis of all above-mentioned glycoproteins. The glycoproteins presented here were reproduced from Rahman [
5
] for the coralline red algae and Rahman et al. [
25
] for the two soft corals (
S. polydactyla
,
L. crassum
).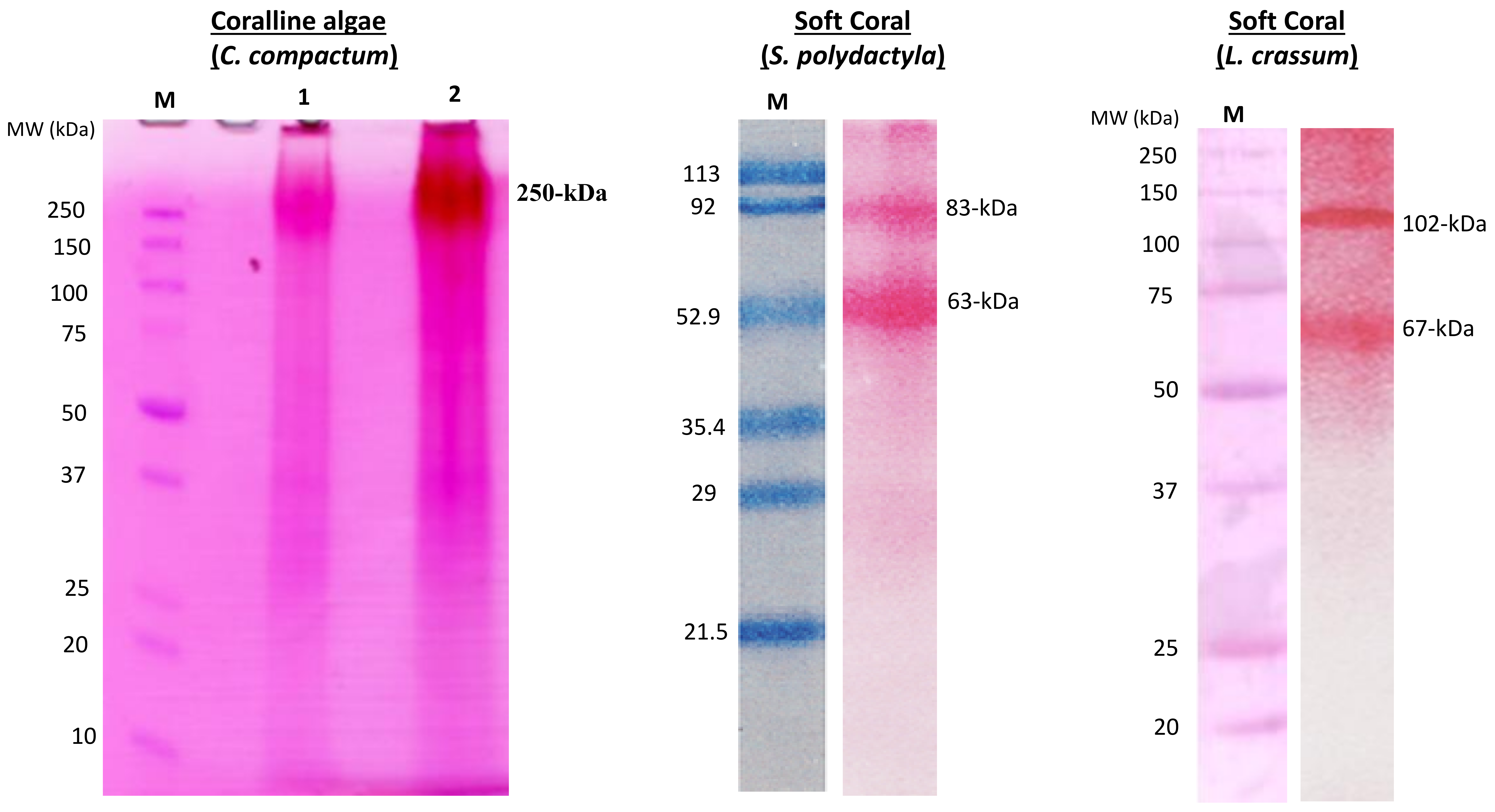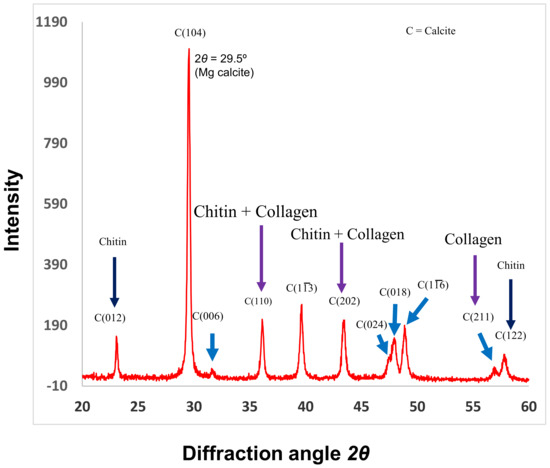 Figure 4.
X-ray diffraction (XRD) analysis of
C. compactum
. The 2
θ
scan identifies the mineral form of CaCO
3
crystal planes, which were nucleated by chitin and collagen matrices. Purple arrows show the collagen bands. Reproduced with permission from Rahman and Halfar [
9
].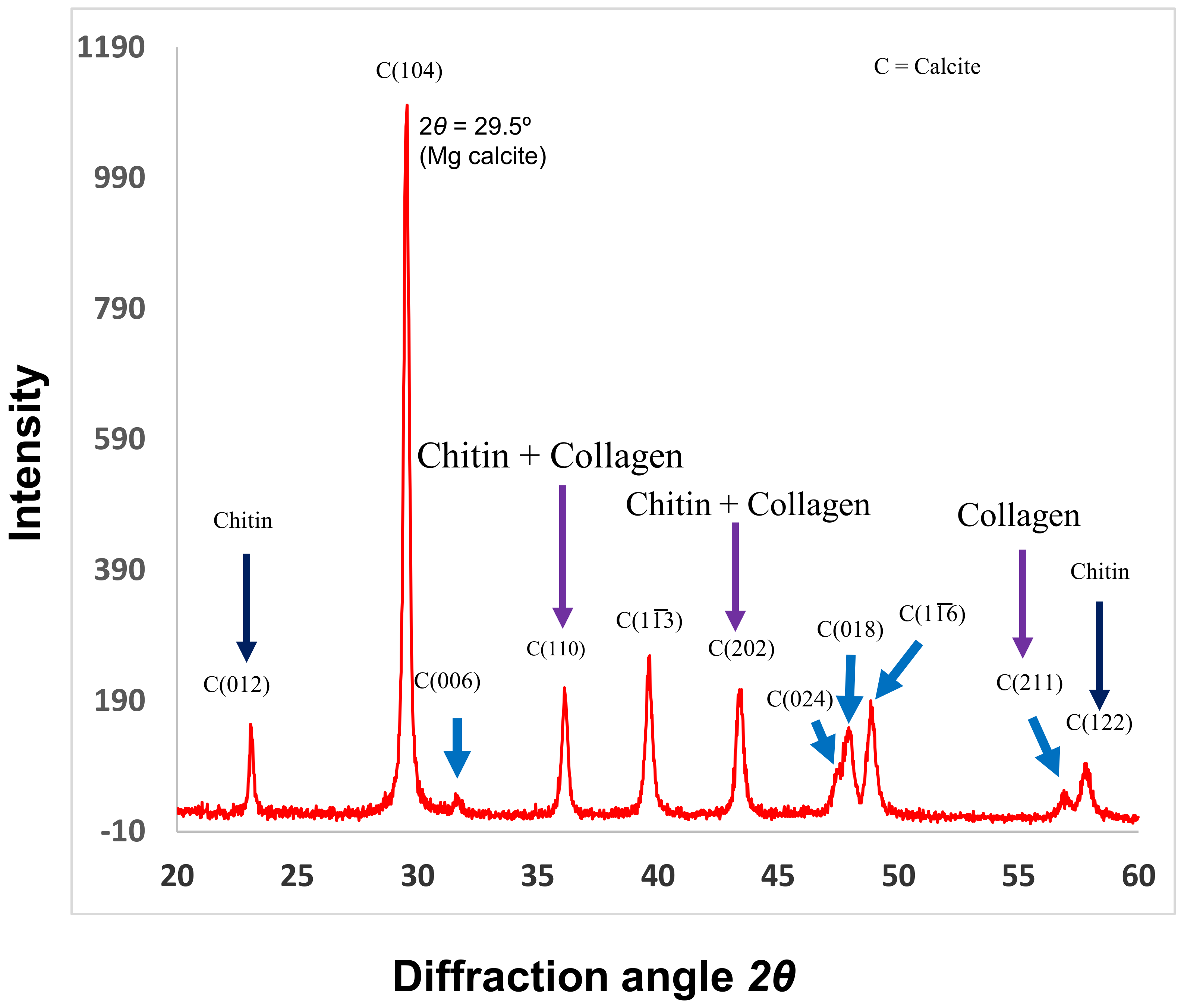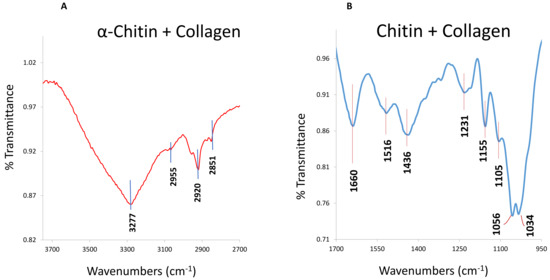 Figure 5.
Infrared (IR) of collagens in
C. compactum
. Attenuated total reflection (ATR)–Fourier–transform infrared spectroscopy (FTIR) spectra reveal the collagen bands in both soluble (
A
) and insoluble (
B
) organic matrix fractions. [Reproduced from Rahman and Halfar (9)].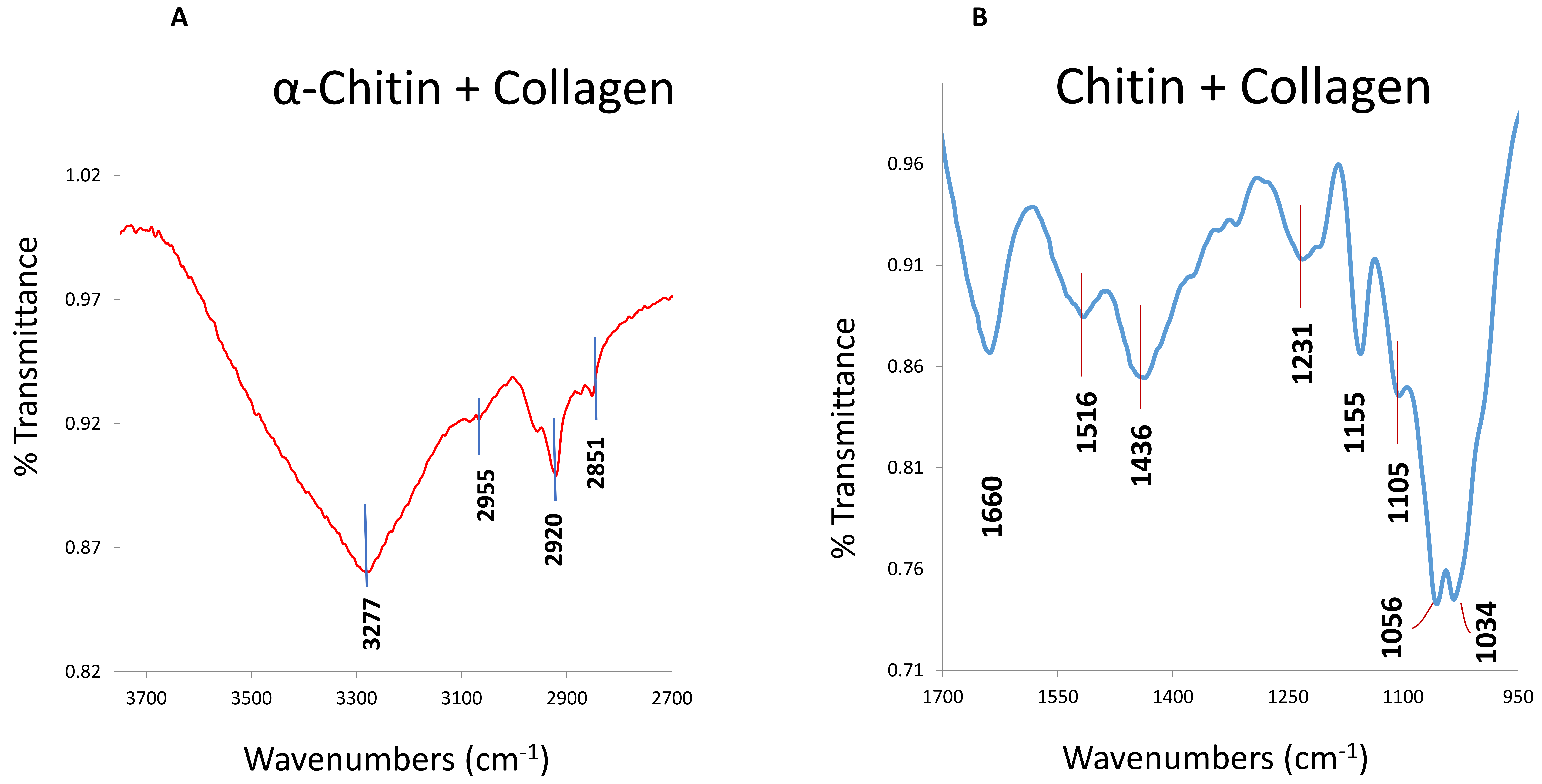 © 2019 by the author. Licensee MDPI, Basel, Switzerland. This article is an open access article distributed under the terms and conditions of the Creative Commons Attribution (CC BY) license (http://creativecommons.org/licenses/by/4.0/).