Open Access This article is
freely available
re-usable
Article
Characterization of the Microbial Population Inhabiting a Solar Saltern Pond of the Odiel Marshlands (SW Spain)
Laboratory of Biochemistry and Molecular Biology, Faculty of Experimental Sciences, Marine International Campus of Excellence (CEIMAR), University of Huelva, 21071 Huelva, Spain
*
Author to whom correspondence should be addressed.
Received: 28 June 2018 / Accepted: 8 September 2018 / Published: 12 September 2018
Abstract
:
The solar salterns located in the Odiel marshlands, in southwest Spain, are an excellent example of a hypersaline environment inhabited by microbial populations specialized in thriving under conditions of high salinity, which remains poorly explored. Traditional culture-dependent taxonomic studies have usually under-estimated the biodiversity in saline environments due to the difficulties that many of these species have to grow at laboratory conditions. Here we compare two molecular methods to profile the microbial population present in the Odiel saltern hypersaline water ponds (33% salinity). On the one hand, the construction and characterization of two clone PCR amplified-16S rRNA libraries, and on the other, a high throughput 16S rRNA sequencing approach based on the Illumina MiSeq platform. The results reveal that both methods are comparable for the estimation of major genera, although massive sequencing provides more information about the less abundant ones. The obtained data indicate that
Salinibacter ruber
is the most abundant genus, followed by the archaea genera,
Halorubrum
and
Haloquadratum
. However, more than 100 additional species can be detected by Next Generation Sequencing (NGS). In addition, a preliminary study to test the biotechnological applications of this microbial population, based on its ability to produce and excrete haloenzymes, is shown.
Keywords:
halo-extremophyles; archaea; 16S rRNA metagenomics; haloenzymes; Odiel marshlands
Author Contributions
For research articles with several authors, a short paragraph specifying their individual contributions must be provided. The following statements should be used "Conceptualization, R.L. and J.V.; Methodology, P.G.-V.; R.L. and J.V.; Software, P.G.-V.; Validation, P.G.-V.; R.L. and J.V.; Investigation, P.G.-V.; Writing-Original Draft Preparation, R.L.; Writing-Review & Editing, P.G.-V.; R.L. and J.V.; Visualization, P.G.-V.; Supervision, R.L. and J.V.; Funding Acquisition, R.L.", please turn to the CRediT taxonomy for the term explanation. Authorship must be limited to those who have contributed substantially to the work reported.
Funding
This research was funded by INTERREG VA España–Portugal (POCTEP) 2014–2020 Cooperation Program, grant number 0055_ALGARED_PLUS_5_E and SUBV. COOP.ALENTEJO-ALGARVE-ANDALUCIA 2017.
Acknowledgments
The authors would like to thank the company Salinas del Odiel S.L. and J. Ariza from the University of Huelva for kindly providing the water samples.
Conflicts of Interest
"The authors declare no conflict of interest." "The funders had no role in the design of the study; in the collection, analyses, or interpretation of data; in the writing of the manuscript and in the decision to publish the results."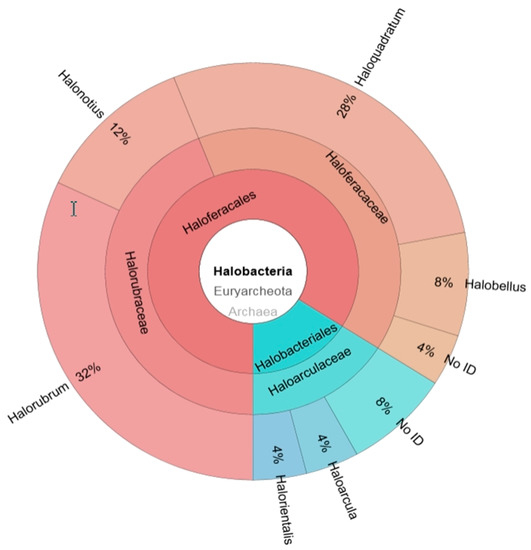 Figure 1. Distribution of the clones from the archaeal 16S rRNA clone library among different genera. 16S rRNA fragments obtained by amplification with archaeal specific primers were cloned into pGEMT vector for the construction of a clone library. The inserted sequence of 25 of the obtained clones were analysed and compared with the NCBI to identify the original genera. Data are expressed as percentages of the total archaeal population. Only sequences that shared over 95% 16S rRNA sequence identity with a known one was assigned to a specific genus.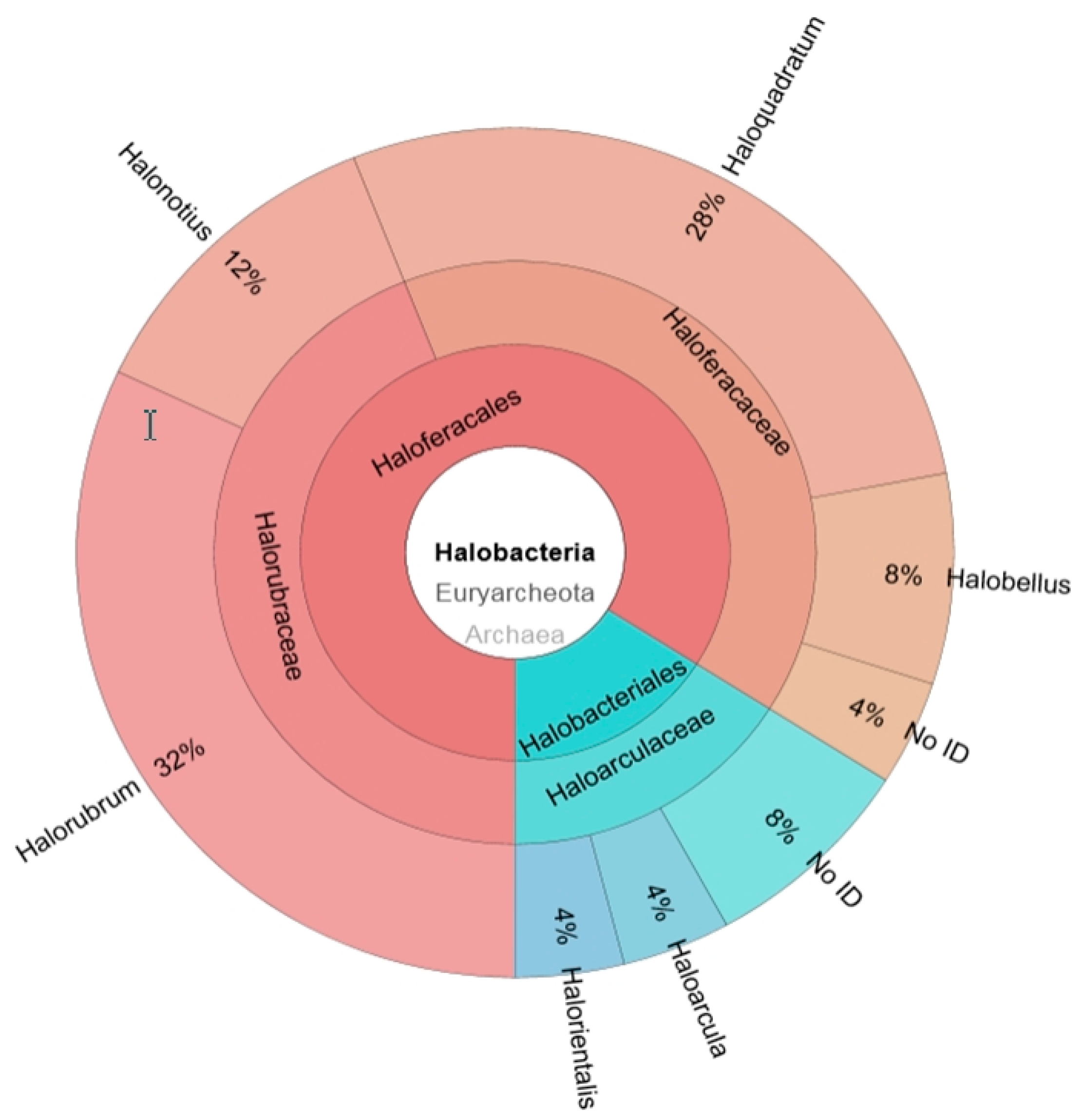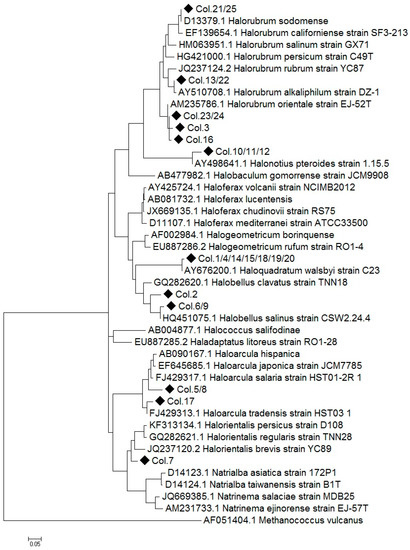 Figure 2.
Molecular Phylogenetic Analysis by Maximum Likelihood method. The tree represents the relationship among the 16S rRNA sequences from strains isolated from the saltern ponds of the Odiel Marshlands and reference archaeal sequences. Multiple alignments were generated by MUSCLE and the tree was constructed with MEGA 7, using 1000 bootstrap replicates. The name and the NCBI access number are indicated for all the reference sequences. Black diamonds represent 16S rDNA Sequences from the isolates and "Col. N" denotes the colony number. When an identical sequence was obtained from different colonies it was denoted as "Col. N1/N2." The tree is drawn to scale, branch lengths represent the number of substitutions per site. Scale bar indicate 5% sequence divergence. The sequence of
Methanococcus vulcanus
was used as the outgroup.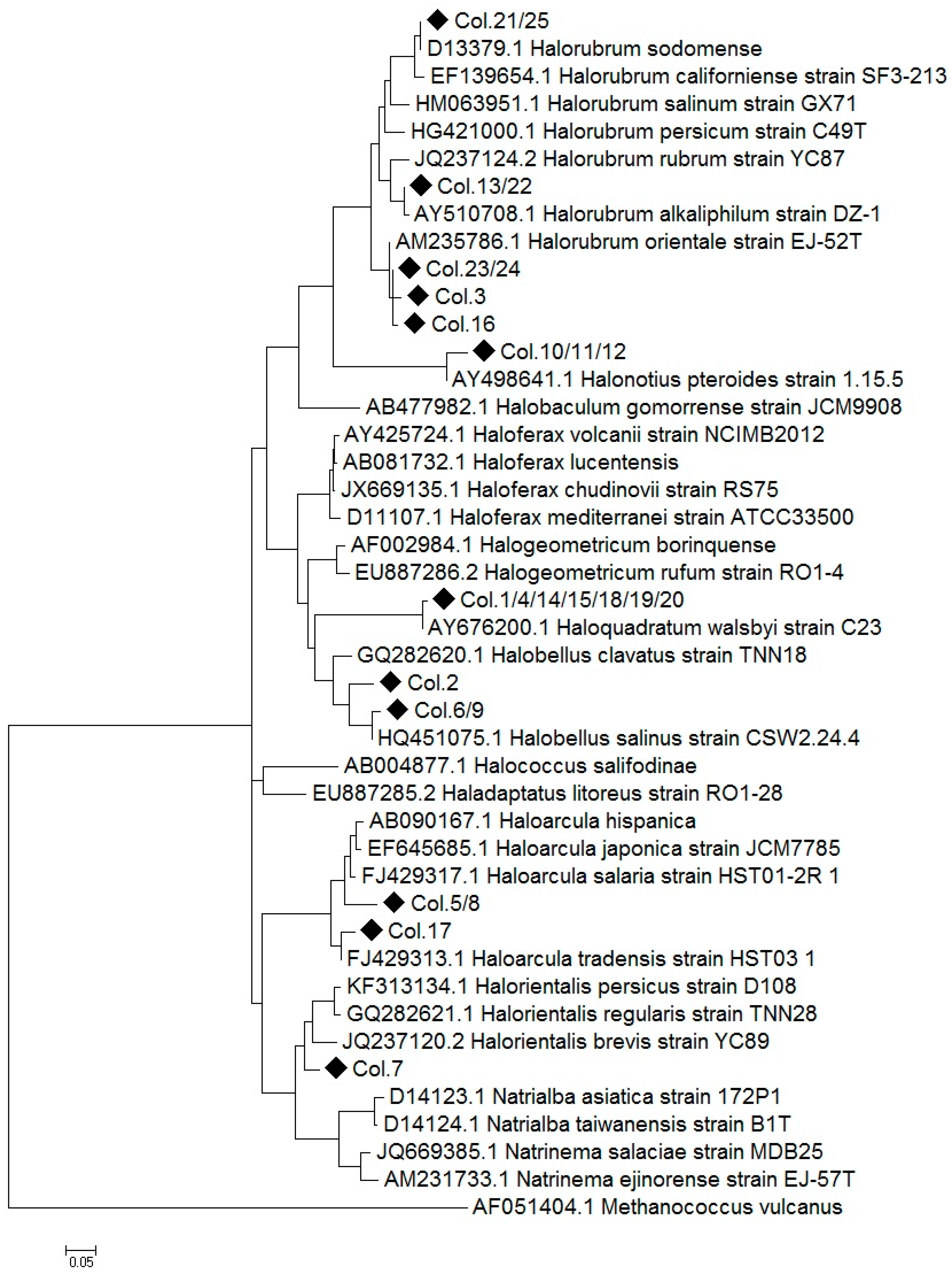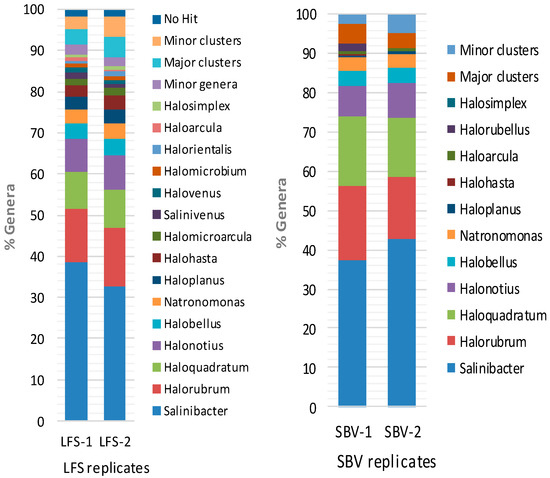 Figure 3. Relative abundance of the genera found by the metagenomic approaches. Operational Taxonomic Units (OTUs) distribution in Odiel saline ponds (33% salinity) obtained from Illumina MiSeq sequencing of the 16S rRNA V3, V4 hypervariable regions. Four data sets were obtained from two different sequencing services. The graphic shows the percentage of the genera with more than 0.2% abundance. Minor genera include all the genera below 0.2%. The sequences that clustered together but could not been affiliated to a genus are named as "clusters" and have been divided in "Major clusters" (>0.2%) and "Minor clusters" (<0.2%). "No hit" represents the sequences which did not cluster with any other obtained sequence.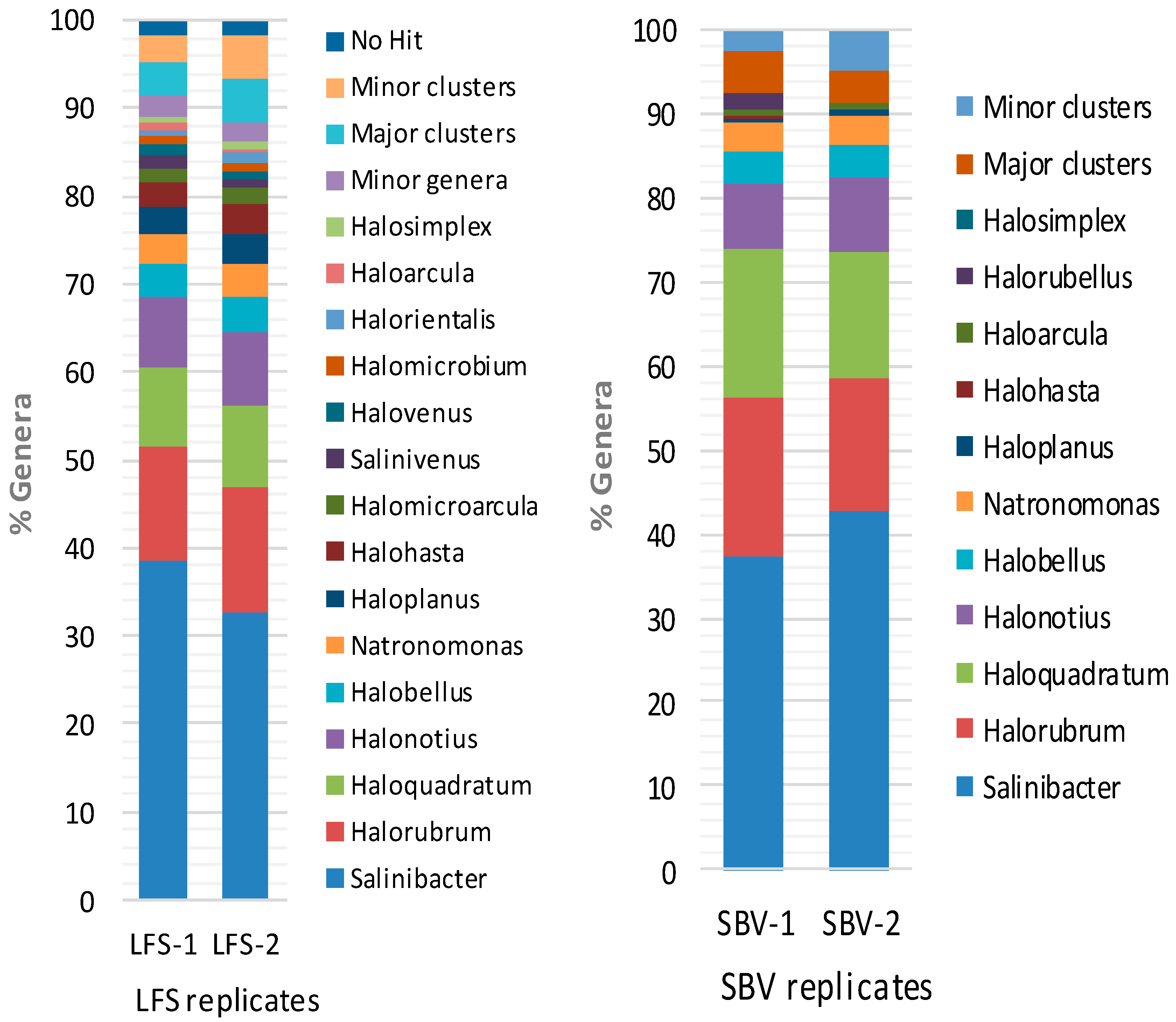 Figure 4. Comparison of the main archaeal genera present in the Odiel saline ponds. Percentage of the different archaea genera over the total archaea population found in the Odiel saline ponds obtained by the two different culture-independent approaches previously described: construction of a clone library (Library) and massive 16S rRNA sequencing, including the two replicates from each Metagenomic Service (LFS and SBV). Only the most abundant genera are shown.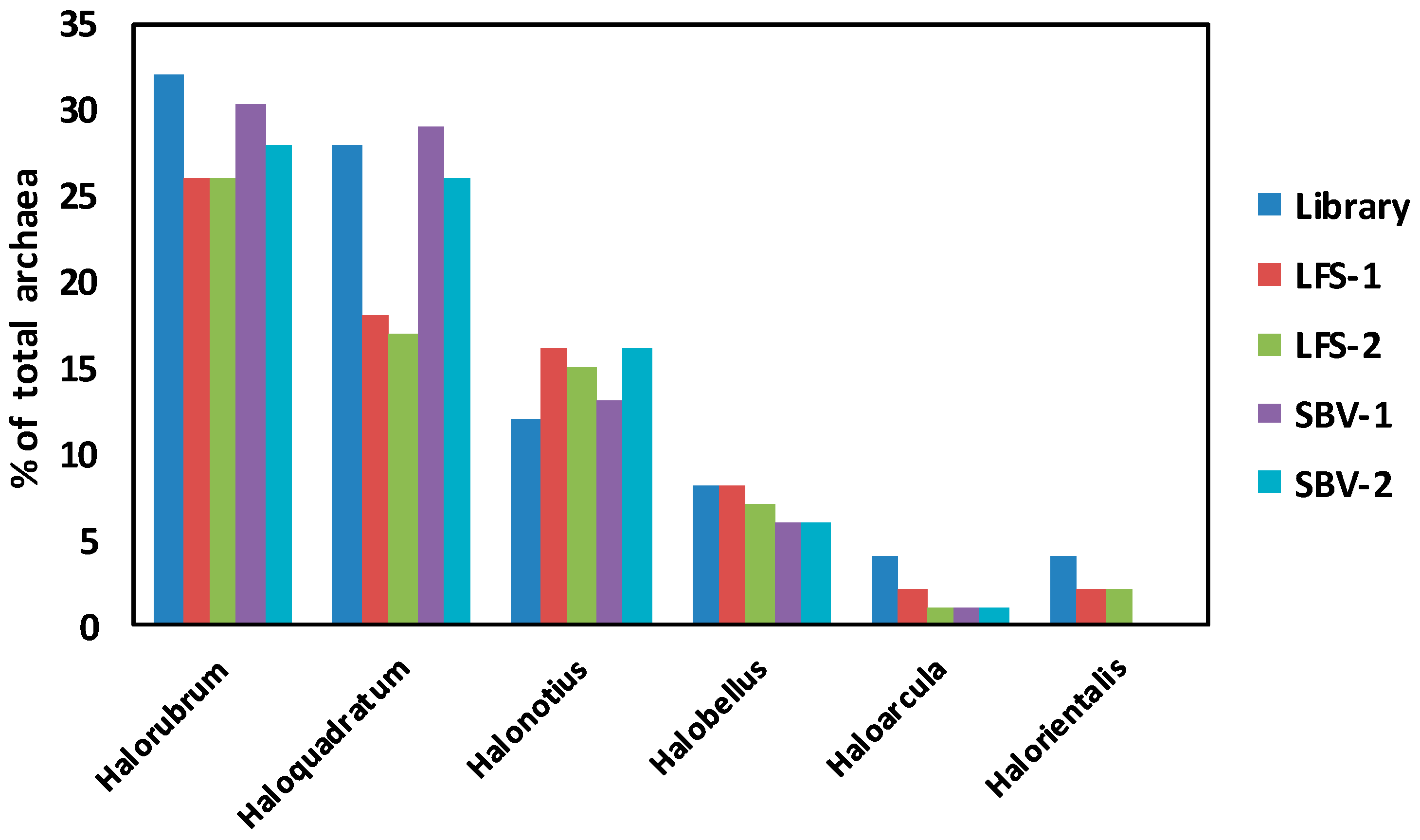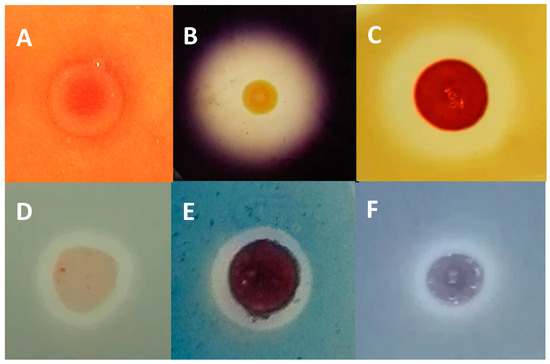 Figure 5. Detection of extracellular halocin and enzymatic activities in the enriched archaeal biomass by plate assay. The biomass obtained from the Odiel salterns water was enriched and concentrated as detailed in Material and Methods and used to test extracellular: halocin (A), amylase (B), protease (C), lipase (D), cellulase (E) and laccase (F) activities by the plate assays described in Materials and Methods.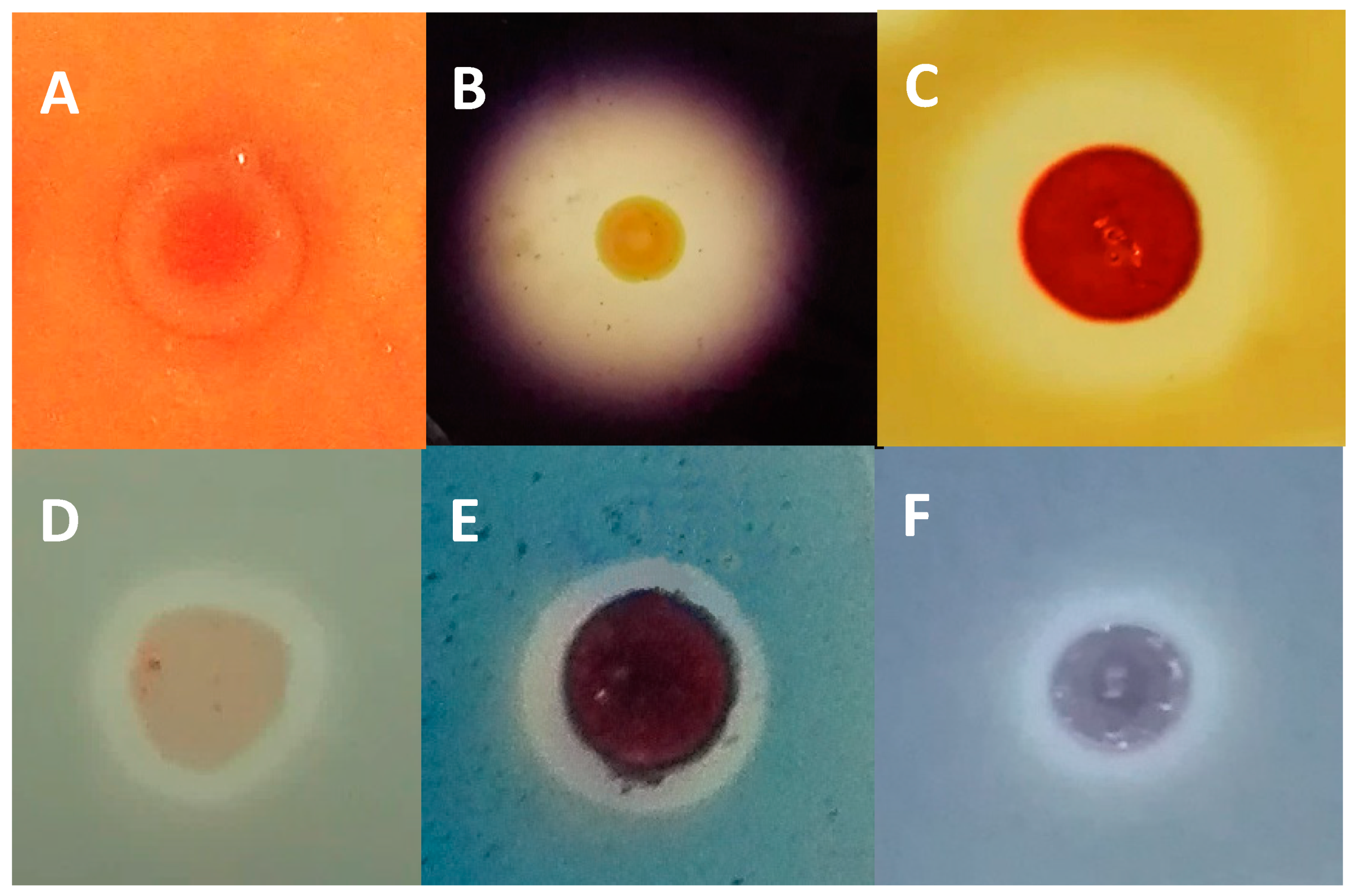 Table 1. Chemical composition of the water sample collected from the evaporation ponds located in the Natural Reserve of Odiel Marshlands in the southwest Spain.
Density (g·mL−1)
Brine Composition (g·L−1)
Total Salinity
CaSO4
MgSO4
MgCl2
NaCl
KCl
NaBr
1.212
1.40
23.06
34.08
265.38
7.51
0.84
332.30
| Reaction | Raw Sequence Reads | Mean Read Length (bp) | Sequences after Denoising | Mean Quality (Q Score) | OTUs | Shannon Index |
| --- | --- | --- | --- | --- | --- | --- |
| SBV-1 | 349 726 | 250 | 49 100 | >28 | 177 | 2.75 |
| SBV-2 | 204 766 | 250 | 19 537 | >28 | 117 | 2.65 |
| LFS-1 | 57 148 | 299.8 | 25 479 | 37.16 | 228 | 2.77 |
| LFS-2 | 156 520 | 299.6 | 71 623 | 37.25 | 356 | 3.03 |
The number of sequences and Operational Taxonomic Units (OTUs) obtained from Stabvida (SBV) and Life Sequencing (LFS) are shown. The mean quality, expressed as Q scores and the Shannon biodiversity index for each sequencing run have also been included.

Table 3. Comparison of prokaryotic diversity at genus level in the Odiel hypersaline pond (33%) and other hypersaline ponds with similar salinity.
Sample
Santa Pola (Spain)
Santa Pola (Spain)
Odiel Salterns (Spain) *
Pomorie (Bulgaria) **
Bajool (Australia) **
Salinity
33%
37%
33%
34%
34%
Ref.
[18,30]
[30]
This study
[35]
[28]
%

Haloquadratum

29.5


Haloruburm

23.1


Natronomonas

5.7


Salinibacter

4.7


Haloplanus

3.4

Haloquadratum

58


Salinibacter

9.1


Nanosalina

4.0


Haloruburm

3.2


Nanosalinarum

1.7


Halomicrobium

1

Salinibacter

37.8


Halorubrum

15.5


Haloquadratum

12.8


Halonotius

8.3


Halobellus

3.8


Natromonas

3.4


Haloplanus

2


Halohasta

1.7


Halorientalis

0.96


Haloarcula

0.67

Halanaeroarchaeum

27.8


Halorubrum 24




Halonotius 15.7




Halobellus 6.5




Halovenus 6.5




Natronomonas 2.8

Haloquadratum 47




Halorubrum 17.6




Halonotius 11.7




Haloplanus-like 11.7




Natronomonas 2.9
* Mean of four 16S rRNA NGS data sets. ** In these studies, only archaea were considered.

© 2018 by the authors. Licensee MDPI, Basel, Switzerland. This article is an open access article distributed under the terms and conditions of the Creative Commons Attribution (CC BY) license (http://creativecommons.org/licenses/by/4.0/).