Open Access This article is
freely available
re-usable
Review
Metabolic and Biosynthetic Diversity in Marine Myxobacteria
1
Department of Microbial Natural Products (MINS), Helmholtz Institute for Pharmaceutical Research Saarland (HIPS)—Helmholtz Centre for Infection Research (HZI), Campus E8 1, 66123 Saarbrücken, Germany
2
German Center for Infection Research (DZIF), Partner site Hannover-Braunschweig, Inhoffenstr. 7, 38124 Braunschweig, Germany
3
Xenobe Research Institute, P.O. Box 3052, San Diego, CA 92163-1052, USA
4
Department of Pharmacy, Saarland University, Campus E8 1, 66123 Saarbrücken, Germany
*
Authors to whom correspondence should be addressed.
Received: 31 July 2018 / Accepted: 30 August 2018 / Published: 5 September 2018
Abstract
:
Prior to 2005, the vast majority of characterized myxobacteria were obtained from terrestrial habitats. Since then, several species of halotolerant and even obligate marine myxobacteria have been described. Chemical analyses of extracts from these organisms have confirmed their ability to produce secondary metabolites with unique chemical scaffolds. Indeed, new genera of marine-derived myxobacteria, particularly
Enhygromyxa
, have been shown to produce novel chemical scaffolds that differ from those observed in soil myxobacteria. Further studies have shown that marine sponges and terrestrial myxobacteria are capable of producing similar or even identical secondary metabolites, suggesting that myxobacterial symbionts may have been the true producers. Recent in silico analysis of the genome sequences available from six marine myxobacteria disclosed a remarkably versatile biosynthetic potential. With access to ever-advancing tools for small molecule and genetic evaluation, these studies suggest a bright future for expeditions into this yet untapped resource for secondary metabolites.
Keywords:
marine myxobacteria; natural products; secondary metabolism; biosynthesis; genomics; diversity
Author Contributions
K.G., N.Z., R.G., R.M., and J.J.L. contributed to the conception of the manuscript. K.G., N.Z., R.G., and R.M. drafted the manuscript. All authors participated in writing and edited the manuscript.
Acknowledgments
We thank the German Center for Infection Research (Deutsches Zentrum für Infektionsforschung, DZIF) for continuous support on anti-infective research (to R.M.) and the Xenobe Research Institute (to J.J.L.)
Conflicts of Interest
The authors declare no conflict of interest.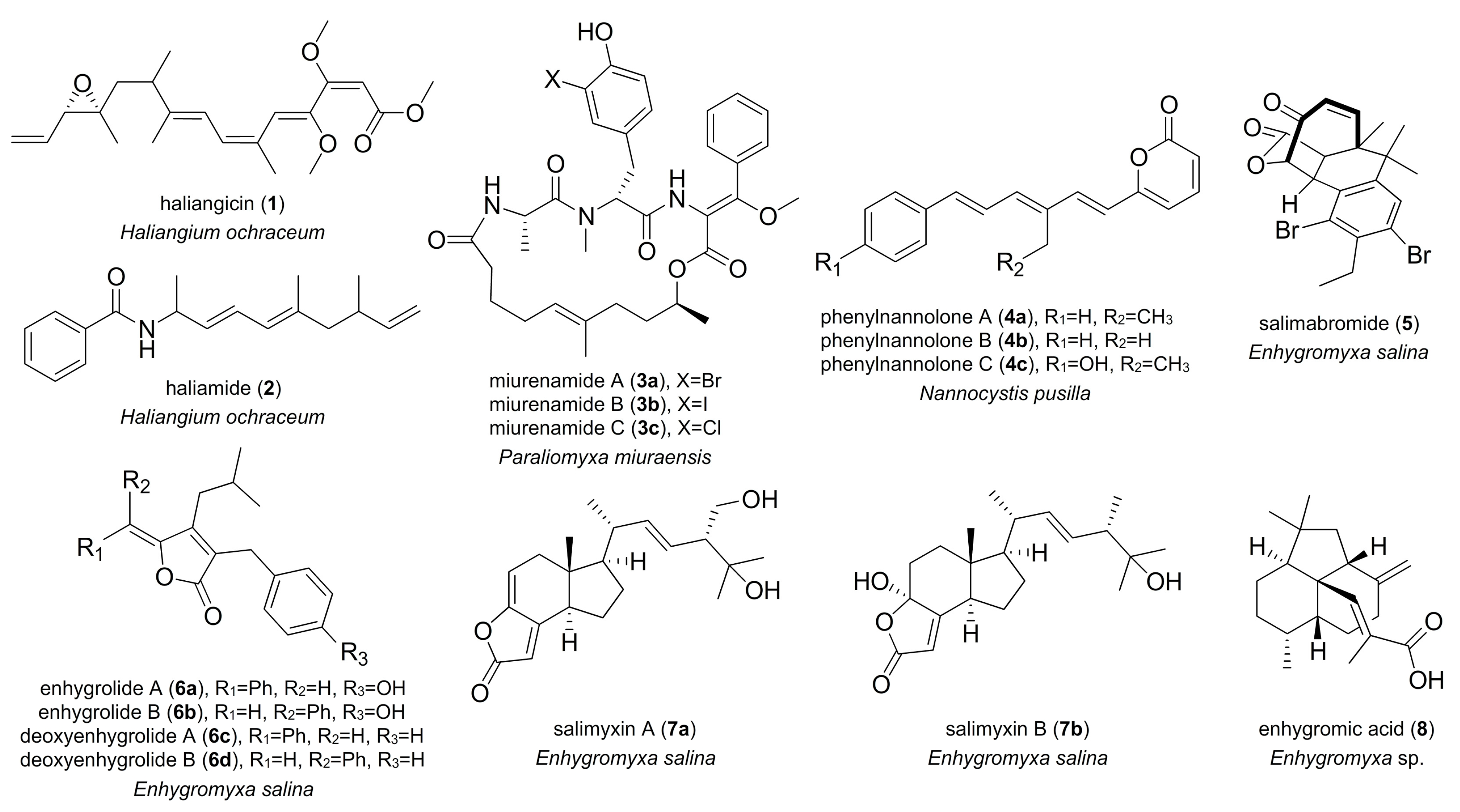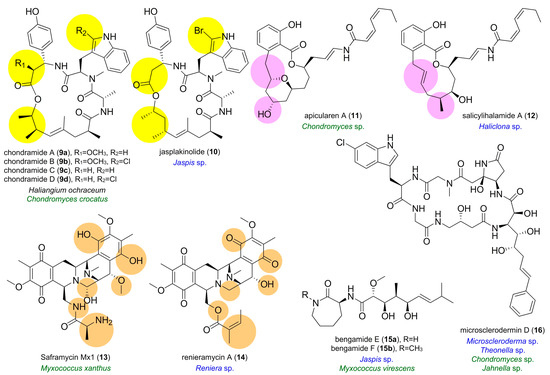 Figure 2. Similarity between natural products isolated from myxobacteria and marine sponges. Analogs of natural products isolated from marine sponges have been observed in cultures of terrestrial myxobacteria. Salient examples include the comparison of chondramides A–D (9a–d) to jasplakinolide (10), apicularen A (11) to salicylihalamide A (12), and saframycin Mx1 (13) to renieramycin A (14). Similarly, sponge natural products including bengamides E–F (15a–b) and microsclerodermin D (16) have been obtained from terrestrial myxobacteria. Highlighted regions provide structural comparisons. Species names are given by terrestrial myxobacteria (in green) and sponges (in blue).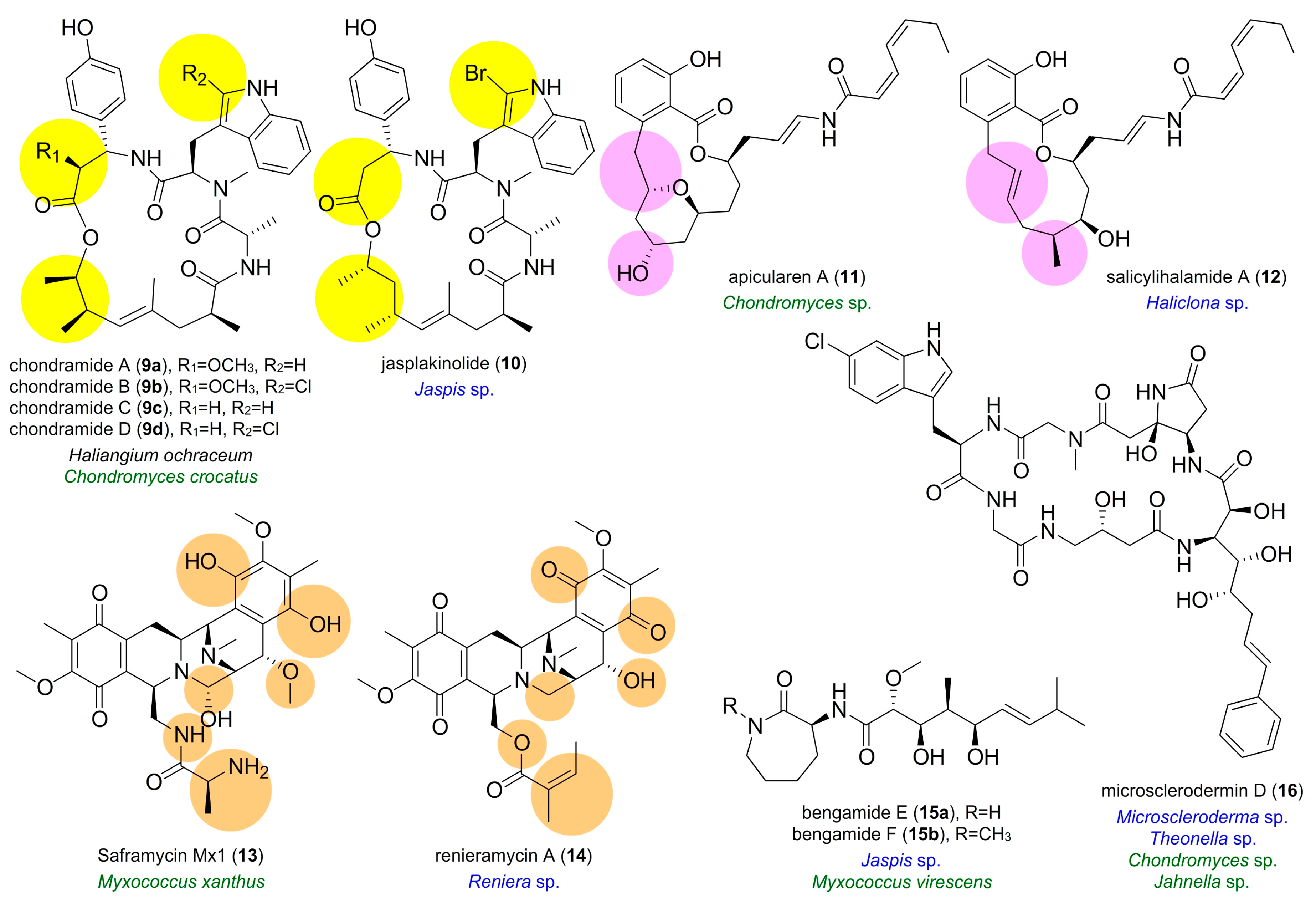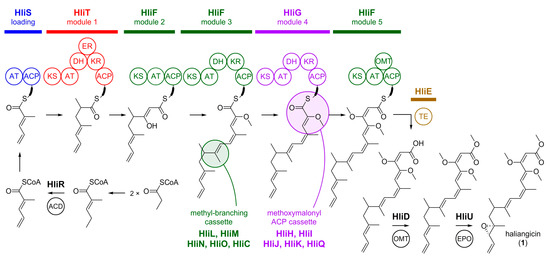 Figure 3.
Haliangicin biosynthesis in
Haliangium ochraceum
. ACD = acyl-CoA dehydrogenase, AT = acyltransferase, ACP = acyl carrier protein, KS = ketosynthases, DH = dehydratase, ER = enoyl reductase, KR = ketoreductase, OMT =
O
-methyltransferase, TE = metallo-β-lactamase-type thioesterase, EPO = epoxidase. AT, ACP, KS, DH, ER, KR and TE are enzymes commonly observed in PKSs; OMT and EPO are tailoring enzymes.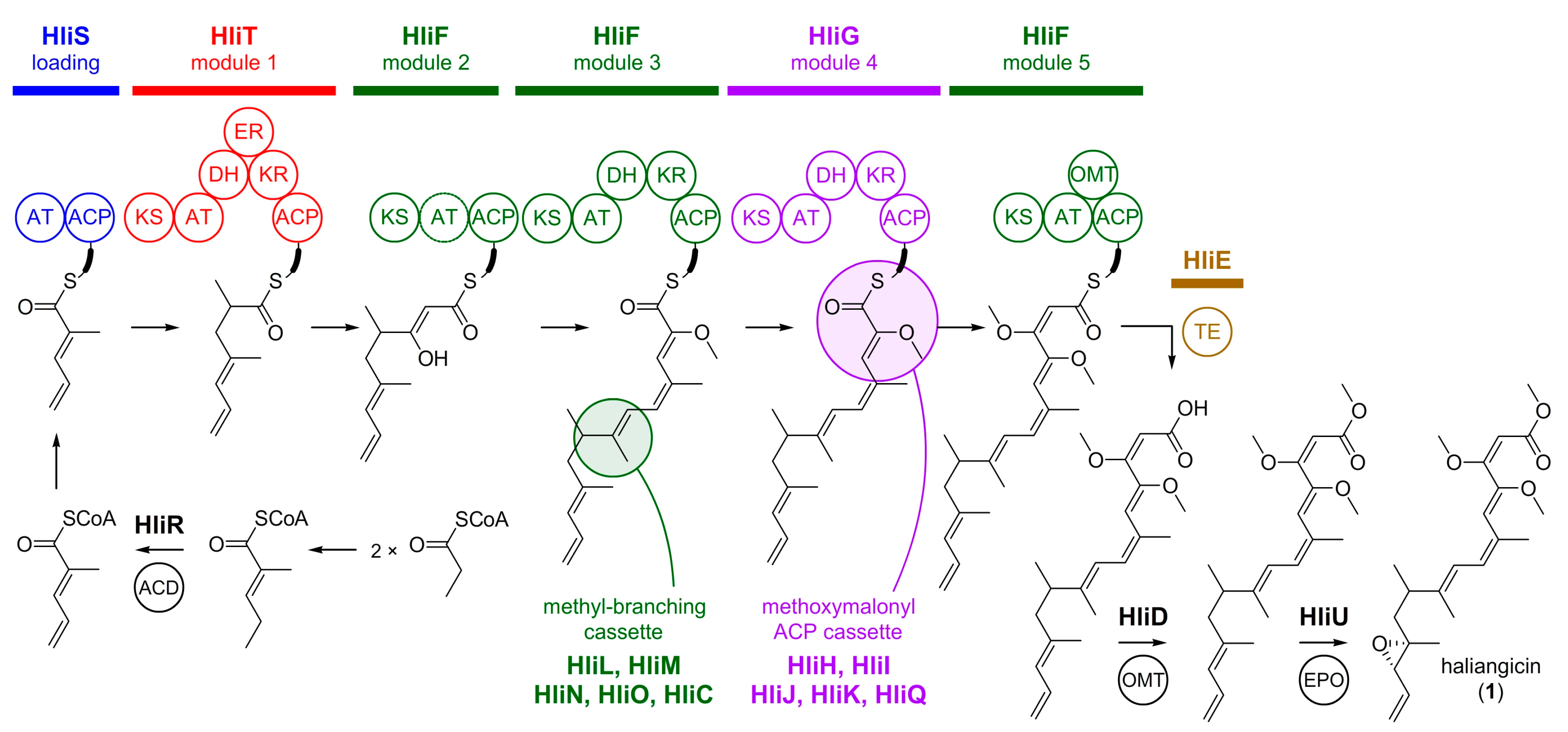 Figure 4. Biosynthesis of long-chain polyunsaturated fatty acids (LC-PUFA) by myxobacterial PUFA synthases. AT = acyltransferase, ACP = acyl carrier protein, KS = ketosynthases, KR = ketoreductase, DH = dehydratase/isomerase, ER = enoyl reductase.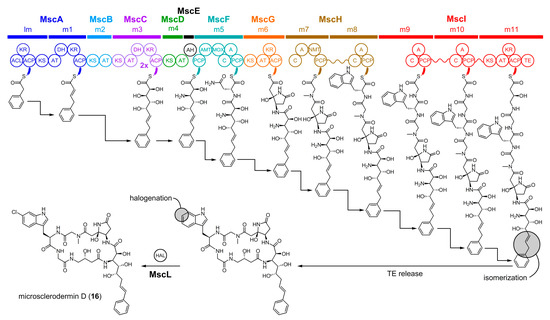 Figure 5.
Microsclerodermin D (
16
) biosynthesis in
Jahnella
sp. A = adenylation, ACL = acyl-CoA ligase, ACP = acyl carrier protein, AH = amidohydrolase (putative), AMT = aminotransferase, AT = acyltransferase, C = condensation domain, DH = dehydratase, E = epimerase, HAL = tryptophan halogenase, KR = ketoreductase, KS = ketosynthases, MOX = monooxygenase, NMT =
N
-methyltransferase, PCP = peptidyl carrier protein, and TE = thioesterase. Modules are noted by letter and number as given by m1 for module 1. Curved lines in MscH and MscI denote domains that are covalently attached and are shown separately for ease in depicting the pendant NRPS/PKS chain. AT, ACP, KS, DH, ER, KR, and TE are enzymes commonly observed in PKSs. C, A, PCP, NMT, E and TE are enzymes commonly observed in NRPSs. HAL is a tailoring enzyme. The structural assignment of the microsclerodermins has been a subject of revision [
67
]. The structure presented for
16
is based on all isolation and chemical synthetic data presented to date.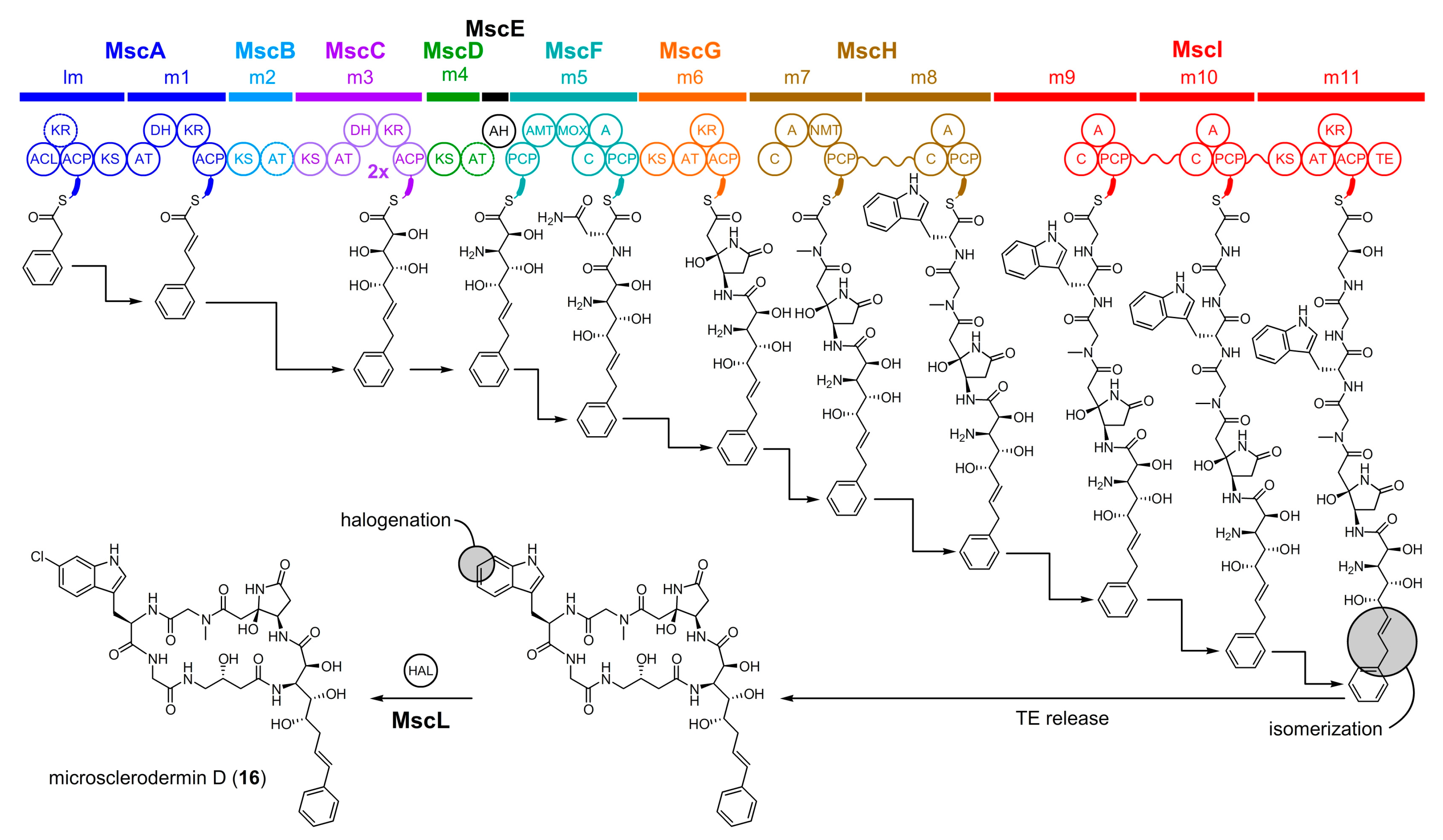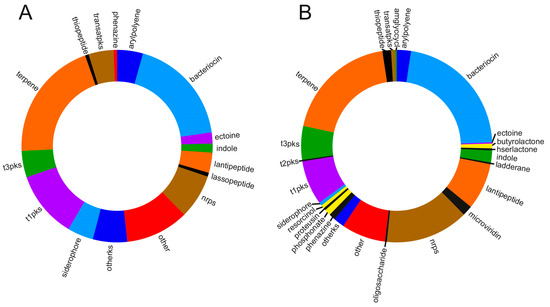 Figure 6.
Biosynthetic gene clusters in myxobacterial genomes (
A
) from saline environments (∑ = 181 BGCs) and (
B
) from terrestrial environments (∑ = 467 BGCs). For the computational analysis, we added the following genomic sequences of terrestrial myxobacteria (NCBI reference sequence accession codes in parentheses):
Anaeromyxobacter dehalogenans
2CP-1 (NC_011891.1),
Anaeromyxobacter dehalogenans
2CP-C (NC_007760.1),
Anaeromyxobacter
sp. Fw109-5 (NC_009675.1),
Anaeromyxobacter
sp. K (NC_011145.1),
Archangium gephyra
DSM 2261 (NZ_CP011509.1),
Chondromyces crocatus
Cm c5 (NZ_CP012159.1),
Corallococcus coralloides
DSM 2259 (NC_017030.1),
Cystobacter fuscus
DSM 52655 (NZ_CP022098.1),
Melittangium boletus
DSM 14713 (NZ_CP022163.1),
Myxococcus fulvus
124B02 (NZ_CP006003.1),
Myxococcus hansupus
mixupus (NZ_CP012109.1),
Myxococcus macrosporus
DSM 14697 (NZ_CP022203.1),
Myxococcus stipitatus
DSM 14675 (NC_020126.1),
Myxococcus xanthus
DK 1622 (NC_008095.1),
Sandaracinus amylolyticus
DSM 53668 (NZ_CP011125.1),
Sorangium cellulosum
So ce 56 (NC_010162.1),
Sorangium cellulosum
So0157-2 (NC_021658.1),
Stigmatella aurantiaca
DW4/3-1 (NC_014623.1),
Vulgatibacter incomptus
DSM 27710 (NZ_CP012332.1).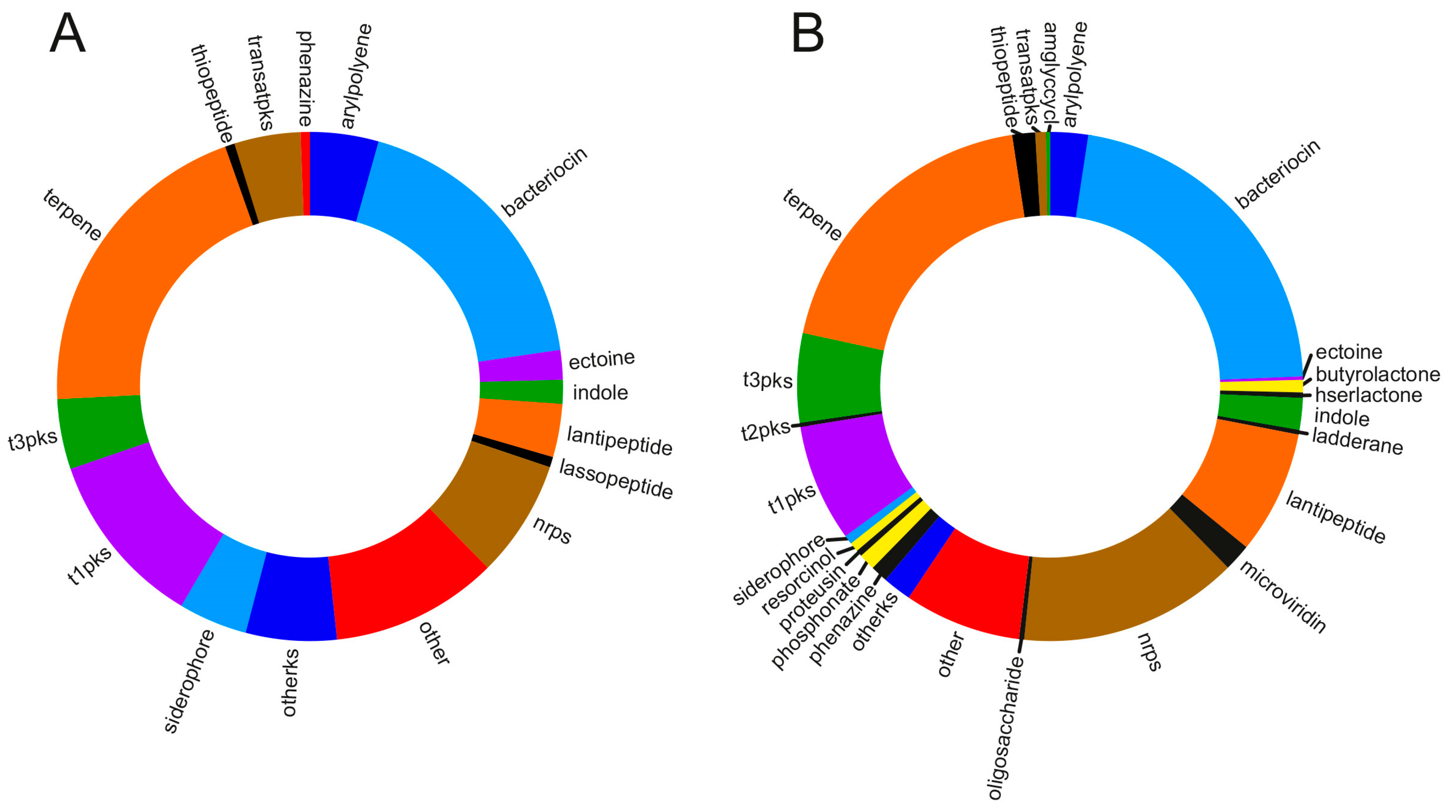 © 2018 by the authors. Licensee MDPI, Basel, Switzerland. This article is an open access article distributed under the terms and conditions of the Creative Commons Attribution (CC BY) license (http://creativecommons.org/licenses/by/4.0/).