Open Access This article is
freely available
re-usable
Review
Cardioprotective Effects of Omega-3 Polyunsaturated Fatty Acids: Dichotomy between Experimental and Clinical Studies
1
Centre de Biomédecine, Hôpital du Sacré-Cœur de Montréal, Montréal, QC H4J 1C5, Canada
2
Département de Pharmacologie et Physiologie, Université de Montréal, Montréal, QC H3C 3J7, Canada
*
Author to whom correspondence should be addressed.
Received: 10 June 2018 / Accepted: 3 July 2018 / Published: 10 July 2018
Abstract
:
The high-fat diet of North Americans has a major impact on cardiovascular disease occurrence. Notably, fatty acids have been identified as important factors that could modulate such diseases, especially myocardial infarction (MI). Experimentally, omega-3 polyunsaturated fatty acids (PUFA) have demonstrated positive effects on cardiovascular disorders and have also shown cardioprotection by decreasing MI size. Although many animal experiments have clearly established the benefits of omega-3 PUFA, clinical studies have not reached similar conclusions. In fact, the findings of recent clinical investigations indicate that omega-3 PUFA play only a minor role in cardiovascular health. This dichotomy between experimental and clinical studies may be due to different parameters that are not taken into account in animal experiments. We have recently observed that the high consumption of omega-6 PUFA results in significant attenuation of the beneficial effect of omega-3 PUFA on MI. We believe that part of the dichotomy between experimental and clinical research may be related to the quantity of omega-6 PUFA ingested. This review of the data indicates the importance of considering omega-6 PUFA consumption in omega-3 PUFA studies.
Keywords:
omega-3; omega-6; myocardial infarction; cardioprotection
1. Introduction
According to general belief, the consumption of omega-3 polyunsaturated fatty acids (PUFA) is good for health. Among the different known omega-3 PUFA, three long-chain omega-3 PUFA (20 atoms of carbon or more), including eicosapentaenoic acid (EPA: 20:5n-3), docosapentaenoic acid (DPA: 22:5n-3), and docosahexaenoic acid (DHA: 22:6n-3), exert biological activities [
1
].
One of the first pieces of evidence claiming that omega-3 PUFA have cardioprotective properties came from a study of Alaskan Eskimos who consistently present high serum cholesterol, but with virtually the total absence of cardiovascular diseases, indicating that the role of cholesterol may be altered by diet or genetic factors [
2
]. Examination of the diet of this population suggests that the consumption of omega-3 PUFA, found in fish and fish products, is elevated in comparison to other populations with higher rates of coronary heart disease (CHD) [
3
].
In recent years, however, different clinical trials and meta-analyses have concluded that omega-3 PUFA do not afford significant benefit to cardiovascular health [
4
,
5
,
6
,
7
]. The dichotomy between experimental and clinical research led us to hypothesize that the identification of different factors should be taken into account to reconcile both types of study.
Some investigations, performed in our laboratory, indicate that the presence of omega-6 PUFA could influence the outcome of omega-3 PUFA. In the current article, we will assess the data that brought us to this hypothesis.
2. Experimental Data on Omega-3 PUFA in Myocardial Infarction (MI)
Taken together, these data suggest that omega-3 PUFA and their metabolites act on multiple signalling pathways that could protect the myocardium from the ischemic insult.
3. Clinical Studies of Omega-3 PUFA
It is difficult to determine from clinical studies whether omega-3 PUFA have positive effects on cardiac health or not.
5. Conclusions
The clinical and experimental results suggest that high concentrations of omega-6 PUFA could attenuate the beneficial role of omega-3 fatty acids in cardiovascular diseases. Due to the high level of omega-6 PUFA that we consume in industrialized countries, the addition of a supplement of omega-3 PUFA should not be enough to afford protection, and we must target a ratio higher than 1:5 of omega-3/6 PUFA. Future studies must also consider the consumption of omega-6 PUFA mainly when infarct size is evaluated.
Author Contributions
M.D., K.G. and G.R. contributed to the writing.
Funding
This research was funded by Conseil de recherches en sciences naturelles et en génie grant number [RGPIN/250234-2012].
Conflicts of Interest
The authors declare no conflict of interest.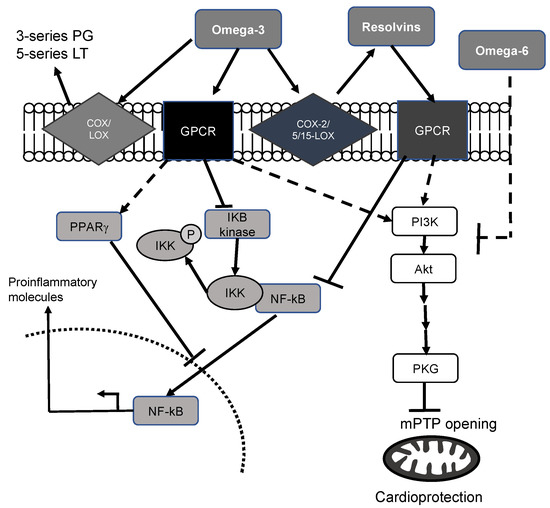 Figure 1. Possible mechanisms that explain the cardioprotective effects of the omega-3 PUFA and their metabolites. Dashed lines represent potential mechanisms. PG: prostaglandins; LT: leukotrienes; COX: cyclooxygenase, LOX: lipoxygenase; GPCR: G-protein-coupled receptors.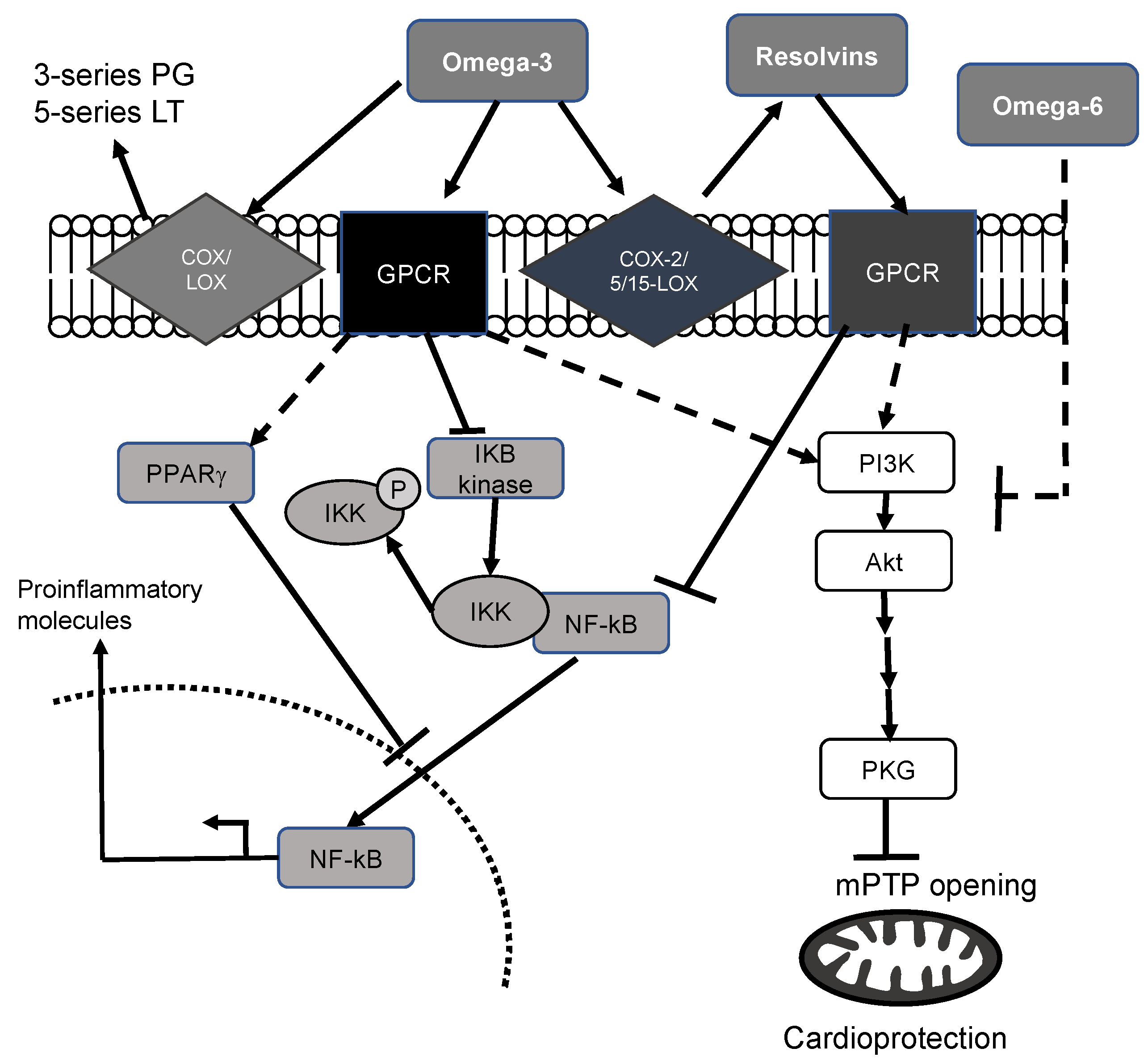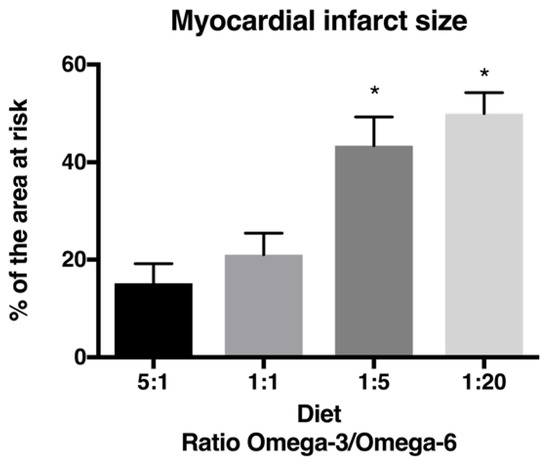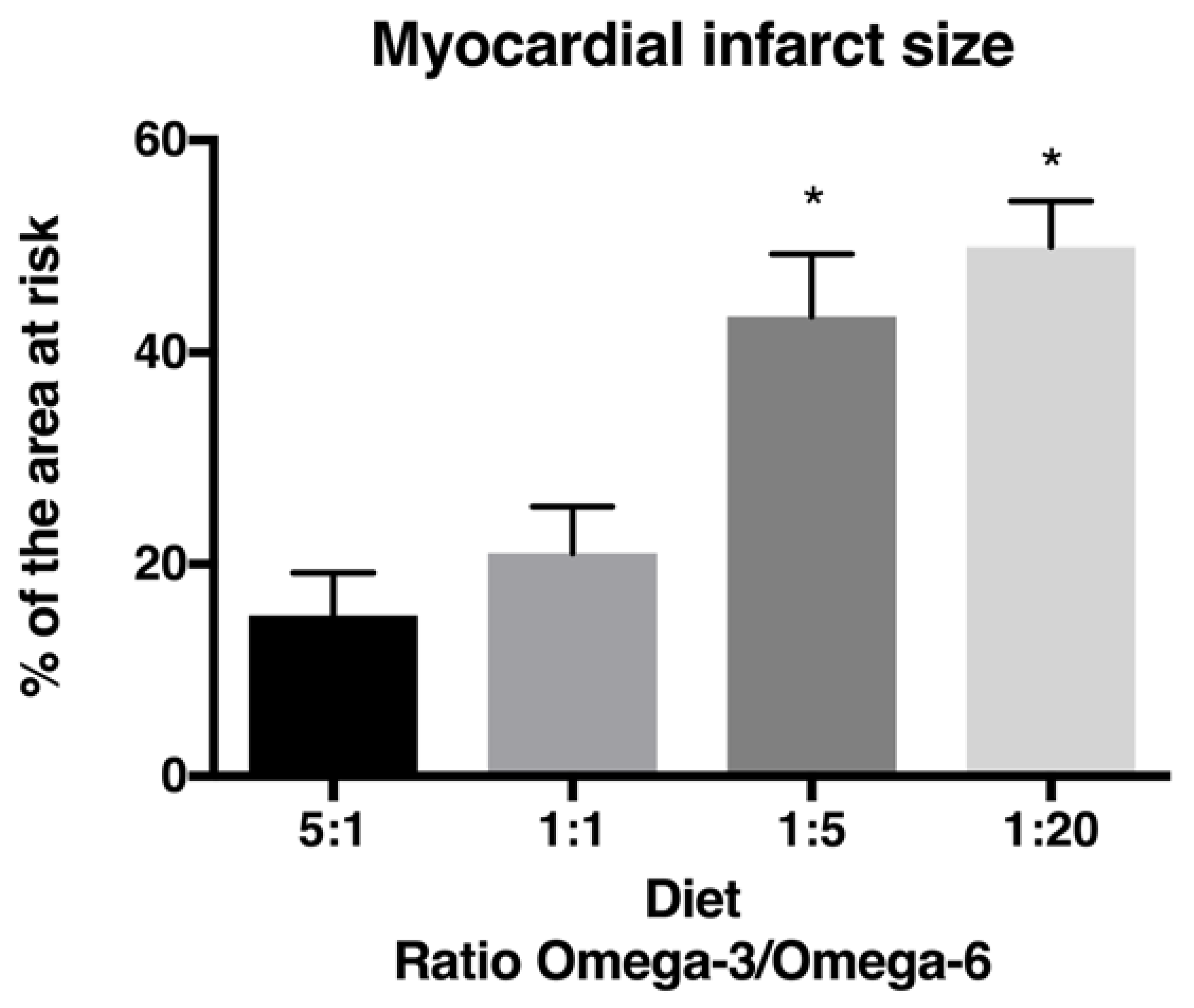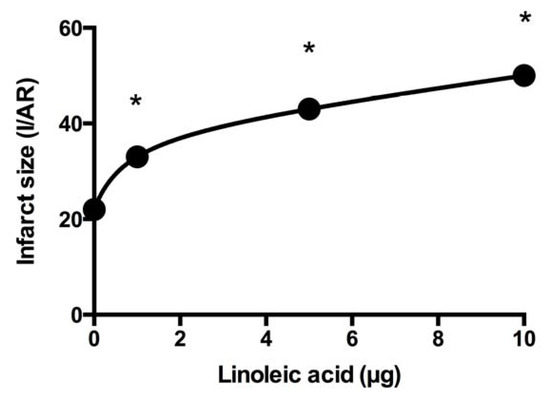 Figure 3.
Infarct size (I) expressed as a percentage of the area at risk (AR) is increased with augmented LA dosage despite the presence of RvD1. * indicates difference with 0 µg LA. (From [
56
]).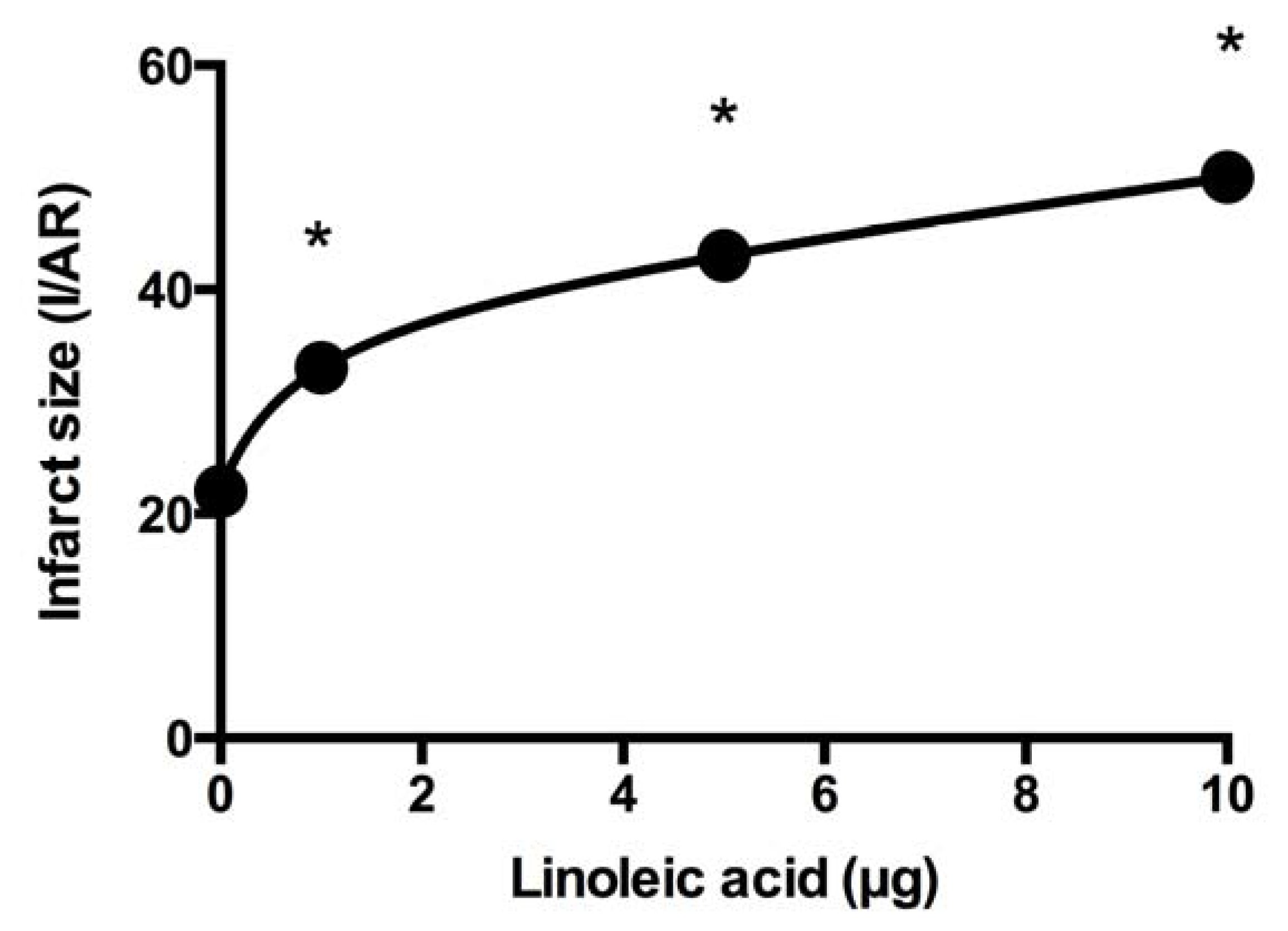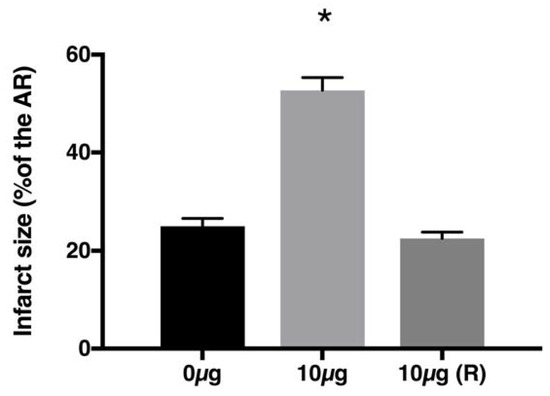 Figure 4.
Infarct size in our MI model. RvD1 was injected 5 min before ischemia in the presence of 0 or 10 µg LA. We observed significantly increased infarct size with 10 µg vs 0 µg LA (*
p
< 0.05). However, when LA (10 µg) was injected at the onset of reperfusion (R), infarct size was similar to that obtained with 0 µg, suggesting that LA has an adverse effect during ischemia. (From [
56
]).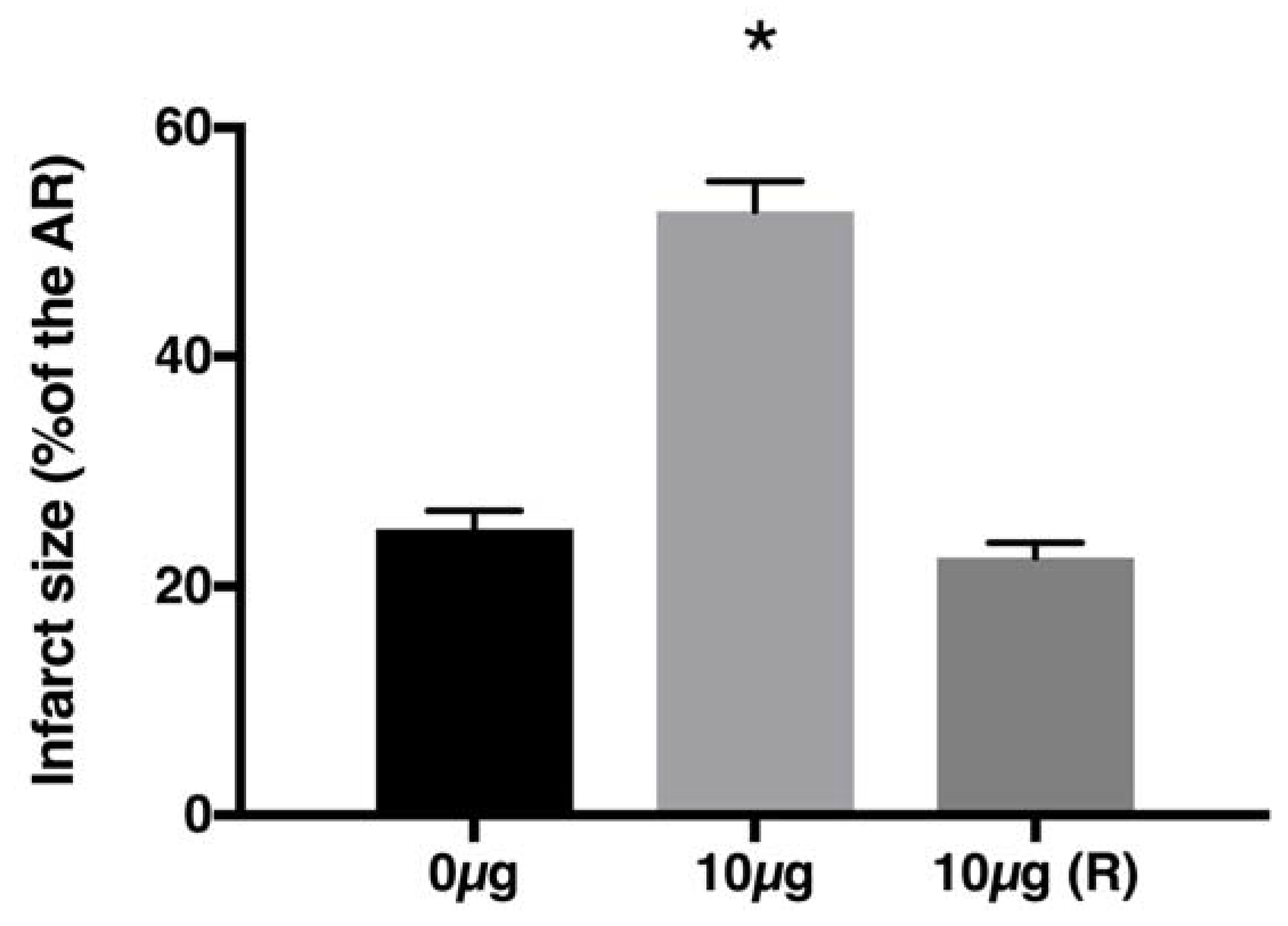 © 2018 by the authors. Licensee MDPI, Basel, Switzerland. This article is an open access article distributed under the terms and conditions of the Creative Commons Attribution (CC BY) license (http://creativecommons.org/licenses/by/4.0/).