Mono- and Dimeric Naphthalenones from the Marine-Derived Fungus
Leptosphaerulina chartarum

3608

1

School of Marine Sciences, Sun Yat-sen University, Guangzhou 510006, China

2

School of Chemistry, Sun Yat-sen University, Guangzhou 510006, China

3

Key Laboratory of Functional Molecules from Oceanic Microorganisms (Sun Yat-sen University), Department of Education of Guangdong Province, Guangzhou 510080, China

*

Authors to whom correspondence should be addressed.

Received: 11 April 2018 / Revised: 8 May 2018 / Accepted: 11 May 2018 / Published: 21 May 2018
Abstract
Five new naphthalenones, two enantiomers (−)-
1
and (+)-
1
leptothalenone A, (−)-4,8-dihydroxy-7-(2-hydroxy-ethyl)-6-methoxy-3,4-dihydro-2
H
-naphthalen-1-one ((−)-
2
), (4
S
, 10
R
, 4'
S
)-leptotha-lenone B (
5
), (4
R
, 10
S
, 4'
S
)-leptothalenone B (
6
), and a new isocoumarine, 6-hydroxy-5,8-dimethoxy-3-methyl-1
H
-isochromen-1-one (
4
), along with two known compounds (+)-4,8-dihydroxy-7-(2-hydroxy-ethyl)-6-methoxy-3,4-dihydro-2
H
-naphthalen-1-one ((+)-
2
) and (+)-10-norparvulenone (
3
) were isolated from the marine-derived fungus
Leptosphaerulina chartarum
3608. The structures of new compounds were elucidated by HR-ESIMS, NMR, and ECD analysis. All compounds were evaluated for cytotoxicity and anti-inflammatory activity. Compound
6
showed moderate anti-inflammatory activity by inhibiting the production of nitric oxide (NO) in lipopolysaccharide-stimulated RAW264.7 cells, with an IC
50
value of 44.5 μM.
View Full-Text
►

▼

Figures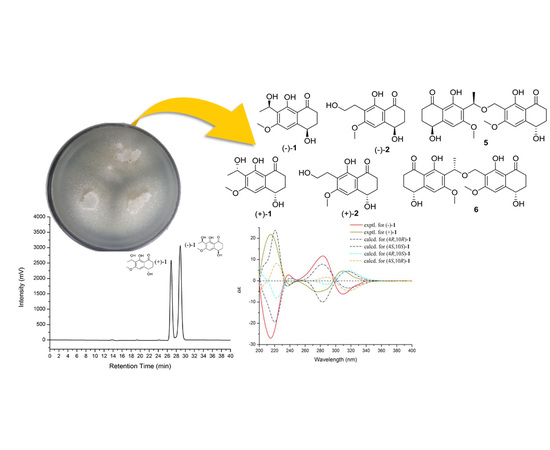 Graphical abstract
This is an open access article distributed under the
Creative Commons Attribution License
which permits unrestricted use, distribution, and reproduction in any medium, provided the original work is properly cited (CC BY 4.0).

Share & Cite This Article
MDPI and ACS Style
Zhang, P.; Jia, C.; Lang, J.; Li, J.; Luo, G.; Chen, S.; Yan, S.; Liu, L. Mono- and Dimeric Naphthalenones from the Marine-Derived Fungus Leptosphaerulina chartarum 3608. Mar. Drugs 2018, 16, 173.
Note that from the first issue of 2016, MDPI journals use article numbers instead of page numbers. See further details here.
Related Articles
Comments
[Return to top]