GABA and GABA-Alanine from the Red Microalgae
Rhodosorus marinus

Exhibit a Significant Neuro-Soothing Activity through Inhibition of Neuro-Inflammation Mediators and Positive Regulation of TRPV1-Related Skin Sensitization

1

Active Beauty Department, Givaudan France, 51110 Pomacle, France

2

Institut de Chimie Moléculaire de Reims, UMR CNRS 7312, Université de Reims Champagne-Ardenne, 51687 Reims Cedex 2, France

3

Givaudan Nederland, Flavors, 1411 GP Naarden, The Netherlands

*

Authors to whom correspondence should be addressed.

Received: 14 February 2018 / Revised: 9 March 2018 / Accepted: 13 March 2018 / Published: 17 March 2018
Abstract
The aim of the present study was to investigate the neuro-soothing activity of a water-soluble hydrolysate obtained from the red microalgae
Rhodosorus marinus
Geitler (Stylonemataceae). Transcriptomic analysis performed on ≈100 genes related to skin biological functions firstly revealed that the crude
Rhodosorus marinus
extract was able to significantly negatively modulate specific genes involved in pro-inflammation (interleukin 1α encoding gene, IL1A) and pain detection related to tissue inflammation (nerve growth factor NGF and its receptor NGFR). An in vitro model of normal human keratinocytes was then used to evaluate the ability of the
Rhodosorus marinus
extract to control the release of neuro-inflammation mediators under phorbol myristate acetate (PMA)-induced inflammatory conditions. The extract incorporated at 1% and 3% significantly inhibited the release of IL-1α and NGF secretion. These results were confirmed in a co-culture system of reconstructed human epithelium and normal human epidermal keratinocytes on which a cream formulated with the
Rhodosorus marinus
extract at 1% and 3% was topically applied after systemic induction of neuro-inflammation. Finally, an in vitro model of normal human astrocytes was developed for the evaluation of transient receptor potential vanilloid 1 (TRPV1) receptor modulation, mimicking pain sensing related to neuro-inflammation as observed in sensitive skins. Treatment with the
Rhodosorus marinus
extract at 1% and 3% significantly decreased PMA-mediated TRPV1 over-expression. In parallel with these biological experiments, the crude
Rhodosorus marinus
extract was fractionated by centrifugal partition chromatography (CPC) and chemically profiled by a recently developed
13
C NMR-based dereplication method. The CPC-generated fractions as well as pure metabolites were tested again in vitro in an attempt to identify the biologically active constituents involved in the neuro-soothing activity of the
Rhodosorus marinus
extract. Two active molecules, namely, γ-aminobutyric acid (GABA) and its structural derivative GABA-alanine, demonstrated a strong capacity to positively regulate skin sensitization mechanisms related to the TRPV1 receptors under PMA-induced inflammatory conditions, therefore providing interesting perspectives for the treatment of sensitive skins, atopia, dermatitis, or psoriasis.
View Full-Text
►

▼

Figures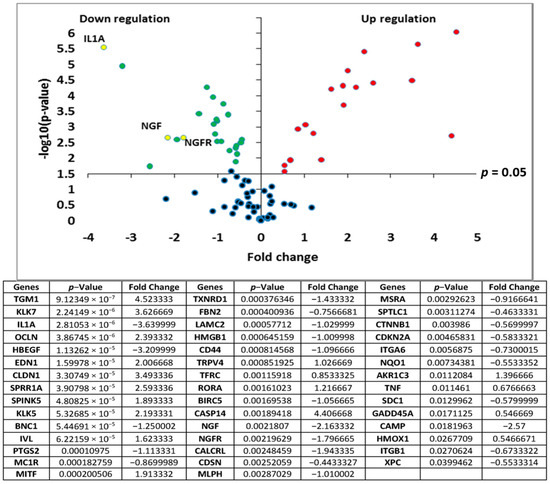 Figure 1
This is an open access article distributed under the
Creative Commons Attribution License
which permits unrestricted use, distribution, and reproduction in any medium, provided the original work is properly cited (CC BY 4.0).

Share & Cite This Article
MDPI and ACS Style
Scandolera, A.; Hubert, J.; Humeau, A.; Lambert, C.; De Bizemont, A.; Winkel, C.; Kaouas, A.; Renault, J.-H.; Nuzillard, J.-M.; Reynaud, R. GABA and GABA-Alanine from the Red Microalgae Rhodosorus marinus Exhibit a Significant Neuro-Soothing Activity through Inhibition of Neuro-Inflammation Mediators and Positive Regulation of TRPV1-Related Skin Sensitization. Mar. Drugs 2018, 16, 96.
Note that from the first issue of 2016, MDPI journals use article numbers instead of page numbers. See further details here.
Related Articles
Comments
[Return to top]