Protective Effect of
Meretrix meretrix

Oligopeptides on High-Fat-Diet-Induced Non-Alcoholic Fatty Liver Disease in Mice

1

School of Food Science and Pharmacy, Zhejiang Provincial Key Engineering Technology Research Center of Marine Biomedical Products, Zhejiang Ocean University, Zhoushan 316000, China

2

Zhejiang Provincial Key Engineering Technology Research Center of Marine Biomedical Products, Zhejiang Ocean University Donghai Science and Technology College, Zhoushan 316000, China

*

Authors to whom correspondence should be addressed.

Received: 11 December 2017 / Revised: 9 January 2018 / Accepted: 20 January 2018 / Published: 23 January 2018
Abstract
The present study investigated the effects of MMO (
Meretrix meretrix
oligopeptides) on mice fed a high-fat diet. Mice were fed either a normal control diet (NC) or a high-fat diet (HFD) without or with MMO (50 mg/kg or 250 mg/kg) for four weeks. Levels of ALT, AST, liver tissue GSH-Px, and SOD activities, MDA levels were measured using commercially available kits; HE staining was performed to analyze pathologic changes of the liver; a TEM assay was performed to measure the ultrastructural alterations of the mitochondria, and Western blotting was performed to detect the expression of gene proteins related to lipid metabolism, inflammation, and liver apoptosis. After six weeks, body weight, ALT, AST, and MDA levels were significantly increased, and GSH-Px levels and SOD activities were significantly decreased in the HFD control group compared with the NC group. Consumption of the HFD compared with the NC caused fatty liver abnormal mitochondria with loss of cristae, intramitochondrial granules, and a swollen and rarefied matrix. Administration of MMO significantly decreased body weight gain, and ALT, AST, and MDA levels; increased SOD activity and GSH-Px levels; alleviated fatty liver steatosis; decreased the early apoptosis population; downregulated SREBP-1c, Bax, Caspase-9, Caspase-3, TNF-α, and NF-κB protein levels; and upregulated PPAR-α, Bcl-2, and AMPK-α, compared with the HFD control group. MMO exhibited protective effects in mice with NAFLD by regulating the NF-κB anti-inflammation signaling pathways to inhibit inflammation, regulate AMPK-α, PPAR-α and SREBP-1c to improve lipid metabolism disorder, and regulate Bcl-2/Bax anti-apoptosis signaling pathways to prevent liver cell apoptosis. These results suggest that dietary supplementation with MMO ameliorates high-fat-diet-induced NAFLD.
View Full-Text
►

▼

Figures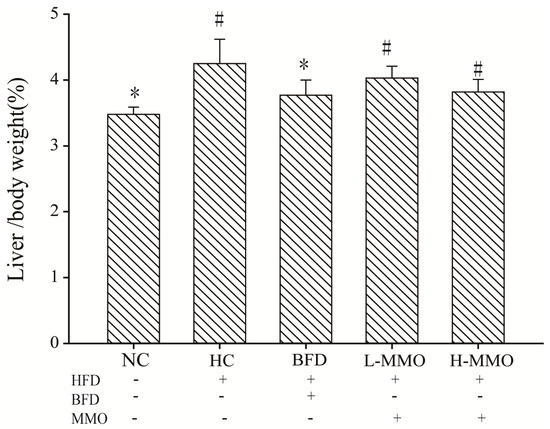 Figure 1
This is an open access article distributed under the
Creative Commons Attribution License
which permits unrestricted use, distribution, and reproduction in any medium, provided the original work is properly cited (CC BY 4.0).

Share & Cite This Article
MDPI and ACS Style
Huang, F.; Wang, J.; Yu, F.; Tang, Y.; Ding, G.; Yang, Z.; Sun, Y. Protective Effect of Meretrix meretrix Oligopeptides on High-Fat-Diet-Induced Non-Alcoholic Fatty Liver Disease in Mice. Mar. Drugs 2018, 16, 39.
Note that from the first issue of 2016, MDPI journals use article numbers instead of page numbers. See further details here.
Related Articles
Comments
[Return to top]