The Cocktail Effect of BMP-2 and TGF-β1 Loaded in Visible Light-Cured Glycol Chitosan Hydrogels for the Enhancement of Bone Formation in a Rat Tibial Defect Model
1
Department of Orthopedic Surgery, Chonbuk National University Hospital, Jeonju 54907, Korea
2
Department of Surgery, School of Medicine, The Konkuk University, Seoul 05030, Korea
3
Department of Biomedical Sciences, Chonnam National University Medical School, Gwangju 61469, Korea
4
Department of Oral & Maxillofacial Surgery, Kyung Hee University Dental Hospital at Gangdong, Kyung Hee University, Seoul 05278, Korea
5
Department of Veterinary Surgery, College of Veterinary Medicine, Seoul National University, Seoul 08826, Korea
6
Department of Dental Hygiene, College of Health Sciences, Cheongju University, Cheongju 28503, Korea
7
Department of Dentistry, Catholic Kwandong University, School of Medicine, Medicine, International St. Mary's Hospital, Incheon 22711, Korea
8
Institute of Cell and Tissue Engineering, College of Medicine, The Catholic University of Korea, Seoul 06591, Korea
9
Department of Biomedical Sciences, College of Medicine, The Catholic University of Korea, Seoul 06591, Korea
*
Author to whom correspondence should be addressed.
†
The two authors contributed equally to this study.
Received: 31 July 2018 / Revised: 15 September 2018 / Accepted: 24 September 2018 / Published: 25 September 2018
Abstract
Bone tissue engineering scaffolds offer the merits of minimal invasion as well as localized and controlled biomolecule release to targeted sites. In this study, we prepared injectable hydrogel systems based on visible light-cured glycol chitosan (GC) hydrogels containing bone morphogenetic protein-2 (BMP-2) and/or transforming growth factor-beta1 (TGF-β1) as scaffolds for bone formation in vitro and in vivo. The hydrogels were characterized by storage modulus, scanning electron microscopy (SEM) and swelling ratio analyses. The developed hydrogel systems showed controlled releases of growth factors in a sustained manner for 30 days. In vitro and in vivo studies revealed that growth factor-loaded GC hydrogels have no cytotoxicity against MC3T3-E1 osteoblast cell line, improved mRNA expressions of alkaline phosphatase (ALP), type I collagen (COL 1) and osteocalcin (OCN), and increased bone volume (BV) and bone mineral density (BMD) in tibia defect sites. Moreover, GC hydrogel containing BMP-2 (10 ng) and TGF-β1 (10 ng) (GC/BMP-2/TGF-β1-10 ng) showed greater bone formation abilities than that containing BMP-2 (5 ng) and TGF-β1 (5 ng) (GC/BMP-2/TGF-β1-5 ng) in vitro and in vivo. Consequently, the injectable GC/BMP-2/TGF-β1-10 ng hydrogel may have clinical potential for dental or orthopedic applications.
View Full-Text
►

▼

Figures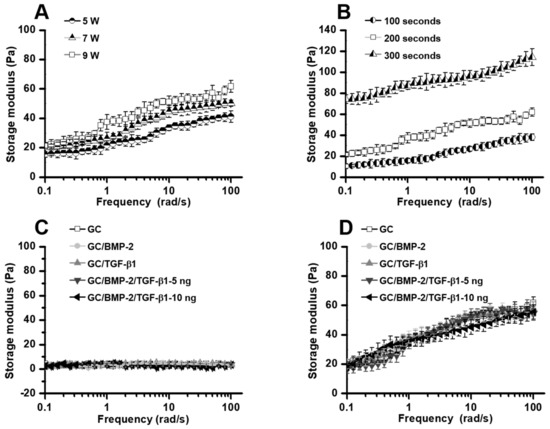 Figure 1
This is an open access article distributed under the
Creative Commons Attribution License
which permits unrestricted use, distribution, and reproduction in any medium, provided the original work is properly cited (CC BY 4.0).

Share & Cite This Article
MDPI and ACS Style
Yoon, S.-J.; Yoo, Y.; Nam, S.E.; Hyun, H.; Lee, D.-W.; Um, S.; Kim, S.Y.; Hong, S.O.; Yang, D.H.; Chun, H.J. The Cocktail Effect of BMP-2 and TGF-β1 Loaded in Visible Light-Cured Glycol Chitosan Hydrogels for the Enhancement of Bone Formation in a Rat Tibial Defect Model. Mar. Drugs 2018, 16, 351.
Note that from the first issue of 2016, MDPI journals use article numbers instead of page numbers. See further details here.
Related Articles
Comments
[Return to top]