MSP-4, an Antimicrobial Peptide, Induces Apoptosis via Activation of Extrinsic Fas/FasL- and Intrinsic Mitochondria-Mediated Pathways in One Osteosarcoma Cell Line
1
Center for Neuroscience, National Sun Yat-sen University, Kaohsiung 80424, Taiwan
2
Department of Marine Biotechnology and Resources, National Sun Yat-sen University, Kaohsiung 80424, Taiwan
3
Department of Dentisry, Zuoying Branch of Kaohsiung Armed Forces General Hospital, Kaohsiung 81357, Taiwan
4
Department of Neurosurgery and Surgery, Kaohsiung Armed Forces General Hospital, Kaohsiung 80284, Taiwan
5
Department of Neurological Surgery, Tri-Service General Hospital, National Defense Medical Center, Taipei 11490, Taiwan
6
Institute of Biomedical Sciences, National Sun Yat-sen University, Kaohsiung 80424, Taiwan
7
Doctoral Degree Program in Marine Biotechnology, National Sun Yat-Sen University, Kaohsiung 80424, Taiwan
8
College of Oceanology and Food Scienece, Quanzhou Normal University, Quanzhou 362000, China
9
Department of Orthopedic Surgery, Pingtung Christian Hospital, Pingtung 90059, Taiwan
10
Marine Biomedical Laboratory and Center for Translational Biopharmaceuticals, National Sun Yat-sen University, Kaohsiung 80424, Taiwan
*
Authors to whom correspondence should be addressed.
Received: 31 October 2017 / Revised: 5 December 2017 / Accepted: 12 December 2017 / Published: 2 January 2018
Abstract
Osteosarcoma (OS) is a common malignant bone cancer. The relatively high density of a person's bone structure means low permeability for drugs, and so finding drugs that can be more effective is important and should not be delayed. MSPs are marine antimicrobial peptides (AMP) and natural compounds extracted from Nile tilapia (
Oreochromis niloticus
). MSP-4 is a part of the AMPs series, with the advantage of having a molecular weight of about 2.7-kDa and anticancer effects, although the responsible anticancer mechanism is not very clear. The goal of this study is to determine the workings of the mechanism associated with apoptosis resulting from MSP-4 in osteosarcoma MG63 cells. The study showed that MSP-4 significantly induced apoptosis in MG63 cells, with Western blot indicating that MSP-4 induced this apoptosis through an intrinsic pathway and an extrinsic pathway. Thus, a pretreatment system with a particular inhibitor of Z-IETD-FMK (caspase-8 inhibitor) and Z-LEHD-FMK (caspase-9 inhibitor) significantly attenuated the cleavage of caspase-3 and prevented apoptosis. These observations indicate that low concentrations of MSP-4 can help induce the apoptosis of MG63 through a Fas/FasL- and mitochondria-mediated pathway and suggest a potentially innovative alternative to the treatment of human osteosarcoma.
View Full-Text
►

▼

Figures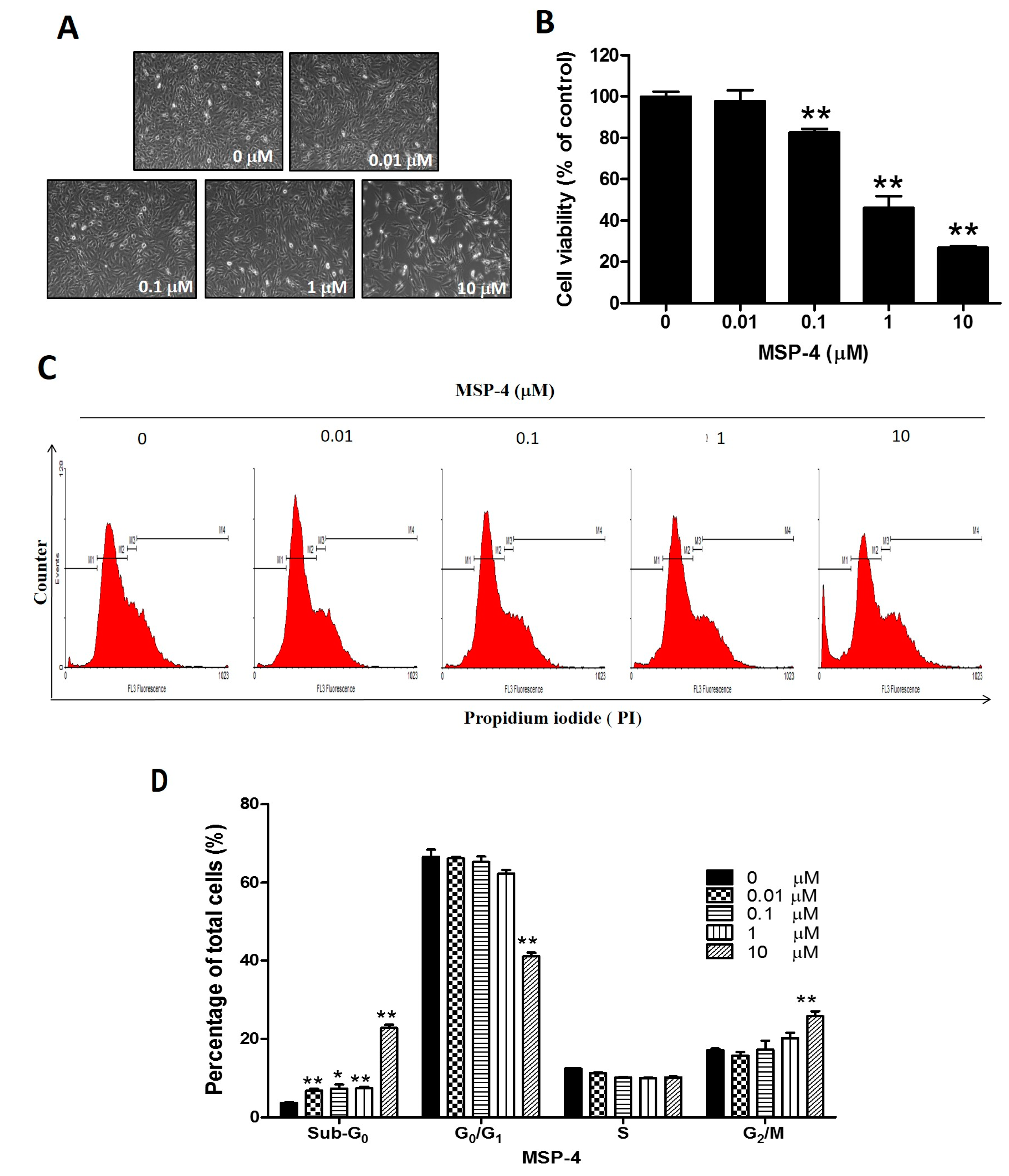 Figure 1
This is an open access article distributed under the
Creative Commons Attribution License
which permits unrestricted use, distribution, and reproduction in any medium, provided the original work is properly cited (CC BY 4.0).

Share & Cite This Article
MDPI and ACS Style
Kuo, H.-M.; Tseng, C.-C.; Chen, N.-F.; Tai, M.-H.; Hung, H.-C.; Feng, C.-W.; Cheng, S.-Y.; Huang, S.-Y.; Jean, Y.-H.; Wen, Z.-H. MSP-4, an Antimicrobial Peptide, Induces Apoptosis via Activation of Extrinsic Fas/FasL- and Intrinsic Mitochondria-Mediated Pathways in One Osteosarcoma Cell Line. Mar. Drugs 2018, 16, 8.
Note that from the first issue of 2016, MDPI journals use article numbers instead of page numbers. See further details here.
Related Articles
Comments
[Return to top]