Open Access This article is
freely available
re-usable
Review
Perna canaliculus
and the Intestinal Microbiome
1
Sydney Medical School, The University of Sydney, Sydney 17200, Australia
2
Medlab Clinical, Sydney 17200, Australia
*
Author to whom correspondence should be addressed.
Received: 1 June 2017 / Accepted: 26 June 2017 / Published: 30 June 2017
Abstract
:
Natural medicines are often an attractive option for patients diagnosed with chronic conditions. Three main classes of bioactives that have been reported from marine mussel extracts include proteins, lipids and carbohydrates. Commercially, the most relevant species of marine mollusks belong to two genera,
Perna
and
Mytilus.
Specifically, the
Perna canaliculus
species has been repeatedly demonstrated to harbor anti-inflammatory compounds such as omega-3 polyunsaturated fatty acids (
ω
-3 PUFAs) that can ameliorate pro-inflammatory conditions, or proteins that can promote thrombin inhibitory activity. Recent clinical studies have posited that extracts from green-lipped mussels may lead to prebiotic activity in the intestinal microbiome that in turn has been reported to improve symptoms of osteoarthritis of the knee. Prebiotics have been reported to favorably interact with the intestinal microbiome through the proliferation of beneficial bacteria in the gut, suppressing exogenous and endogenous intestinal infections and promoting homeostasis by balancing local pro- and anti-inflammatory actions. Bioactive compounds from
Perna canaliculus
are functional foods and, in this regard, may positively interact with the intestinal microbiome and provide novel therapeutic solutions for intra-intestinal and extra-intestinal inflammatory conditions.
Keywords:
bioactive;
Perna canaliculus
; green mussel; prebiotics; functional foods; intestinal microbiome
Conflicts of Interest
L.V. has received National Institute of Complementary Medicine and National Health and Medical Research Council of Australia competitive funding and Industry support for research into bio-compounds and probiotics. E.T.S., L.V., M.T. and S.H. participate in research on probiotics in Medlab Clinical's research laboratory facility in Sydney, Australia.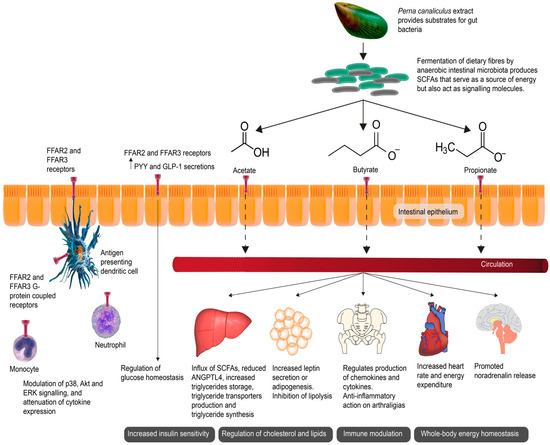 Figure 1.
Short-chain fatty acids (SCFAs) as signaling molecules affected end-organ health. The green-lipped mussel (GLM) promotes anaerobic intestinal bacteria capable of producing SCFAs through the fermentation of dietary fibers. SCFAs serve as a source of energy for epithelial cells but also act as signaling molecules. SCFAs activate various receptors including the G-protein-coupled receptors Free Fatty Acid Receptors 2 and 3 (FFAR2 and FFAR3), expressed in the intestinal mucosa and on various immune cells. The activation of FFAR2 and FFAR3 stimulate the release of glucagon-like peptide-1 (GLP-1) and gut hormone peptide YY (PYY) in the intestine, improving insulin secretion. Hepatic uptake of SCFAs is associated with a decrease in angiopoietin-like 4 (ANGPTL4). ANGPTL4 regulates the uptake of triglycerides in adipocytes by inhibiting circulating lipoprotein lipase, thus promoting lipid clearance. The activation of FFAR2 and FFAR3 also promotes the release of noradrenalin, increasing the heart rate and energy expenditure, and further helping to maintain whole-body homeostasis [
11
,
12
].
Table 1. Clinical trials with

Perna canaliculus

extract for the treatment of arthritic diseases.
Study Type (

n

)
Intervention/Control
Results
RCT (

n

= 38) [46]

Intervention group: Mussel extract 1050 mg/day for 3 months

Control received placebo for treatment period

Both then received extract for further 3 months

Intervention group reported 31% responders vs. 14% in placebo

NSD in responder numbers

RCT (

n

= 53) [47]

Intervention group: 6 Seatone capsules daily (dosage unknown)

Placebo group: 6 placebo capsules

6-month duration

6 months: significant improvement in pain, function score and GA.

Seatone significantly superior to placebo in 4 assessed criteria

RCT (

n

= 30) [48]

Group A: lipid extract–3 capsules/day (210 mg)

Group B: stabilized mussel powder–5 capsules/day (1150 mg)

Treatment period (3 months) then both groups given lipid extract for further 3 months

End of treatment period: significant improvements for both groups for AI, VAS pain, FI and patient and GA

NSD found between treatment groups

RCT (

n

= 80) [49]

Lyprinol® (dose not reported): 4 capsules/day for 2 months then 2 capsules/day for 4 months

Placebo–same dosing schedule

Lyprinol® group: significant improvement vs. placebo for VAS Pain, GA.

NSD in % change in pain killer use in groups (no between group analysis reported)

RCT (

n

= 6) [50]

Intervention–Seatone capsules (dosage not reported)

Placebo–dosage not reported

NSD between groups for all outcome measures (VAS Pain, GS, RAI, LUT, TW)

RCT (

n

= 47) [51]

Intervention–Seatone (1050 mg/day)

Placebo–dried fish placebo

Treatment period–12 weeks

NSD between groups for VAS, GS, RAI, DP, NP, LUT, analgesic intake and GA

RCT (

n

= 35) [52]

Intervention–Seatone 920 mg/day for 6-months

Placebo–Placebo capsules for 6 months

NSD between groups for all outcome measures at 0, 3 and 6-month assessments (RAI, GS, LUT and VAS)

RCT (

n

= 38) [17]

Intervention–3000 mg/day whole GLM extract

Placebo–3000 mg/day GS p.o.

Treatment period = 12 weeks

NSD bacterial growth patterns

Both groups showed decreasing trend in

Clostridium

and

Staphylococcus

. Trend of increase growth in

Lactobacillus, Streptococcus

and

Eubacterium

species

GLM group: Bifidobacterium increased and Enterococcus & yeast species decreased

GS group: decreasing trend in

Bacteroides

and an increase in yeasts and Coliforms species (i.e.,

E. coli

)

Significant improvement in all OA outcome measures for both groups

The GSRS scores indicate gut function significantly improved over treatment period

RCT (

n

= 50) [53]

Intervention–GLM extract capsule (50 mg extract/capsule) + D-002 (50 mg)/day for 6 weeks

Placebo–GLM extract capsule (50 mg extract/capsule) + placebo

Both groups: significantly reduced total WOMAC score, pain and physical function WOMAC sub-scores and VAS scores compared to baseline

Values achieved in intervention group lower than placebo

RCT (

n

= 50) [24]

Group A = PCSO-524™ (4 capsules/day = 1200 mg/day)

Group B = Fish oil (150 mg/capsule)

Treatment = 12 weeks

Group A: significant improvement compared to Group B (pain symptoms and QOL)

Group B: significantly greater level of physical discomfort

Open clinical trial (

n

= 60) [54]

2 capsules twice a day of Lyprinol® for 8 weeks

Parameters analyzed at 4 and 8 weeks

Significant improvement in VAS, LI and physician global assessment in Lyprinol® group

No adverse effects reported
RCT: randomised controlled trial, NSD: not significant difference; AI: articular index; VAS: visual analogue scale; FI: functional index; RAI: Ritchie articular index of joint tenderness; LUT: morning joint stiffness or limbering-up time; GS: grip strength; TW: time to walk set distance or maximum walking distance; DP: severity of day-time pain; NP: severity of night-time pain; GA: patient and physician's global assessment; QOL: quality of life.
© 2017 by the authors. Licensee MDPI, Basel, Switzerland. This article is an open access article distributed under the terms and conditions of the Creative Commons Attribution (CC BY) license (http://creativecommons.org/licenses/by/4.0/).