Open Access This article is
freely available
re-usable
Review
µ-Conotoxins Modulating Sodium Currents in Pain Perception and Transmission: A Therapeutic Potential
1
Department of Biology and Evolution of Marine Organisms, Stazione Zoologica Anton Dohrn, Villa Comunale, 80121 Naples, Italy
2
Department of Sciences, University of Basilicata, 75100 Potenza, Italy
*
Author to whom correspondence should be addressed.
Received: 28 July 2017 / Accepted: 20 September 2017 / Published: 22 September 2017
Abstract
:
The Conus genus includes around 500 species of marine mollusks with a peculiar production of venomous peptides known as conotoxins (CTX). Each species is able to produce up to 200 different biological active peptides. Common structure of CTX is the low number of amino acids stabilized by disulfide bridges and post-translational modifications that give rise to different isoforms. µ and µO-CTX are two isoforms that specifically target voltage-gated sodium channels. These, by inducing the entrance of sodium ions in the cell, modulate the neuronal excitability by depolarizing plasma membrane and propagating the action potential. Hyperexcitability and mutations of sodium channels are responsible for perception and transmission of inflammatory and neuropathic pain states. In this review, we describe the current knowledge of µ-CTX interacting with the different sodium channels subtypes, the mechanism of action and their potential therapeutic use as analgesic compounds in the clinical management of pain conditions.
Keywords:
conotoxin; µ-conotoxin; ion current; sodium channel; pain transmission
1. Introduction
Cone snails are carnivorous and venomous molluscs belonging to the
Conus
genus (
Figure S1
) living mainly in the tropical marine areas. About 700 species of Cone snails express hundreds of peptide toxins collectively known as conotoxins (CTX) aimed to self-defense, competition and predation of other marine species by means of sting–structures that were reported to be fatal for human since from 300 years ago. CTX, however, do not exert only venomous activity but have a lot of pharmacological properties with specific bioactivity in the treatment of neurological disorders and the associated pain perception [
1
,
2
,
3
].
The presence of disulfide bonds is the essential characteristic for biological function of CTX that allow to divide CTX into two main categories, the disulfide-rich peptides and no-disulfide-rich ones; the first is mainly composed of a maximum of 30 amino acids and the second contains up to 80 amino acids. CTX are categorized into structural families based on the pattern of cysteine residues in terms of both number and position. Furthermore, differently from other peptides that may be subjected to poor absorption, proteolysis and biological half-lives, the presence of disulfide bonds confers to CTX a sort of stability based on the cross-linking between the cysteine side chains [
4
,
5
,
6
]. A further striking feature of CTX is the presence of a variety of posttranslational modifications which are, however, still to fully elucidate. CTX are used to act in a synergistic way to ensure that the venom exerts the most effective activity against the predated animals. The assemblage of CTX acting contemporarily has been named toxin cabal. Literature reports that different cabals co-exist, exerting different activities, including the modulation of different types of ion currents.
Different distribution of ions across the plasma membrane gives rise to a trans-membrane potential known as resting potential (RP), which is negative in almost all cells studied. Ion currents are due to the flux of ions through ion channels, which are specific if it is allowed predominantly the passage of one ion species and may be gated in response to a change in voltage, defined voltage-operated channels. Ion currents are associated with a change in the RP that may shift towards more positive values, giving rise to the depolarisation of the plasma membrane [
7
].
Voltage-gated sodium (Na
+
) channels (Nav channels) are responsible for the generation of the rapid depolarization of the membrane potential known as action potentials in excitable cells that, in turn, propagate electrical signals in muscles and nerves (
Figure 1
).
Hence, Nav channel defects and mutations are associated with a wide range of neurological diseases known as channelopathies. Several CTX families have been identified to modulate Na
+
current, in particular μ- and μO-CTX are antagonist of the Nav channels. This specificity has been used to discriminate different Nav channel subtypes, characterize specific binding sites on the channels and elucidate the μ-CTX-Nav channel complex interaction [
8
].
The aim of this review is to give an overview on the pharmacological activity that the µ-CTX superfamily exerts through the modulation of Na+ ion currents. A specific focus will be done on different physiological processes and mechanisms underlying neurological disorders and potential clinical application of these CTX in the therapeutic strategy for neuropathic pain alleviation.
2. Sodium (Na+) Ion Currents
3. Na+ Currents—Linked Channelopathies
Channelopathies are diseases caused and underlined by disorders in ion channel functions whose etiology may be either genetic mainly due to ion mutations or acquired in cases of autoimmune insults, drugs and toxins [
18
]. Channelopathies can be found in many organ systems as cardiovascular, respiratory, endocrine, urinary, immune and nervous. In the latter, several neurological disorders such as epilepsy, cerebellar ataxia, myasthenia, myotonia, erythermalgia, schizophrenia, encephalopathy, Alzheimer syndrome, Dravet syndrome, and other neuropathies are associated with channels malfunctioning. Since ion currents are the flow of ions across the plasma membranes of either the cell or organelles, they play crucial roles in several cellular activities and in mechanisms of signal transduction in organs and related systems. Several channelopathies of the nervous system are underlined by Nav channel subtypes modulation. Literature reports that mutations of Nav channels 1.1 and 1.2 are linked to either epilepsy and the alteration of other central nervous system functions, whereas other Nav channel subtypes are mainly related to cardiac dysfunctions [
19
]. Neurological disorders, such as paralyses and cerebellar atrophy, are also associated with mutations in Nav channel subtypes (see for review [
20
]). In particular, nine isoforms according to the α-subunit sequence have been found in the central and peripheral nervous systems. The α-subtypes (Nav channels 1.1–1.9) present in sensory neurons underpin electrical activity through action potential propagation and this depolarization due to the influx of Na
+
ions has been suggested to play a role in pain perception and transmission [
21
,
22
]. Although α subunits possess the features for Nav channel functioning, a co-expression of the β subunit was shown to influence channel gating, trafficking, expression and the biological activities of venom-derived toxins [
23
].
The anomalies in Na
+
conductance due to injuries of different origin may lead to hyperexcitability of neurons resulting in neuropathic pain and disorders. In fact, channel defects and mutations have been related to vascular and painful organ diseases [
24
], whereas in other cases Nav channel mutations in functional sites are responsible for pain insensitivity [
25
]. At present, four channels seem to be strictly involved in pain disorders associated with several human pathologies from multiple sclerosis to cancer [
26
,
27
].
4. µ-CTX Modulating Nav Currents
5. µ-CTX Targeting Nav Channels in the Modulation of Pain States
Acknowledgments
This work has been supported by Stazione Zoologica Anton Dohrn institutional funds. A.G. has been supported by a Stazione Zoologica Anton Dohrn post-doc fellowship.
Author Contributions
E.T., R.B., A.G. made equal contribution in collection and considering of the data for the review and in preparation of the text.
Conflicts of Interest
The authors declare no conflict of interest.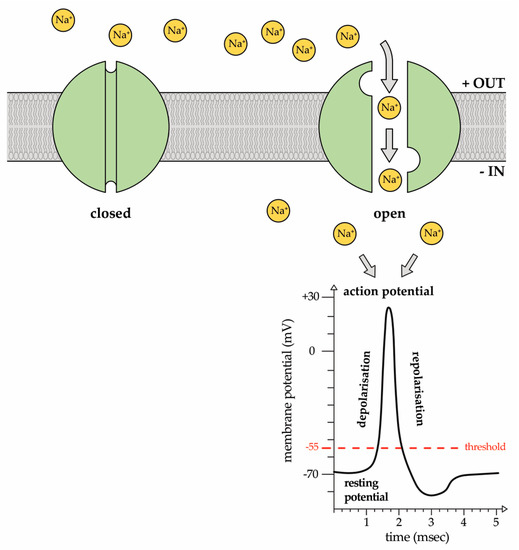 Figure 1. Representative image of the voltage-gated sodium channel (Nav) state. At the resting potential, the channel is closed. In response to a voltage change impulse greater than the threshold potential of −55 mV, the channel is activated and Na+ ions enter into the cytosol down their concentration gradient, giving rise to the action potential. It is a sudden, transient depolarization of the membrane potential that reaches a peak and, then, is followed by repolarization.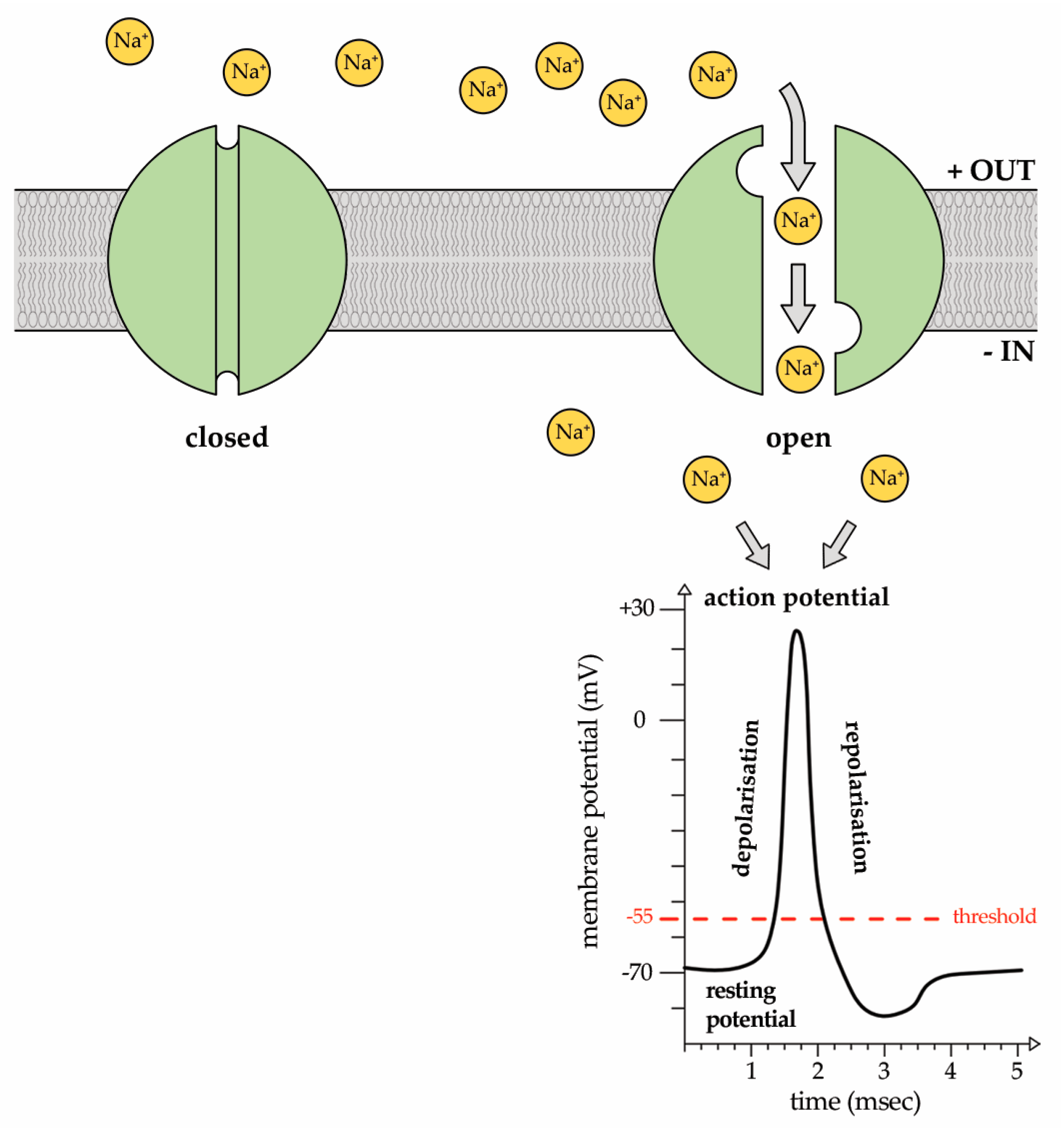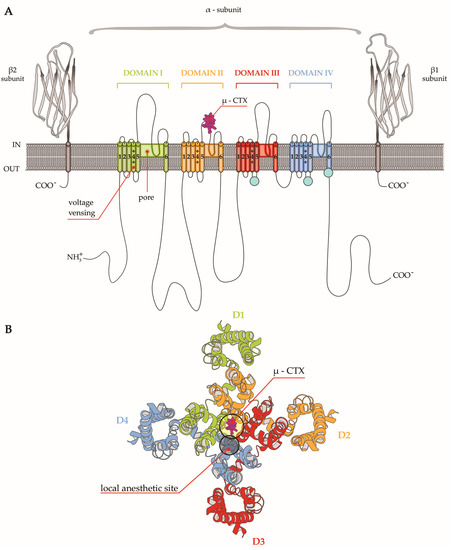 Figure 2. (A) Schematic representation of the sodium channel structure comprising a core α subunit and two auxiliary β subunits. The alpha subunit contains four homologue domains (Domain I-Domain IV), each consisting of six transmembrane helices (S1–S6) reported as cylinders. The pore of the channel is formed by S5 and S6 helices in DI, while the voltage sensor is formed by S1–S4 helices in DI. Auxiliary β subunits of the channels as immunoglobulin-like folds are illustrated. µ-CTX binding site is located between S5 and S6 helices in DII. (B) Schematic representation of the top view of the extracellular face of the α-subunit Nav channel. The location of the µ-CTX binding site and the close local anesthetic binding site are indicated.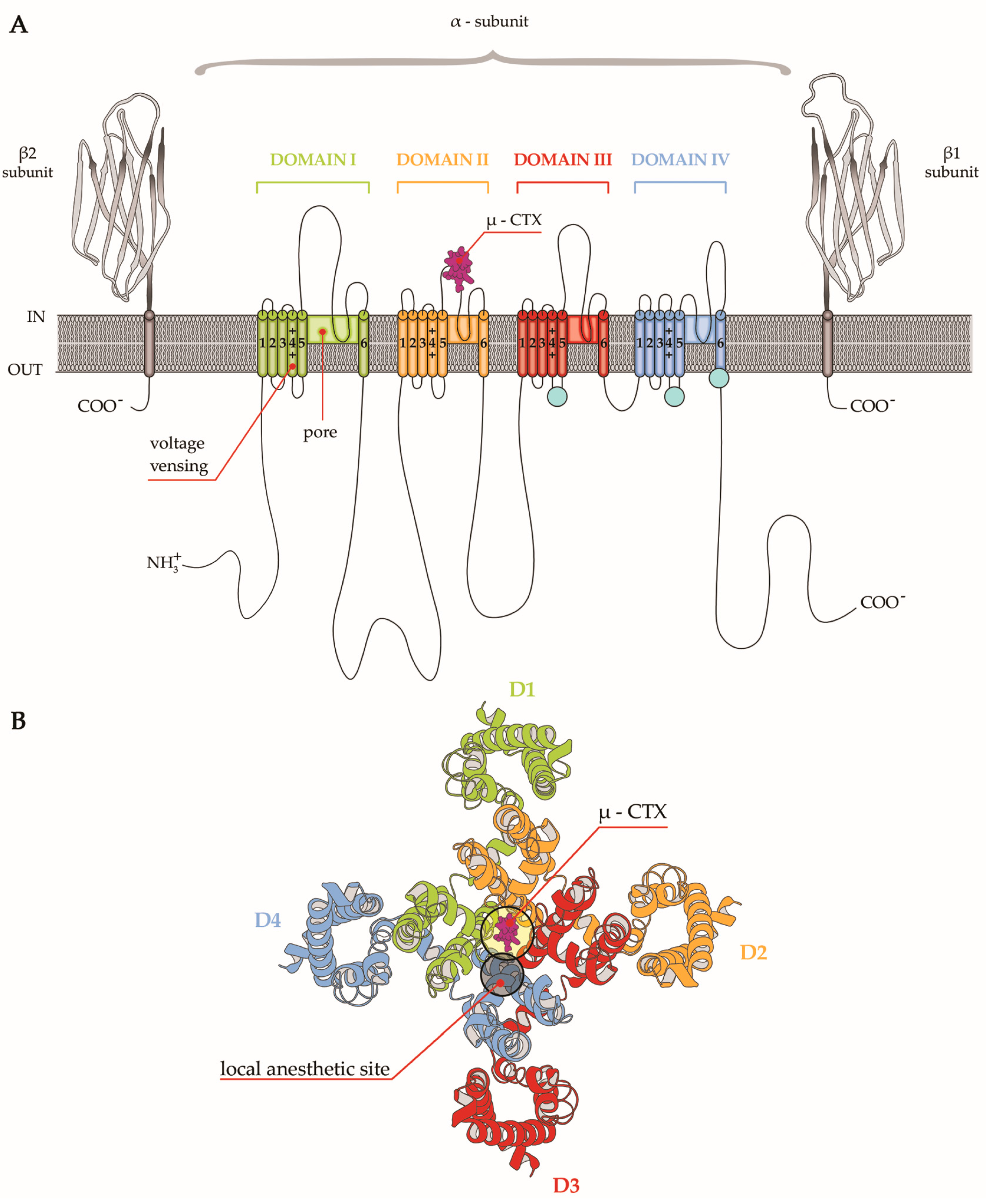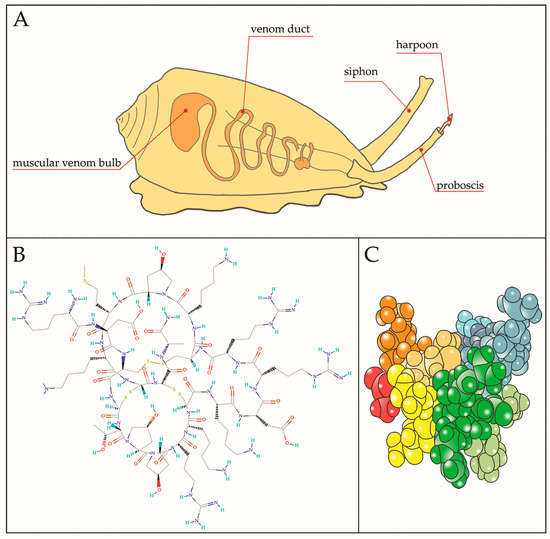 Figure 3.
(
A
) Representative image of a cone snail predator showing internal venomous apparatus. The harpoon is the structure responsible for launching toxin and inducing paralysis of the prey. Chemical (
B
) and tridimensional (
C
) structure of µ-CTX-GIIIB, among the first toxin to be isolated from the venom of
Conus geographus
; B from
https://pubchem.ncbi.nlm.nih.gov/compound/90469965#section=Top
and (
C
) different colors indicate different residues.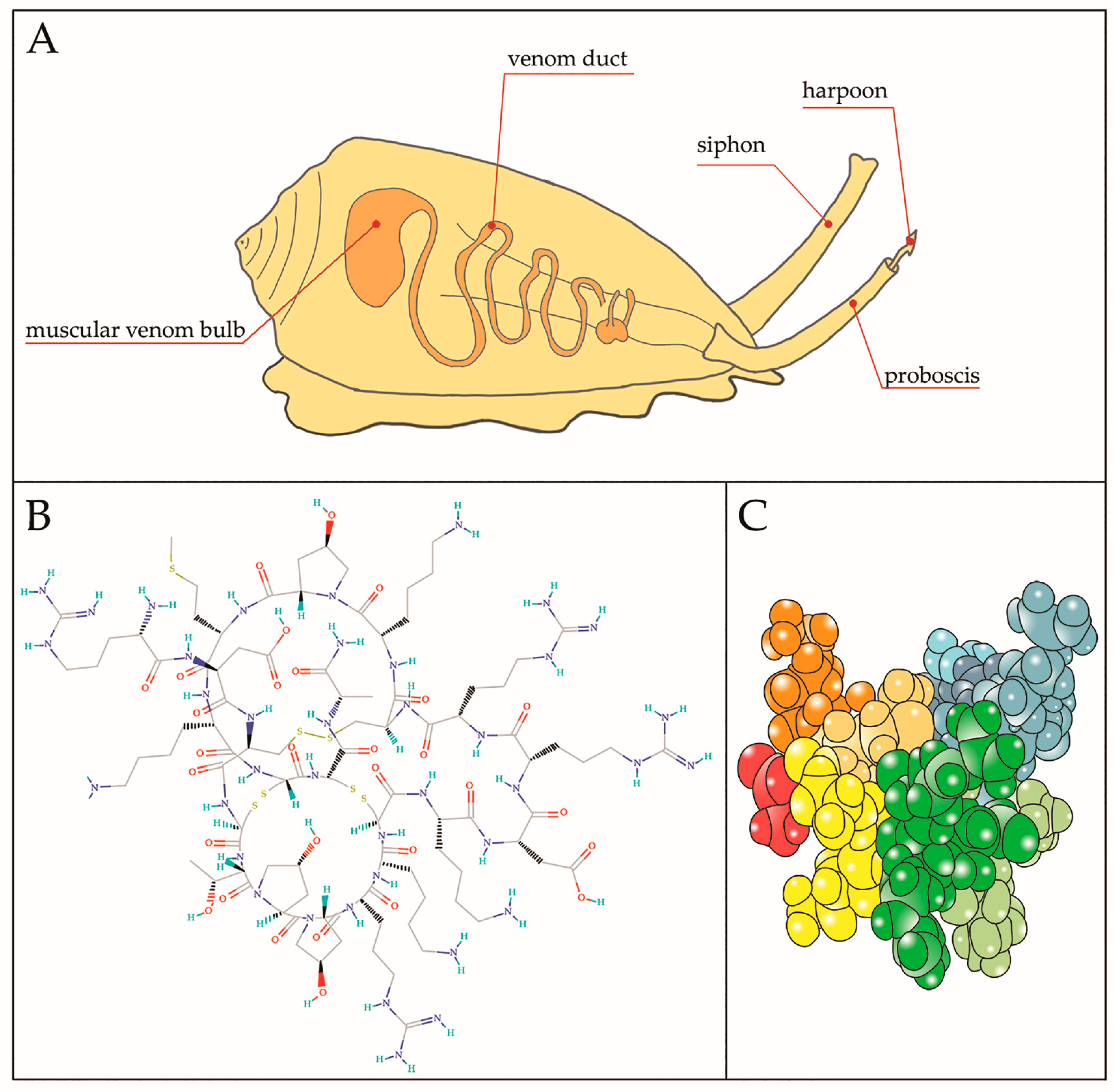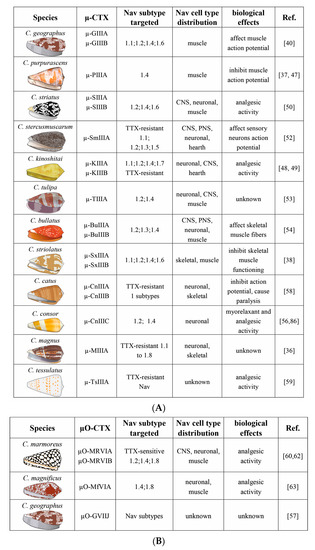 Figure 4. (A) The µ-CTX isolated from different species of the genus Conus, Nav channels targeted, their distributions in different tissues, and their biological effects, which are proved or extrapolated from channel activity data. CNS is central nervous system; PNS is peripheral nervous system. (B) The µO-CTX isolated from different species of the genus Conus, Nav channels targeted, their distributions in different tissues, and their biological effects, which are proved or extrapolated from channel activity data.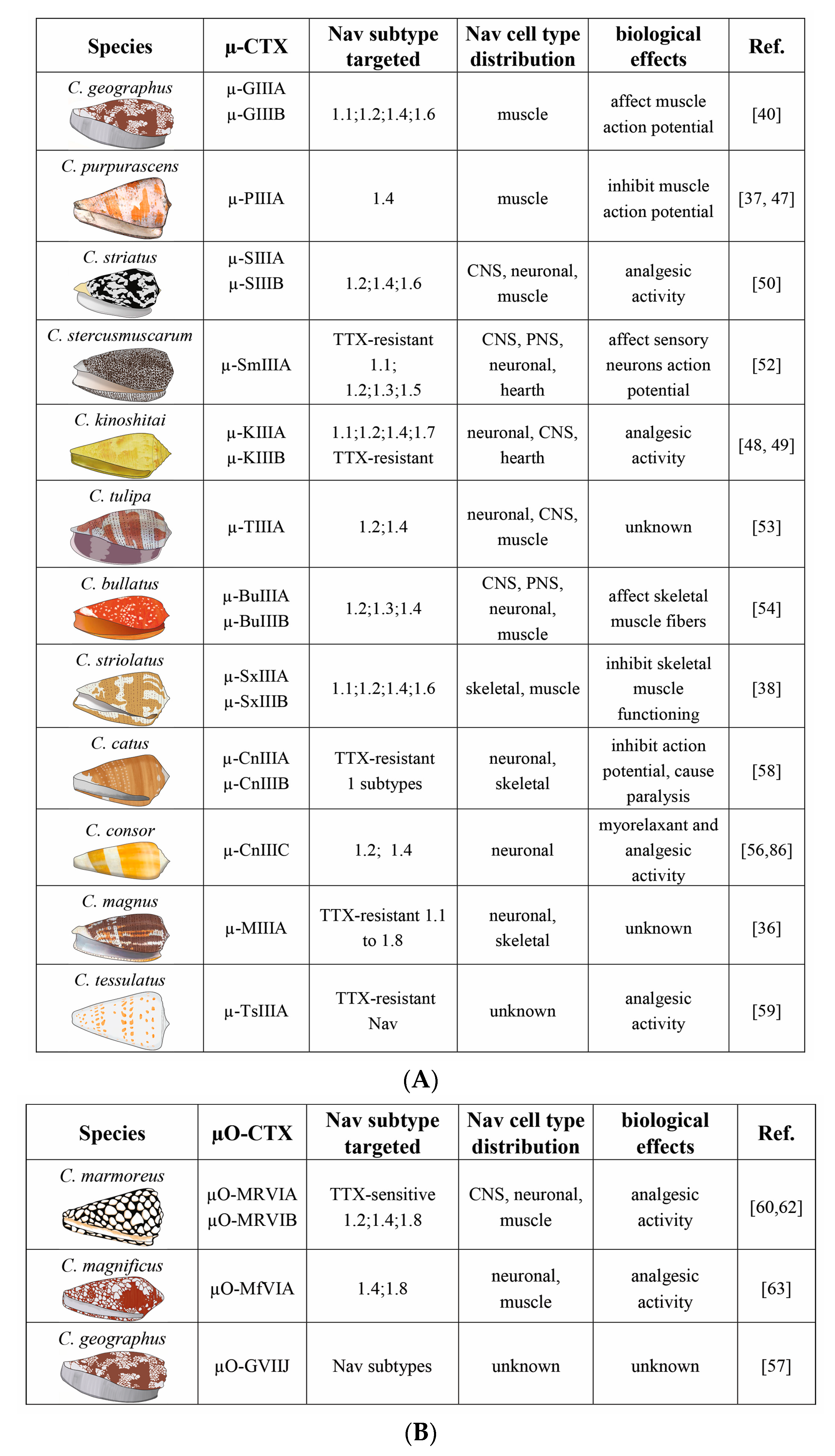 © 2017 by the authors. Licensee MDPI, Basel, Switzerland. This article is an open access article distributed under the terms and conditions of the Creative Commons Attribution (CC BY) license (http://creativecommons.org/licenses/by/4.0/).