New Cyclotetrapeptides and a New Diketopiperzine Derivative from the Marine Sponge-Associated Fungus
Neosartorya glabra

KUFA 0702

1

ICBAS—Instituto de Ciências Biomédicas Abel Salazar, Universidade do Porto, Rua de Jorge Viterbo Ferreira, 228, 4050-313 Porto, Portugal

2

Interdisciplinary Centre of Marine and Environmental Research (CIIMAR), Rua dos Bragas 289, 4050-313 Porto, Portugal

3

Department of Plant Pathology, Faculty of Agriculture, Kasetsart University, 10240 Bangkok, Thailand

4

Laboratório de Química Orgânica, Departamento de Ciências Químicas, Faculdade de Farmácia, Universidade do Porto, Rua de Jorge Viterbo Ferreira, 228, 4050-313 Porto, Portugal

5

Instituto de Biologia Molecular e Celular (IBMC), Universidade do Porto, Rua de Jorge Viterbo Ferreira, 228, 4050-313 Porto, Portugal

6

Departamento de Química & QOPNA, Universidade de Aveiro, 3810-193 Aveiro, Portugal

7

Medicinal and Aromatic Plant Programme, Plant and Animal Sciences Department, Vocational School, Kilis Aralık University, 79000 Kilis, Turkey

*

Author to whom correspondence should be addressed.

Academic Editor: Orazio Taglialatela-Scafati

Received: 17 June 2016 / Revised: 14 July 2016 / Accepted: 15 July 2016 / Published: 20 July 2016
Abstract
Two new cyclotetrapeptides, sartoryglabramides A (
5
) and B (
6
), and a new analog of fellutanine A (
8
) were isolated, together with six known compounds including ergosta-4, 6, 8 (14), 22-tetraen-3-one, ergosterol 5, 8-endoperoxide, helvolic acid, aszonalenin (
1
), (3
R
)-3-(1
H
-indol-3-ylmethyl)-3,4-dihydro-1
H
-1,4-benzodiazepine-2,5-dione (
2
), takakiamide (
3
), (11a
R
)-2,3-dihydro-1
H
-pyrrolo[2,1-
c
][1,4]benzodiazepine-5,11(10
H
,11a
H
)-dione (
4
), and fellutanine A (
7
), from the ethyl acetate extract of the culture of the marine sponge-associated fungus
Neosartorya glabra
KUFA 0702. The structures of the new compounds were established based on extensive 1D and 2D spectral analysis. X-ray analysis was also used to confirm the relative configuration of the amino acid constituents of sartoryglabramide A (
5
), and the absolute stereochemistry of the amino acid constituents of sartoryglabramide A (
5
) and sartoryglabramides B (
6
) was determined by chiral HPLC analysis of their hydrolysates by co-injection with the
d-
and
l-
amino acids standards. Compounds
1
–
8
were tested for their antibacterial activity against Gram-positive (
Escherichia coli
ATCC 25922) and Gram-negative (
Staphyllococus aureus
ATCC 25923) bacteria, as well as for their antifungal activity against filamentous (
Aspergillus fumigatus
ATCC 46645), dermatophyte (
Trichophyton rubrum
ATCC FF5) and yeast (
Candida albicans
ATCC 10231). None of the tested compounds exhibited either antibacterial (MIC > 256 μg/mL) or antifungal activities (MIC > 512 μg/mL).
View Full-Text
►

▼

Figures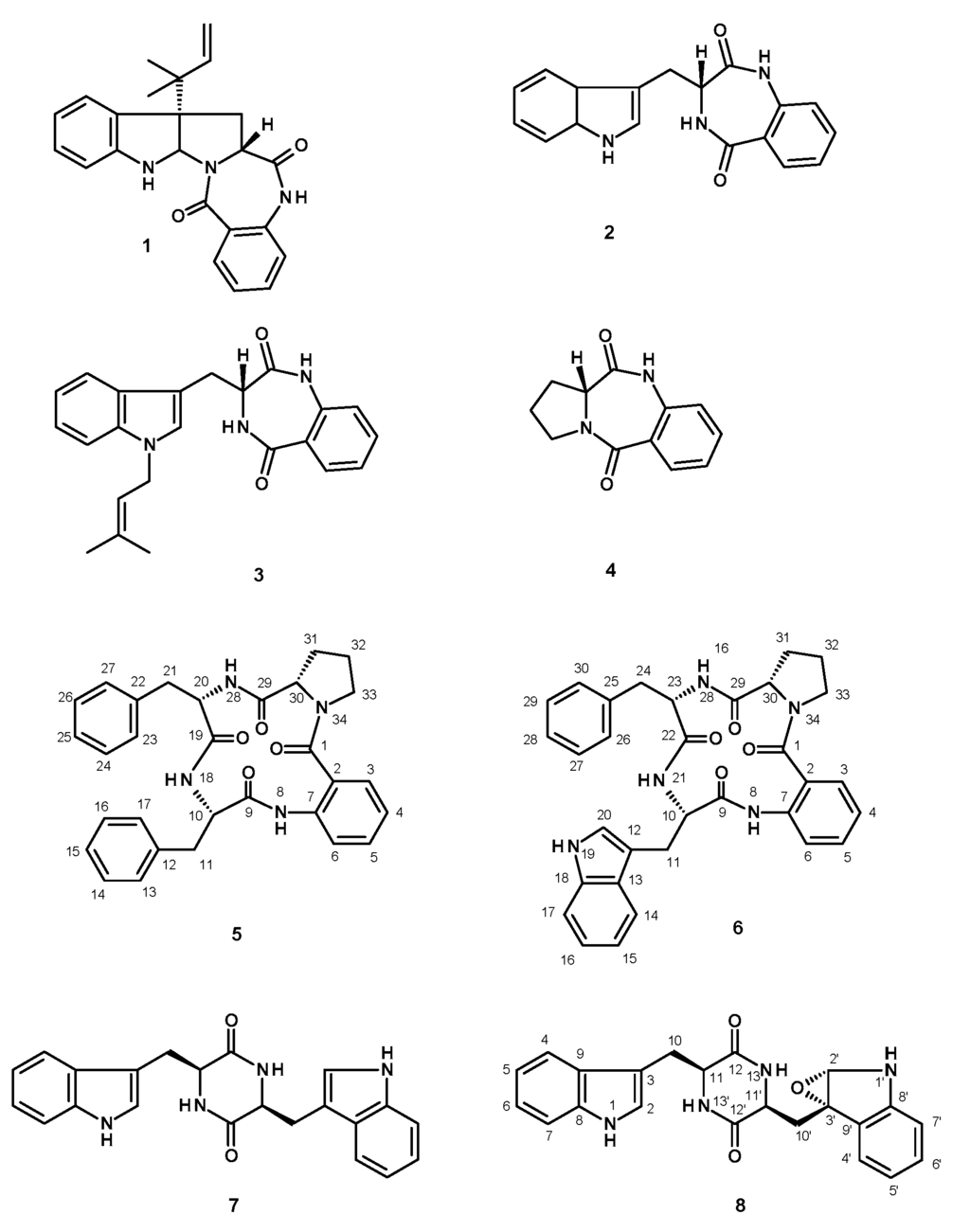 Figure 1
This is an open access article distributed under the
Creative Commons Attribution License
which permits unrestricted use, distribution, and reproduction in any medium, provided the original work is properly cited (CC BY 4.0).

Share & Cite This Article
MDPI and ACS Style
May Zin, W.W.; Buttachon, S.; Dethoup, T.; Fernandes, C.; Cravo, S.; Pinto, M.M.M.; Gales, L.; Pereira, J.A.; Silva, A.M.S.; Sekeroglu, N.; Kijjoa, A. New Cyclotetrapeptides and a New Diketopiperzine Derivative from the Marine Sponge-Associated Fungus Neosartorya glabra KUFA 0702. Mar. Drugs 2016, 14, 136.
Note that from the first issue of 2016, MDPI journals use article numbers instead of page numbers. See further details here.
Related Articles
Comments
[Return to top]