Proteins and Carbohydrates from Red Seaweeds: Evidence for Beneficial Effects on Gut Function and Microbiota
1
Instituto de Tecnología de Alimentos, Facultad de Ingeniería Química, Universidad Nacional del Litoral, 1° de Mayo 3250, (3000) Santa Fe, República Argentina
2
Consejo Nacional de Investigaciones Científicas y Técnicas (CONICET), Av. Rivadavia 1917 (C1033AAJ), Ciudad Autónoma de Buenos Aires, República Argentina
3
Department of Pharmacology, Centro de Investigación Biomédica en Red de Enfermedades Hepáticas y Digestivas (CIBERehd), Universidad de Granada, Campus de Cartuja s/n, 18071 Granada, Spain
4
Instituto de Ciencia y Tecnología de los Alimentos José Mataix, Universidad de Granada, 18071 Granada, Spain
5
Department of Biochemistry and Molecular Biology II, Centro de Investigación Biomédica en Red de Enfermedades Hepáticas y Digestivas (CIBERehd), Universidad de Granada, Campus de Cartuja s/n, 18071 Granada, Spain
6
Instituto de Investigación Biosanitaria. ibs. GRANADA, University of Granada, 18071 Granada, Spain
*
Author to whom correspondence should be addressed.
Academic Editor: Colin Barrow
Received: 1 June 2015 / Revised: 22 July 2015 / Accepted: 4 August 2015 / Published: 20 August 2015
Abstract
Based on their composition, marine algae, and namely red seaweeds, are good potential functional foods. Intestinal mucosal barrier function refers to the capacity of the intestine to provide adequate containment of luminal microorganisms and molecules. Here, we will first outline the component of seaweeds and will summarize the effects of these on the regulation of mucosal barrier function. Special attention will be paid to unique components of red seaweeds: proteins and derived peptides (e.g., phycobiliproteins, glycoproteins that contain "cellulose binding domains", phycolectins and the related mycosporine-like amino acids) together with polysaccharides (e.g., floridean starch and sulfated galactans, such as carrageenans, agarans and "dl-hybrid") and minerals. These compounds have been shown to exert prebiotic effects, to regulate intestinal epithelial cell, macrophage and lymphocyte proliferation and differentiation and to modulate the immune response. Molecular mechanisms of action of peptides and polysaccharides are starting to be elucidated, and evidence indicating the involvement of epidermal growth factor receptor (EGFR), insulin-like growth factor receptor (IGFR), Toll-like receptors (TLR) and signal transduction pathways mediated by protein kinase B (PKB or AKT), nuclear factor-κB (NF-κB) and mitogen activated protein kinases (MAPK) will also be summarized. The need for further research is clear, but
in vivo
experiments point to an overall antiinflammatory effect of these algae, indicating that they can reinforce membrane barrier function.
View Full-Text
►

▼

Figures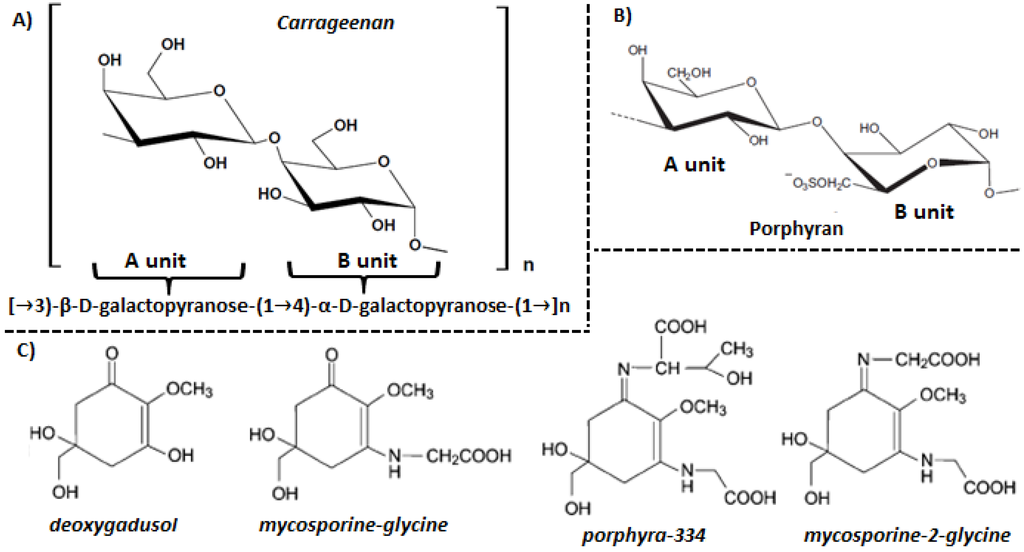 Figure 1
This is an open access article distributed under the
Creative Commons Attribution License
which permits unrestricted use, distribution, and reproduction in any medium, provided the original work is properly cited (CC BY 4.0).

Share & Cite This Article
MDPI and ACS Style
Cian, R.E.; Drago, S.R.; De Medina, F.S.; Martínez-Augustin, O. Proteins and Carbohydrates from Red Seaweeds: Evidence for Beneficial Effects on Gut Function and Microbiota. Mar. Drugs 2015, 13, 5358-5383.
Related Articles
Comments
[Return to top]