Open Access This article is
freely available
re-usable
Review
Marine Extremophiles: A Source of Hydrolases for Biotechnological Applications
1
BIOINOVAR—Biotechnology laboratories: Biocatalysis, Bioproducts and Bioenergy, Institute of Microbiology Paulo de Góes, Federal University of Rio de Janeiro, Av. Carlos Chagas Filho, 373, 21941-902 Rio de Janeiro, Brazil
2
Graduate Program in Plant Biotechnology, Health and Science Centre, Federal University of Rio de Janeiro, Av. Carlos Chagas Filho, 373, 21941-902 Rio de Janeiro, Brazil
3
BIOINOVAR—Biotechnology Laboratories: Virus-Cell Interaction, Institute of Microbiology Paulo de Góes, Federal University of Rio de Janeiro, Av. Carlos Chagas Filho, 373, 21941-902 Rio de Janeiro, Brazil
*
Author to whom correspondence should be addressed.
Academic Editor: Kirk Gustafson
Received: 1 December 2014 / Accepted: 25 March 2015 / Published: 3 April 2015
Abstract
:
The marine environment covers almost three quarters of the planet and is where evolution took its first steps. Extremophile microorganisms are found in several extreme marine environments, such as hydrothermal vents, hot springs, salty lakes and deep-sea floors. The ability of these microorganisms to support extremes of temperature, salinity and pressure demonstrates their great potential for biotechnological processes. Hydrolases including amylases, cellulases, peptidases and lipases from hyperthermophiles, psychrophiles, halophiles and piezophiles have been investigated for these reasons. Extremozymes are adapted to work in harsh physical-chemical conditions and their use in various industrial applications such as the biofuel, pharmaceutical, fine chemicals and food industries has increased. The understanding of the specific factors that confer the ability to withstand extreme habitats on such enzymes has become a priority for their biotechnological use. The most studied marine extremophiles are prokaryotes and in this review, we present the most studied archaea and bacteria extremophiles and their hydrolases, and discuss their use for industrial applications.
Keywords:
enzymes; marine extremophiles; hydrolases
1. Extremophiles from Marine Habitats: A Source of Bioproducts
Given the promising potential for the biotechnological applications of these organisms, this work presents the recent advance in the knowledge of hydrolases from marine extremophiles and their biotechnological potential. Peptidases, lipases, amylases, cellulases and other cell wall-degrading hydrolases in halophiles, thermophiles, psychrophiles and piezophiles will be the main focus of this review.
2. Extremophiles
Extremophile organisms are classified as living organisms able to survive and proliferate in environments with extreme physical (temperature, pressure, radiation) and geochemical parameters (salinity, pH, redox potential). Polyextremophile microorganisms are those that can survive in more than one of these extreme conditions. The vast majority of extremophile organisms belong to the prokaryotes, and are therefore, microorganisms belonging to the Archaea and Bacteria domains [
17
,
18
]. A phylogenetic tree showing the microorganisms of different genera and their extremophilic characteristics is presented in
Figure 1
.
Extremophile microorganisms are classified according to the extreme environments in which they grow and the major types are summarized in
Table 1
. Different structural and metabolic characteristics are acquired by these organisms so that they can survive in these environments [
19
,
20
]. Because of the ability to withstand extreme situations, possible industrial applications of extremophiles have been widely investigated [
21
,
22
,
23
,
24
,
25
].
One of the most well known applications of an extremophile is the DNA polymerase of the extremophile
Thermus aquaticus
(Taq polymerase) [
26
] which is widely used in the polymerase chain reaction (PCR). The stability and enzymatic activity of extremophiles and their extremozymes are useful alternatives to conventional biotechnological processes [
27
].
Figure 1.
Phylogenetic tree showing the extremophiles and the resistant characteristics that appear in at least one species of each genera, identified with the color code. The phylogenetic tree was based on Woese
et al.
[
28
], Lang
et al.
[
29
] and Dereeper
et al.
[
30
]. The
*
indicates the phylogenetic branch that were according to Lang
et al.
[
29
].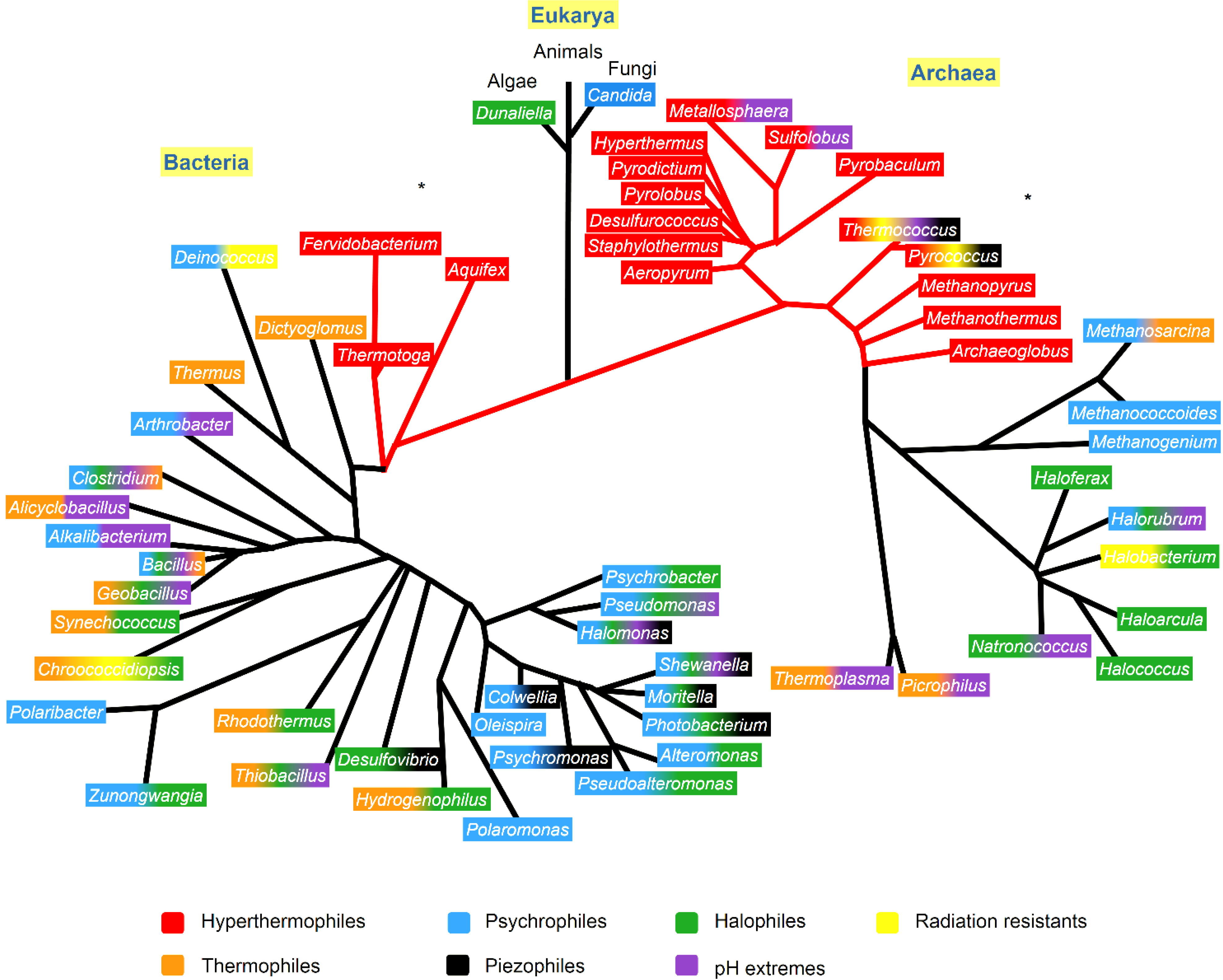 Table 1.
Extremophile microorganisms and their environments (adapted from Horikoshi and Bull [
17
]).
Table 1. Extremophile microorganisms and their environments (adapted from Horikoshi and Bull [17]).

| Extremophile Microorganism | Favorable Environment to Growth |
| --- | --- |
| Acidophile | Optimum pH for growth—Below 3 |
| Alkaliphile | Optimum pH for growth—Above 10 |
| Halophile | Requires at least 1M salt for growth |
| Hyperthermophile | Optimum growth at temperatures above 80 °C |
| Thermophile | Grows at temperatures between 60 °C and 85 °C |
| Eurypsychrophile (psychrotolerant) | Grows at temperatures above 25 °C, but also grow bellow 15 °C |
| Stenopsychrophile (psychrophile) | Grows at temperatures between 10 °C and 20 °C |
| Piezophile | Grows under high pressure—Above 400 atm (40 MPa) |
| Endolithic | Grows inside rocks |
| Hipolith | Grows on rocks and cold deserts |
| Oligotroph | Able to grow in environments of scarce nutrients |
| Radioresistant | Tolerance to high doses of radiation |
| Metallotolerant | Tolerance to high levels of heavy metals |
| Toxitolerant | Tolerates high concentrations of toxic agents (eg. Organic solvents) |
| Xerophile | Grows in low water availability, resistant to desiccation |
2.5. Polyextremophiles
Microorganisms in their natural habitats are thought to experience stress during their life cycle. Many extremophiles inhabit environments with more than one extreme parameter, for example, extremophiles that thrive in the depth of the oceans or close to hot springs. In the first situation, if the extremophiles are found in ocean mud, they could be piezophiles or psychrophiles, but if they were found close to a hydrothermal vent, they could be piezophiles, thermophiles or acidophiles, due to the minerals released in the chimney, or even, if they were found in DHABs, they could be piezophiles, psychrophiles or halophiles.
3. Biocatalysis: Bioengineering and Other Strategies
4. Hydrolases and Their Biotechnological Potential
Currently more than 500 products are produced using enzymes and about 150 industrial processes benefit from the use of enzymes or catalysts from microorganisms. Moreover, more than 3000 enzymes are known and approximately 65% are hydrolases used in the detergent, textile, pulp, paper and starch industries and almost 25% of these are used for food processing [
142
,
143
]. Studies show that the diversity of extremophile microorganisms may be higher than we think [
31
,
144
]. However, the characterization and use of such a diversity of enzymes becomes complicated due to the difficulty of isolating and growing these microorganisms [
142
].
By definition, hydrolases are enzymes that catalyze reactions with the substrate through the hydrolysis of chemical bonds. Hydrolases are enzymes classified as Class 3 (EC 3) by the Nomenclature Committee of the International Union of Biochemistry and Molecular Biology (NC-IUBMB) that keeps an updated list of all the enzymes described in a database, available at ExplorEnz [
145
].
5. Amylases from Marine Extremophiles
Starch comprises an abundant source of available energy and is present in almost all higher plants. Starch is a polymer composed of glucose molecules that form a so-called straight-chain amylose via the α 1–4 linked type. The association of α 1–4 with the α 1–6 type branches creates amylopectin, the largest part of the starch molecule [
146
].
Amylases are enzymes, which hydrolyze the starch molecules to glucose monomers and can be classified according to the specificity of the substrate in which they operate, as showed in
Table 2
[
5
,
147
].
Figure 2
illustrates the function of the three major amylolytic enzymes.
The amylolytic enzymes are one of the most interesting enzymes for industrial processes. The α-amylase of different species of the genus
Bacillus
are the amylases that are the most applied in biotechnological processes, because of their thermophilic properties and high conversion rates [
148
]. The research for extremozymes and their special characteristics for industrial processes has been expanded [
149
], and over the years several stable amylases from thermophiles, psychrophiles, alkaliphiles, acidophiles and halophiles have been reported [
150
,
151
,
152
]. They are found in different genera of marine extremophile archaea and bacteria from the surface to deep sea locations, and include
Desulfurococcus
sp.,
Pseudoalteromonas
sp.,
Pyrococcus
sp.,
Rhodothermus
sp. and
Thermococcus
sp. [
153
,
154
,
155
,
156
].
Geobacillus
sp. is an isolate from a geothermal vent, and has a remarkable alpha-amylase stability between 80 °C to 140 °C [
157
].
Table 2. Classification of Amylases.
Enzyme
Classification
Cleavage
Product
Amylases
Endoamylase
α-amylases
EC 3.2.1.1
Internal α-1,4
Dextrins
Exoamylases
β-amylase or maltase
EC 3.2.1.2
Outer regions of α-1,4
Maltose
Glucoamylase
EC3.2.1.3
β-cyclodextrin and glucose
α-glucosidase
EC 3.2.1.20
Debranching
Pullulanases
EC 3.2.1.41
α-1,6 linkages
Maltotriose
Isoamylases
EC 3.2.1.68
Pullulan
Malto-oligosaccharides
Dextrinases
EC 3.2.1.142
α-1,6 linkages
Maltose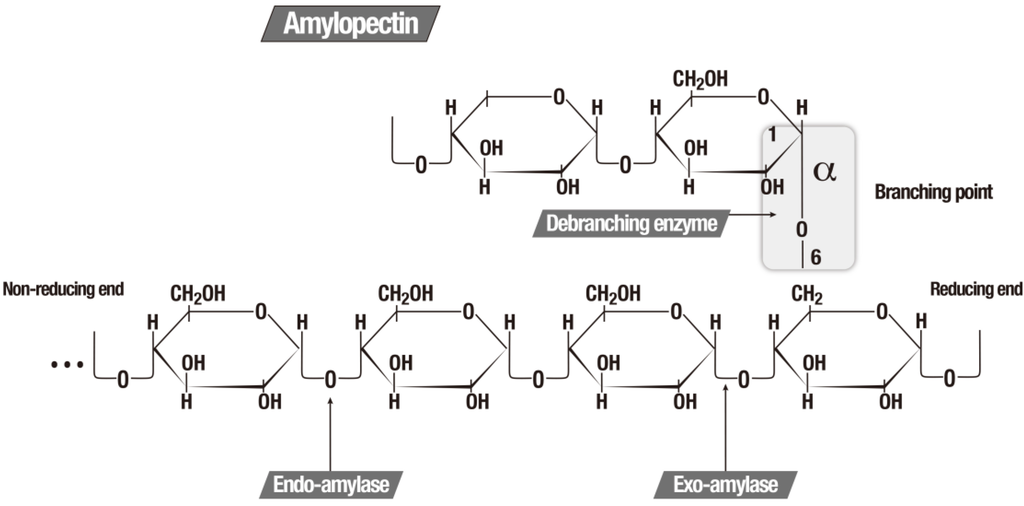 Figure 2.
The three major amylolytic enzymes [
5
].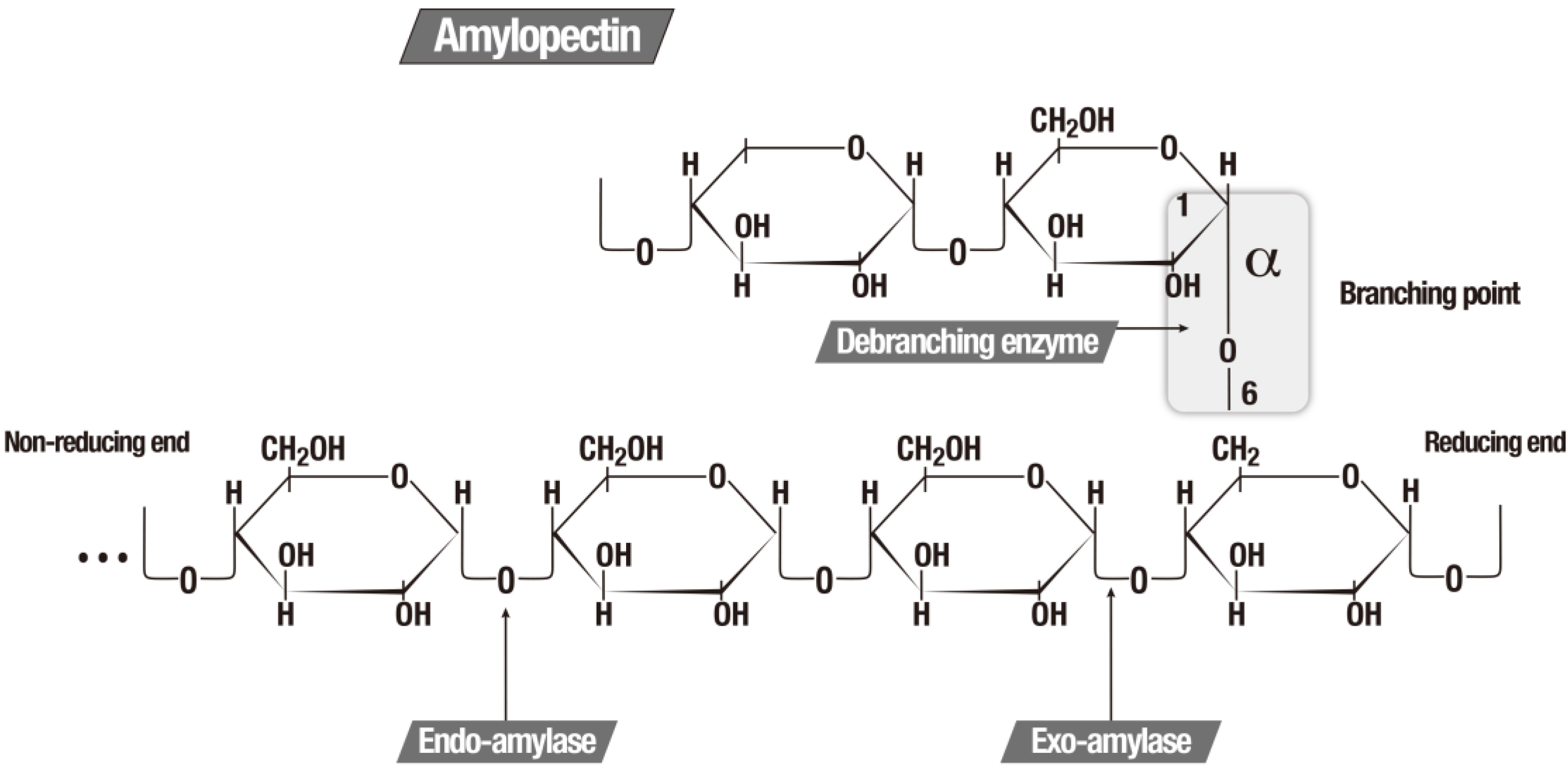 Several industrial processes can be performed with the use of amylases. The endoamylases, which have optimum activity for temperatures between 70 °C and 95 °C have been applied in the production of ethanol from corn starch, rice or as a pretreatment for forming sugars (saccharification) for fermentation [
158
,
159
]. Amylases are also used in the food industry for the production of glucose syrups, fructose and maltose, reduced viscosity of syrups, reducing the turbidity of juices and also for alcohol fermentation. They are also involved in the textile, papermaking, detergent, chemical, pharmaceutical and petroleum industries [
5
,
160
,
161
].
Thermostable amylases are important for starch hydrolysis under high temperatures, accelerating the reactions and reducing possible contaminations [
148
]. Many companies sell different thermostable and broad-range pH operating enzymes. This is the case of Fuelzyme
®
—Verenium Corporation (San Diego, CA, USA), an alpha-amylase which was originated from
Thermococcus
sp. isolated from a deep-sea hydrothermal vent. Fuelzyme
®
is applied to mash liquefaction during ethanol production, releasing dextrins and oligosaccharides with better solubility and with low molecular weight. It operates in a pH range of 4.0–6.5 and temperatures above 110 °C [
162
]. However, Fuelzyme
®
and Spezyme
®
(DuPont-Genencor Science) are only used for biofuel production. The use of a blend of these commercially available amylases and others from
Bacillus
sp. has been suggested to make industrial starch processing more efficient, and suitable for downstream applications [
163
].
Pullulanases are commonly associated to glucoamylases for the saccharification of starch, and there is a growing demand in industry for them [
164
]. Marine sources have been naturally appointed as providers of such enzymes [
165
]. Thermostable pullulanases from type II (amylopullulanases) are being used in the process of starch liquefaction and saccharification combined [
166
,
167
]. The hyperthermophilic archaea
Staphylothermus marinus
, an isolate from the deep-sea associated with geothermal activity or hydrothermal vents, presents an optimum growth at 98 °C. A new thermostable amylopullulanase of the glycosyl hydrolase family from
S. marinus
, has recently been described with degradation activity towards pullulan and cyclodextrin at 105 °C [
168
]. One of the most thermostable and thermo-active pullulanases type II was described for
Pyrococcus furiosus
and
Thermococcus litoralis
, with activity ranging from 130 °C to 140 °C in the presence of 5 mM Ca
++
[
169
].
On the other hand, cold adapted amylases also have their uses in the detergents, textile and food industries, due to their considerable energy savings and reduction of bacterial contamination [
150
]. The most studied cold active alpha-amylase originates from
Alteromonas haloplanctis
, which is synthesized at 0–2 °C and has been successfully expressed in
Escherichia coli
[
170
]. The alpha-amylase from
Pseudoalteromonas haloplanktis
(AHA) (former
Alteromonas haloplanctis
) showed 80% of initial activity at 4.5 M of NaCl at 10 °C [
171
]. Structural features in AHA have been studied through site-directed mutagenesis and chemical modification, including a modification performed that provides support for the importance of arginine residues, instead of lysine, which enhances the enzyme thermostability to cold adaptation; however, it decreases their activity [
132
]. Recently,
Zunongwangia profunda
was isolated from the deep-sea and presented a cold adapted and salt tolerant alpha-amylase, one of the very few alpha-amylases that can tolerate both cold and salt conditions [
172
]. An alpha-amylase was found in an isolate from the genus
Bacillus
on a marine salt farm, with a hyperthermostable enzyme acting at 110 °C as optimum operating temperature [
173
]. The
Halomonas
sp. strain AAD21 was found to produce a halo and thermostable alpha-amylase [
174
]. The
Holoarcula
sp. stain S-1, produced an extracellular organic solvent-tolerant alpha-amylase that was stable and active in benzene, toluene and chloroform, with a maximal activity at 50 °C in 4.3 M of NaCl and pH 7.0 [
175
]. Extreme halophiles and piezophiles are not common sources of amylases. Some other examples of extremophile producers of amylases are summarized in
Table 3
.
Table 3. Extreme amylases from marine extremophiles.
Microorganism
Domain
Natural Isolation Site
Metabolism
Enzyme
Type
Reference

Pyrococcus furiosus

(recombinant)
Archaea
Thermal marine sediments
Hyperthermophile
Amylase Endoamylase
α-amylase
[176]

Fervidobacterium pennavorans

V5 (recombinant)
Bacteria
Hot springs, Azores islands
Hyperthermophile
Amylase debranching
Pullulanase type I
[177]

Pseudoalteromonas haloplanktis

Bacteria
Antarctica
Psycrophille
Amylase Endoamylas
α-amylase
[171]

Halothermothrix orenii

Bacteria
Tunisian salt lake
Halophile/poliextremophile
Amylase Endoamylase
α amylase
[178]

Haloferax mediterranei

Archaea
Saltern, Spain
Extreme halophile
Amylase Endoamylase
a-amylase
[179]
6. Cell Wall-Degrading Hydrolases from Marine Extremophiles
Along with starch, the cell wall is another element present in the structure of all plants and which also maintains an energy reserve, although rarely used and of difficult access. This element consists of three major polymers: Cellulose, hemicellulose and lignin. Cellulose is the most abundant macromolecule on Earth and one of the major constituents of plants, formed by β-1,4-linked glucose molecules. Due to its compactness and crystalline disposition in nature, cellulose is very resistant to hydrolysis and degradation. Hemicelluloses are non-cellulosic polysaccharides composed of complex carbohydrate polymers, where xylan and glucomannan are the main components. Lignin, with hemicellulose and pectin, fills the spaces between the cellulose fibers acting as a bonding material between the cell wall components [
180
].
Cellulases are complex hydrolases capable of degrading insoluble cellulose polymers, present in plants, fungi and bacteria. Cellulases are among the enzymes that are the most produced for industrial purposes and it is expected that within a few years, their production will increase further, due to their use in biofuel conversion [
181
]. Regarding the hydrolysis of xylan, a wide variety of enzymes become necessary, and they differ in their specificity and mechanism of action [
5
,
182
].
Table 4
summarizes the classification of cellulases and xylanases.
Figure 3
illustrates the dynamics of polysaccharide catalysis.
Cellulolytic microorganisms have developed complex forms of cellulolytic systems which actively hydrolyze the cellulose fibrils, and are capable of producing cellulolytic enzymes with additional functions. Furthermore, they are organized in the form of multiprotein complexes such as cellulosomes and xylanossomas [
180
,
183
,
184
]. The use of different vegetables such as sugarcane, corn, beets, among others for the bioenergy industry generates residues that could be reused. Biotechnological research has been stimulated to develop technologies for second-generation ethanol production from plant biomass containing lignocellulose [
184
,
185
]. Extremophile microorganisms, especially thermophilic and alkaliphiles, are widely used in lignocellulolytic processes. The thermophilic and psychrophilic cellulases have also been used in different industrial processes in the food and fermented beverages, textile, pulp and paper and animal feed industries [
47
,
186
,
187
]. Glycoside hydrolases are commonly found in marine thermophile-microorganisms, like
Pyrococcus
sp.,
Thermococcus
sp., and
Thermotoga
sp. [
156
,
188
,
189
].
Beta-glycosidase from the hyperthermophilic bacteria
Thermotoga maritima
, used in transglycosylation reactions, is thermostable and resistant to a large number of proteolytic denaturants found in nature and the presence of alcohol or organic compounds stimulates its activities [
190
]. Thermostable xylanases are being largely used in the paper bleaching industry [
191
]. Xylosidases and xylanases are expressed in
Thermotoga neapolitana
during the bio-production of hydrogen, using many different carbohydrates as feedstock [
192
]. Recombinant xylanase is being improved to achieve more extremophilic characteristics, like
XynB
from
T. maritima
, which has been successfully expressed in
E. coli
, exhibiting thermo and alkaline stability, an attractive characteristic for bleaching kraft pulp in the paper industry [
193
]. Aiming for crystalline cellulose hydrolysis, a variant designed from a beta-1,4-endoglucanase (EGPh) of
P. horikoshii
exhibited stronger activity than the wild type EGPh [
194
].
Table 4. Classification of cell wall-degrading hydrolases.
Enzyme
Classification
Cleavage
Product
Cellulases
Endoglucanases
Endo-β-1,4-glucanase
EC 3.2.1.4
Intramolecular bonds of β-1,4-glycosidic
New chain ends
Exoglucanases
β-glucosidase
EC 3.2.1.21
Ends of the cellulose
Glucose or soluble cellulose
Exo-β-1,4-glucan cellobiohydrolase
EC 3.2.1.91
Glycosidic terminals
Cellobiose
Xylanases
β-1,4-endoxylanase
EC 3.2.1.8
Internal glycosidic linkages along heteroxylan main skeleton
Polymerization degree of the substrate
α-D-xylosidase
EC 3.2.1.177
Small xylo-oligosaccharides and xylobiose
Xylose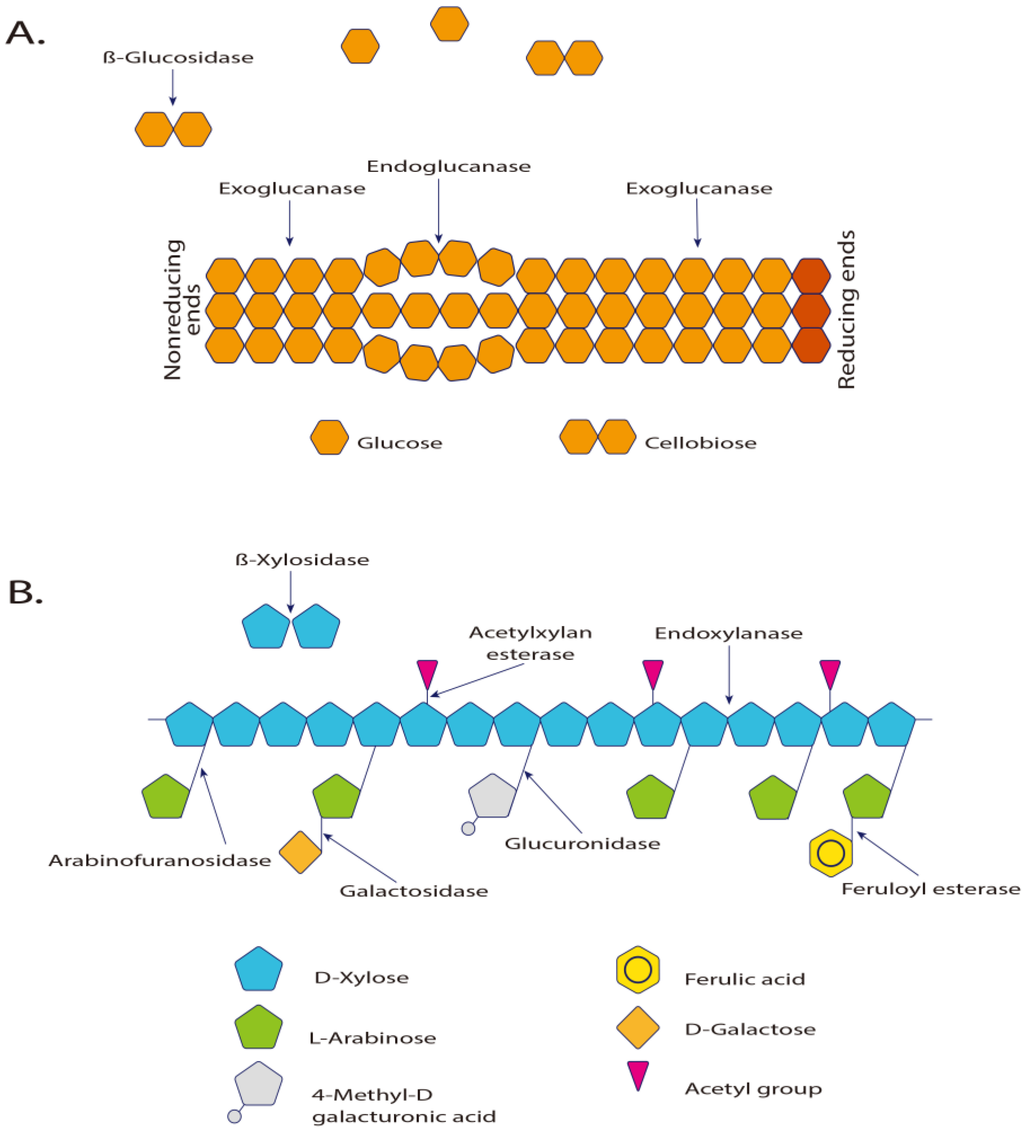 Figure 3.
(
A
) Enzymes involved in the hydrolysis of cellulose and (
B
) in xylan hydrolysis [
183
]. Exo-β-1,4-glucanase and cellobiohydrolase hydrolyze the glycosidic terminals releasing cellobiose units. The β-glucosidases act directly on cellulose, hydrolyzing it to glucose. The 1,4-β-glucosidase is essential to complete the hydrolysis process of the cellulose [
5
]. The α-
d
-xylosidases are exoglycosidases that act in the non-reducing end, hydrolyzing small xylo-oligosaccharides and xylobioses, releasing xylose.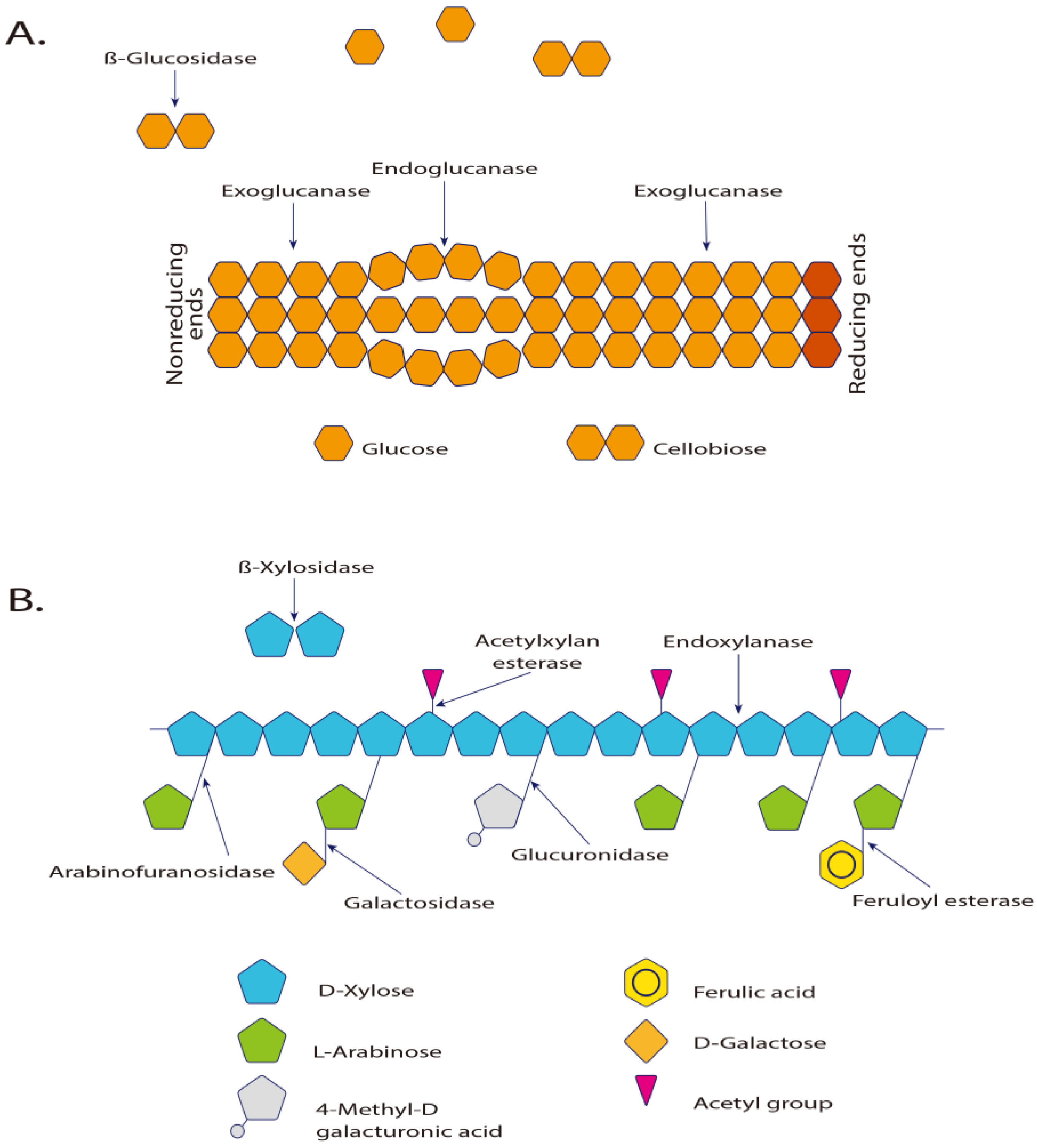 Psychrophiles are a source of these enzymes. The first cold-active and alkali-stable β-glucosidase was isolated from
Martelella mediterranea
. This enzyme retains 80% of its activity at pH 11.0 and 50% at 4 °C [
195
]. A deep-sea mud
Exiguobacterium oxidotolerans
also presents a cold active beta-glycosidase, maintaining 61% of its maximum activity at 10 °C and a pH range from 6.6 to 9.0 [
196
]. The Antarctic bacterium
P. haloplanktis CelG
gene was purified and expressed in
E. coli
for kinetic and structural optimization purposes [
197
]. Psychrophilic xylanases, like
TAH3a
from
P. haloplanktis
and
MSY-2
from
Flavobacterium
sp. have also been used in the baking industry [
198
,
199
]. Ideal enzymes for treating milk should work well at 4–8 °C and pH 6.7–6.8, and this is still highly desired in industrial applications.
Arthrobacter
sp. is an Antarctic isolate that produces a β-
d
-galactosidase capable of working at 4–8 °C, and it retains 15% of its maximum activity at 0 °C [
200
].
The slightly halophilic bacterium
Alteromonas macleodii
has been isolated from the Pacific Ocean, Mediterranean Sea, English Channel, Black Sea and Gulf of Thailand. The activities for beta-
d
-galactosidase, alpha-
d
-galactosidase and beta-
d
-glucosidase were found using a sample isolated from the Black Sea [
201
].
7. Marine Extremophilic Proteases
Peptidases or proteases are proteolytic enzymes that catalyze the hydrolysis of peptide bonds on proteins or peptides. Peptidases are classified in subclass 3.4 (peptide-hydrolases). The rating uses three criteria: I—Chemical mechanism of catalysis. In this system, peptidases are classified according to their catalytic type in serine, cysteine, threonine, aspartic, glutamic, asparagine, metallo and unknown catalytic (S, C, T, A, G, N, M, and U, respectively) and P for peptidases with protein nucleophiles of mixed catalytic types. II—Type of reaction they catalyze. These are subdivided into exo-peptidases (EC 3.4.11-19), when enzymes cleave terminal amino acids, and endo-peptidases (EC 3.4.21-99), when they hydrolyze peptide bonds in the middle of the polypeptide chain. III—Molecular structure and homology. This is the most modern classification concept, based on amino acid sequences and three-dimensional structures. The peptidases are classified in families and clans. In the families, the classification of peptidases is grouped by amino acid sequence comparisons: 251 families of peptidases can be found in MEROPS Release 9. Currently the number of peptidases described and indexed in the MEROPS database exceeds more than 4000 enzymes [
202
].
Figure 4
summarizes the classification of peptidases.
Peptidases are enrolled in different biological processes such as regulation, localization, modulation and activities of protein interactions [
203
]. An important function of peptidases, is to perform posttranslational processing events, leading to the activation or inactivation of proteins, including enzymes [
204
]. Peptidases are also a potential drug target for microbial diseases, taking part in pathogenesis, inactivating the host immune defense mediators, in the processing of host or parasite proteins and in the digestion of host proteins. These features make peptidases very valuable to the pharmaceutical industries [
5
]. Other innumerous applications of peptidases are in the detergent, cosmetic, chemical and food industries [
5
,
142
].
Most peptidases from extremophilic archaea belong to the serine peptidases family, although, other families are also represented. Hyperthermophilic peptidases include serine peptidases, cysteine peptidases and the threonine-dependent proteasomes.
Pyrococus
sp. are archaeon hyperthermophiles, strictly anaerobes and obligate heterotrophs and are found in diverse habitats such as thermal marine sediments and shallow hydrothermal vents [
205
].
P. furiosus
was isolated from deep-sea vents and volcanic marine mud of Italy [
206
]. An intracellular peptidase from
P. horikoshii
is an oligomeric cysteine peptidase [
15
] similar to the
P. furiosus
intracellular peptidase I [
207
]. In this genus, pyrolysin, a serine peptidase, metalopeptidases and ATP-dependent peptidases such as Lon A and subunits of proteasome have been characterized [
208
].
Thermococcus litoralis
is a hyperthermophile archaea that is found around deep-sea hydrothermal vents as well as near shallow submarine thermal springs and oil wells. A proline dipeptidase named prolidase cleaves dipeptides having proline at the C-terminus and a nonpolar residue (Met, Leu, Val, Phe, Ala) at the amino terminus [
209
].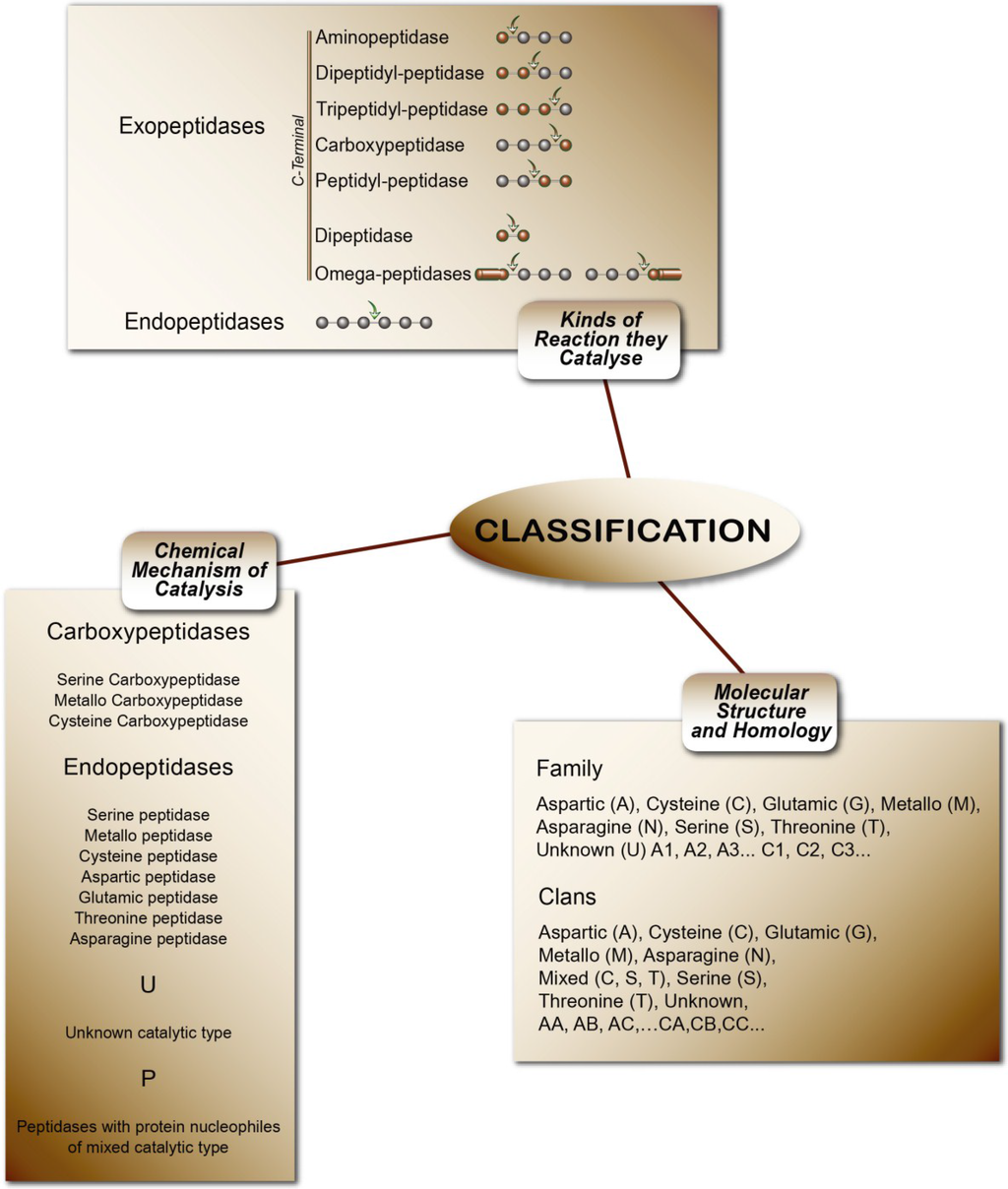 Figure 4.
The classifications of peptidases [
5
].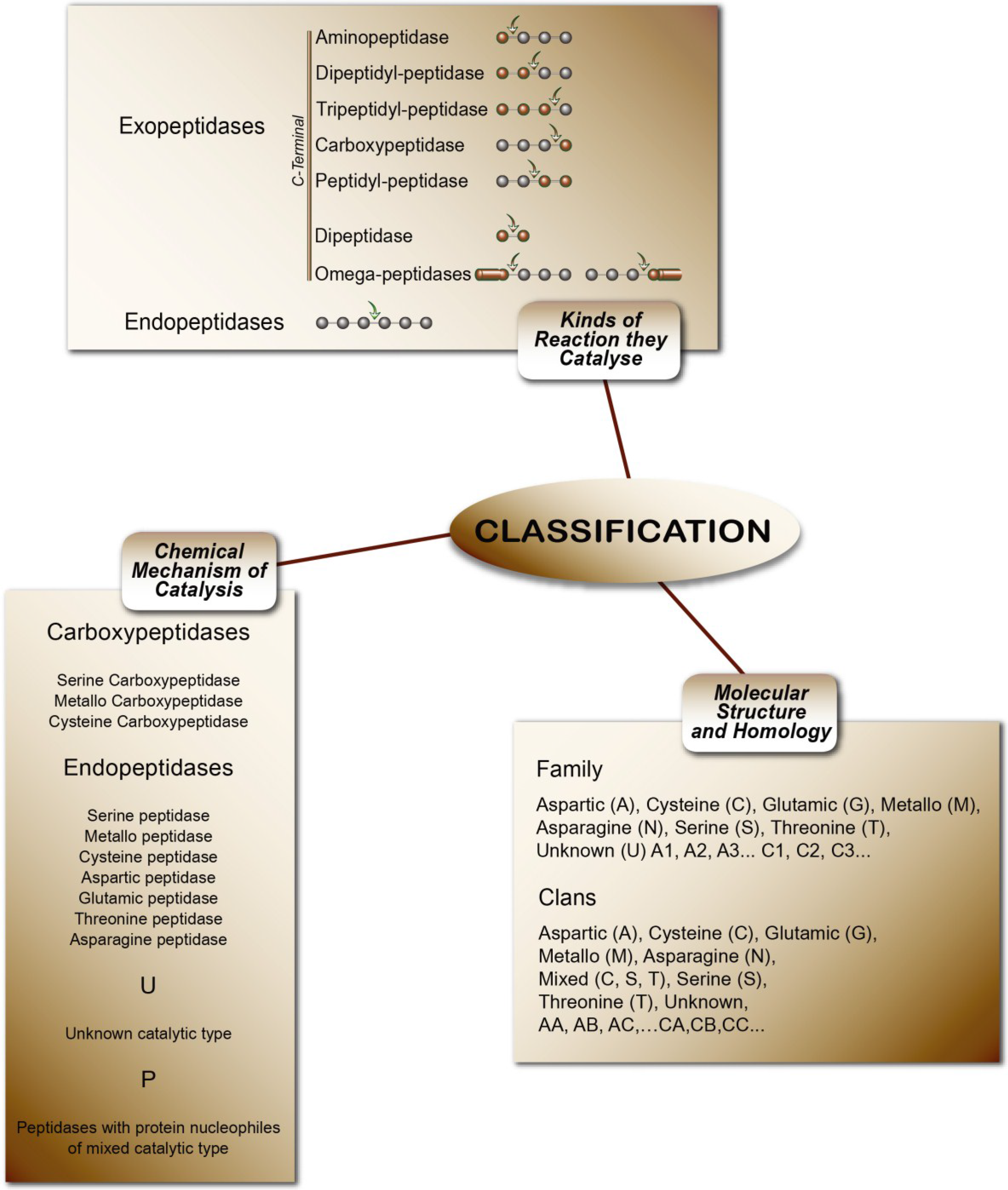 Psychrophiles are a source of peptidases and other hydrolases. The potential of the enzymes produced by them has been reviewed [
65
,
210
,
211
]. The diversity of extremophile microorganisms is a valuable resource in the search for new proteolytic enzymes, mainly those active at low temperatures derived from psychrophiles [
69
,
186
,
212
].
S. livingstonensis
is a psychrophilic, gram-negative, isolate from Antarctic coastal areas that produces a serine alkaline peptidase [
213
].
Colwellia psychrerythraea is
an obligate psychrophile, Gram-negative bacteria that can be found in cold marine environments including in Arctic and Antarctic sea-ice. The bacteria produce a peptidase of the family M1 aminopeptidase. The enzyme with a molecular mass of 71 kDa displayed an optimum temperature at 19 °C [
214
].
Natrialba magadii
is an extremophile archaea that lives in alkaline hypersaline conditions (pH 9.5, 3.5 M NaCl). A Lon peptidase from this halophile was cloned and sequenced by Sastre
et al.
[
215
]. The ATP-dependent Lon peptidase is universally distributed in bacteria, eukaryotic organelles and archaea. In this species, like other archaea, there is a Lon B type serine peptidase, with a molecular mass of 85 kDa.
Haloferax volcanii
, a haloarchaeon isolated from the Dead Sea, also presents a Lon Peptidase. In a study by Cerletti
et al.
[
216
] of this species, the group demonstrated that a suboptimal cellular level of the Lon protein affected its growth rate, cell shape, cell pigmentation, lipid composition and sensitivity to various antibiotics. An extracellular serine peptidase with 45 kDa was characterized in the same species by Gimenez
et al.
[
217
].
Natrialba asiatica
, which was isolated from a beach in Japan,
and H. mediterranei
isolated from seawater evaporation ponds near Alicante, Spain produced a halolysin, a serine peptidase [
218
]. Other extracellular and intracellular peptidase classes including metalopeptidases, and 20S proteasomes/threonine peptidases are also found in the group (for review see De Castro
et al.
[
219
]).
Table 5
summarizes other peptidases found in marine extremophiles.
Halophilic microorganisms present some advantages in fermentation processes that occur in the presence of salt. The high salt tolerance of extreme halophiles enables their cultivation under non-sterile and thus cost-reducing conditions [
220
]. Some peptidases such as bromelain, papain, and pepsin have been used as biocatalysts of protein hydrolysis in fish sauce fermentation. These peptidases are not stable in high salt concentration. In contrast, peptidases from extreme halophiles require salt to carry out their activities. In addition, halophilic peptidases have a wide application in processing activities for the food, leather and detergent industries [
220
,
221
].
The
Deinococcus
genus has been isolated from a variety of habitats including Antarctica, water and activated sludge, hot springs and aquifers [
222
,
223
,
224
]. The fresh water radioactive site isolate,
Deinococcus aquiradiocola
, proved to be a proteolytic, capable of hydrolyzing gelatin and casein [
225
].
Deinococcus indicus
, an arsenic-resistant bacterium isolated from an aquifer, has been positively characterized for casein and gelatin hydrolysis [
226
]. Some species have been isolated from marine habitats such as
Deinococcus geothermalis
from deep-ocean subsurfaces [
227
,
228
]. Pietrow
et al.
[
229
] described the production of the thermo-alkali-stable peptidase from
D. geothermalis
. The peptidase presented stability at 60 °C and pH 9.0; these properties are appropriate for the detergent industry.
Table 5. Peptidases from marine extremophiles.
Peptidase
Extremophile
Habitats
Reference
Serine peptidase

Fervidobacterium pennavorans

Hot spring
[230]

Sulfolobus solfataricus

Volcanic hot spring
[231]

Thermococcus litoralis

Deep-sea hydrothermal vent Shallow submarine thermal springs and oil wells
[232]

Thermoanaerobacter yonseiensis

Geothermal hot stream at Sileri on Java island, Indonesia
[34,233]
Cysteine peptidase

Aciduliprofundum boonei

Marine

hydrothermal vent
[234]

Haloferax volcanii

Dead Sea, the Great Salt Lake, and oceanic environments with high NaCl
[235]
Metallocarboxypeptidase

Caldithrix abyssi

Deep-sea hydrothermal chimneys
[234]
8. Lipases and Esterases from Marine Extremophiles
9. Conclusions and Future Perspectives
The study of marine extremophiles has been significantly reinforced using the modern techniques of bioengineering and molecular biology. Such interactions have favored a better understanding of these microorganisms and their biotechnological applications. The evolutionary adaptation to extreme conditions has facilitated the selection of a more tolerant metabolism, of enzymes and other products with special features not found in any other prokaryotes. Good examples are hydrolases with the ability to operate in temperatures as low as those of the microorganisms isolated from Antarctica to those active at high temperatures such as the hyperthermophilic microorganisms isolated from thermal fractures; enzymes that act in high concentrations of salts found in anoxic basin environments, or high pressure, are found in several polyextremophiles. These properties make these unique microorganisms a source of genes that may be mapped by bio-prospecting metagenomic studies and used for cloning and expression in other organisms to obtain enzymes with properties suitable for industrial bioprocesses. However, although the studies related to the marine extremophiles cited here have increased greatly over the past decade, there are still other extremozymes in promising habitats such as deep sea floors, and also in the Red Sea that have so far attracted few studies and are open for exploration. Marine extremophiles are a group of prokaryotic organisms that are being intensively studied worldwide. Although major advances have been made recently, our knowledge of the physiology, metabolism, enzymology and genetics of this fascinating group of microorganisms is still limited. Therefore, an important growth is expected to take place in this sector, pursuing a better understanding of the application of these hydrolases from marine extremophiles.
Acknowledgments
The authors wish to acknowledge the Brazilian National Council for Scientific and Technological Development (MCT-CNPq), Carlos Chagas Filho Foundation for Research Support in the State of Rio de Janeiro (FAPERJ) and Coordination for the Improvement of Higher Education Personnel (CAPES) for the financial support. This manuscript was reviewed by a professional science editor and by a native English-speaking copy editor to improve readability.
Author Contributions
The authors contributed equally to this work.
Conflicts of Interest
The authors declare that they have no conflict of interest.
© 2015 by the authors; licensee MDPI, Basel, Switzerland. This article is an open access article distributed under the terms and conditions of the Creative Commons Attribution license (http://creativecommons.org/licenses/by/4.0/).