Sensitivity of
Neurospora crassa

to a Marine-Derived

Aspergillus tubingensis

Anhydride Exhibiting Antifungal Activity That Is Mediated by the MAS1 Protein

1

Department of Plant Pathology and Microbiology, The R.H. Smith Faculty of Agriculture, Food and Environment, The Hebrew University of Jerusalem, Rehovot 76100, Israel

2

School of Chemistry, Raymond and Beverly Sackler Faculty of Exact Sciences, Tel Aviv 69978, Israel

3

Department of Zoology, George S. Wise Faculty of Life Sciences, Tel Aviv University, Tel Aviv 69978, Israel

*

Author to whom correspondence should be addressed.

Received: 23 July 2014 / Revised: 20 August 2014 / Accepted: 21 August 2014 / Published: 1 September 2014
Abstract
The fungus
Aspergillus
tubingensis
(strain OY907) was isolated from the Mediterranean marine sponge
Ircinia variabilis
. Extracellular extracts produced by this strain were found to inhibit the growth of several fungi. Among the secreted extract components, a novel anhydride metabolite, tubingenoic anhydride A (
1
) as well as the known 2-carboxymethyl-3-hexylmaleic acid anhydride, asperic acid, and campyrone A and C were purified and their structure elucidated. Compound
1
and 2-carboxymethyl-3-hexylmaleic acid anhydride inhibited
Neurospora crassa
growth (MIC = 330 and 207 μM, respectively) and affected hyphal morphology. We produced a
N. crassa
mutant exhibiting tolerance to
1
and found that a yet-uncharacterized gene, designated
mas-1
, whose product is a cytosolic protein, confers sensitivity to this compound. The ∆
mas-1
strain showed increased tolerance to sublethal concentrations of the chitin synthase inhibitor polyoxin D, when compared to the wild type. In addition, the expression of chitin synthase genes was highly elevated in the
∆mas-1
strain, suggesting the gene product is involved in cell wall biosynthesis and the novel anhydride interferes with its function.
View Full-Text
►

▼

Figures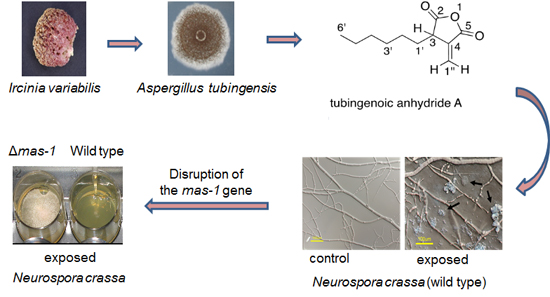 Graphical abstract

Share & Cite This Article
MDPI and ACS Style
Koch, L.; Lodin, A.; Herold, I.; Ilan, M.; Carmeli, S.; Yarden, O. Sensitivity of Neurospora crassa to a Marine-Derived Aspergillus tubingensis Anhydride Exhibiting Antifungal Activity That Is Mediated by the MAS1 Protein. Mar. Drugs 2014, 12, 4713-4731.
Related Articles
Comments
[Return to top]