Tetrodotoxin Blockade on Canine Cardiac L-Type Ca2+ Channels Depends on pH and Redox Potential
1
Department of Physiology, University of Debrecen, P.O. Box 22, H-4012 Debrecen, Hungary
2
Clinical Research Center and Thrombosis Haemostasis and Vascular Biology Research Group of the Hungarian Academy of Sciences, University of Debrecen, P.O. Box 40, H-4012 Debrecen, Hungary
3
Department of Dental Physiology and Pharmacology, Medical and Health Science Center, University of Debrecen, P.O. Box 22, H-4012 Debrecen, Hungary
*
Author to whom correspondence should be addressed.
Received: 17 February 2013 / Revised: 22 April 2013 / Accepted: 20 May 2013 / Published: 14 June 2013
Abstract
Tetrodotoxin (TTX) is believed to be one of the most selective inhibitors of voltage-gated fast Na
+
channels in excitable tissues. Recently, however, TTX has been shown to block L-type Ca
2+
current (I
Ca
) in canine cardiac cells. In the present study, the TTX-sensitivity of I
Ca
was studied in isolated canine ventricular myocytes as a function of (1) channel phosphorylation, (2) extracellular pH and (3) the redox potential of the bathing medium using the whole cell voltage clamp technique. Fifty-five micromoles of TTX (IC
50
value obtained under physiological conditions) caused 60% ± 2% inhibition of I
Ca
in acidic (pH = 6.4), while only a 26% ± 2% block in alkaline (pH = 8.4) milieu. Similarly, the same concentration of TTX induced 62% ± 6% suppression of I
Ca
in a reductant milieu (containing glutathione + ascorbic acid + dithiothreitol, 1 mM each), in contrast to the 31% ± 3% blockade obtained in the presence of a strong oxidant (100 μM H
2
O
2
). Phosphorylation of the channel protein (induced by 3 μM forskolin) failed to modify the inhibiting potency of TTX; an IC
50
value of 50 ± 4 μM was found in forskolin. The results are in a good accordance with the predictions of our model, indicating that TTX binds, in fact, to the selectivity filter of cardiac L-type Ca channels.
View Full-Text
►

▼

Figures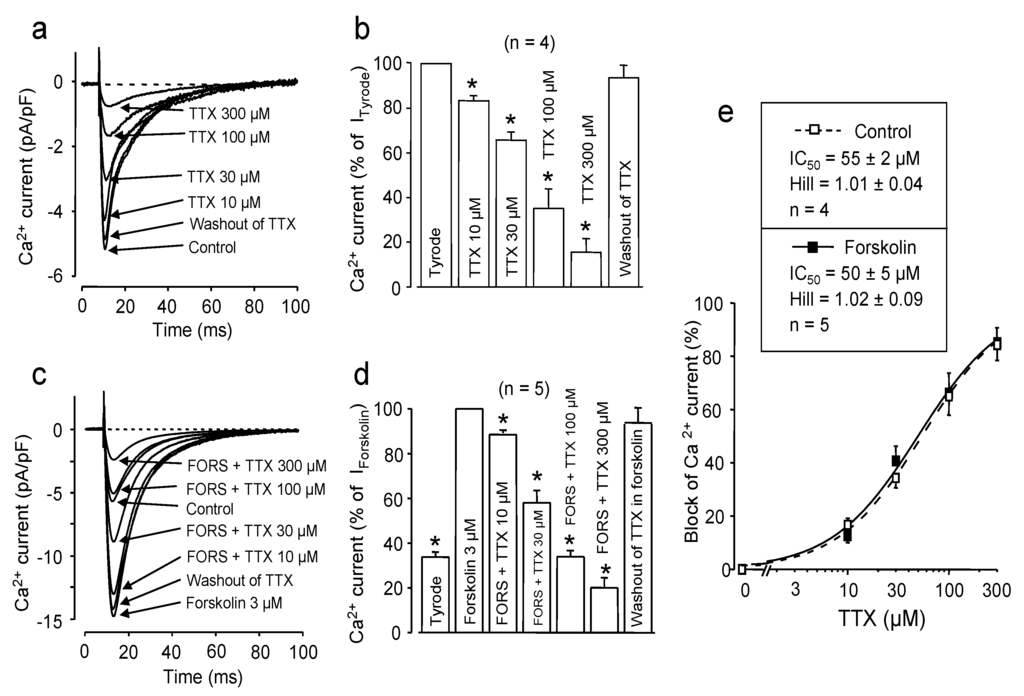 Figure 1

Share & Cite This Article
MDPI and ACS Style
Hegyi, B.; Komáromi, I.; Kistamás, K.; Ruzsnavszky, F.; Váczi, K.; Horváth, B.; Magyar, J.; Bányász, T.; Nánási, P.P.; Szentandrássy, N. Tetrodotoxin Blockade on Canine Cardiac L-Type Ca2+ Channels Depends on pH and Redox Potential. Mar. Drugs 2013, 11, 2140-2153.
Related Articles
Comments
[Return to top]