6″-Debromohamacanthin A, a Bis (Indole) Alkaloid, Inhibits Angiogenesis by Targeting the VEGFR2-Mediated PI3K/AKT/mTOR Signaling Pathways
1
Natural Products Research Institute, College of Pharmacy, Seoul National University, San 56-1 Sillim-dong, Gwanak-gu, Seoul 151-742, Korea
2
Department of Chemistry, McGill University, Montreal, Quebec, H3A 2K6, Canada
*
Author to whom correspondence should be addressed.
Received: 6 February 2013 / Revised: 12 March 2013 / Accepted: 19 March 2013 / Published: 2 April 2013
Abstract
Hamacanthins, bis (indole) alkaloids, are found in a few marine sponges, including
Spongosorites
sp. Hamacanthins have been shown to possess cytotoxic, antibacterial and antifungal activities. However, the precise mechanism for the biological activities of hamacanthins has not yet been elucidated. In the present study, the anti-angiogenic effects of 6″-debromohamacanthin A (DBHA), an active component of isolated hamacanthins, were evaluated in cultured human umbilical vascular endothelial cells (HUVEC) and endothelial-like cells differentiated from mouse embryonic stem (mES) cells. DBHA significantly inhibited vascular endothelial growth factor (VEGF)-induced cell proliferation, migration and tube formation in the HUVEC. DBHA also suppressed the capillary-like structure formation and the expression of platelet endothelial cell adhesion molecule (PECAM), an endothelial biomarker, in mES cell-derived endothelial-like cells. To further understand the precise molecular mechanism of action, VEGF-mediated signaling pathways were analyzed in HUVEC cells and mES cell-derived endothelial-like cells. DBHA suppressed the VEGF-induced expression of MAPKs (p38, ERK and SAPK/JNK) and the PI3K/AKT/mTOR signaling pathway. In addition, DBHA inhibited microvessel sprouting in mES/EB-derived embryoid bodies. In an
ex vivo
model, DBHA also suppressed the microvessel sprouting of mouse aortic rings. The findings suggest for the first time that DBHA inhibits angiogenesis by targeting the vascular endothelial growth factor receptor 2 (VEGFR2)-mediated PI3K/AKT/mTOR signaling pathway in endothelial cells.
View Full-Text
►

▼

Figures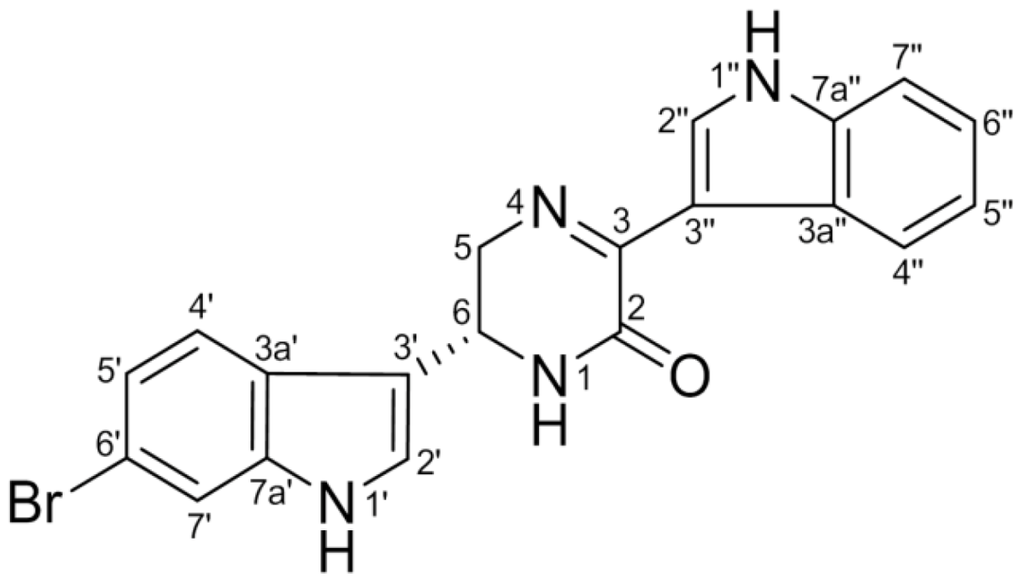 Figure 1

Share & Cite This Article
MDPI and ACS Style
Kim, G.D.; Cheong, O.J.; Bae, S.Y.; Shin, J.; Lee, S.K. 6″-Debromohamacanthin A, a Bis (Indole) Alkaloid, Inhibits Angiogenesis by Targeting the VEGFR2-Mediated PI3K/AKT/mTOR Signaling Pathways. Mar. Drugs 2013, 11, 1087-1103.
Related Articles
Comments
[Return to top]