Pathways of Lipid Metabolism in Marine Algae, Co-Expression Network, Bottlenecks and Candidate Genes for Enhanced Production of EPA and DHA in Species of Chromista
1
Department of Biology, Norwegian University of Science and Technology, Trondheim 7491, Norway
2
Department of Biotechnology, Norwegian University of Science and Technology, Trondheim 7491, Norway
*
Author to whom correspondence should be addressed.
Received: 24 September 2013 / Revised: 5 November 2013 / Accepted: 7 November 2013 / Published: 22 November 2013
Abstract
The importance of
n
-3 long chain polyunsaturated fatty acids (LC-PUFAs) for human health has received more focus the last decades, and the global consumption of
n
-3 LC-PUFA has increased. Seafood, the natural
n
-3 LC-PUFA source, is harvested beyond a sustainable capacity, and it is therefore imperative to develop alternative
n
-3 LC-PUFA sources for both eicosapentaenoic acid (EPA, 20:5
n
-3) and docosahexaenoic acid (DHA, 22:6
n
-3). Genera of algae such as
Nannochloropsis
,
Schizochytrium
,
Isochrysis
and
Phaedactylum
within the kingdom Chromista have received attention due to their ability to produce
n
-3 LC-PUFAs. Knowledge of LC-PUFA synthesis and its regulation in algae at the molecular level is fragmentary and represents a bottleneck for attempts to enhance the
n
-3 LC-PUFA levels for industrial production. In the present review,
Phaeodactylum tricornutum
has been used to exemplify the synthesis and compartmentalization of
n
-3 LC-PUFAs. Based on recent transcriptome data a co-expression network of 106 genes involved in lipid metabolism has been created. Together with recent molecular biological and metabolic studies, a model pathway for
n
-3 LC-PUFA synthesis in
P. tricornutum
has been proposed, and is compared to industrialized species of Chromista. Limitations of the
n
-3 LC-PUFA synthesis by enzymes such as thioesterases, elongases, acyl-CoA synthetases and acyltransferases are discussed and metabolic bottlenecks are hypothesized such as the supply of the acetyl-CoA and NADPH. A future industrialization will depend on optimization of chemical compositions and increased biomass production, which can be achieved by exploitation of the physiological potential, by selective breeding and by genetic engineering.
View Full-Text
►

▼

Figures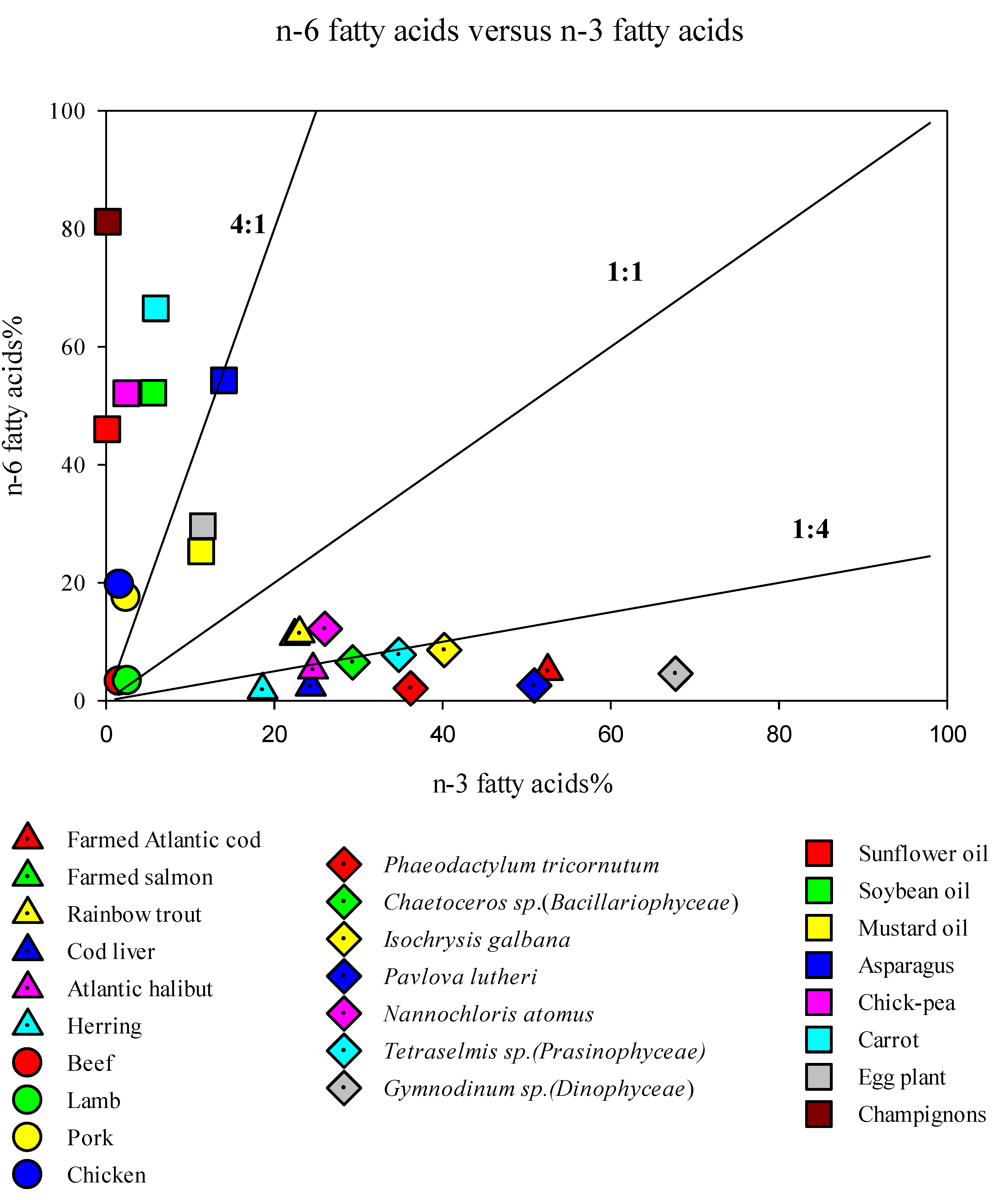 Figure 1

Share & Cite This Article
MDPI and ACS Style
Mühlroth, A.; Li, K.; Røkke, G.; Winge, P.; Olsen, Y.; Hohmann-Marriott, M.F.; Vadstein, O.; Bones, A.M. Pathways of Lipid Metabolism in Marine Algae, Co-Expression Network, Bottlenecks and Candidate Genes for Enhanced Production of EPA and DHA in Species of Chromista. Mar. Drugs 2013, 11, 4662-4697.
Related Articles
Comments
[Return to top]