Omega-3 Fatty Acids Modulate Weibel-Palade Body Degranulation and Actin Cytoskeleton Rearrangement in PMA-Stimulated Human Umbilical Vein Endothelial Cells
Inflammation and Healing Research Cluster, School of Health and Sport Sciences, University of the Sunshine Coast, Maroochydore, Queensland 4556, Australia
*
Author to whom correspondence should be addressed.
Received: 2 September 2013 / Revised: 15 October 2013 / Accepted: 22 October 2013 / Published: 8 November 2013
Abstract
Long chain omega-3 polyunsaturated fatty acids (LC
n
-3 PUFAs) produce cardiovascular benefits by improving endothelial function. Endothelial cells store von Willebrand factor (vWF) in cytoplasmic Weibel-Palade bodies (WPBs). We examined whether LC
n
-3 PUFAs regulate WPB degranulation using cultured human umbilical vein endothelial cells (HUVECs). HUVECs were incubated with or without 75 or 120 µM docosahexaenoic acid or eicosapentaenoic acid for 5 days at 37 °C. WPB degranulation was stimulated using phorbol 12-myristate 13-acetate (PMA), and this was assessed by immunocytochemical staining for vWF. Actin reorganization was determined using phalloidin-TRITC staining. We found that PMA stimulated WPB degranulation, and that this was significantly reduced by prior incubation of cells with LC
n
-3 PUFAs. In these cells, WPBs had rounded rather than rod-shaped morphology and localized to the perinuclear region, suggesting interference with cytoskeletal remodeling that is necessary for complete WPB degranulation. In line with this, actin rearrangement was altered in cells containing perinuclear WPBs, where cells exhibited a thickened actin rim in the absence of prominent cytoplasmic stress fibers. These findings indicate that LC
n
-3 PUFAs provide some protection against WBP degranulation, and may contribute to an improved understanding of the anti-thrombotic effects previously attributed to LC
n
-3 PUFAs.
View Full-Text
►

▼

Figures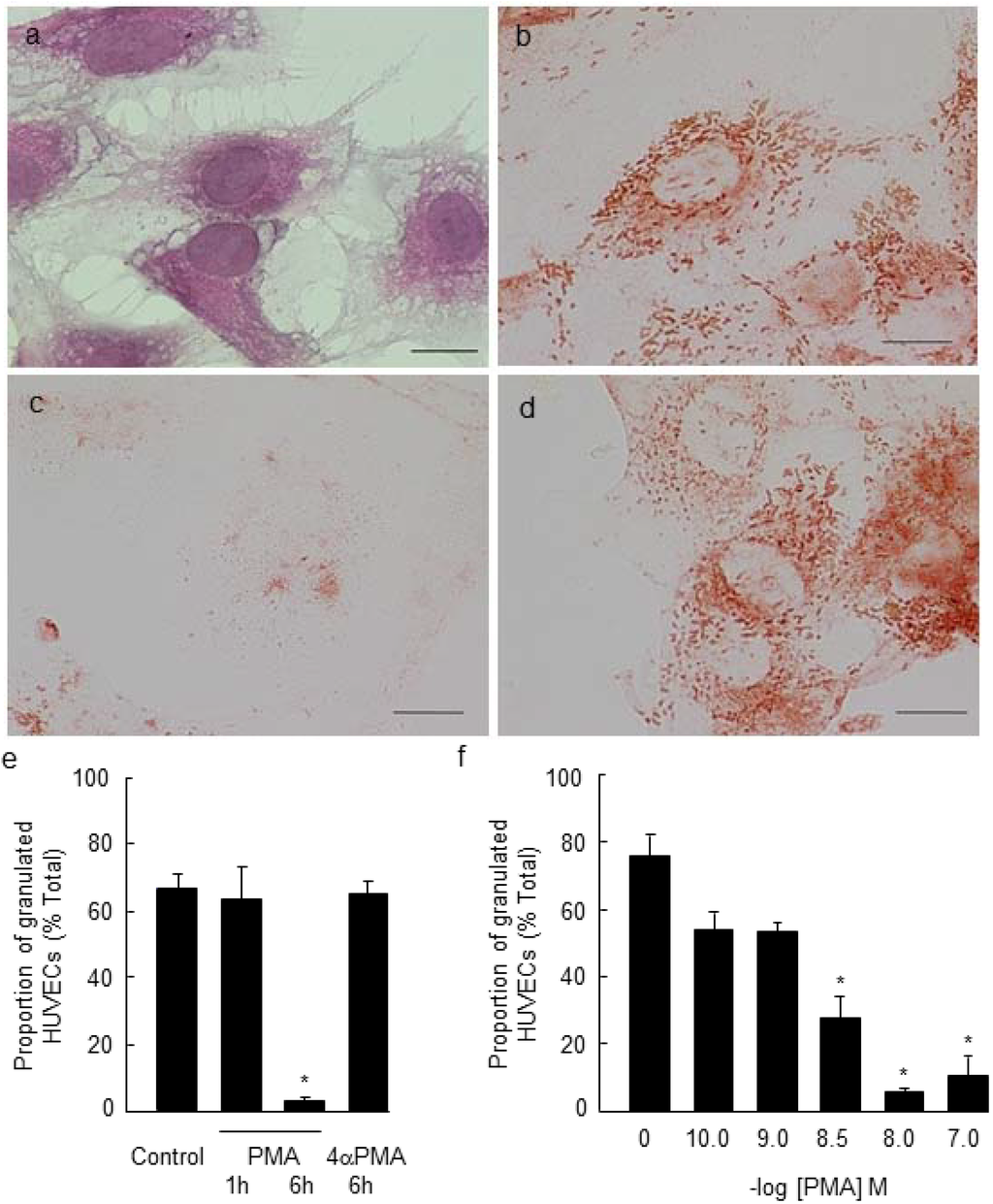 Figure 1

Share & Cite This Article
MDPI and ACS Style
Bürgin-Maunder, C.S.; Brooks, P.R.; Russell, F.D. Omega-3 Fatty Acids Modulate Weibel-Palade Body Degranulation and Actin Cytoskeleton Rearrangement in PMA-Stimulated Human Umbilical Vein Endothelial Cells. Mar. Drugs 2013, 11, 4435-4450.
Related Articles
Comments
[Return to top]