Induction of Apoptosis by 11-Dehydrosinulariolide via Mitochondrial Dysregulation and ER Stress Pathways in Human Melanoma Cells
1
Antai Medical Care Cooperation Antai Tian-Sheng Memorial Hospital, Pingtung 92842, Taiwan
2
Department of Beauty Science, Meiho University, Pingtung 91202, Taiwan
3
Graduate Institute of Veterinary Medicine, National Pingtung University of Science and Technology, Pingtung 91202, Taiwan
4
Department of Biotechnology, Kaohsiung Medical University, Kaohsiung 80761, Taiwan
5
National Museum of Marine Biology and Aquarium, Pingtung 94446, Taiwan
6
Chemistry Department, National Sun Yat-Sen University, No. 70, Lienhai Rd., Kaohsiung 80424, Taiwan
*
Author to whom correspondence should be addressed.
†
These authors contributed equally to this work.
Received: 3 July 2012 / Revised: 6 August 2012 / Accepted: 14 August 2012 / Published: 22 August 2012
Abstract
In this study the isolated compound 11-dehydrosinulariolide from soft coral
Sinularia
leptoclados
possessed anti-proliferative, anti-migratory and apoptosis-inducing activities against A2058 melanoma cells. Anti-tumor effects of 11-dehydrosinulariolide were determined by MTT assay, cell migration assay and flow cytometry. Growth and migration of melanoma cells were dose-dependently inhibited by 2–8 μg/mL 11-dehydrosinulariolide. Flow cytometric data indicated that 11-dehydrosinulariolide induces both early and late apoptosis in melanoma cells. It was found that the apoptosis induced by 11-dehydrosinulariolide is relevant to mitochondrial-mediated apoptosis via caspase-dependent pathways, elucidated by loss of mitochondrial membrane potential (∆Ym), release of cytochrome
C
, activation of caspase-3/-9 and Bax as well as suppression of Bcl-2/Bcl-xL. The cleavage of PARP-1 suggested partial involvement of caspase-independent pathways. Immunoblotting data displayed up-regulations of PERK/eIF2α/ATF4/CHOP and ATF6/CHOP coupling with elevation of ER stress chaperones GRP78, GRP94, calnexin, calreticulin and PDI, implicating the involvement of these factors in ER stress-mediated apoptosis induced by 11-dehydrosinulariolide. The abolishment of apoptotic events after pre-treatment with salubrinal indicated that ER stress-mediated apoptosis is also induced by 11-dehydrosinulariolide against melanoma cells. The data in this study suggest that 11-dehydrosinulariolide potentially induces apoptosis against melanoma cells via mitochondrial dysregulation and ER stress pathways.
View Full-Text
►

▼

Figures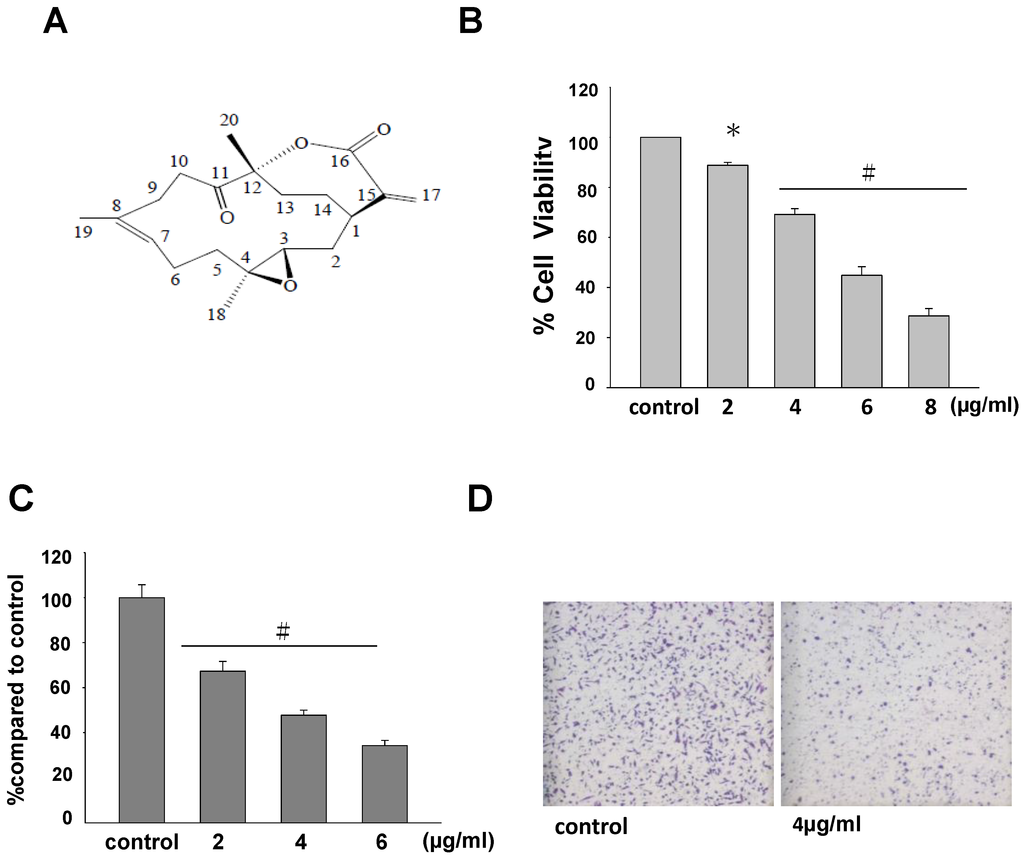 Figure 1

Share & Cite This Article
MDPI and ACS Style
Su, T.-R.; Tsai, F.-J.; Lin, J.-J.; Huang, H.H.; Chiu, C.-C.; Su, J.-H.; Yang, Y.-T.; Chen, J.-F.; Wong, B.-S.; Wu, Y.-J. Induction of Apoptosis by 11-Dehydrosinulariolide via Mitochondrial Dysregulation and ER Stress Pathways in Human Melanoma Cells. Mar. Drugs 2012, 10, 1883-1898.
Related Articles
Comments
[Return to top]