Open Access This article is
freely available
re-usable
Review
The Biological Role of PI3K Pathway in Lung Cancer
1
Oncology Unit GPP, 3rd Dept of Medicine, Sotiria General Hospital, University of Athens, Athens 11527, Greece
2
Experimental Therapeutics Program, Division of Hematology/Oncology, Tufts Medical Center, Tufts University School of Medicine, Boston, MA 02111, USA
*
Author to whom correspondence should be addressed.
Received: 27 September 2012; in revised form: 7 November 2012 / Accepted: 14 November 2012 / Published: 20 November 2012
Abstract
:
Lung cancer is the primary cause of cancer-related mortality worldwide and although improvements in treatment have been achieved over the last few years, long-term survival rates for lung cancer patients remain poor. Therefore, there is an imperative need for molecularly targeted agents that will achieve long-term disease control. Numerous downstream molecular pathways, such as EGF/RAS/RAF/MEK/ERK and PI3K/AKT/mTOR are identified as having a key role in the pathogenesis of various forms of human cancer, including lung cancer. PI3K/AKT/mTOR signal pathway is an important intracellular signal transduction pathway with a significant role in cell proliferation, growth, survival, vesicle trafficking, glucose transport, and cytoskeletal organization. Aberrations in many primary and secondary messenger molecules of this pathway, including mutations and amplifications, are accounted for tumor cell proliferation, inhibition of apoptosis, angiogenesis, metastasis and resistance to chemotherapy-radiotherapy. In this review article, we investigate thoroughly the biological role of PI3K pathway in lung cancer and its contribution in the development of future therapeutic strategies.
Keywords:
lung cancer; PI3K pathway inhibitors; molecular pathways
2. PI3K Signaling Pathway
The phosphoinositide-3-kinase (PI3K) signaling pathway has a critical role in cell growth and survival [
9
]. Alterations of the PI3K/AKT/mTOR pathway can occur at many levels resulting in PI3K activation and malignant transformation. The PI3Ks are lipid kinases, which can be grouped into three classes based on their structure and function. Class IA PI3K is most closely related to human cancer [
10
]. Class IA PI3Ks are heterodimers consisting of a regulatory subunit (p85) and a catalytic subunit (p110). Three genes PIK3R1, PIK3R2 and PIK3R3 encode p85α, p85β and p85γ regulatory subunits whereas catalytic isoforms p110α, p110β, and p110δ are the products of three genes PIK3CA, PIK3CB and PIK3CD respectively [
10
,
11
,
12
]. Class IA PI3Ks are usually activated by receptors tyrosine kinase (RTKs) such as EGFR, IGF1-R and HER2/neu [
13
,
14
,
15
,
16
] and activation often occurs through recruitment of the enzymes to cell membranes via phosphotyrosine binding of the Src-homology 2 (SH2) domains present in the p85 regulatory subunit to the cytoplasmic domains of RTKs. PI3K can be activated also by Ras, which directly binds p110 [
17
] and the p110β catalytic subunit can be additionally regulated by G-protein coupled receptors [
12
]. Subsequently, the second messenger phosphatidylinositol-3,4,5-triphosphate (PIP3) is produced through phosphorylation by the activated PI3K of phosphatidyl-inositol-4,5-biphosphate (PIP2). The phosphatase and tensin homolog deleted on chromosome 10 (PTEN) dephosphorylates PIP3 to PIP2, acting thereby as a direct antagonist of PI3K. PIP3 transduces intracellular signaling by directly binding pleckstrin homology (PH) domains of various proteins [
16
], participating thus in the regulation of cell proliferation and survival, cytoskeletal organization, vesicle trafficking, cell adhesion and motility, angiogenesis and glucose transport [
18
,
19
]. Two such PH domain-containing kinases, phosphoinositide-dependent kinase 1 (PDK1) and the serine threonine kinase Akt, are recruited to the membrane via PIP3, where PDK1 activates Akt by phosphorylation at the threonine 308 [
20
,
21
]. Mammalian target of rapamycin complex 2 (mTORC2) contributes to the complete activation of Akt via phosphorylation at serine 473. Activated Akt promotes cell growth and survival with various mechanisms. Akt inhibits proapoptotic Bcl-2 family members BAD and BAX [
11
,
16
], phosphorylates forkhead box O transcription factors (FoxO), the glycogen synthase kinase 3 (GSK3) and negatively regulates the transcription factor NF-κB, leading to increased expression of antiapoptotic and cell survival signals [
22
]. The Akt-mediated phosphorylation of TSC2 protein, which combined with TSC1 protein forms a Ras homologue enriched in brain (Rheb) inhibiting complex, allows Rheb to be released and activated. Rheb then stimulates the mammalian target of rapamycin complex 1 (mTORC1), which phosphorylates the p70S6 kinase (S6K1) and the eukaryotic initiation factor 4E binding protein 1 (4EBP1), leading to increased protein synthesis (
Figure 1
).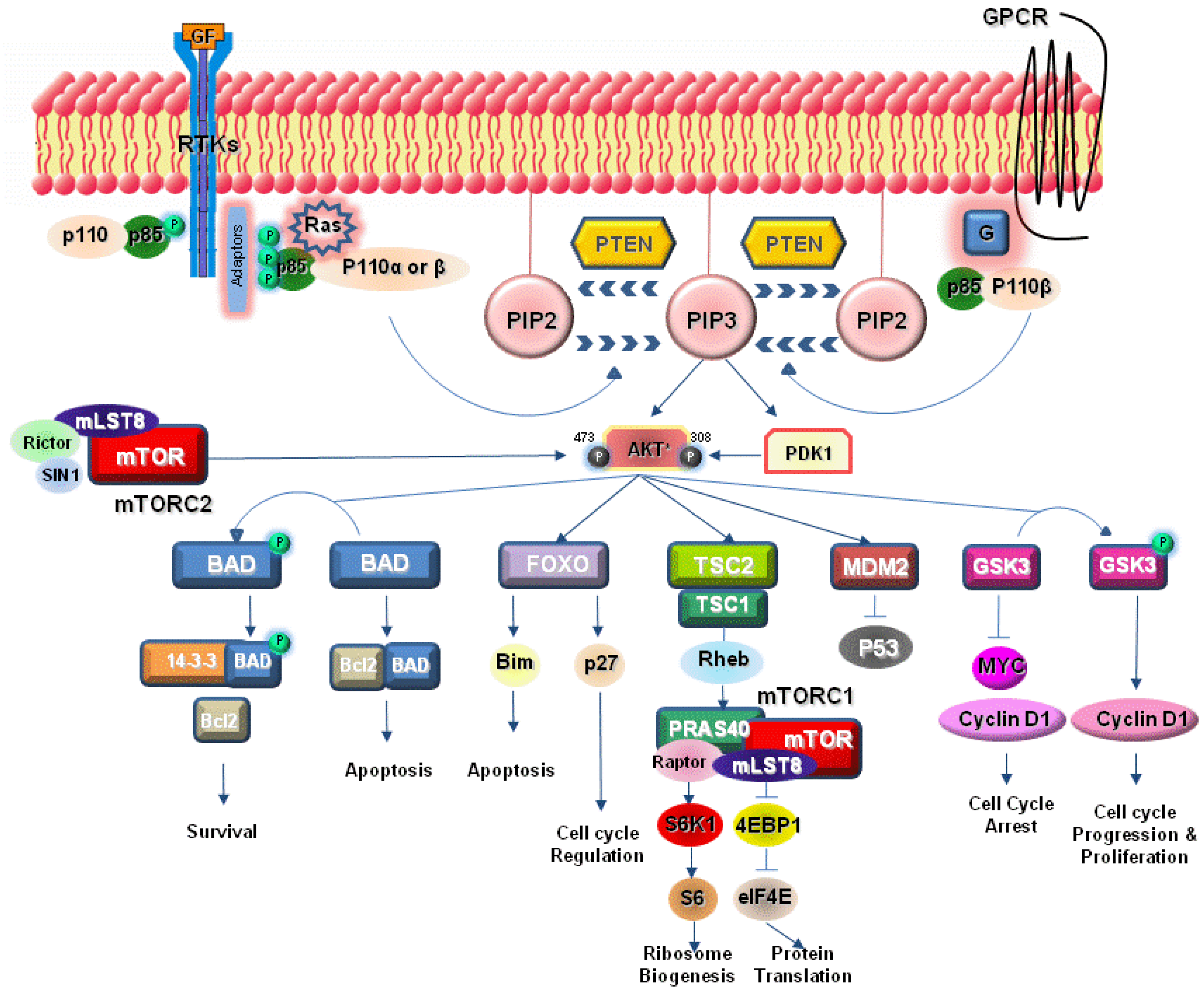 3. Activation of PI3K Pathway in Lung Cancer
4. PI3K Pathway Inhibitors in Lung Cancer
Although major progress in the treatment of lung cancer has been achieved over the last few decades, it still remains the cancer type with the highest mortality [
1
]. Therefore, the need for new therapeutic options with less toxicity, better selectivity and higher effectiveness rises significantly. Small molecule inhibitors (tyrosine kinase inhibitors, TKIs) targeting numerous downstream components of intracellular signal transduction pathways, are prominent therapeutic approaches that have already reached the clinical stage. Targeting PI3K signaling pathway and its downstream mediators is still in early stage, but has already showed promising results and is rapidly processing. In this section, we describe PI3K pathway inhibitors that have reached clinical trials for the treatment of lung cancer, considering four different categories: PI3K inhibitors, dual PI3K- mTOR inhibitors, Akt inhibitors and mTOR inhibitors.
4.2. Dual PI3K-mTOR Inhibitors
Chemical compounds that have the ability to inhibit both mTOR and the p110 catalytic subunits are termed dual PI3K- mTOR inhibitors. These inhibitors have the possible advantage of multi-blocking the PI3K pathway, even though it is still unclear if they can effectively inhibit all p110 isoforms and mTORC1- mTORC2 in doses tolerable for clinical use.
NVP-BEZ235 is an imidazo-quinoline derivative, orally available, that belongs to the family of dual PI3K-mTOR inhibitors [
93
,
94
]. It was the first entity of this class to enter Phase I studies in patients with advanced solid tumors (many patients with breast cancer were enrolled) in which NVP-BEZ235 showed efficacy and anti-tumor activity [
95
]. NVP-BEZ235 was able to achieve a decrease in cell proliferation and G1 cell cycle arrest in a variety of cancer cell lines and halt further tumor growth in xenograft models of these cancer types [
31
,
93
,
96
,
97
]. Compared to mTORC1 inhibitor rapamycin, NVP-BEZ235 was more efficient in blocking tumor cell growth [
98
]. Moreover, NVP-BEZ235 was able to show anti-tumor efficacy
in vitro
and
in vivo
and also increase radiosensitivity in KRAS-mutant NSCLC cell lines [
96
]. Another study with genetically engineered mice demonstrated that even though the compound, as single-agent, failed to inhibit murine KRAS-mutant lung tumors, when combined with a MEK inhibitor (ARRY-142886) resulted in tumor shrinkage [
31
]. In the same study, NVP-BEZ235 was highly effective at shrinking a murine lung adenocarcinoma with a somatic mutation in the p110α kinase domain (H1047R) [
31
]. These results led to the assumption that lung cancer tumors harboring PIK3CA mutations could benefit from the inhibition of PI3K signaling and the combination of both PI3K and MEK inhibitors might show efficacy in KRAS-mutant lung cancers [
31
]. Sos ML et al. using a panel of NSCLC cell lines, confirmed that tumors with activating mutations in RTKs present high dependence on PI3K signaling and mutations in the RAS/RAF pathway is strongly correlated with MAPK signaling [
99
]. In another study, EGFR-mutant NSCLC models did not respond to single-agent NVP-BEZ235, but when combined with a MEK inhibitor (AZD6244), tumor regression could be observed suggesting the key role of simultaneous PI3K and MEK inhibition in lung cancers with EGFR mutations [
100
].
XL-765 (SAR245409) is another dual PI3K-mTOR inhibitor that recently completed a Phase I dose-escalation study in patients with advanced solid tumors. The compound was orally administered and well tolerated with elevated hepatic enzymes, with nausea and diarrhea being the most frequent drug-related adverse events (AEs). No partial responses were observed, but five of 36 patients presented stable disease, one of them with NSCLC. Evidence of 60% to 90% pathway inhibition was found in hair and skin [
101
]. The combination of XL-765 with the EGFR inhibitor erlotinib was tested in a Phase I study in 21 patients with advanced solid tumors, including 14 patients with NSCLC. The combination was well tolerated in doses up to 50 mg XL-765 and 100 mg erlotinib with skin and subcutaneous tissue disorders (including rash) and diarrhea to be the most commonly observed treatment-related adverse events (AEs) and showed satisfactory dual PI3K and EGFR signaling inhibition [
102
].
Another dual PI3K-mTOR inhibitor PI-103, a pyridinylfuranopyrimidine compound, was able to induce apoptosis in NSCLC cell lines with resistance to EGFR inhibitor gefitinib [
103
]. Cell lines harboring activating mutations of the PIK3CA gene were more sensitive than wild-type PIK3CA cancer cell lines [
103
]. Moreover, PI-103 increased sensitivity to radiation in tumor cells
in vitro
[
104
] and caused vascular normalization in murine xenograft models
in vivo
[
105
]. The entity is still under clinical evaluation.
4.3. Akt Inhibitors
Akt inhibitors are chemical agents based on staurosporine and derivatives that have the ability to block the serine/threonine kinase Akt, crucial component of the PI3K pathway [
106
,
107
]. However, preclinical data suggest that parallel inhibition of both Akt1 and Akt2 could result in peripheral insulin resistance and drug-induced, dose-dependent hyperglycemia and hyperinsulinemia [
108
]. In several studies using mouse models, Akt inhibitors have been implicated for causing hyperglycemia [
109
,
110
], supporting the hypothesis of having a key role in insulin signaling and glucose homeostasis. Therefore, concerns have been raised for possible limitation in the therapeutic applications of Akt inhibitors due to metabolic toxicities.
MK-2206 is an orally administered pan-AKT kinase inhibitor presenting high selectivity for Akt. Preclinical data demonstrated the ability of MK-2206 to inhibit cancer cell proliferation when combined with cytotoxic agents (such as docetaxel, doxorubicin, gemcitabine, 5-FU and carboplatin) or targeted therapeutic agents (such as erlotinib or lapatinib) [
111
]. In a Phase I study, thirty-three patients with solid tumors were treated with MK-2206, establishing the MTD at 60 mg. One patient with pancreatic adenocarcinoma presented 60% reduction in cancer antigen 19-9 levels and 23% tumor shrinkage. Skin rash, nausea, pruritus, hyperglycemia and diarrhea were the most commonly observed adverse events [
112
]. Currently, a dose-escalation Phase I study of MK-2206 combined with the EGFR-TKI gefitinib is being conducted in patients with NSCLC, particularly enriched with patients harboring EGFR mutations [
113
]. Also, a Phase II study of MK-2206 and the EGFR inhibitor erlotinib is currently recruiting patients with NSCLC who have progressed after previous response to erlotinib, in order to assess the safety of the drug combination [
114
] (
Table 1
). Other Akt inhibitors such as A-443654 and GSK690693 are currently under clinical evaluation [
109
,
115
].
4.4. mTOR Inhibitors
Compounds targeting the mTOR pathway can be grouped into two main subtypes: the allosteric mTOR inhibitors (like rapamycin and its derivatives) and the ATP-competitive mTOR inhibitors.
5. Conclusions
Even though major progress has been made in the treatment of patients with lung cancer, the survival rates remain poor. The importance of intracellular signal transduction pathways such as PI3K/AKT/mTOR pathway in cell growth, survival and proliferation has been justified over the last few years. The overactivation of such pathways has been identified in many cancer types including lung cancer and is strongly correlated with tumor development and progression, metastasis, chemo and radioresistance. Many downstream regulators of PI3K pathway have become targets for cancer treatment with encouraging results up to date. Indeed, numerous targeted agents directly against the PI3K pathway have already reached the clinical stage either as single agents or in combination with conventional chemotherapy or other targeted therapies, presenting a much better toxicity profile compared to conventional chemotherapy. Many frequently observed side effects, such as peripheral insulin resistance deriving from the use of Akt-inhibitors, are expected and can be justified by the mechanism of action of these agents. Moreover, small molecule agents with the ability to inhibit various signaling pathways in parallel seem to be more effective compared to single-target agents. More clinical trials along with the identification of biomarkers, able to characterize the "PI3K activated" tumors and predict clinical benefit from the use of PI3K pathway inhibitors, are required in order to produce more definite results for this fatal disease.
Conflict of Interest
The authors declare no duality of interest.
© 2012 by the authors; licensee MDPI, Basel, Switzerland. This article is an open-access article distributed under the terms and conditions of the Creative Commons Attribution license (http://creativecommons.org/licenses/by/3.0/).