Cell-Penetrating Peptides—Mechanisms of Cellular Uptake and Generation of Delivery Systems
1
Center for Neuroscience and Cell Biology of Coimbra, Department of Zoology, University of Coimbra, Portugal
2
Department of Life Sciences, Faculty of Science and Technology, University of Coimbra, Apartado 3126, 3001-401 Coimbra, Portugal
*
Author to whom correspondence should be addressed.
Received: 22 December 2009 / Revised: 20 February 2010 / Accepted: 29 March 2010 / Published: 30 March 2010
Abstract
The successful clinical application of nucleic acid-based therapeutic strategies has been limited by the poor delivery efficiency achieved by existing vectors. The development of alternative delivery systems for improved biological activity is, therefore, mandatory. Since the seminal observations two decades ago that the Tat protein, and derived peptides, can translocate across biological membranes, cell-penetrating peptides (CPPs) have been considered one of the most promising tools to improve non-invasive cellular delivery of therapeutic molecules. Despite extensive research on the use of CPPs for this purpose, the exact mechanisms underlying their cellular uptake and that of peptide conjugates remain controversial. Over the last years, our research group has been focused on the S4
13
-PV cell-penetrating peptide, a prototype of this class of peptides that results from the combination of 13-amino-acid cell penetrating sequence derived from the Dermaseptin S4 peptide with the SV40 large T antigen nuclear localization signal. By performing an extensive biophysical and biochemical characterization of this peptide and its analogs, we have gained important insights into the mechanisms governing the interaction of CPPs with cells and their translocation across biological membranes. More recently, we have started to explore this peptide for the intracellular delivery of nucleic acids (plasmid DNA, siRNA and oligonucleotides). In this review we discuss the current knowledge of the mechanisms responsible for the cellular uptake of cell-penetrating peptides, including the S4
13
-PV peptide, and the potential of peptide-based formulations to mediate nucleic acid delivery.
View Full-Text
►

▼

Figures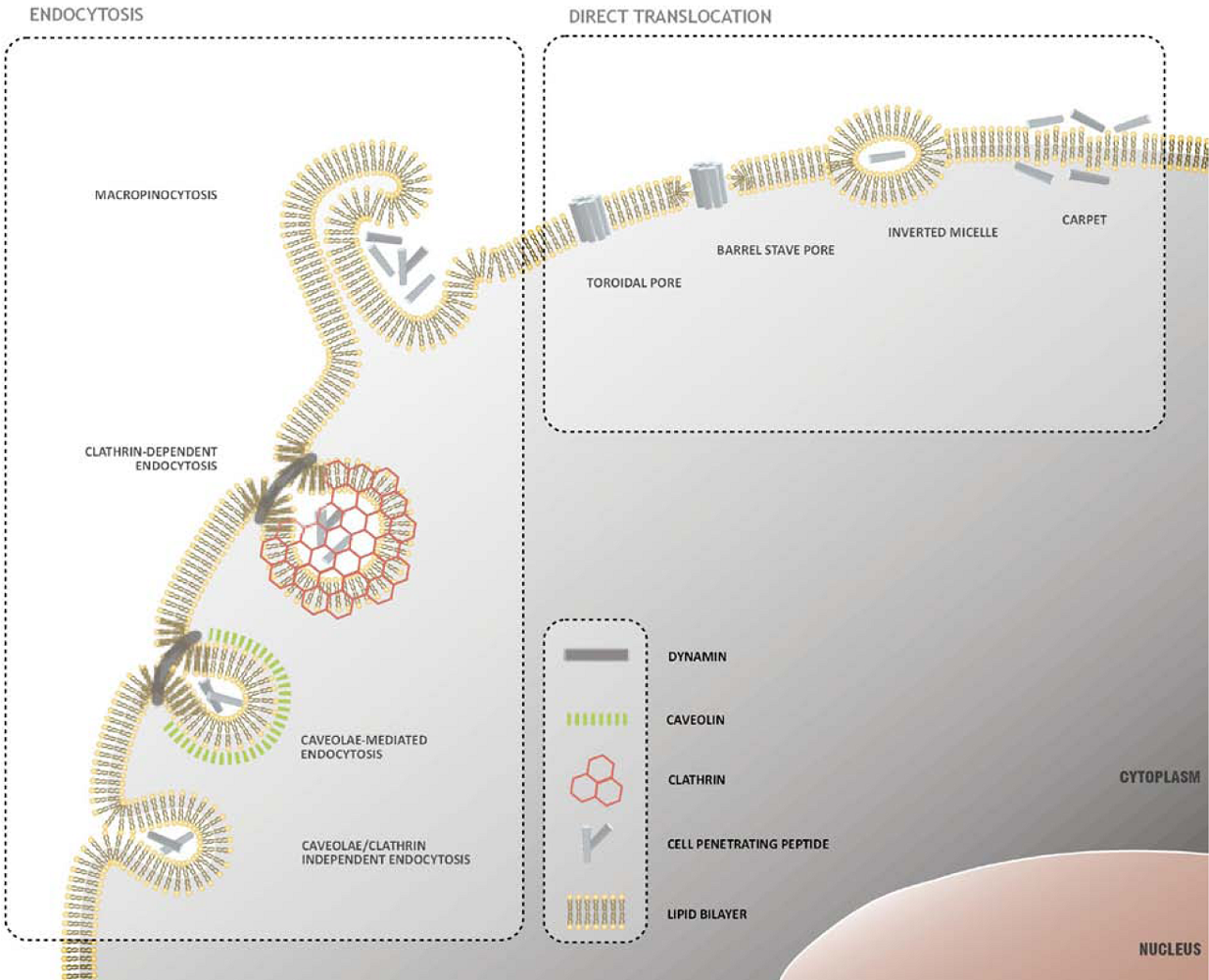 Figure 1

Share & Cite This Article
MDPI and ACS Style
Trabulo, S.; Cardoso, A.L.; Mano, M.; De Lima, M.C.P. Cell-Penetrating Peptides—Mechanisms of Cellular Uptake and Generation of Delivery Systems. Pharmaceuticals 2010, 3, 961-993.
Related Articles
Comments
[Return to top]