Open Access This article is
freely available
re-usable
Review
2017 FDA Peptide Harvest
1
College of Health Sciences, University of KwaZulu-Natal, Durban 4000, South Africa
2
School of Chemistry, University of KwaZulu-Natal, Durban 4001, South Africa
3
KRISP, College of Health Sciences, University of KwaZulu-Natal, Durban 4001, South Africa
4
CIBER-BBN, Networking Centre on Bioengineering, Biomaterials and Nanomedicine, University of Barcelona, 08028 Barcelona, Spain
5
Department of Organic Chemistry, University of Barcelona, 08028 Barcelona, Spain
†
These authors contributed equally to this work.

Received: 9 April 2018 / Accepted: 3 May 2018 / Published: 7 May 2018
Abstract
:
2017 was an excellent year in terms of new drugs (chemical entities and biologics) approved by the FDA, with a total of 46. In turn, one of the highlights was the number of peptides (six) included in this list. Here, the six peptides are analyzed in terms of chemical structure, synthetic strategy used for their production, source, therapeutic use, and mode of action.
Keywords:
pharmaceutical market; drugs; drug discovery; solid-phase peptide synthesis
1. Introduction
The financial investment associated with the pharmaceutical industry is one of the largest in the industrial sector—surpassed only by the telecommunications sector. However, the number of new products (drugs) entering the market each year is relatively low. In this context, 2017 was an exceptional year, in that 46 new drugs were approved by the US Food and Drug Administration (FDA) [
1
]—the highest figure in the last twenty-five years. Drugs can be broadly divided into two main groups. The first encompasses biologics (12 approved in 2017, accounting for 25% of the total number of drugs approved), which are prepared by means of biotechnological techniques. The second group comprises chemical entities (34 approved in 2017), which are prepared using chemical synthesis [
2
]. In turn, chemical entities can be grouped into two categories, the so-called small molecules, which also include some natural products, and TIDES (peptides and oligonucleotides).
Figure 1
shows the drugs approved by the FDA in 2017 and classified on the basis of their chemical structure. Thus, in a clockwise direction, biologics (antibodies, enzymes, and antibodies drug conjugates) appear first, followed by peptides, modified amino acids, and more traditional small molecules.
Along a similar line, 2017 was an excellent year for peptides, with the FDA approving five peptides and one peptidomimetic, which together accounted for 13% of the drugs accepted that year.
However, the 2017 figures should be interpreted with care. They cannot be taken as a trend since the arrival of a drug onto the market involves many unpredictable variables.
From a structural point of view, the six peptides in the 2017 harvest show almost the full range of diversity, probably lacking only a homodetic cyclic peptide and/or a cyclodepsipeptide. In this regard, in addition to a peptidomimetic macimorelin (MacrilenTM), the 2017 harvest included two linear peptides angiotensin II (GiaprezaTM) and abaloparatide (TymlosTM) with 8 and 34 amino acids, respectively, and a peptide plecanatide (TrulanceTM) containing two disulphide bridges. It also included the following two unique branched peptides: semaglutide (OzempicTM) with a chain pending at a Lys residue, which contains two mini-PEG amino acids, a Glu residue linked to the chain through the ω-carboxylic group, and a C18 diacid; and etelcalcetide (ParsabivTM), which is formed by a linear chain of seven D-amino acids with a disulphide bridge between a D-Cys with a single L-Cys. Interestingly, three of these peptides (macimorelin, abaloparatide, and semaglutide) contain a residue of the non-proteinogenic aminoisobutyric (Aib) acid, with the purpose of conferring stability against peptidases.
Only one of these peptides have been developed by two so-called big pharmas (semaglutide by Novo Nordisk A/S) and the rest by biotech companies. Macimorelin had its roots in Fehrentz and Martinez's group at the University of Montpellier (France). The five peptides other than macimorelin were produced using the solid-phase technique.
2. Plecanatide (Trulance)
Plecanatide is administered orally as is linaclotide. These two examples showcase the feasibility of the oral administration of peptides.
3. Etelcalcetide (Parsabiv)
This is an octapeptide formed by a linear chain of seven D-amino acids containing a D-Cys, which is linked through a disulphide bridge to an L-Cys. The C-terminal residue is in amide form (molecular weight of 1048.3 Da), and it is manufactured using a solid-phase technique (
Figure 3
). The presence of amino acids in D configuration confers the peptide chain resistance to proteolytic degradation. The presence of disulphide bonds facilitates the biotransformation process, especially with endogenous thiols in blood, and this is considered a main metabolic pathway of etelcalcetide [
11
,
12
,
13
].
Etelcalcetide was developed by KAI Pharmaceuticals Inc. (South of San Francisco, CA, USA), a wholly subsidiary of Amgen Inc. (Thousand Oaks, CA, USA) and approved by the FDA on 7 February 2017 [
14
]. It is used for the treatment of secondary hyperparathyroidism (SHPT) in chronic kidney disease (CKD) in adult patients on hemodialysis [
11
,
12
,
15
,
16
,
17
,
18
]. Cardiovascular calcination is common in CKD patients, and it occurs as a result of impaired mineral homeostasis and secondary hyperparathyroidism [
16
]. As a calcimimetic agent, etelcalcetide binds to the calcium-sensing receptor (CaSR) through a disulphide bridge between the D-Cys of the etelcalcetide molecule and L-Cys of the CaSRs, thereby enhancing activation of the receptor by means of extracellular calcium. Accordingly, activation of CaSRs on parathyroid chief cells decreases the secretion of parathyroid hormone (PTH), as well as fibroblast growth factor-23 (FGF23), which is stimulated by PTH [
12
,
13
,
15
,
16
,
17
,
18
,
19
,
20
,
21
]. Furthermore, etelcalcetide decreases phosphorus in the blood. Interestingly, high blood phosphorus occurs in vascular calcification [
16
].
4. Abaloparatide (Tymlos)
5. Semaglutide (Ozempic)
Semaglutide contains a linear sequence of 31 amino acids, with a moiety pending from the ε-amino function of Lys20 (the numeration of the amino acids in semaglutide is done by taking as reference the numeration in the parent peptide GLP-1), which contains a Glu residue linked to the ε-amino group of Lys side-chain through the γ-carboxylic group, two mini-PEG amino acids [8-amino-3,6-dioxaoctanoic acid (ADO)] and a C18 diacid (
Figure 5
a). The C-terminal is in the form of a carboxylic acid (molecular weight of 4113.6 Da). It is manufactured using a solid-phase approach.
Semaglutide is a member of the glucagon like peptide-1 (GLP-1) family, derived from the GLP-1 (sequence 7-37), and can be considered the second generation of liraglutide (
Figure 5
b), which was accepted by the FDA in 2010 [
25
]. Liraglutide differs from GLP-1 (7-37) (
Figure 5
b) in the presence of Arg in position 34 instead of Lys and of a moiety at Lys20, which is a reduced version of the one in semaglutide. When comparing the structures of semaglutide and liraglutide, in addition to the pending moiety, semaglutide has Aib instead of Ala in position 8, thereby reducing the susceptibility of semaglutide to degradation by dipeptidyl peptidase-4 [
26
,
27
,
28
]. Both semaglutide and liraglutide were developed by Novo Nordisk A/S (Måløv, Denmark). Semaglutide was approved by the FDA on 21 December 2017 [
29
].
The GLP-1 family stimulates insulin and decreases glucagon secretion. However, GLP-1 has a short half-life (1–2 min) as a result of proteolytic degradation, thus hindering its use as a potential treatment for type 2 diabetes [
27
]. Liraglutide is the first once-daily glucagon-like peptide-1 analogue designed to resist enzymatic degradation and thus have a longer half-life [
26
,
27
,
30
]. The presence of the 17-carboxyheptadecanoyl fatty acid moiety results in its binding to human albumin, which is responsible for the longer-acting activity of liraglutide in comparison with other members of the same family. The rationale behind the design of semaglutide, which allows once-weekly administration, is to increase the affinity of the pending fatty acid moiety for albumin. Moreover, semaglutide has no serious adverse effects, only some mild gastrointestinal disorders [
27
].
6. Macimorelin (Macrilen)
7. Angiotensin II (Giapreza)
Angiotensin II is formed after the removal of two C-terminal residues of angiotensin I by the angiotensin-converting enzyme (ACE). In turn, angiotensin I is the N-terminal part of angiotensinogen, an α-2-globulin produced constitutively and released into the circulation mainly by the liver.
It is to be hoped that the coming years will bring about the approval of a similar number of peptides to those accepted by the FDA in 2017 and that the trends of the market in terms of peptide development continue, thus making these molecules one of the best options to treat many diseases.
Author Contributions
All authors have participated in searching for information, in writing the manuscript, and have approved the final version.
Acknowledgments
The work in the laboratory of the authors was funded in part by the following: National Research Foundation (NRF) (CSUR # 105892 and Blue Sky's Research Program # 110960) and the University of KwaZulu-Natal (South Africa); the Spanish Ministry of Economy, Industry and Competitiveness (MINECO) (CTQ2015-67870-P); and the Generalitat de Catalunya (2014 SGR 137) (Spain).
Conflicts of Interest
The authors declare no conflict of interest.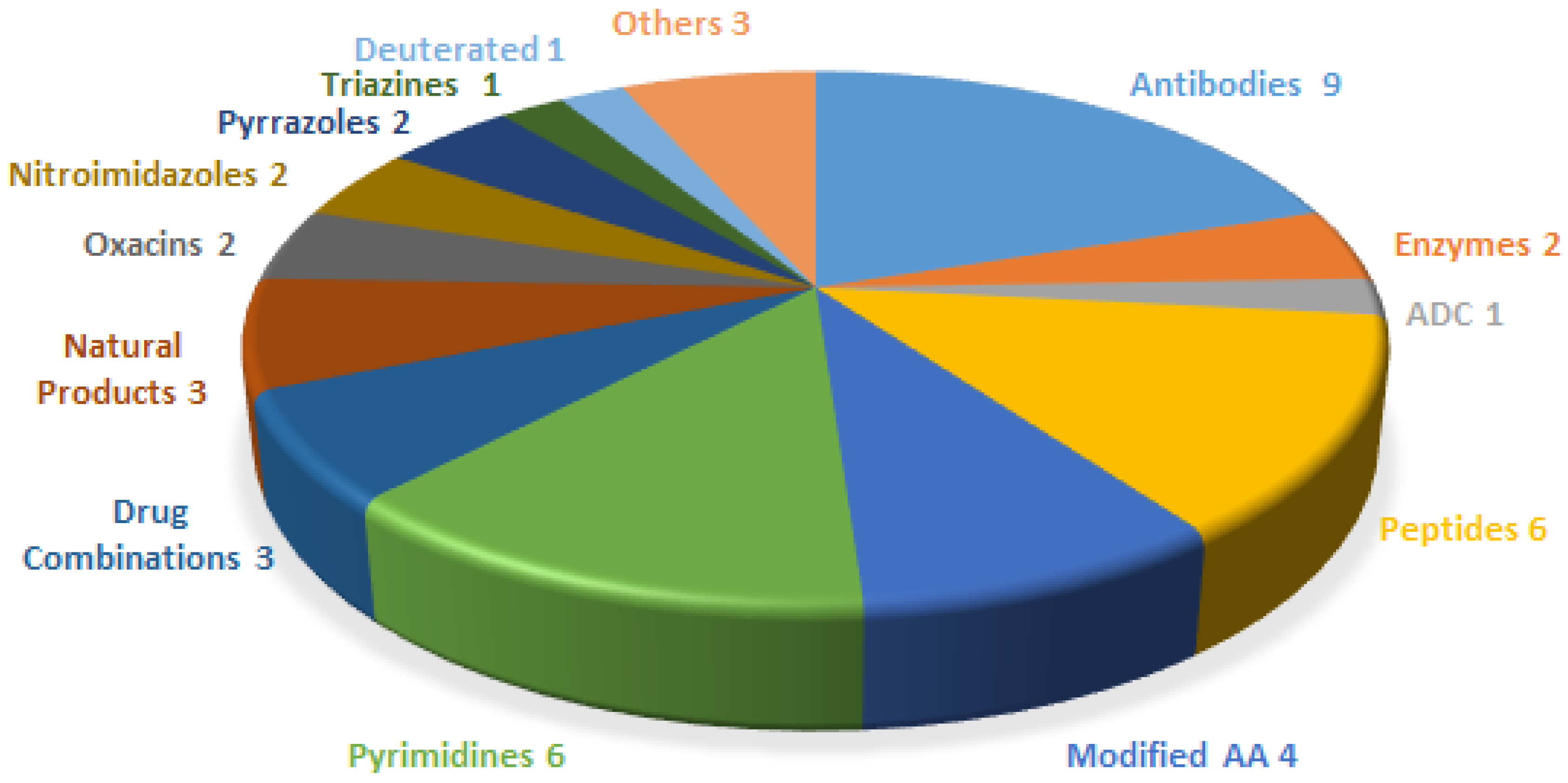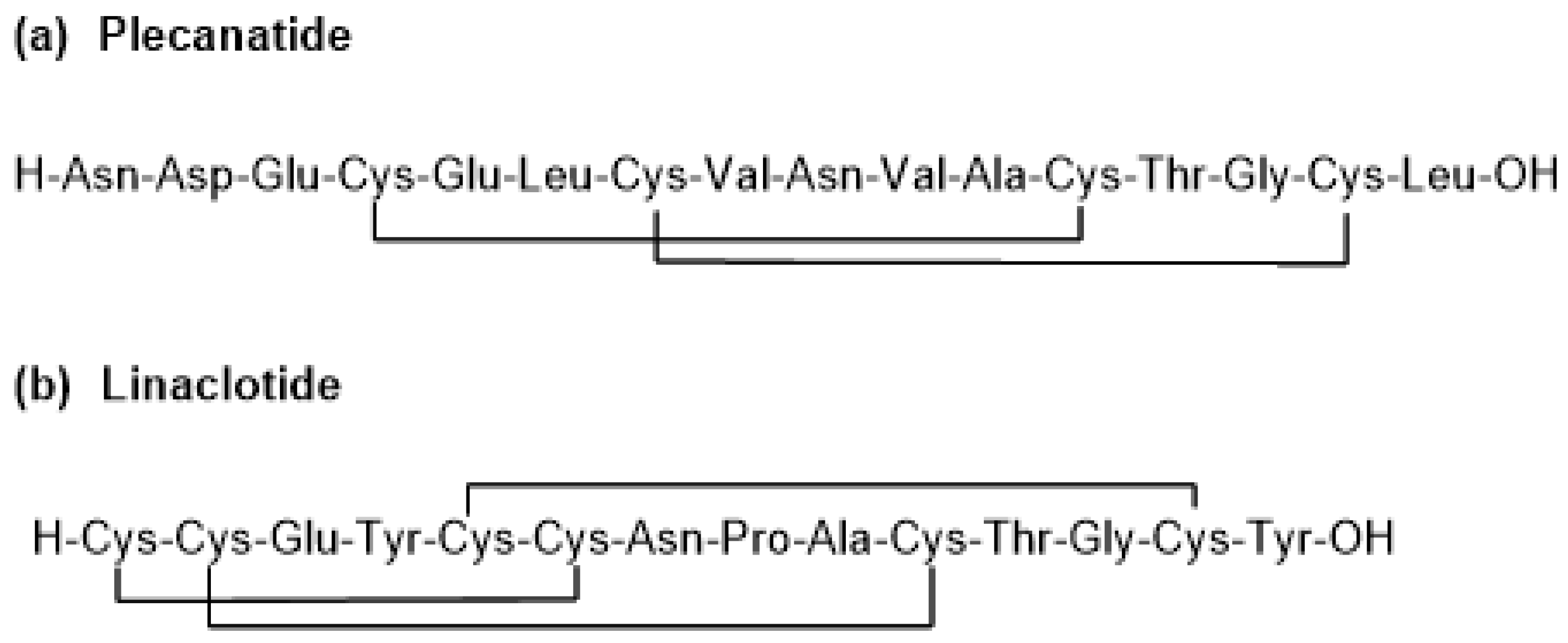 Figure 4. Structure of (a) abaloparatide and (b) teriparatide. The residues modified are shown in red. The non-proteinogenic amino acid Aib is shown in bold.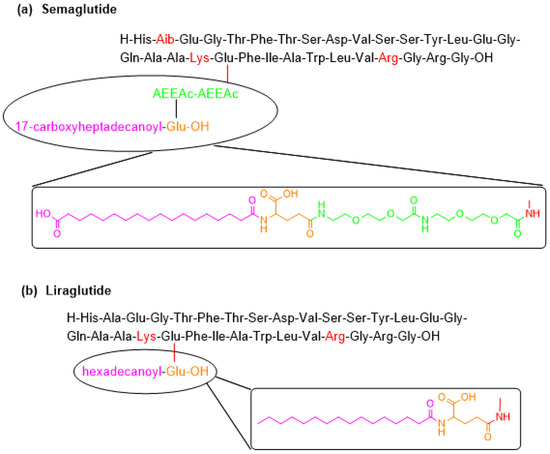 Figure 5. Structure of (a) semaglutide and (b) its related liraglutide. Changes in structure with respect to GLP-1 (7-37) are shown in color.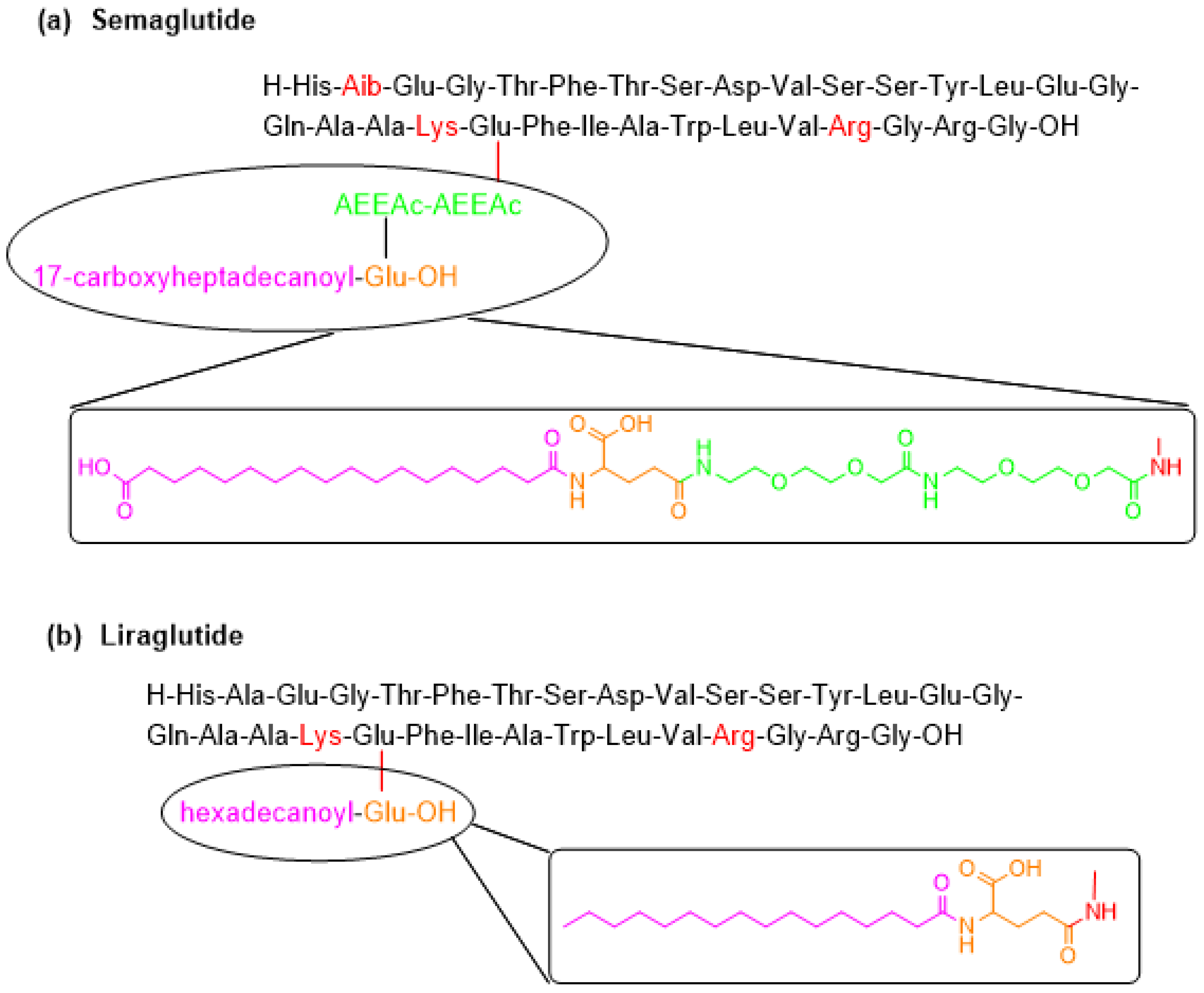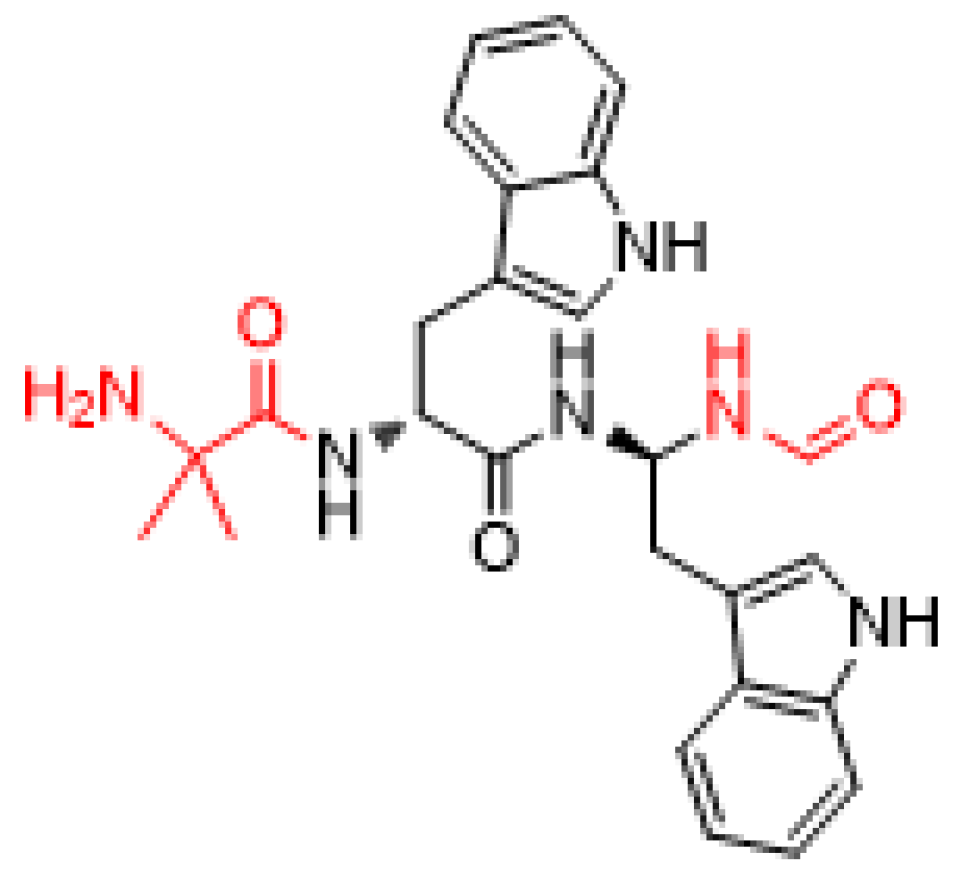 Generic Name
(Trade Name)
Company
Mode of Action
Therapeutic Use
Administration
Plecanatide (Trulance)
Synergy Pharmaceuticals, Inc.
Activation of guanylate cyclase-C
Gastrointestinal laxative
Oral
Etelcalcetide (Parsabiv)
KAI
Pharmaceuticals, Inc. *
Activation of CaSR on parathyroid chief cells
Secondary hyperpara-thyroidism in adult patients with chronic kidney disease on hemodialysis
IV
Abaloparatide (Tymlos)
Radius Health, Inc.
Selective activation of the parathyroid hormone 1 receptor
Osteoporosis
SC
Semaglutide
(Ozempic)
Novo Nordisk, Inc.
Acts as a Glucagon-like Peptide-1 agonist
Treatment of type 2 diabetes mellitus
SC
Macimorelin
(Macrilen)
Aeterna Zentaris, Inc.
Mimic the endogenous ligand for the secretagogue (Ghrelin)
For the diagnosis of adult growth hormone deficiency
Oral
Angiotensin II (Giapreza)
La Jolla Pharm Co.
Acts on the CNS to increase ADH production
Control of blood pressure in adults with sepsis or other critical conditions
IV
* Wholly owned subsidiary of Amgen, Inc.; IV: intra venous; SC: subcutaneous.

© 2018 by the authors. Licensee MDPI, Basel, Switzerland. This article is an open access article distributed under the terms and conditions of the Creative Commons Attribution (CC BY) license (http://creativecommons.org/licenses/by/4.0/).